Oh, the sweet taste of cinnamon paired with breakfast cereal. After all, why not a cinnamon-flavored cereal? French toast is all about cinnamon, so why should it have all the breakfast limelight. Right?
You know what? Why, is not even a question in this matter. There are only two sides, cereal lovers who are right (those who like cinnamon cereals) and those who are wrong. The only cereal question is, which cereal is the best?
So, here is our list of the best cinnamon cereals. Is your favorite cereal on this list? Then again, we are the cereal experts here. But, the comments are open.
Happy Belly Cinnamon Crunch Cereal
It's nice when the name says it all. Just imagine walking down the greatest grocery aisle in the world, the cereal aisle, and thinking, what should I get to make my belly happy today? It's like a message from another dimension.
This cereal is so good even Sears sells it. Dare we suggest, it's keeping Sears in business? Ok, yea, it's a good cereal. And, made from real cinnamon, not the fake stuff. Is it a healthy cereal though?- not exactly. It's cinnamon, it's crunchy, and it's a sugary cereal.
Cascadian Farm Organic Cinnamon Crunch Cereal
Didn't think a cinnamon cereal could be organic? Nobody was probably thinking that, but we needed a way to introduce this brand. Cascadian Farms is all about making a cereal form of organic breakfast food. And they have done a very good job at it.
In all fairness, it's not the cinnamon that's organic, it's the wheat chips. Oh, excuse us, the:
"Yummy organic whole grain squares"
This is cinnamon and sugar breakfast cereal elevated to fine dining. You should probably wear white gloves when you pour them into a bowl. Just a suggestion.
Cheerios Cinnamon Oat Crunch Cereal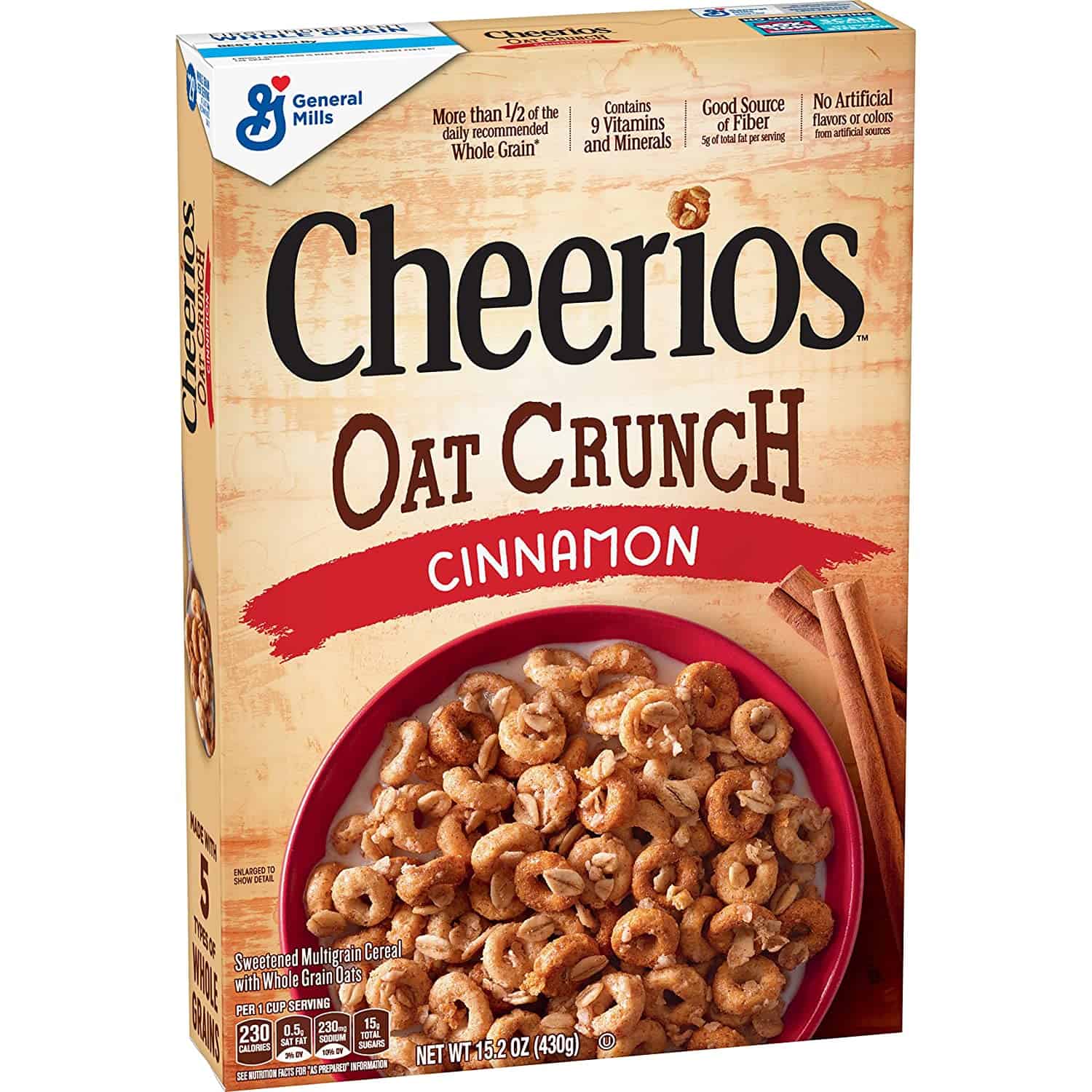 As any cereal lover knows, the cerealverse has superheroes and sidekicks. So, if Cheerios is a superhero (which it is) then Cheerios Cinnamon Oat Crunch Cereal is a sidekick. But, is it possible for a sidekick to have greater power than the superhero?
Maybe Cheerios Cinnamon Oat Crunch Cereal exists as a multiverse. It's Cheerios made even better. The cinnamon, the crunch, the oats… it's sort of like a stale cinnamon bun that you dunk into your morning milk (note to self, try this).
Ok, is it the best cinnamon cereal out there? Probably not. But, could it be one of the best versions of Cheerios? Quite possibly yes.
Kellogg's Cinnamon Sugar Krispies Cereal
Ok, just take a minute and think about this.
Kellogg's Rice Krispies with cinnamon. Yea, I know, our heads exploded too. Could you imagine the Rice Krispie treats this would create? No no, think about adding a chocolate flavor, such as good chocolate milk. That would be like revolutionizing Cocoa Krispies. Oh, it happened again.
Just saying though, that would be among the best chocolate cereals you could have. But, it would only be a chocolatey taste, it's still a cinnamon cereal so yea, moving on. I'm still nominating it at our next meeting on National Cereal Day.
General Mills Cinnamon Toast Crunch
So all biases aside, Cinnamon Toast Crunch is the best cinnamon cereal in the cerealverse. It is Thor, so to speak.
Honestly, though, this is among America's most beloved cereals. On any list, it's up there with:
Seriously, there are numerous lists, but Cinnamon Toast Crunch is on all of them. It's not us saying this, it's America, so yea, when are they ever wrong? (Don't answer that)
Churros Cinnamon Toast Crunch Cereal
Ok, so going back to an earlier illustration. In the cerealverse, there are superheroes and sidekicks. Churros Cinnamon Toast Crunch Cereal is the sidekick of the greatest cinnamon superhero known to the cerealverse, Cinnamon Toast Crunch.
Now, I know what you're saying. This is just General Mills playing the culture card and there's nothing different about the amazing "Cinnadust, Cinnacrunch and Cinnamilk" when compared to the original. But, we would counter that argument with this: So? And your point is?
Is French Toast Crunch just a culture card as well? We're not following you here. You'll have to explain yourself below.
Kashi GO Cinnamon Vanilla Cereal
Speaking of big brands playing cards with our breakfast cereal, let's talk about Kashi Go.
To begin with, don't let the name Kashi Go have your mind drifting off into the nether regions of the cerealverse.
This is Kellogg's. And, Kellogg's is known for some healthy cereal options, such as Raisin bran, and some sweet cereal options, such as Raisin Bran Crunch, Frosted Flakes, and Frosted Mini-Wheats, with Rice Krispies and Cocoa Krispies the most famous.
But, Kashi Go is different. This is Kellogg's stargate to the isolated regions of the cerealverse. It's grain-free and plant-based proteins. So, it's Keto-friendly, gluten-free, vegan, certified non-GMO, and yea, that's a lot of cards.
Chex Cinnamon Cereal
General Mills may be attempting to seize total control of the cerealverse, using a sweet tooth addiction.
There is:
Cinnamon Toast Crunch
Cheerios
Twix
Cocoa Puffs
Reese's Puffs
Lucky Charms
Golden Grahams
As well as all-bran flakes cereals Total and Wheaties. But also Chex and its 8 varieties.
Chex is among the few bowls of cereal that touch multiple cereal levels; fruity cereals, whole-grain cereal, rice, wheat, chocolate, vanilla, etc. Of the other cereals, Chex has a unique and loyal fanbase. It's one cereal that created its own identity and its held strong for decades.
Barbara's Puffins Cinnamon Cereal
This is the other cereal that would be competing against Kashi Go. Whole grains, Keto-friendly, vegan, non-GMO, Kosher, real cinnamon. Add some dried fruit, and you got a good cereal.
Nature's Path Organic Flax Plus Blueberry Cinnamon Cereal
In case the other health options weren't healthy enough for you. This is sort of the antithesis of Fruity Pebbles, Lucky Charms, Honey Bunches of Oats, Cap'n Crunch, Cookie Crisp, Apple Jacks, and Froot Loops (did that on purpose LOL).
Kellogg's Frosted Mini-Wheats Cinnamon Roll Cereal
Frosted Mini-Wheats is a cerealverse classic. Again, superheroes and sidekicks. Add some strawberry flavor and this is groundbreaking breakfast food. Thinking about that stale cinnamon bun again.
Wonderworks Cinnamon Cereal
This is for the Keto and fitness-minded community. High in protein (15g) and fiber (5g) with almost no sugar (1g). So, a great post-workout food.
Love Grown Grain-Free Cinnamon Cereal
Unique may be an understatement for this cereal. This is also a grain-free cereal, but can you guess what it's made from? Sweet potatoes! I'm thinking Thanksgiving candied yams. How about you?
Quaker Life Cinnamon Cereal
Quaker is a big name in grains and oats, but is Life a superhero in the cerealverse? What do you think? This is Life original with a sprinkle of cinnamon. Nothing special, just making the old better.
Bear Naked Original Cinnamon Granola
Why am I suddenly thinking about food porn? This is another protein-packed healthier choice by Kellogg's. More of a trail mix than breakfast cereal, and much easier to take with you in the morning. As apparently, bringing a box of cereal on the bus is crazy or something.
FAQs
How many calories are in General Mills Cinnamon Toast Crunch cereal?
General Mills Cinnamon Toast Crunch cereal is one of those cereals that you can eat any time of the day. It's a good breakfast cereal, afternoon snack, or even straight out of the box at 3 AM. Not that we've done that. A 41-gram serving is only 170 calories, or as we prefer to say, 2,210 calories per box.
Which is the most popular cinnamon-flavored cereal in the U.S?
Believe it or not, there is big money (we mean BIG MONEY) in breakfast cereal, and major finance and business outlets have conducted this research. According to Kiplinger, General Mills Cinnamon Toast Crunch cereal is the only cinnamon-based cereal that makes the list of America's top 19 favorite breakfast cereals. (It's number 5)
Is cinnamon good on cereal?
Well, let's think about that in realistic terms. Most breakfast cereal is sugary sweet food. Cinnamon and sugar were created by God to be the food of the angels. So, yes, I would have to say that cinnamon is good on cereal. In fact, cinnamon-flavored cereals are among the best breakfast cereals on the market.
When was Cinnamon Toast Crunch first sold?
This is crazy, but much of what is today began in the 1980s. Totally tubular and bodacious aye! Like, gag me with a cereal spoon radical. Ok, we had to go to Mental Floss to find those. Yea, Cinnamon Toast Crunch is a love child of the 80s; March 5, 1984, to be exact.
Final Thoughts
Are you hungry yet? Are those cinnamon fires burning inside of you yet? Yeah, we know. Always is the answer to both of those questions.
Cinnamon cereal claims a powerful sector in the cerealverse. But, is it the most powerful? What do you think?