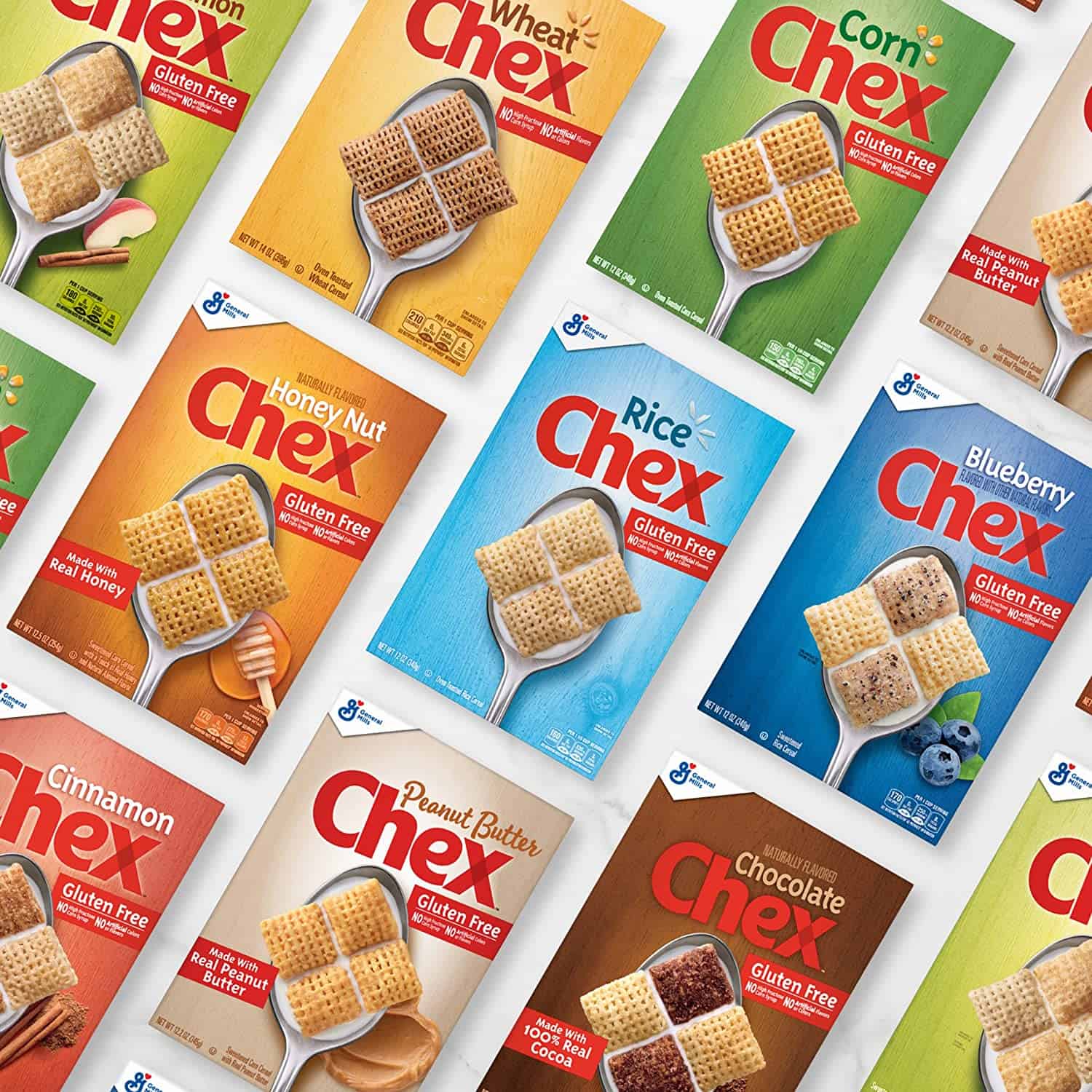 For years, these simple little squares have been a pantry staple for the whole family. Coming in a variety of unique flavors, ready to eat, whether it be breakfast time or you fancy a lighter, tasty snack throughout the day, this breakfast cereal continues to be a popular option with young and old alike.
Nutrition Facts
One cup (59g) of Wheat Chex, General Mills Chex's most popular offering, paired alongside semi-skimmed milk, contains:
Fat 1g
Cholesterol 0mg
Sodium 340mg
Total Carbohydrate 51g
Dietary Fiber 8g
Total Sugars 6g
Incl. Added Sugars 6g
Protein 6g
One portion is 250 calories, including semi-skimmed milk.
Ingredients
The ingredients included in many Chex products include:
Whole Grain Wheat
Sugar
Salt Molasses
Baking Soda
Vitamin E, Vitamin C, Vitamin D, and Folic Acid
Each variety of cereal from General Mills Chex contains an array of ingredients on top of many of those mentioned above to create a unique taste.
Is Chex Cereal Healthy?
Chex's Wheat variety is made from 100% whole wheat and is also known for being a source of both calcium and iron. However, it does have a high sugar content, and while not as high as many other kinds of cereal, it still shouldn't be considered a healthy snack.
Is Chex Gluten-Free?
Eight of the ten flavors of cereal that Chex produce are 100% gluten-free.
Is Chex Cereal Vegan?
There's quite the gray area surrounding whether or not these cereals are truly vegan. Chex products contain a large amount of sugar, for example. While many vegans are happy to eat white sugar, some do not due to its refinement.
Vitamin D3 also comes from animal products, namely the oil in sheep's wool, and cereals from the brand contain a lot of this vitamin.
Furthermore, Honey Nut Chex contains honey which many vegans prefer to stay away from.
However, there are no dairy products in any of the brand's varieties.
Is Chex Cereal Keto?
Unfortunately not. None of Chex's cereals are suitable for those on a keto or other low-carb diet. In order to stay in ketosis, a daily carb limit of 20g – 30g should be observed. Chex is extremely high in net carbs, with their wheat cereal checking out at almost 73g per 100g (although a portion is smaller than this).
Is Chex High In Protein?
Chex Wholegrain has around 7g of protein per portion, meaning that it is a great source of protein for a cereal.
Is Chex High In Fiber?
Chex Wholegrain has 8g per serving, making it a high-fiber breakfast cereal. Many portions of cereal only have a fiber content of 1g per serving, so if you are in need of dietary fiber, this cereal can be a suitable breakfast option.
Chex Cereal Varieties
Chex has a great variety of different types of cereal with ten different flavors to choose from.
Rice Chex
Rice Chex is completely gluten-free. In fact, it was the very first specially made gluten-free cereal created for the general public. Besides this, they are a good source of calcium, contain no high fructose corn syrup, have 17g of whole grain within each portion, and, when served with semi-skimmed milk, are 200 calories.
Corn Chex
Corn Chex is a gluten-free cereal that is also a good source of calcium. One portion of Corn Chex has 16g of whole grain corn, zero artificial flavors, and contains 210 calories when paired with semi-skimmed – and it's also gluten-free.
Wheat Chex
As previously mentioned, Chex's wheat variety is the most popular breakfast cereal option from the multiple cereal options that the brand has created.
One portion has 52g of whole-grain wheat and 8g of fiber, and coupled with milk, one bowl contains 250 calories. No artificial colors and no high fructose corn syrup is contained within the cereal. However, this cereal is not gluten-free.
Chocolate Chex
Chocolate Chex is a popular option for those with a sweet tooth and a known pantry staple for those with children who want something sweet in the morning. Made from 100% genuine cocoa, a bowl of Chocolate Chex has 22% of the DVA recommended amount of daily sugar and has 220 calories (including semi-skimmed milk). It's great for making your own Chex mix.
Apple Cinnamon Chex
Another gluten-free option is Apple Cinnamon Chex, which has 13g of whole grain fiber and 220 calories as per the serving suggestion. There is also no high fructose corn syrup in this breakfast cereal.
Peanut Butter Chex
Peanut Butter Chex contains real peanut butter and zero artificial flavors or colors. Each serving has 210 calories when milk is added, or on its own, as packaged contains 170 calories.
Please note: As it contains peanut ingredients which can cause serve allergies in some people, it's vital that this cereal be stored appropriately, and the risk of cross-contamination should be carefully managed.
Cinnamon Chex
Cinnamon Chex provides adequate calcium for a breakfast cereal, is gluten-free, and has 13g of fiber per portion. They are also made with real cinnamon, a property that has been known to help fight inflammation while being packed with antioxidants. One bowl for breakfast will provide you with 210 calories – milk included.
Blueberry Chex
Blueberry Chex is another choice from Chex that is made from real flavors and is gluten-free. One serving is 170 calories on its own, or 210 when paired with semi-skimmed milk.
Honey Nut Chex
Honey Nut Chex is made from real honey and is gluten-free, and contains 14g of whole grain in each portion alongside no artificial colorings. One bowl of this cereal has 210 calories with milk.
Where You Can Buy Chex Cereal
Due to its popularity, you can buy the brand almost anywhere, whether online at Amazon, Walmart, or in-store.
Famous Chex Cereal Commercials
Back in 1950, Elizabeth Taylor was the face of Chex, then known as Shredded Ralston. She was promoting the film Father of The Bride, in which she starred alongside Spencer Tracy.
Advertisements for the cereal featured the characters from Charles Schulz's Peanuts comic strip. You can watch one of them here.
User Reviews
Review Summary
0 out of 5 stars (based on 0 reviews)
Recent Reviews
There are no reviews yet. Be the first one to write one.
Submit a Review