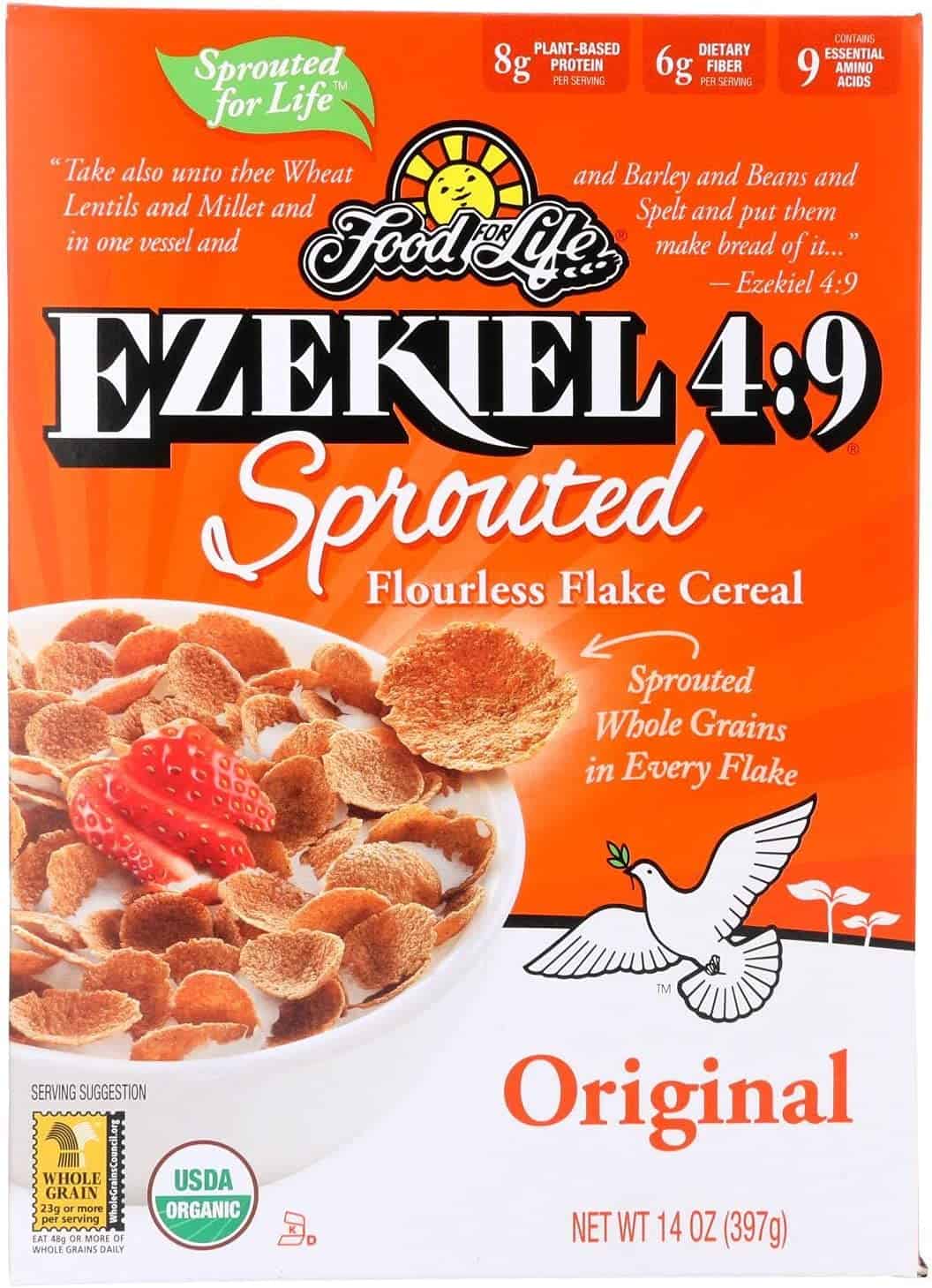 Just like the celebrated Ezekiel bread, Ezekiel whole grain cereal products (created by the brand Food For Life) are as tasty as they are healthy and contain ingredients and nutrients beneficial to a healthy, wholesome diet, including impressive levels of protein and fiber.
All in all, there are a total of nine whole grain cereal options to choose from. This means there is one to suit all tastes and almost all dietary requirements.
Nutrition Facts

Each Food for Life whole grain cereal boasts eight servings per box (based on a 57 gram or half a cup serving)
Calories per serving: 200
Total Fat: 3g (4% DV)
Saturated Fat 0g (0% DV)
Trans Fat 0g
Cholesterol: 0mg: 0% DV)
Sodium: 150mg (7% DV)
Potassium: 193mg (4% DV)
Total Carbohydrate: 34g (12% DV)
Dietary Fiber: 6g (21% DV)
Total Sugars: 1g
Added Sugars: 1g (2% DV)
Protein: 8g
Iron: 4mg (20% DV)
Selenium: 28mcg (50% DV)
Calcium: 23mg (2% DV)
Phosphorus: 163mg (15% DV)
Thiamin 0.2mg (15% DV)
Vitamin D: 0mcg (0% DV)
Vitamin B6: 0.2mg (10% DV)
Magnesium: 66mg (15% DV)
Manganese: 1.8mg (80% DV)
Niacin: 4mg (25% DV)
Zinc: 5mg (45% DV)
Folate DFE: 30mcg (8% DV)
Ingredients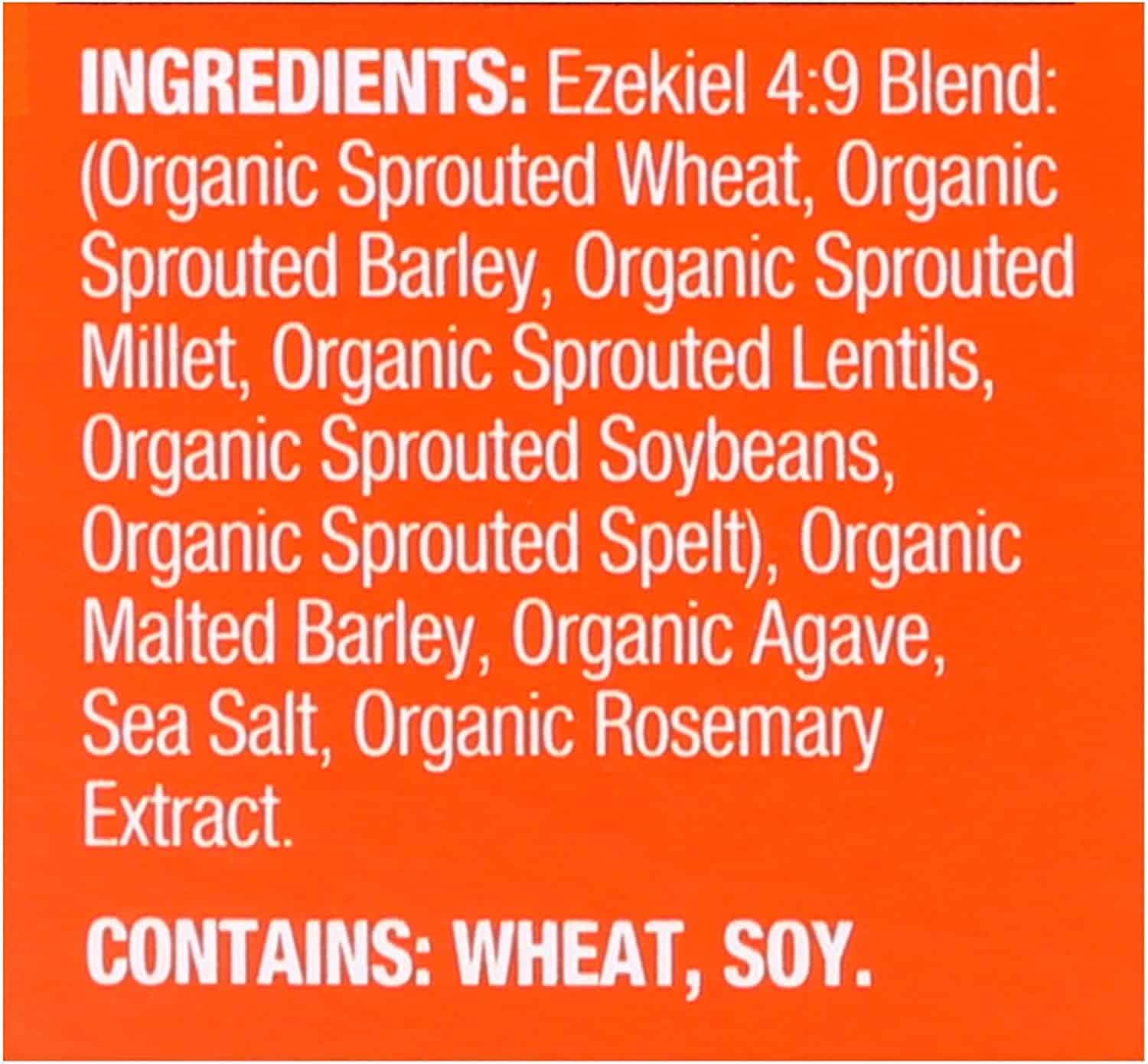 These differ slighter between the sprouted whole grain cereal variants, with most boasting similar ingredients bar a few additional naturally flavorful components such as pineapple, coconut, and other fresh fruit and nuts.
Ingredients:
Organic Sprouted Wheat
Organic Sprouted Barley
Organic Sprouted Millet
Organic Sprouted Lentils
Organic Sprouted Soybeans
Organic Malted Barley
Organic Sprouted Spelt
Filtered Water
Sea Salt
Organic Rosemary Extract
Is Ezekiel Cereal Healthy?
Ezekiel whole grain cereal is a great option for those looking to embrace a healthy diet as this line of whole grain cereal products provides all the nutrients required to start your day the right way.
These sprouted cereals boast high levels of fiber and protein and zero sugar. A 57-gram serving allows for 23% of your daily fiber intake plus 8 grams of protein. Want to add even more fiber? Simply add fresh or dried fruit or organic almonds to your cold breakfast cereal.
If you're looking to avoid cereals packed with GMOs (genetically modified organisms) and artificial colors and flavors, as well as shortenings, preservatives, or refined sugars, this is a great option for you and your family.
In terms of crafting these cereals, the brand adopts a bespoke slow-bake process. The result? Cereals that preserve the bran benefits and natural fiber of grains.
When it comes to respecting your body and feeding it what it needs, it's important to find foods that are both healthy and wholesome. This way, you can enjoy living a more active, healthier life.
Is Ezekiel Cereal Gluten-Free?
Despite all of the vegetable sources and grains in this Food for Life grain cereal being certified organic, this doesn't mean they're gluten-free. Before crafting the final product, the grains and legumes are encouraged to sprout before being processed, blended, and baked.
However, barley, wheat and spelt all contain gluten. Therefore, if you suffer from non-celiac gluten sensitivity or celiac disease, this isn't the cereal for you.
Is Ezekiel Cereal Vegan?
Yes, it is! High in nutrients and flavor, this sprouted whole grain cereal from Food for Life is not only flourless, it's made with sprouted grains in the shape of organic sprouted barley, organic sprouted soybeans, organic sprouted millet, organic sprouted lentils, organic malted barley, and sprouted whole grain to ensure the ultimate in wholesomeness.
You can also serve with soy milk or another plant-based milk, either hot or cold, making it a great option for hot cereal lovers as well as those who prefer their cereal cold. Simply add the whole grain cereal to a small saucepan with soy milk and heat to the desired temperature.
Is Ezekiel Cereal Keto?
Ezekiel Cereals from the brand Food for Life are not keto-friendly, mainly because all of the protein quality variants are high in carbs. This means (even with a smaller serving) you may be kicked out of ketosis.
Is Ezekiel Cereal High in Protein?
These cereals are a great option for those looking to add more protein to their diet, as they are a source of both plant protein and complete plant protein.
Is Ezekiel Cereal High in Fiber?
Yes, Ezekiel cereals are extremely high in fiber, with most of the unique cereal variants boasting 21% of your daily required fiber intake, found in the likes of organic malted barley and organic sprouted spelt – just a few of the high fiber ingredients in the sprouted whole grain cereal.
Ezekiel Cereal Varieties
There are nine Ezekiel sprouted whole grain cereal varieties to choose from in total, all of which we have listed below; which you choose comes down to personal preference:
Almond Flake Cereal
Almond Sprouted Wholegrain Cereal
Cinnamon Raison Wholegrain Cereal
Flax and Chia Sprouted Flake Cereal
Flax Sprouted Wholegrain Cereal
Original Flake Cereal
Raison Flake Cereal
Sprouted Grain Low Sodium Cereal
Sprouted Wholegrain Cereal
Ezekiel Cereal Store Brand Alternatives
Similar high fiber, high protein cereals to the Food for Life cereals include the likes of Bob's Red Mill Gluten Free Muesli, The Silver Palate Grain Berry Antioxidant Shredded Wheat Cereal, and The Silver Palate Grain Berry Bran Flakes Cereal.
All can be found online or in your local grocery store – often on the same shelf as the Ezekiel cereals.
Where You Can Buy Ezekiel Cereal
You can buy the cereals online or from a variety of health food markets and grocery stores. Adding these grain cereal products to your daily diet will mean you have access to a healthy snack anytime.
Famous Ezekiel Cereal Commercials
The Food for Life brand has the ultimate mission of improving the health of its customers. Learn more about their sprouted whole grain cereal (and other products) by watching this insightful commercial.
User Reviews
Review Summary
4 out of 5 stars (based on 1 review)
Recent Reviews
No Title
Until recently, I always walked right past this cereal in the store. Then I bought some on a lark and I was pleasantly surprised. The texture is kind of like grapenuts. -not nearly as brittle and it softens faster in milk. It has a nice flavor.
Submit a Review