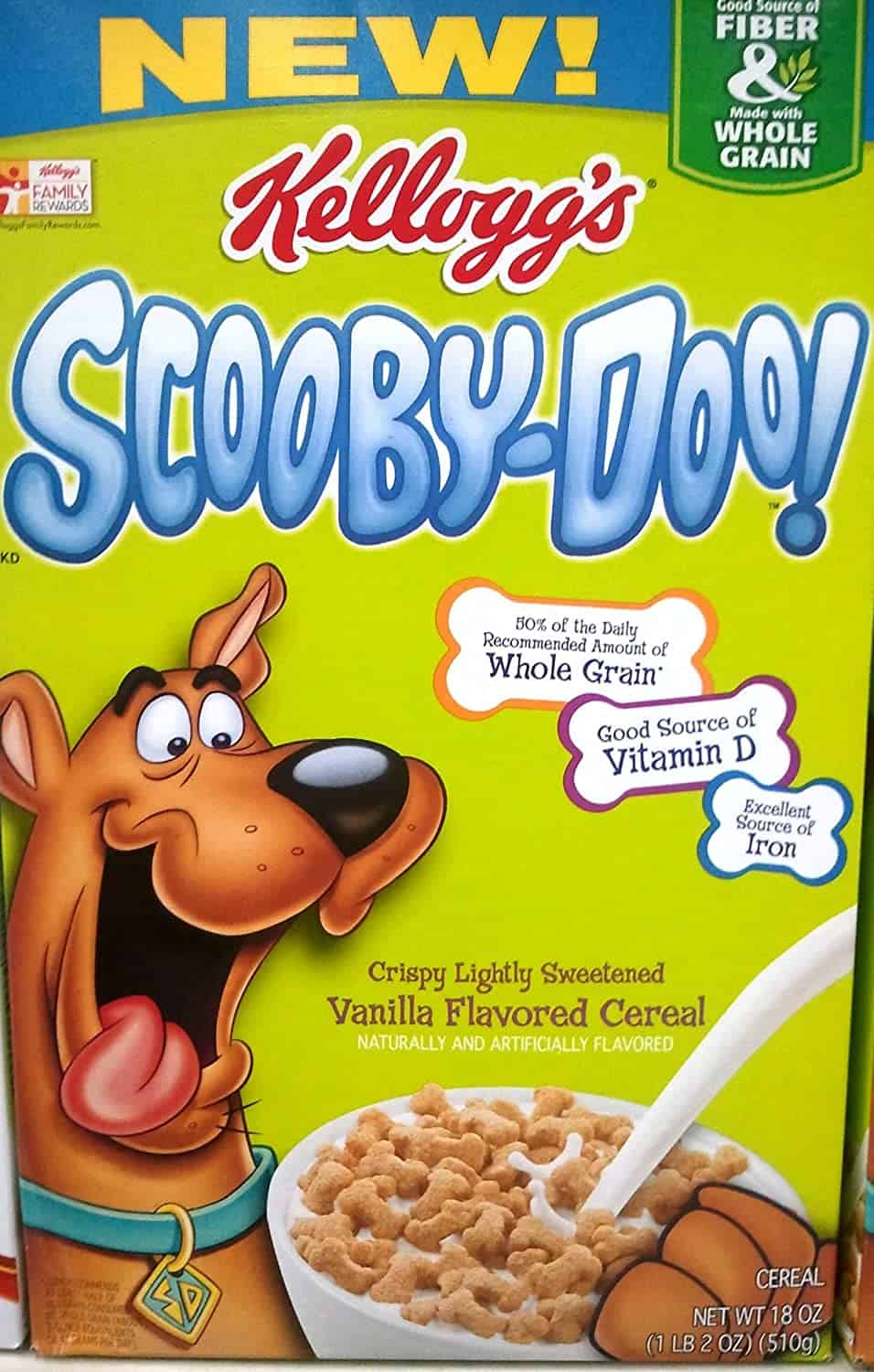 This loveable cartoon character is definitely worthy of his own cereal, and for anyone that's a fan of the long-running cartoon series, this should be a cereal to have on your to-try list. Whilst it may not be the healthiest option, it's a fun mix to put in your breakfast bowl every morning.
The breakfast cereal features crispy, sweetened multi-grain bone-shaped corn with marshmallow bits shaped like the characters to add an extra sugary kick. Since this release, there have also been a number of other Scooby-related cereals.
What makes this new cereal stand out? If you're a fan of the cartoon series, then this guide should provide you with all the information needed when purchasing this breakfast option for your household to enjoy around breakfast tables nationwide.
Nutrition Facts
With a serving size of 32g recommended, this cereal offers 16 servings per container. Here are some key nutritional facts worth knowing about this cereal brand:
Calories – 120
Total Fat – 1.5g
Cholesterol – 0mg
Sodium – 110mg
Total Carbohydrates – 27g
Dietary Fiber – 3g
Sugars – 6g
Protein – 3g
Ingredients
Processed cereals are not always suited for everyone; however, it's always useful to know what ingredients are in your food.
Whole Grain Yellow Corn Flour
Whole Wheat Flour
Sugar
Whole Grain Oat Flour
contains 2% or less of Oat Fiber
Canola Oil
Salt
Caramel Color
Natural and Artificial Flavor
Annatto Color
BHT for freshness
Vitamins and Minerals: Vitamin C (Ascorbic Acid), Reduced Iron, Niacinamide, Zinc Oxide, Vitamin B6 (Pyridoxine Hydrochloride), Vitamin B2 (Riboflavin), Vitamin B1 (Thiamin Hydrochloride), Vitamin A Palmitate, Folic Acid, Vitamin D, Vitamin B12
Is Scooby-Doo Cereal Healthy?
As far as the cinnamon marshmallow Scooby-Doo cereal goes, there are some nutritional advantages to this breakfast dish. Kellogg's Scooby-Doo breakfast bowl boasts plenty of vitamins and minerals that are important to a child's growth and is low in fat, meaning it's slightly healthier than most alternatives.
This cinnamon marshmallow Scooby-Doo mix is a good source of fiber and Vitamin D, as well as Iron. Overall, it's a generally healthy cereal option for both young children and adults.
Is Scooby-Doo Cereal Gluten-Free?
Whilst this option might be healthy, it's not gluten-free, which may be saddening for those who are looking for a gluten-free product. This is due to Kellogg's creating a lot of their cereal all in one place. This means that there's likely to be cross-contamination with wheat products, and it's simply not worth the risk when it comes to allergies and intolerances.
Is Scooby-Doo Cereal Vegan?
The inclusion of cinnamon marshmallow scooby doo pieces means there will be gelatin in the cereal. Although gelatin can sometimes be plant-based, it is predominantly derived from animals and, therefore, not a vegan-friendly product.
There are plenty of cereals out there though that are considered vegan and, in some cases, are made with marshmallows that aren't animal-derived.
Is Scooby-Doo Cereal Keto?
As the cinnamon marshmallow Scooby Doo cereal contains a fair amount of sugars and carbohydrates, it does mean that this cereal isn't going to be keto-friendly.
Keto diets are difficult when it comes to breakfast cereals as there are quite a few that are just not suitable for the restrictions that a ketogenic diet asks for.
Is Scooby-Doo Cereal High in Protein?
Kellogg's Scooby-Doo cinnamon marshmallow cereal contains 3g of protein, which isn't a huge amount in comparison to some other breakfast alternatives. With most cereals, you're not going to get a huge amount of protein anyway. It's best to opt for something else than cereal if you're looking for more protein intake.
Is Scooby-Doo Cereal High in Fiber?
When it comes to fiber, the cinnamon marshmallow Scooby-Doo offers 3g of protein per serving. Generally, with a lot of processed cereals, there's not much in the way of fiber unless you pick one that contains granola and bran flakes.
The Kellogg's Scooby-Doo cereal contains 3g of fiber, which might not be enough for some when it comes to getting their daily intake. However, for the most part, it is a reasonable amount that is great for the digestive system.
Scooby-Doo Cereal Varieties
There are a number of cereals that if you're a fan of this cinnamon marshmallow mix, you'll love the below varieties available. They also come with fun Scooby-Doo games.
Keebler Scooby-Doo! Cinnamon Baked Graham Cracker Sticks 11
Baked snacks that have been made with whole wheat flour, the Cinnamon Baked Graham Cracker Sticks are delicious kosher snacks or can be served as cereal.
Berry Bones
Kellogg's Scooby-Doo also has a Berry Bones variety. This cereal can also be found in the supermarket and grocery stores across the US, and the cereal features crispy bone-shaped pieces that taste of berry!
Where You Can Buy Scooby-Doo Cereal
Cinnamon Marshmallow Scooby-Doo cereal can be purchased from the supermarket and grocery stores, as well as online. Here are a few places where you can buy Kellogg's Scooby-Doo cereal.
Many of the cereals will feature fun scooby doo games for the children to play around the breakfast table.
Famous Scooby-Doo Cereal Commercials
This cinnamon marshmallow Scooby-Doo was released in line with Cartoon Network, which was providing re-runs of the cartoon series. A few months after the cereal was sold in store, a live-action Scooby film debuted in theaters. Here are a few of the Kellogg's scooby doo cereal commercials that have been featured over the years.
This commercial features Scooby and Shaggy recording a voiceover for the cinnamon marshmallow Scooby-Doo and hilariously getting it wrong every time by mispronouncing the word Scooby.
Another commercial to feature the cinnamon marshmallow scooby doo cereal, where all children have a serious case of the funny bones!
This last commercial is fairly simple in its format, as it shows Scooby discovering that he's famous as he has his own cereal!