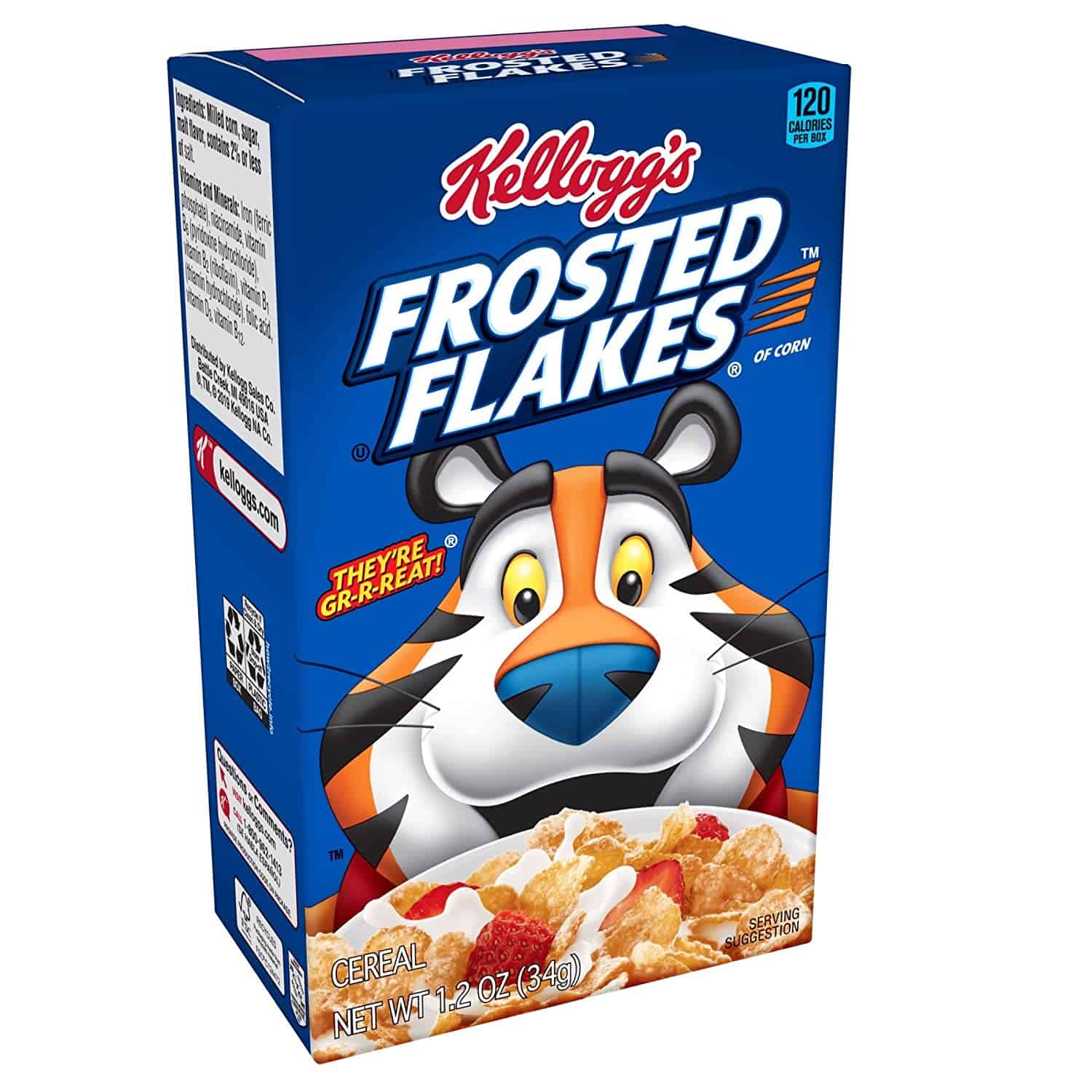 Frosted Flakes Cereal is one of the most famous and recognizable cereals on the market today. Known affectionately as Frosties, these sugar-coated flakes were made famous thanks to Tony the Tiger! Plus, they taste pretty amazing too.
This cereal was first introduced by the Kellogg's Company in the United States in 1952. Back then, the cereal was known as Sugar Frosted Flakes. However, 'sugar' was removed from the name 31 years later.
Read on to discover everything you need to know about the best-frosted flakes on the market today, which the whole family will love.
Nutrition Facts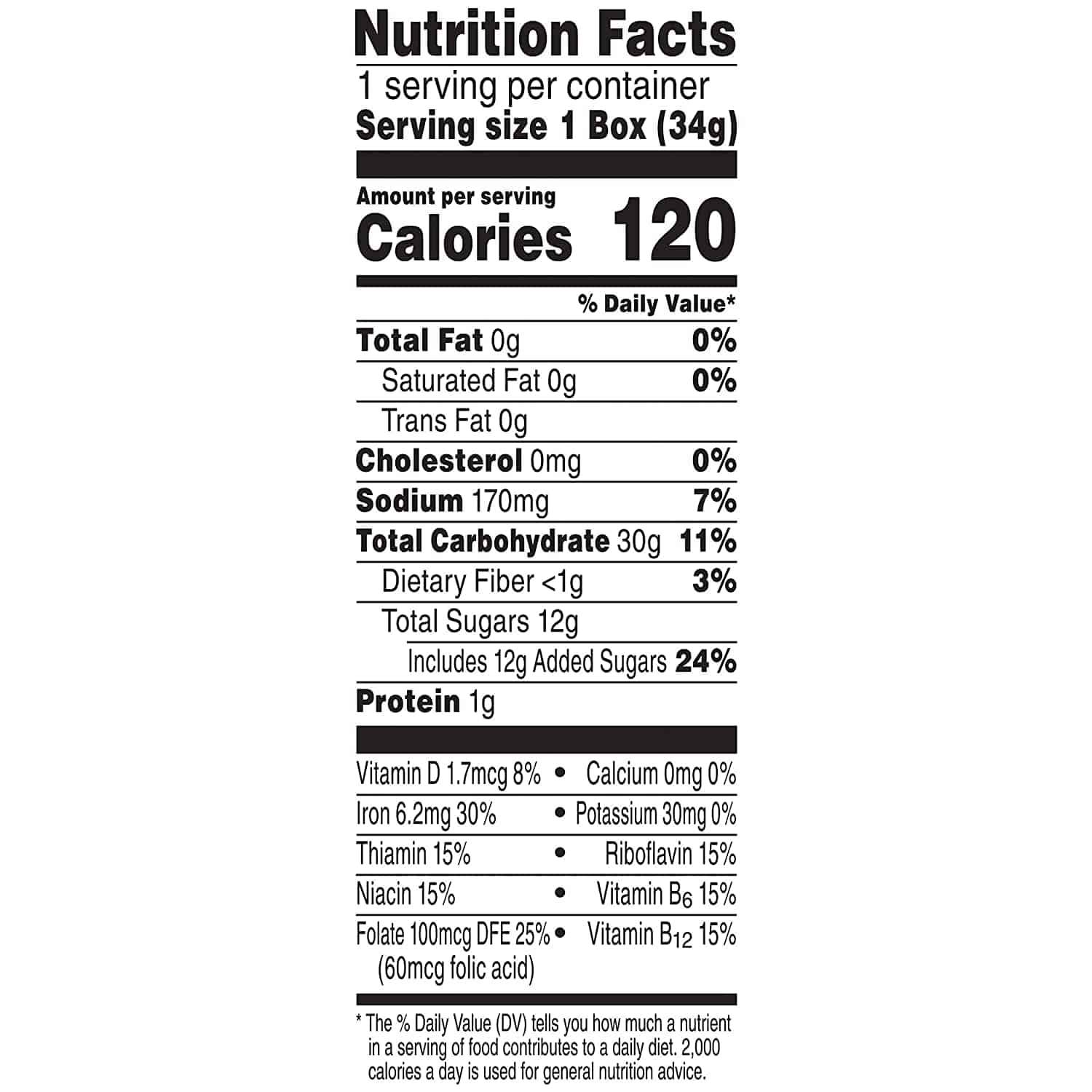 The serving size for this these crispy frosted corn flakes is 30g.
There are 114 calories per serving of Kellogg's Frosted Flakes cereal, with 1.8 calories from fat.
Total Fat = 0.2g
Saturated Fat = 0g
Protein = 1.4g
Total Carbohydrates = 26g
Sugars = 11g
Dietary Fiber = 0.6g
Sodium = 100mg
Ingredients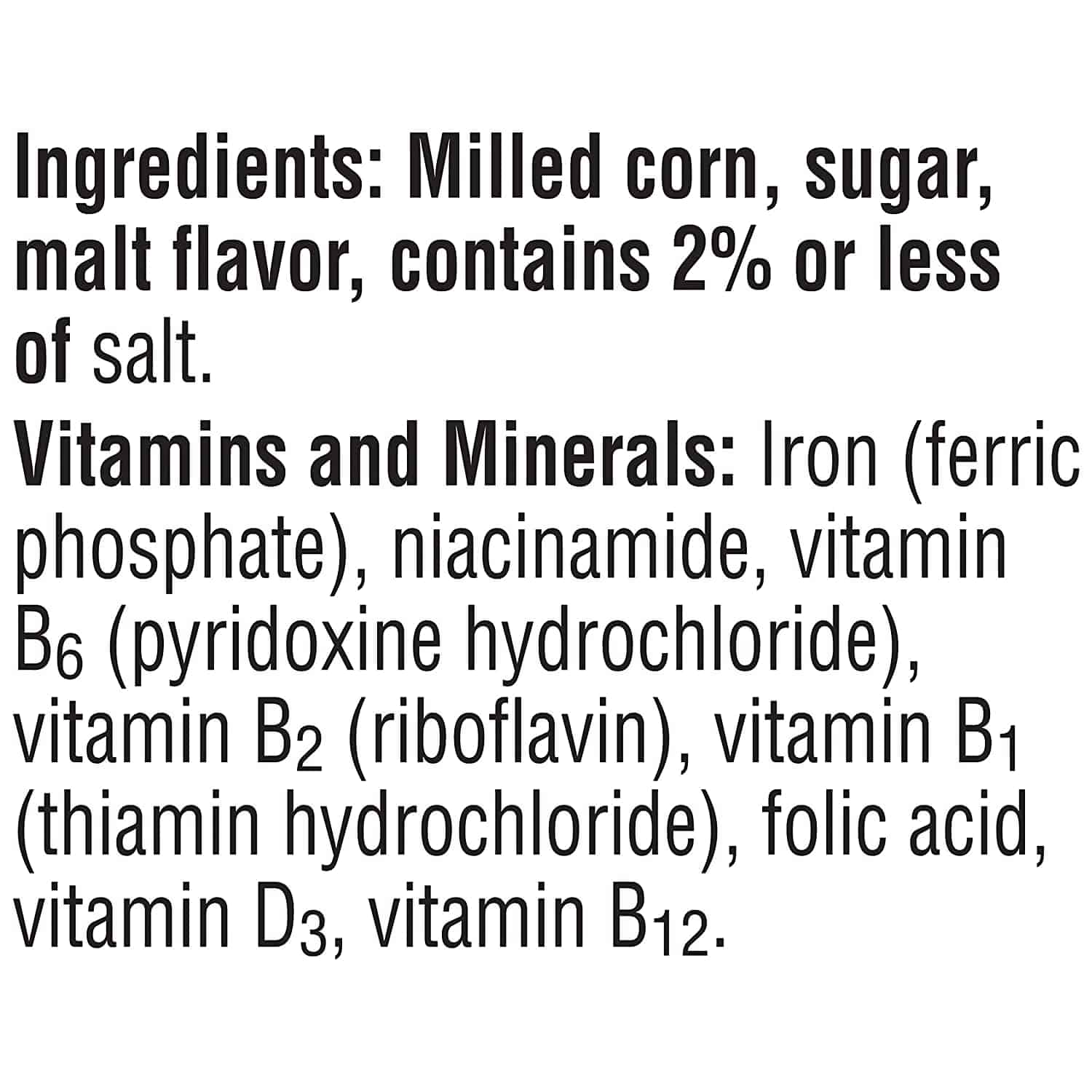 The main ingredients in Kellogg's Frosted Flakes cereal are sugar, maize, and barley malt flavoring. You will also find salt and a number of minerals and vitamins, including Folic Acid, Vitamin D, Vitamin B12, Vitamin B1 (Thiamin), Vitamin B6, and Vitamin B2 (Riboflavin), Iron, and Niacin.
Is Frosted Flakes Cereal Healthy?
Cereal is considered a healthy part of a balanced diet. However, Kellogg's Frosted Flakes would not fall into the healthy cereal category.
They are not considered diet food because they are high in sugars. Nevertheless, like most sugary cereals, this does not mean you cannot enjoy them as part of a healthy weight-loss plan. As you know, it is all about moderation when it comes to foods like this.
You could replace sweet milk with almond milk to make your cereal bowl healthier. While sweet milk makes a great addition, the sweet frosting ensures tasty cereal that is crunchy sweet, meaning you can team it with any milk alternative. Or, you can enjoy simply grabbing handfuls without any milk at all!
Is Frosted Flakes Cereal Gluten-Free?
No, if you are following a gluten-free diet, Frosted Flakes Cereal is not going to be right for you. This is because of the malt flavor used, which contains gluten.
Is Frosted Flakes Cereal Vegan?
A lot of people wonder whether eating Frosted Flakes is an option for vegans. It's actually more of a complicated question than you may realize. A lot of people assume that this cereal is an "accidental vegan" product – what we mean by this is that it was not created specifically for vegans, but it is a vegan product based on the ingredients.
However, the inclusion of Vitamin D3 means that this cereal is probably not vegan. The reason for this is that Vitamin D3 tends to be extracted from sheep wool. All of the other ingredients are vegan, though.
Is Frosted Flakes Cereal Keto?
If you are following a Keto diet, we would not recommend having this deliciously crafted cereal for your breakfast. While it tastes amazing and can be eaten as part of a healthy diet, traditional cereals do not fit into the mold of a grain-free and gluten-free diet.
Is Frosted Flakes Cereal High In Protein?
One serving of Frosties will provide you with 1.6g of protein. To put this into perspective, the typical adult requires at least 0.8 grams of protein every day per every kg of body weight. If you are active, your protein needs may increase.
Is Frosted Flakes Cereal High In Fiber?
Sugar-frosted Kellogg's corn flakes are considered low in fiber. If a product contains more than 5g of fiber, it is deemed high in fiber. One cup of Frosted Flakes has 0.9g of fiber.
Frosted Flakes Cereal Varieties
You have probably heard the saying if it is not broken, don't fix it, right? That's definitely the case for this cereal. While there have been a number of different types of Frosted Flake products that have hit the market, none of them has come close to enjoying the popularity of the original.
For instance, Cocoa Frosted Flakes and Birthday Confetti Frosted Flakes were both released in 1997. We also saw Frosted Rice hit the shelves, a hybrid between Rice Krispies and Frosted Flakes. Other varieties that have been available include the following:
Banana Creme Frosted Flakes (a limited edition banana creme-flavored version)
Cinnamon Frosted Flakes
Banana Frosted Flakes
Frosted Flakes Gold (a honey-flavored variant, which was later reintroduced as Honey Nut Frosted Flakes)
Tony's Turboz (a meal replacement variety that is similar to Whole Grain Tiger Power)
Tony's Cinnamon Krunchers (A cinnamon-flavored variant from 2003)
Frosted Flakes Chocolate
Frosted Flakes Cereal Store Brand Alternatives
As Kellogg's Frosted Flakes cereal has become so popular, we have seen many different brands make their own version of this cereal. In fact, a lot of supermarkets in the US have created their own version.
They're simply named "Frosted Flakes." This is because the name "Frosted Flakes" is so generic that Kellogg's was not able to trademark it, and this is why so many companies have been able to replicate the name for their own version. However, many would agree that Kellogg's is King when it comes to this type of breakfast cereal.
Where You Can Buy Frosted Flakes Cereal?
There are many different places where you can buy Kellogg's Frosted Flakes in the United States, including:
Famous Frosted Flakes Cereal Commercials
The advertising cartoon mascot for Kellogg's Frosted Flakes breakfast cereal is Tony the Tiger. He appears on their packaging and in their advertising.
This Frosted Flakes Commercials compilation takes you through some of the different Tony the Tiger commercials over the years. From Tony playing ice hockey to helping teenagers "let their G-G-R-R-E-A-T out", there have been many famous ads over the years with this friendly tiger.
User Reviews
Review Summary
5.0 out of 5 stars (based on 2 reviews)
Recent Reviews
Big Yum!
A delicious, easy to digest cereal.
however, when i read the label, i was surprised the Fiber content was lower than i expected.
so – sometimes i mix in a high fiber cereal, to get a half-&-half combination.
also, hulled Hemp seed is a great additive, with its higher fiber & nutritional content.
No Title
This cereal has always been a winner. I'm 70 years old and really hadn't thought much about it. I ate some with my grandson and have been at it ever since. There is something about eating with your 63 years younger grandson that is very special.
Submit a Review