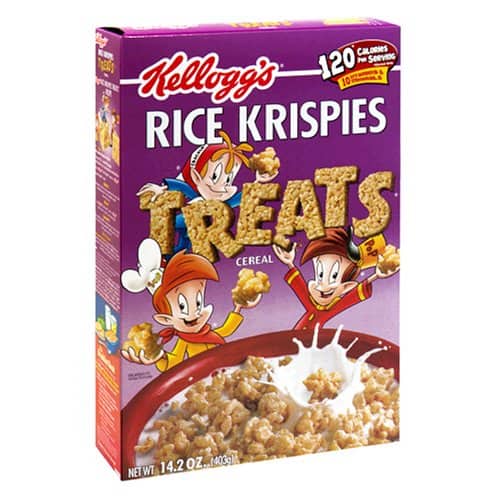 It's no lie that breakfast is the most important meal of the day. So, what better way to start your day than with a bowl of cereal based on one of the most delicious snacks around, Rice Krispies Treats?
You might think it's not acceptable to eat treats like these for breakfast, but thanks to this cereal, you can! Here, we'll take you through everything you need to know about arguably the most delicious cereal in the Rice Krispies family.
Nutrition Facts
The serving size of Rice Krispies Treats is quite small, at just 30g. This size serving contains:
Calories – 120
Total Fat – 1g / 2% DV
Saturated Fat – 0.5g / 3% DV
Cholesterol – 0mg / 0% DV
Sodium – 170mg / 7% DV
Total Carbohydrate – 26g / 9% DV
Fiber – 0g
Sugars – 9g
Protein – 1g
Vitamin A – 10% DV
Vitamin C – 10% DV
Calcium – 0g / 0% DV
Potassium – 15mg / 0% DV
Iron – 10%
Vitamin D – 10%
Thiamin – 25%
Riboflavin – 25%
Niacin – 25%
Vitamin B6 – 25%
Folic Acid – 25%
Vitamin B12 – 25%
The percentage Daily Values given above are based on a daily intake of 2,000 calories. Therefore, if you consume more or less than this amount, the percentages will vary accordingly.
Ingredients
The following are listed as the ingredients of this Rice Krispies cereal:
Rice
Sugar
Maltodextrin
Palm oil
Salt
Natural and artificial flavorings
Gelatin
Malt flavor
Coloring
BHT (for freshness)
Vitamins and minerals.
Is Rice Krispies Treats Cereal Healthy?
The ingredients are listed in order of prevalence, which means sugar is the second-highest ingredient by weight. The cereal also contains a high level of maltodextrin, a sweetener that adds no nutritional value.
There is no fiber and very little protein in Rice Krispies Treats cereal. Perhaps the only benefit is the fact that a small serving contains 1/4 of an adult's daily recommended intake of several essential vitamins.
Is Rice Krispie Treat Cereal Gluten-Free?
There are no gluten-containing ingredients in the original recipe Rice Krispies Treats. However, the product isn't explicitly labeled as being gluten-free.
Therefore, it could be manufactured in an environment with a risk of cross-contamination. As a result, it may be safer to avoid this cereal if you have a severe gluten allergy or sensitivity.
Is Rice Krispie Treat Cereal Vegan?
This cereal isn't suitable for vegans due to the fact that it contains gelatin. Gelatin is an animal-based product generally obtained from bones, skin, or tendons.
It's often used in marshmallows to give them their characteristic jelly-like texture. The fact that this cereal is based on the marshmallowy treat explains the presence of this non-vegan ingredient.
Is Rice Krispies Treats Cereal Keto?
Due to the very high level of carbohydrates in this cereal, it is not suitable for those following a keto diet.
However, if you wish to enjoy the taste of the delicious snack this cereal is based around, there are recipes online. Using a keto-friendly cereal and low-sugar syrup, you can make your own treats to enjoy on the go. You might have to skip the mini marshmallows, though!
Is Rice Krispie Treat Cereal High In Protein?
No, Rice Krispies Treats contain very little protein, just 1g per serving. In comparison, Special K has the same serving size of 30g but offers 2.4g of protein per bowl. A 40g portion of original Rice Krispies contains 3g of protein.
If you wish to increase the protein content of a bowl of cereal, serve it with plenty of milk. A cup of milk contains an average of 8g of protein.
Is Rice Krispies Treat Cereal High In Fiber?
There is no dietary fiber in Rice Krispies Treats cereal. Many similar sugary cereals don't contain fiber, so this isn't uncommon.
If you're looking for a high-fiber cereal to help keep your gut healthy, consider Trader Joe's High Fiber Cereal, FiberOne Original, or All-Bran.
Rice Krispies Treats Cereal Varieties
While the cereal only comes in the original variety, there are plenty of Rice Krispies Treats bars you can enjoy instead. These offer the same sticky-sweet deliciousness of the cereal but in an easy-to-eat on-the-go format! Here are just some of the incredible flavors and varieties you can find in all good supermarkets:
Original
It's the classic everyone knows and loves, marshmallowy goodness that's always a hit with kids and adults alike!
Strawberry
Just like the original, but pink! If you love fruity flavors, you'll definitely get on board with these strawberry-flavored cereal bars.
Rainbow
This new recipe combines chocolate candies with the classic marshmallow cereal bar. Kids everywhere are sure to love it!
Chocolate Homestyle Bars
What do you get if you add marshmallows and chocolate to the classic, old recipe? These Chocolate Homestyle Bars! They're 50% bigger than the original bars and have space on the wrapper for you to write a sweet note for a loved one when packing a bar in their lunchbox!
Cookies 'n Creme
These treats are packed with little cookie pieces, so if you love Oreos, you're in for a treat. They're also drizzled with a sticky-sweet frosting – they're ideal for the occasional treat at snack time!
Birthday Cake
This variety is packed with colorful sprinkles to make snack time more special, even when it's not your birthday! Like the Cookies 'n Creme variety, they're finished off with a drizzle of frosting for extra sweetness.
Where You Can Buy Rice Krispie Treat Cereal
It is difficult to find Rice Krispies Treats, but one major supermarket that stocks it is Walmart. If you prefer to shop online, you'll find it on Amazon.
Famous Rice Krispie Treat Cereal Commercials
This cereal wasn't advertised with the famous characters of Snap, Crackle, and Pop like regular Rice Krispies. But it did have some memorable commercials; take a look!
This 1996 commercial showed kids rushing out to test the new recipe.
The earlier 1993 commercial showed how people would do anything to get their hands on a bowl of Rice Krispies Treats!
User Reviews
Review Summary
0 out of 5 stars (based on 0 reviews)
Recent Reviews
There are no reviews yet. Be the first one to write one.
Submit a Review