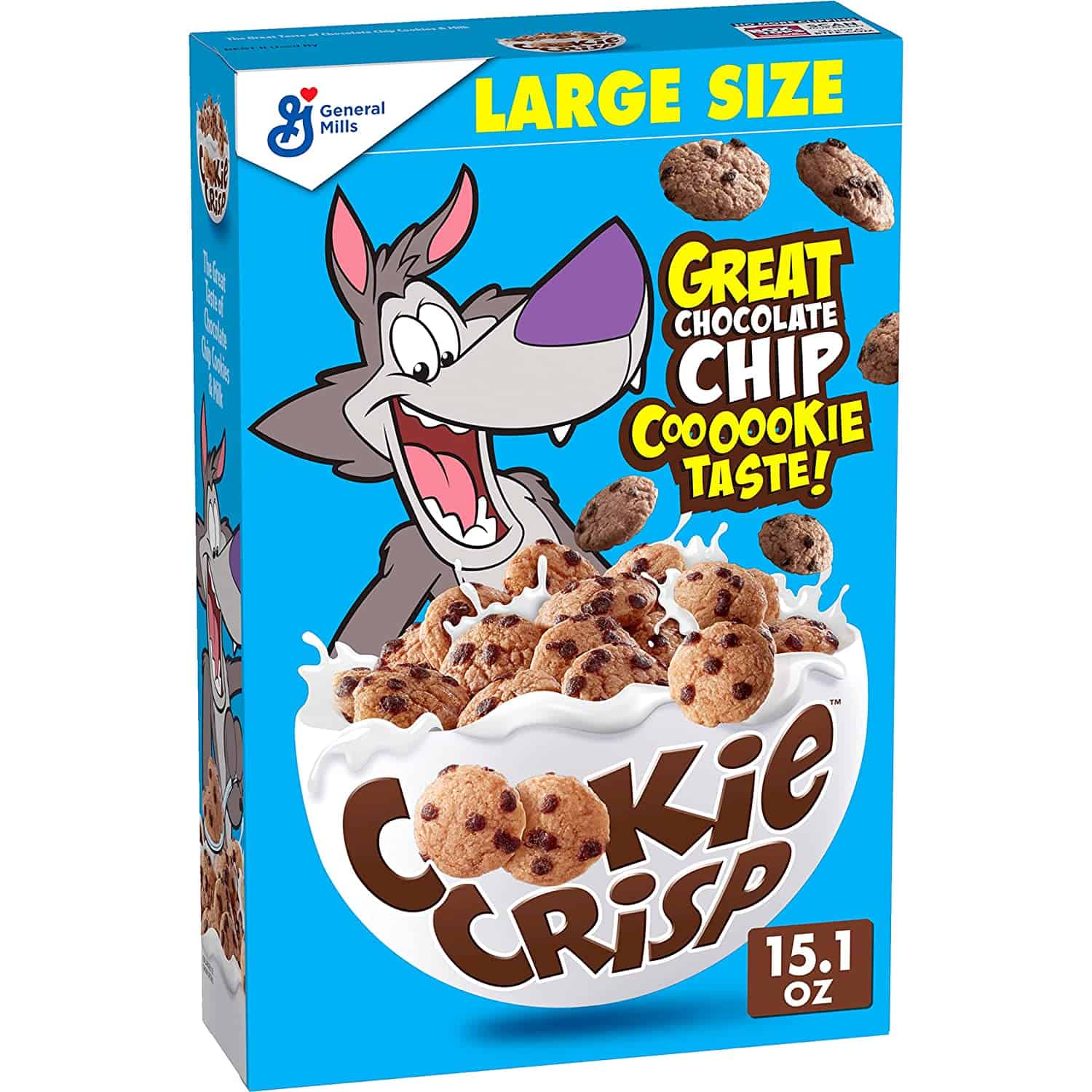 Cookie Crisp cereal is a tasty breakfast cereal that tastes exactly like chocolate chip cookies, produced by General Mills in the US and under the Nestle brand in other countries. It was first introduced in 1977 and has developed into different varieties since then.
Cookie Crisp cereal is marketed as a delicious breakfast cereal with a chocolate chip cookie taste, containing whole grains, vitamins, and minerals for a balanced breakfast.
Nutrition Facts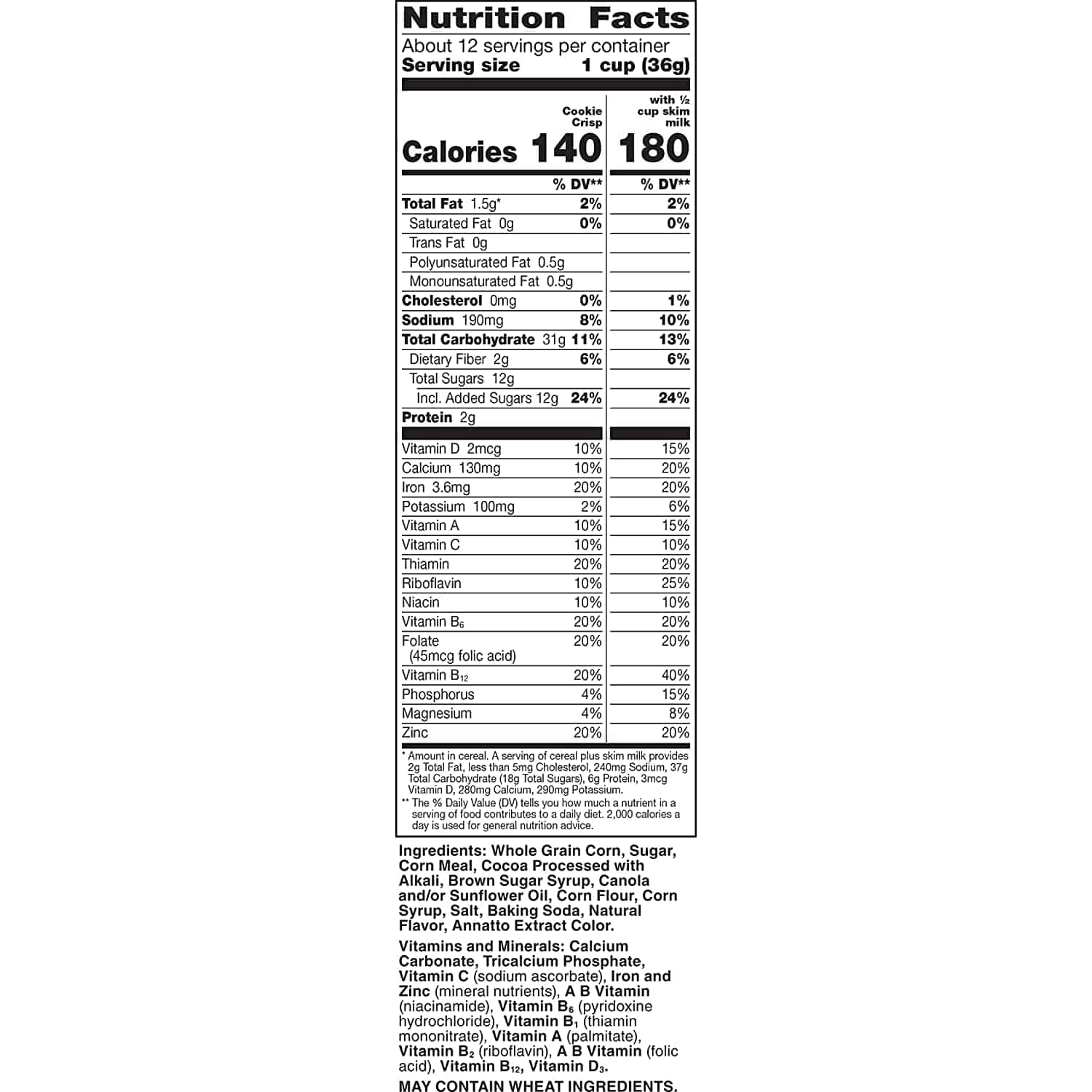 One serving (36 grams) of Cookie Crisp cereal contains:
Calories – 140
Total fat – 1.5 grams/2% DV
Monosaturated fat – 0.5 grams
Polyunsaturated fat – 0.5 grams
Sodium – 150mg/7% DV
Cholesterol – 0mg/0% DV
Total carbohydrates – 31 grams/11% DV
Total sugars – 12 grams
Dietary fiber – 2 grams/6% DV
Protein – 2 grams
Vitamin A – 10% DV
Vitamin D – 10% DV
Vitamin C – 10% DV
Calcium – 100mg/10% DV
Iron – 3.6mg/45% DV
Potassium – 0%
Thiamin – 20% DV
Riboflavin – 10% DV
Niacin – 10% DV
Vitamin B6 – 20% DV
Vitamin B12 – 20% DV
Folate – 20% DV
Folic acid – 45mcg
Phospherus – 6% DV
Zinc – 20% DV
Magnesium – 4% DV
The above Daily Value percentage is based on a diet of 2,000 calories per day. And one 500 gram box of Cookie Crisp contains around 8 servings.
Ingredients
The ingredients list of Cookie Crisp Cereal includes:
Whole Grain Corn
Sugar
Corn Meal
Yellow Corn Flour
Canola Oil
Corn Syrup
Cocoa Processed With Alkali
Brown Sugar Syrup
Salt
Caramel Color
Baking Soda
Natural Flavor And Color
Calcium Carbonate
Tricalcium Phosphate
Iron
Zinc
Sodium Ascorbate (Vitamin C)
Niacinamide (A B Vitamin)
Pyridoxine Hydrochloride (Vitamin B6)
Riboflavin (Vitamin B2)
Thiamin Mononitrate (Vitamin B1)
Palmitate (Vitamin A)
Folic Acid (A B Vitamin)
Vitamin D3
Vitamin B12
Is Cookie Crisp Cereal Healthy?
In spite of its decadent name, Cookie Crisp cereal is actually an excellent source of vitamins, minerals, iron, and calcium. It's made with whole grain and contains at least 10 grams of whole grain per serving. It doesn't contain any high fructose corn syrup and is free from both artificial colors and flavors.
Based on these specs above, you may think that Cookie Crisp cereal is very healthy. The only downside to this cereal is the sugar content. According to Clemson University's Department of Agriculture, sugar in cereals should not exceed 8 grams per serving. Cookie Crisp cereal contains 12 grams of sugar per serving.
Despite being whole grain, it only offers 2 grams of fiber per serving, which is also below the 3 – 5 grams recommended fiber for breakfast cereals.
Overall, Cookie Crisp cereal provides plenty of mineral nutrients, is a source of whole grain food, and is a cereal kids love. For those reasons, it's not considered too unhealthy when eaten in moderation.
Is Cookie Crisp Cereal Gluten-Free?
Whole grain corn is gluten-free, and as the ingredients list doesn't contain any wheat products, Cookie Crisp cereal is considered to be gluten-free. It is, however, produced in a factory that uses wheat ingredients, and therefore there could be cross-contamination of gluten into the breakfast cereal.
If you are uncertain, carefully study the ingredients label of each Cookie Crisp variety to make sure it doesn't contain any wheat products.
Is Cookie Crisp Cereal Vegan?
The answer is a slightly complicated no. Cookie Crisp cereal is generally considered to be vegan because it doesn't contain any meat, dairy, or eggs.
However, the only gray area when it comes to this cereal is Vitamin D. Vitamin D is extracted from lanolin, which is secreted from the glands of wool-bearing animals (like sheep).
So, although the main ingredients of Cookie Crisp are vegan, it contains ingredients that are a bit questionable for a strict vegan diet.
Is Cookie Crisp Cereal Keto?
Cookie Crisp cereal is not considered keto.
A keto diet recommends 20 – 30 grams of carbs per day, and Cookie Crisp only just exceeds this recommended allowance with 31 grams per serving. However, a keto diet then implies that no other carbs can be consumed on a day when Cookie Crisp cereal is eaten – which is nearly impossible.
It also contains high-glycemic sweeteners, like sugar and corn syrup, which are not considered keto-friendly.
Is Cookie Crisp Cereal High In Protein?
Cookie Crisp cereal is not high in protein when eaten without any milk. A single serving of Cookie Crisp provides 2 grams of protein, which is equal to the recommended 2 or more grams of protein per serving for cereal.
When served with skim milk, these chocolate chip cookies can provide 9 grams of protein per serving, which will meet the recommended protein intake for breakfast cereals.
Is Cookie Crisp Cereal High In Fiber?
Despite being made from whole grain corn, this cereal doesn't contain a lot of whole wheat, and as a result, it is lacking in fiber.
It provides 2 grams of fiber per serving, which is below the 3 – 5 grams recommended fiber content for breakfast cereal.
Where You Can Buy Cookie Crisp Cereal
You can use the General Mills "where to buy" function on their website to find stores near you that sell Cookie Crisp.
You can also find it online at Walmart, Amazon, or Target.
Famous Cookie Crisp Cereal Commercials
There have been plenty of Cookie Crisp cereal commercials throughout the years, and the Cookie Crisp mascot has also changed several times.
Commercials have featured all the mascots, from Cookie Jarvis in the 1970s, then Cookie Crook and Cookie Cop (known as Officer Crumb) in the 1980s, the introduction of Chip the Dog, who helped Cookie Crook in the 1990s, and finally only Chip the Dog in 1997.
In 2003, Cookie Crisp became popular worldwide, and Chip the Wolf was introduced in other countries, and in 2005 he became the official mascot for Cookie Crisp.
Cookie Jarvis popularised the jingle "you can't have cookies for breakfast, but you can have Cookie Crisp," which is still loved by adults and children alike.
User Reviews
Review Summary
0 out of 5 stars (based on 0 reviews)
Recent Reviews
There are no reviews yet. Be the first one to write one.
Submit a Review