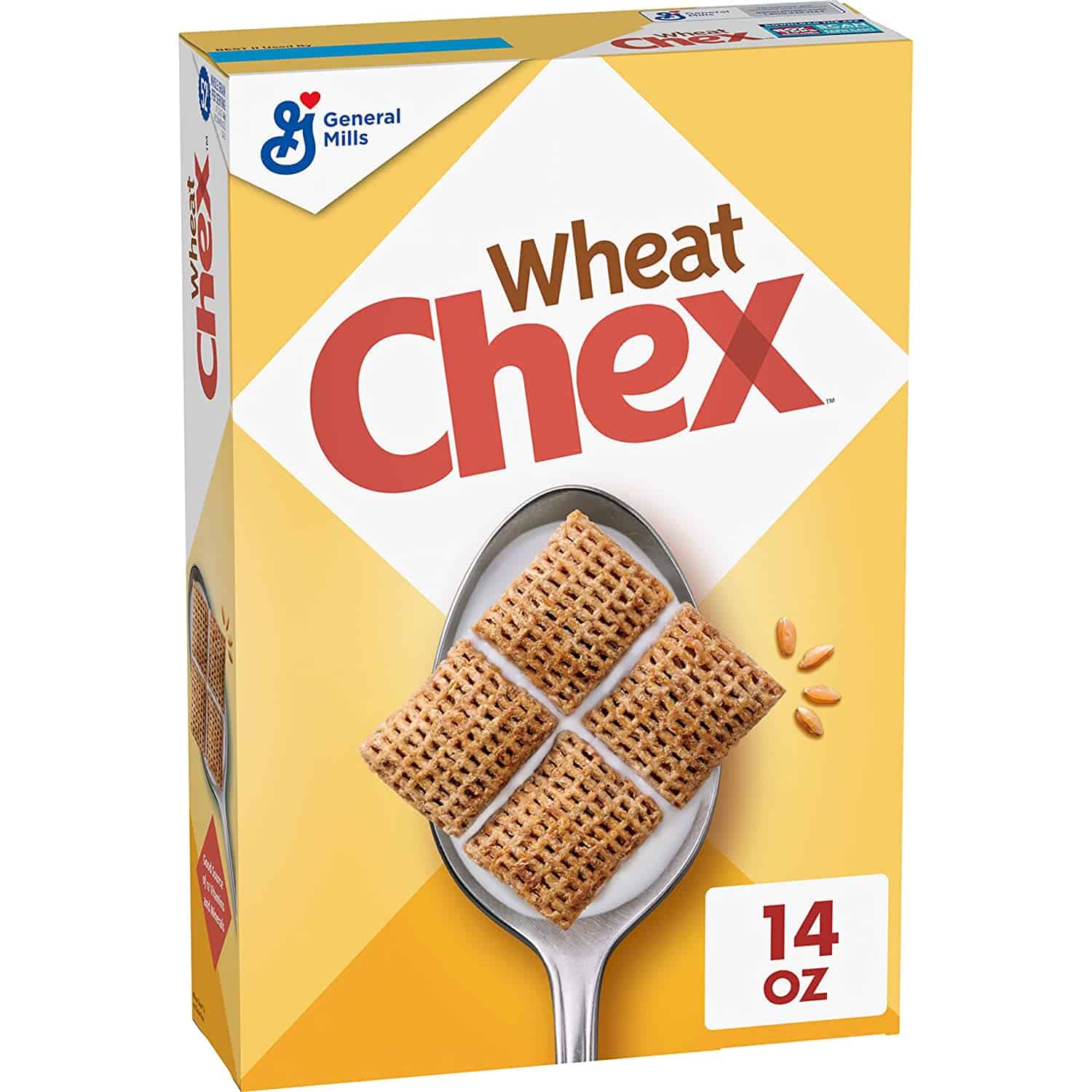 Chex has been making cereal since the 1930s. You've likely heard of other cereals from the brand, such as Corn Chex and Rice Chex, but Wheat Chex cereal is where it all started.
Enjoy Wheat Chex at breakfast time, served with some sliced fruit or sugar. Or you can even add trail mix to your Wheat Chex for a whole grain snack or even crush them and sprinkle on a tub of hummus for some delicious texture. Wheat Chex cereal shines in and salty snack mix and is the perfect addition to Original Chex Party Mix or any of your other favorite snack foods.
Read on for more information on Wheat Chex breakfast cereal.
Nutrition Facts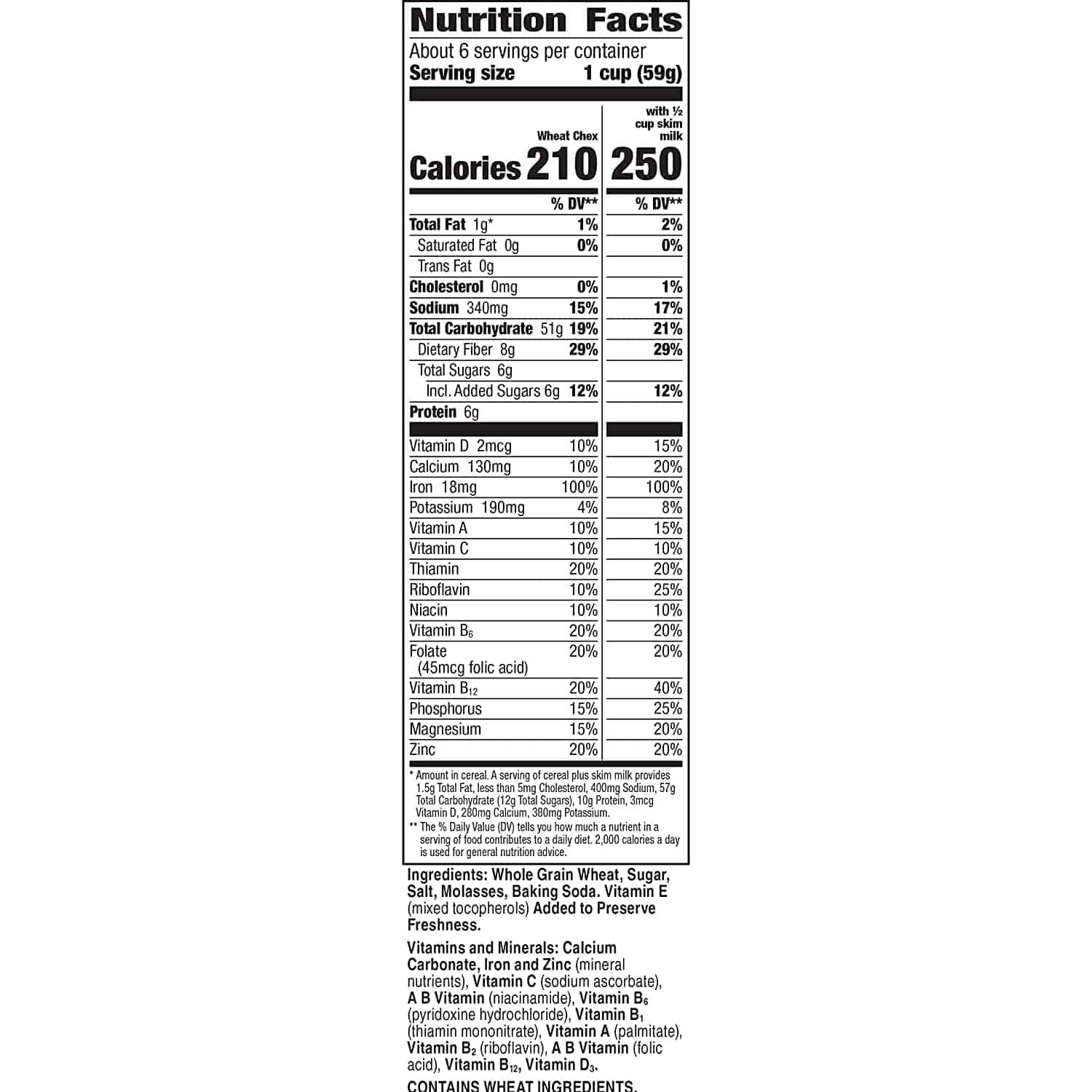 Each serving/cup of Wheat Chex cereal is 59g and 210 calories (250 calories with 1/2 cup of milk).
With 52 grams of whole grain wheat in each serving, Wheat Chex also contains 8g of fiber and is high in calcium! It contains no high fructose corn syrup or artificial flavors.
Wheat Chex contain 51 grams of carbohydrates, 6 grams of protein, and 6 grams of sugar!
Find more nutrition information about Wheat Chex on the Chex website.
Ingredients
Wheat Chex contains Whole Grain Wheat, Sugar, Salt, Molasses, Baking Soda, and Vitamin E (mixed tocopherols) added to preserve freshness.
Note ALLERGENS: WHEAT INGREDIENTS
The vitamins and minerals in Wheat Chex:
Calcium Carbonate
Iron and Zinc
Vitamin C (sodium ascorbate)
A B Vitamin (niacinamide)
Vitamin B6
Vitamin B1
Vitamin A
Vitamin B2
A B Vitamin (folic acid)
Vitamin B12
Vitamin D3
This whole-grain cereal is a great source of calcium and fiber. However, unlike other cereals from the Chex range, Wheat Chex is NOT GLUTEN FREE.
Is Wheat Chex Cereal Healthy?
Yes, Wheat Chex is generally considered to be a healthy, wholesome breakfast cereal. As a 100% whole-grain cereal, the nutrients are good: high in fiber and protein. It is also free from high fructose corn syrup and low in sugar.
Is Wheat Chex Cereal Gluten-Free?
No, Wheat Chex is actually the only one in the Chex breakfast cereal range that is not gluten-free. However, there is a comprehensive range of cereals from Chex to choose from if you are gluten-free.
Is Wheat Chex Cereal Vegan?
The short answer is yes. Wheat Chex is considered to be vegan; however, it does contain sugar and vitamin d3. It is often debated whether these ingredients are suitable for vegans, but generally, they are considered to be okay for vegans to consume.
Is Wheat Chex Cereal Keto?
No, Wheat Chex or any of the other Chex cereals in the range are not keto-friendly. They are high in carbohydrates, low in fat, and contain 'unhealthy' ingredients such as sugar and molasses.
A keto diet typically favors low carbs and high fat to remain in ketosis, which is the exact opposite of what this breakfast cereal will provide.
Is Wheat Chex Cereal High in Protein?
Yes. Wheat Chex is high in protein for the low amount of calories in each serving. A recommended serving size boasts 6 grams of protein.
Is Wheat Chex Cereal High in Fiber?
Yes, this breakfast cereal is high in fiber. One recommended serving size provides you with an impressive 8 grams of fiber.
Wheat Chex Cereal Store Brand Alternatives
Corn Chex
Made from whole grain corn instead of wheat, Corn Chex is a good alternative to Wheat Chex, especially for those who are gluten-free. Free from artificial colors or flavors, they are also a good source of calcium and go well with sliced fruit, sugar, or a drizzle of honey.
However, they are much lower in fiber and protein and are certainly not as versatile when it comes to adding to your favorite savory snack.
Rice Chex
This variety was the first of its kind when it came to gluten-free, ready-to-eat cereals. Made from whole grain rice, Rice Chex is also gluten-free, free from high fructose corn syrup and other artificial flavors. However, it only contains 3 grams of protein and 2 grams of fiber, meaning it is not as impressive as Wheat Chex in terms of nutrition.
On the other hand, it also makes a good addition to Original Chex Party Mix and many more. If this doesn't suit you, though, you can eat it as a simple, sweet breakfast too.
Nestlé Shreddies
Shreddies are a different brand alternative from Wheat Chex. This is a high-fiber breakfast cereal with the same crunchy squares that are considered to be an identical 'knockoff' from Wheat Chex.
Shreddies have fewer carbs per serving, with only 28g in a 40g portion. They are also a great source of iron and provide energy. However, they also contain less protein and fiber.
Where You Can Buy Wheat Chex Cereal
There are many locations, online and in-store, where you can get your fix of this delicious breakfast cereal.
You can find Wheat Chex online at Amazon.com (where it is rated an impressive 4.6 out of 5 stars), Walmart, Target, Safeway, and many more. In-store locations include Target, Walmart, and Albertsons.
Famous Wheat Chex Cereal Commercials
1970s – 'People who don't like Chex cereals have never tried Chex cereals'
A father and son sit at the breakfast table, and the father tries to persuade his son to try Wheat Chex, but he refuses until he is given an incentive that he can't turn down. When he tries them, he is surprised and thinks they are tasty. The boy then refuses to leave the table until he has finished the entire bowl.
A little girl is covering her father's eyes and gives him some Wheat Chex to try. He immediately identifies that the cereal is from Chex as it is 100% whole grain, tasty and crunchy too.
User Reviews
Review Summary
5.0 out of 5 stars (based on 1 review)
Recent Reviews
nice and hearty
stays crunchy and tastes good
Submit a Review