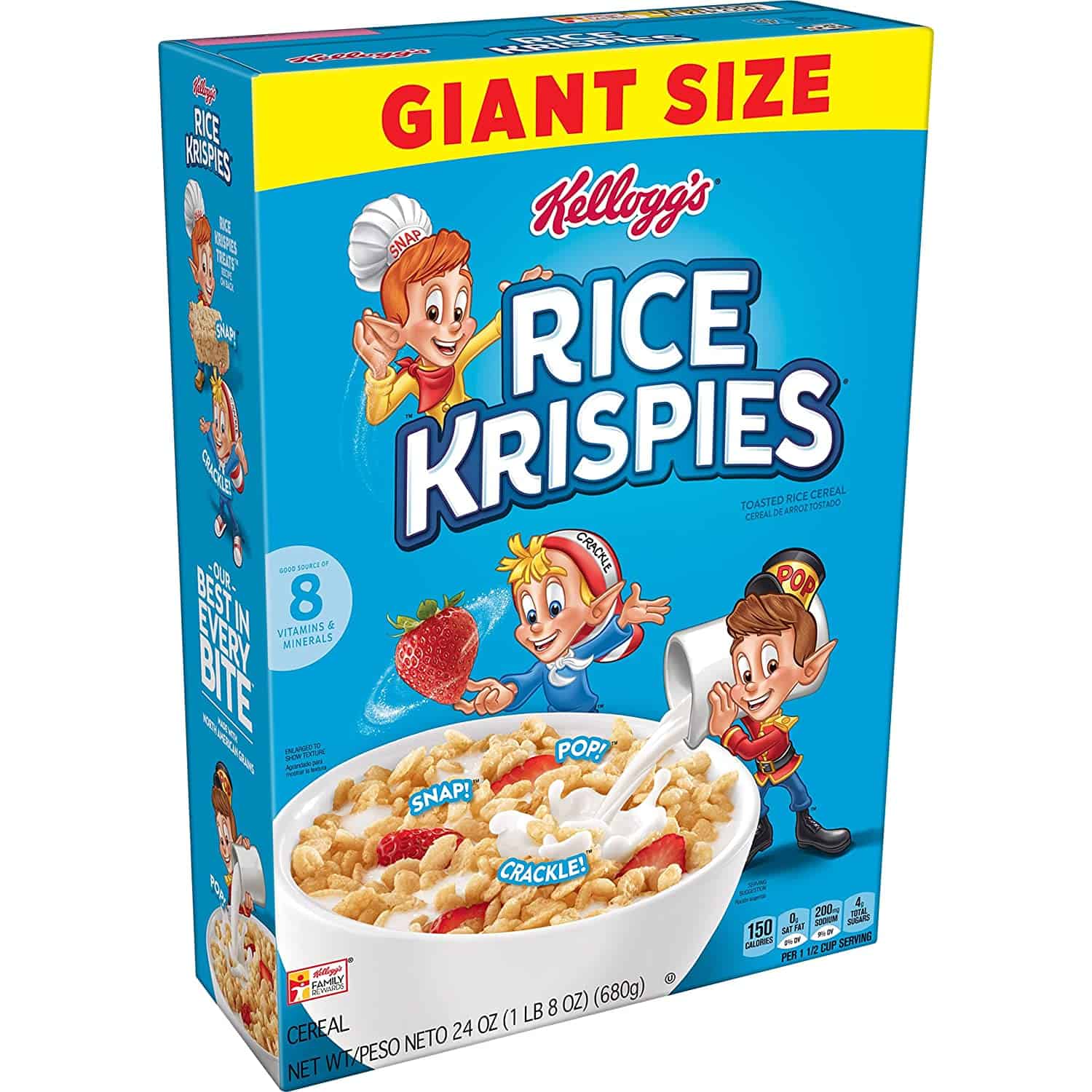 Kelloggs Rice Krispies cereal has been a family favorite for almost a hundred years, popular both at the breakfast table and in treat-making.
Rice Krispies brings excitement to kids and adults mornings around the world thanks to the delightful Snap, Crackle, and Pop sounds it makes when milk is added. Add to that the deliciously crunchy texture, and its clear to see why the cereal remains a huge hit even today.
But is it a healthy way to take care of the most important meal of the day? Read on to find out everything you need to know about this breakfast staple!
Nutrition Facts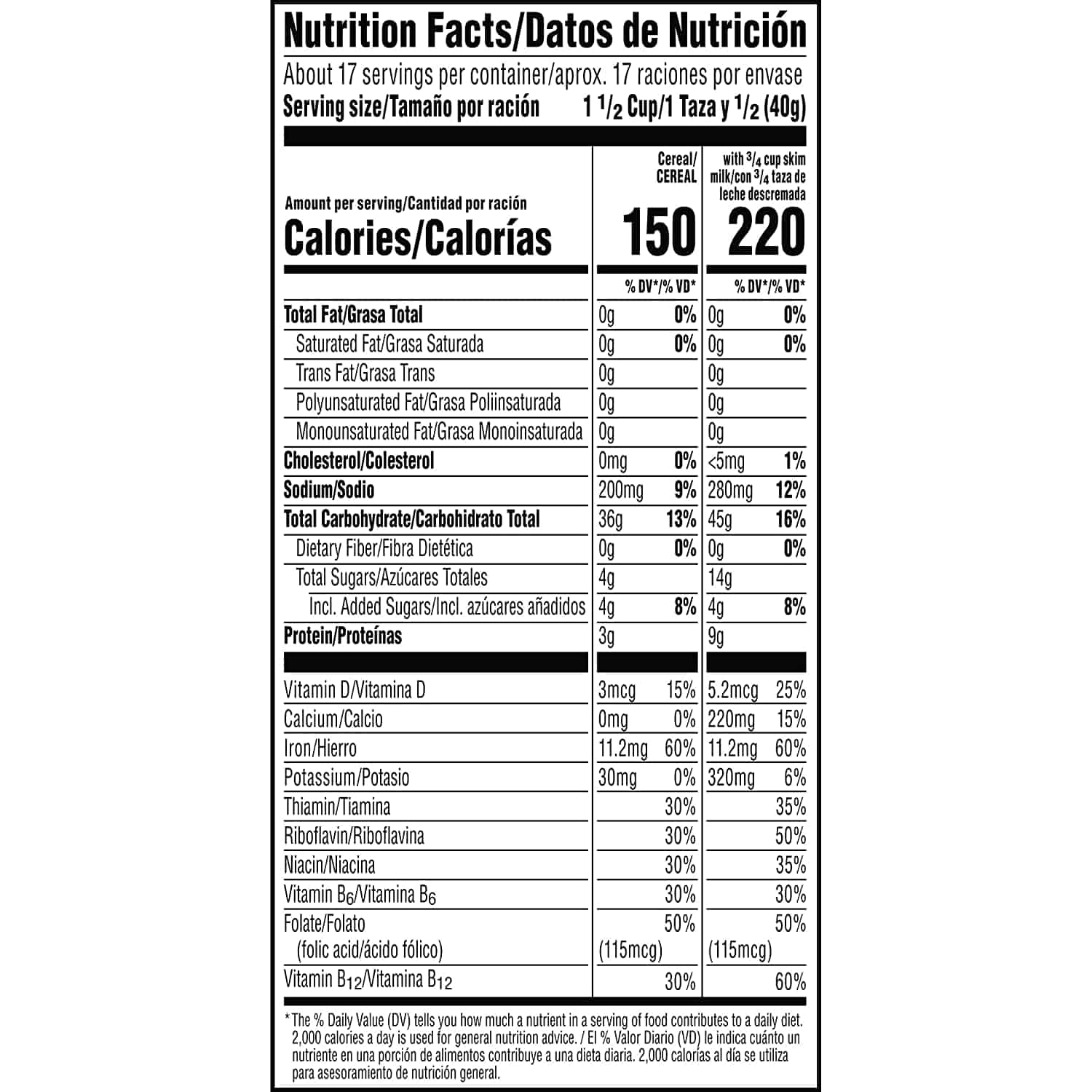 A serving of Rice Krispies measures 1.5 cups or 40g. In a portion this size, youll find the following:
Calories - 150
Total Fat - 0g / 0% DV
Cholesterol - 0g / 0% DV
Sodium - 200mg / 9% DV
Total Carbohydrate - 36g / 13% DV
Dietary Fiber - 0g / 0% DV
Total Sugars - 4g
Added Sugars - 4g / 8% DV
Protein - 3g
Vitamin D - 3mcg / 15% DV
Calcium - 0mg / 0% DV
Iron - 11.2mg / 60% DV
Potassium - 30mg / 0% DV
Thiamin - 30% DV
Riboflavin - 30% DV
Niacin - 30% DV
Vitamin B6 - 30% DV
Folic Acid - 115mcg / 50% DV
Vitamin B12 - 30%
The above percentages of the Daily Value are based on a diet of 2000 calories per day.
Ingredients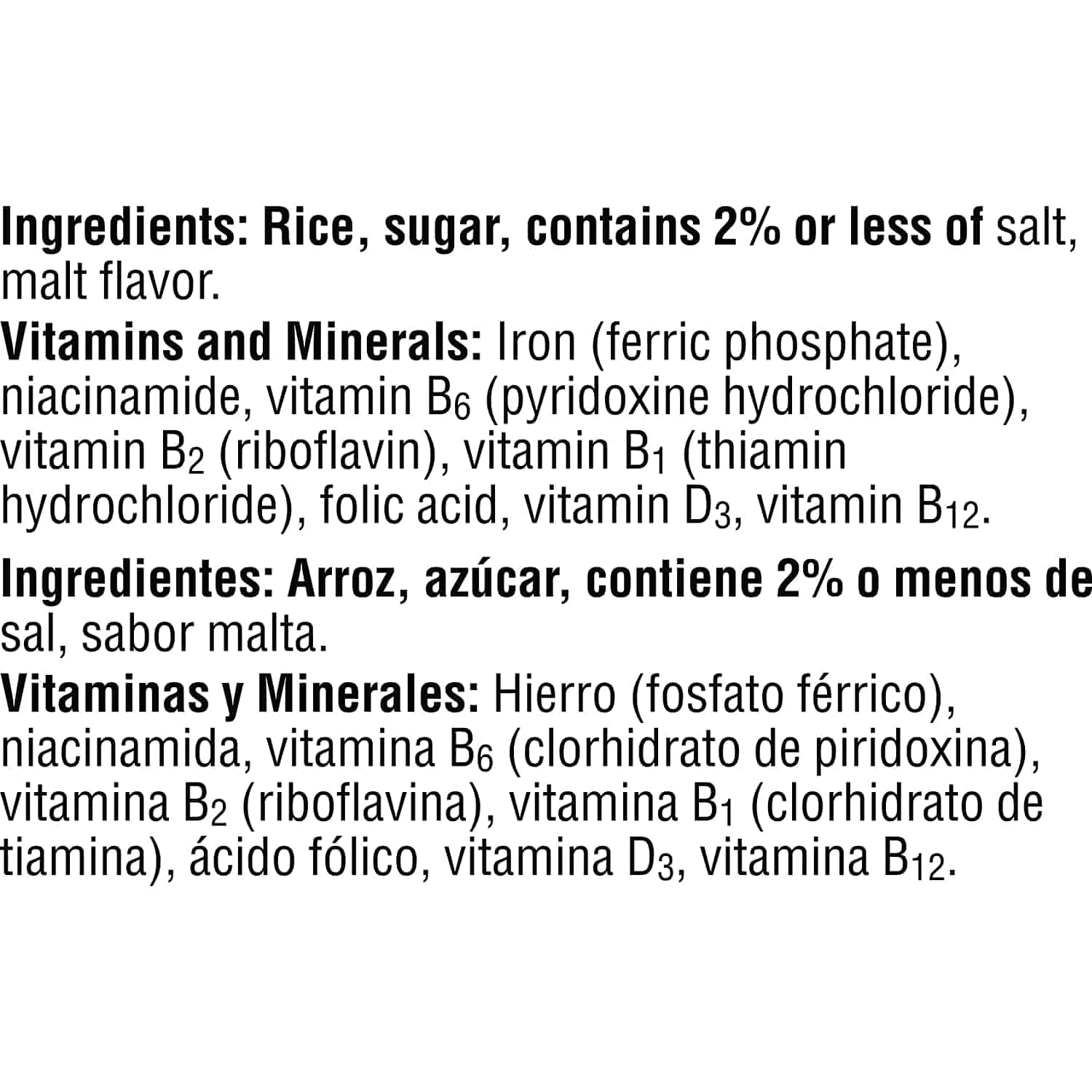 There arent many ingredients in a bowl of Kelloggs Rice Krispies. They contain:
Rice
Sugar
Salt
Malt Flavor
Vitamins and Minerals.
Is Rice Krispies Cereal Healthy?
Compared to many other cereals on the market, which are packed full of sugar, Rice Krispies are relatively healthy. The oven-toasted rice cereal is primarily made from rice and has very few other ingredients.
Although sugar is the second-highest-occurring ingredient in the product, it contains only 8% of an adults daily recommended intake of added sugars. In comparison, Rice Krispies Treats cereal contains almost double the amount of added sugar!
To make your bowl of cereal healthier, why not try adding some fresh strawberries for an even more tempting taste? There are endless, delicious possibilities!
Is Rice Krispies Cereal Gluten-Free?
At first glance, Kelloggs Rice Krispies cereal might appear to be gluten-free. After all, it is made using rice, not wheat.
However, the malt flavoring is produced from barley, which isnt gluten-free. But, the gluten content of barley is low, so if your allergy or intolerance isnt severe, you may find Rice Krispies safe to eat.
A great gluten-free alternative is homemade Rice Krispies - check out this recipe if youd like to make your own puffed rice cereal!
Is Rice Krispies Cereal Vegan?
You might be surprised to learn that a cereal isnt vegan, but thats, unfortunately, the case with Rice Krispies. The Vitamin D3 in the product is obtained from animal sources.
Is Rice Krispies Cereal Keto?
Like many cereals, Kelloggs Rice Krispies arent suitable if you are following a keto diet. With 90g carbs per 100g, even just a very small portion will account for your full daily amount of carbs, leaving no room for anything else!
Is Rice Krispies Cereal High In Protein?
With 3g of protein per serving, Rice Krispies dont immediately appear to be high in protein. However, compared with other cereals, this is a fairly average amount. To compare, Special K contains 2.4g of protein in a single serving.
To make your breakfast higher in protein, serve your Kelloggs Rice Krispies with a portion of your favorite milk. This is a satisfying and healthy way to start your day with a protein boost!
Is Rice Krispies Cereal High In Fiber?
Unfortunately not. Rice Krispies might be a fat-free cereal, but they are not high in fiber. In fact, they contain no fiber at all!
If youre looking for a fiber-filled way to start your day, a bowl of oatmeal would be a better option.
Rice Krispies Cereal Varieties
This family-favorite cereal comes in many different varieties. No matter what your favorite flavors are, theres sure to be a Rice Krispies variety youll love!
Original
The original and best with the classic crunch you know and love. Theres no end to the possibilities with this cereal; you can make it into an original treats recipe, top it with your favorite fruits, or even use it to make deliciously crispy chicken!
Check out the official original treats recipe here. To make up a tasty batch of this popular lunch-box snack, youll need Jet-Puffed marshmallows and a small amount of butter. You dont have to cut your treats into bars; they can be sculpted into any shape you like!
Cocoa
Chocoholics will be delighted to kick-start their day with Cocoa Rice Krispies! Add a little magic to your morning by drinking the chocolate-flavored milk thats left behind afterward!
Frosted
If the Original version isnt sweet enough for you, try these Frosted ones. Theyre also crunchier than the Original. The downside is they can be tricky to find.
Cinnamon Sugar
Cinnamon Sugar Rice Krispies are somewhat like the Frosted version in that theyre coated in crisp sugar. However, this sugary coating has a delicious cinnamon flavor - theyre sure to liven up your morning!
Where You Can Buy Rice Krispies Cereal
Rice Krispies and the many flavor variants can be found on store shelves across the country. Some popular grocery stores stocking the cereal include Target, Walmart, and Walgreens. Or, you can find it online at Amazon.
Famous Rice Krispies Cereal Commercials
The iconic characters for Snap, Crackle, and Pop have been advertising this breakfast cereal for decades. From the classic black and white commercials to more recent iterations showing the characters performing a music video, there has been no shortage of memorable commercials over the years!
The other flavor varieties have been promoted on TV, too. Take a look at this commercial for the cocoa variety, which shows Snap, Crackle, and Pop learning about the new breakfast cereal for the first time.
User Reviews
Review Summary
0 out of 5 stars (based on 0 reviews)
Recent Reviews
There are no reviews yet. Be the first one to write one.
Submit a Review