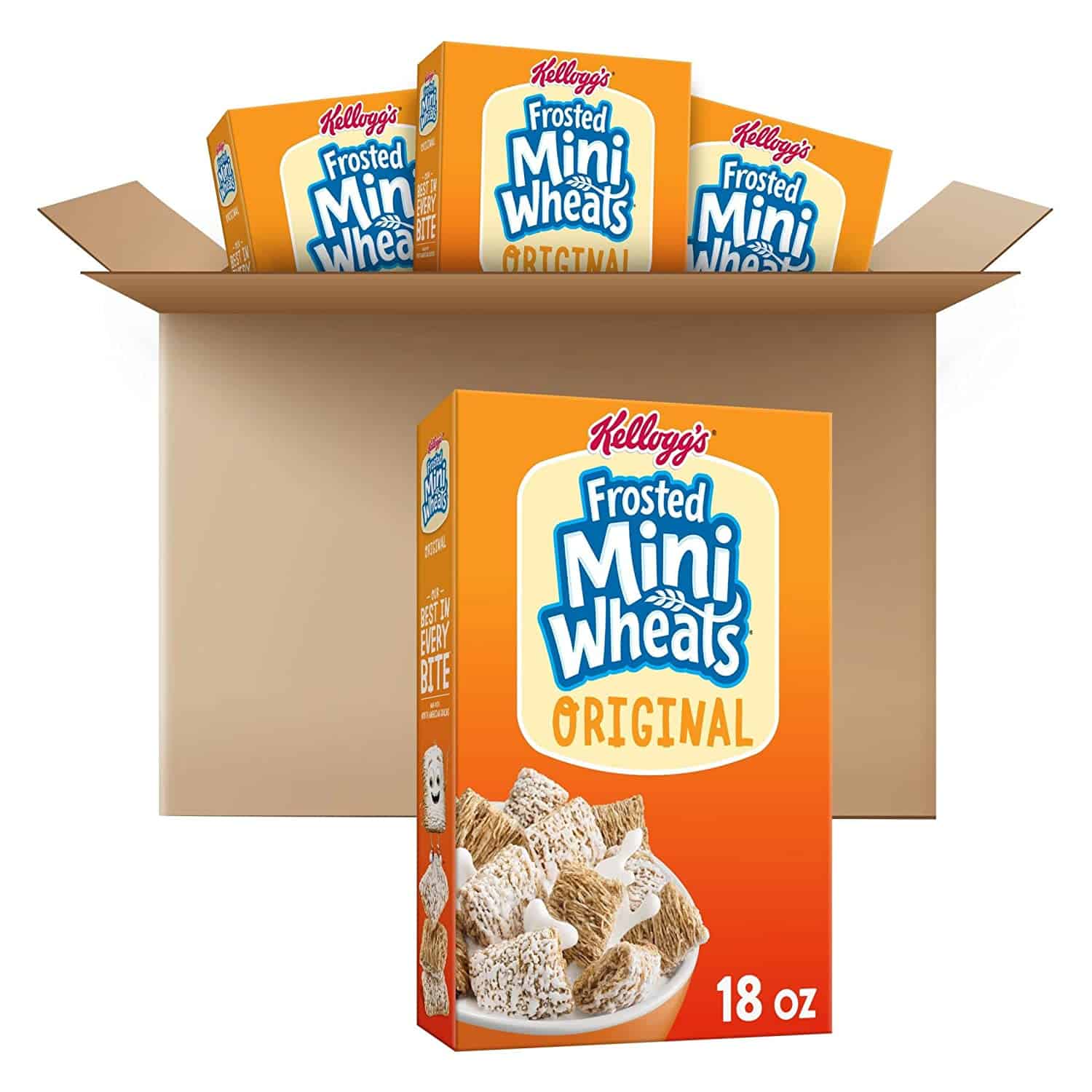 We all know that breakfast is the most important meal of the day, and most of us would love to be able to prepare delicious pancakes, smashed avocado on sourdough, or waffles each morning. Unfortunately, for most of us, time isn't on our side during the week.
For this reason, cereals have rapidly risen in popularity over the years as a quick and easy breakfast option. Frosted mini-wheats cereal is no exception! But how healthy is it? Is it a good source of fiber? Can you eat it on a keto diet? Read along as we take a detailed look at this popular breakfast cereal!
Nutrition Facts

Kellogg's Mini Frosted Wheats cereal is marketed as a healthy low-fat cereal that can keep you full until lunchtime. Compared to the standard cereal pieces, these mini-wheats are huge!
They're made from shredded wheat biscuits and feature a frosted layer on the top, providing a tasty snack whenever you have the munchies! The large cereal biscuits may be a bit too big for very small children, but older children and adults are sure to love them!
Each serving of this perfectly toasted whole wheat cereal contains:
Calories: 190
Total fat: 1.5g 1.54% DV
Carbohydrate: 46g 15.33% DV
Fiber: 6% 24% DV
Sugar: 12g
Protein: 5g
Iron: 18mg
Folate: 400mcg
Zinc: 10% DV
DV means daily values, which is how much a nutrient per serving contributes to your daily diet, based on a daily diet of 2,000 calories.
Ingredients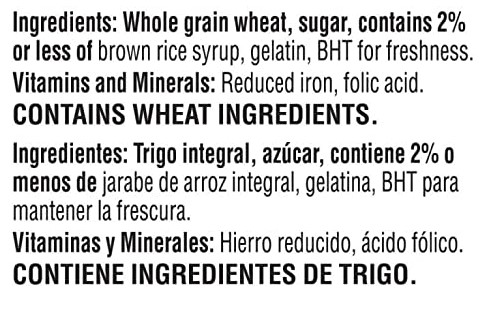 This mini frosted wheat cereal contains:
Whole grain wheat
Brown rice syrup
Sugar
Gelatin
BHT
Folic Acid
Iron
Niacinamide
Zinc Oxide
Vitamin B1
Vitamin B2
Vitamin B6
Vitamin B12
Is Frosted Mini-Wheats Cereal Healthy?
Because it contains 12 grams of sugar per serving, this frosted mini wheat cereal can't be called a healthy cereal. However, compared to other cereals it does offer more nutritional value thanks to whole grain wheat. It also doesn't contain very many artificial ingredients.
Is Frosted Mini-Wheats Cereal Gluten-Free?
Sadly, no, this frosted mini wheat cereal is not suitable for a gluten-free diet as it contains wheat. Gluten refers to a protein that can be found in certain grains such as rye, barley, and wheat. If you have gluten intolerance or you suffer from celiac disease, you'll want to avoid this cereal.
Is Frosted Mini-Wheats Cereal Vegan?
No, Kellogg's mini frosted wheat cereal is not vegan as it contains gelatin. This is a colorless, flavorless, and translucent ingredient that commonly derives from the collagen in animal bones and other body parts. Sadly, this means it's not suitable for those following a vegan diet.
Is Frosted Mini-Wheats Cereal Keto?
No, this frosted wheat cereal is not keto-friendly because it's a very high-carb and highly processed product. It also contains unhealthy ingredients such as concentrated syrup, sugar, and BHT. These unhealthy ingredients can all prevent you from staying in ketosis.
Is Frosted Mini-Wheats Cereal High in Protein?
With 5g of protein per serving, Kellogg's frosted mini wheat cereal is a fairly good source of protein, as far as breakfast cereals go. Many provide as little as 1-2 grams per serving, so this frosted cereal is a better choice if you want to add more protein to your diet.
Is Frosted Mini-Wheats Cereal High in Fiber?
This frosted mini wheat cereal contains 6 grams of fiber per serving which is a good source of fiber. This nutrient is an essential part of your diet – it helps to maintain a healthy digestive system, as well as keeps you fuller for longer.
Frosted Mini-Wheats Cereal Varieties
Kellogg's® Frosted Mini-Wheats® Bite Size cereal
This variety of mini wheats consists of bite-sized cereal biscuits, but with the same tasty and sweet frosting as the original cereal.
Kellogg's® Frosted Mini-Wheats® Blueberry cereal
If you're a berry lover, you'll enjoy the crunchy baked goodness of the Blueberry Mini-Wheats! Made from the 100% whole grain biscuits, with the fruity taste of blueberries.
Kellogg's® Frosted Mini-Wheats® Little Bites®
The little bites variety consists of pieces half the size of the Mini-Wheats original biscuits, while still having the sweet taste you love! Each tiny biscuit has delicious crispy layers made from 100% whole grain wheat, frosted with an irresistibly sweet taste.
Little Bites Frosted Mini Wheats® Chocolate
For those with a seriously sweet tooth, the chocolate mini frosted wheat cereal will be a winner! Made with real chocolate, this cereal is perfect for satisfying those candy cravings!
Kellogg's® Frosted Mini-Wheats® Pumpkin Spice cereal
The perfect breakfast for those fall mornings, pumpkin spice mini frosted wheats combine the sweetness and warmth of nutmeg, ginger, and cinnamon woven into layers of crunchy wheat. Perfect as breakfast or as a tasty afternoon snack, they're sure to become your new favorite cereal!
Kellogg's® Frosted Mini-Wheats® Strawberry cereal
If you're in the mood for a sweet and fruity treat, look no further than the strawberry-flavored Mini-Wheats featuring the original sweet frosted taste. With a juicy strawberry flavor and packed with whole grain goodness, this strawberry version is the perfect way to start your day.
Kellogg's® Frosted Mini-Wheats® Cinnamon Roll cereal
If you'd love to start every day with a cinnamon roll, but want something a bit healthier, you'll love the cinnamon roll flavored mini frosted wheats! Featuring the taste of fresh-baked cinnamon rolls, you'll look forward to breakfast every day with this cereal!
Where You Can Buy Frosted Mini-Wheats Cereal
This mini frosted wheats cereal from Kelloggs is available in most grocery stores across the US, including major stores such as Kroger, Walmart, and Target. You can also find it online on sites such as Amazon.
Famous Frosted Mini-Wheats Cereal Commercials
Kelloggs launched its Frosted Mini-Wheats cereal in the US in 1969, originally being available in regular and cinnamon and brown sugar flavor. The bite-size version was then introduced over 10 years later in 1980.
https://www.youtube.com/watch?v=J9rfOdEFWcY&ab_channel=USATVADS
This commercial was originally aired in September 1972 and features performers singing on the New York City John F. Kennedy ferry.
There have been several other great cereal commercials, all created to promote the delicious flavors, healthy ingredients, and good nutrients found in one bowl of Mini Wheats.
This is one of the original commercials, displaying the messages 'Go get em' and 'You got this.' The concept? You can do anything when you start your day the right way and eat a wholesome breakfast!
Recorded in 1983, this is another great Kellogg's commercial for Frosted Mini Wheats cereal. This particular commercial boasts a very prevalent actor in his younger days.
User Reviews
Review Summary
0.0 out of 5 stars (based on 0 reviews)
Recent Reviews
There are no reviews yet. Be the first one to write one.
Submit a Review