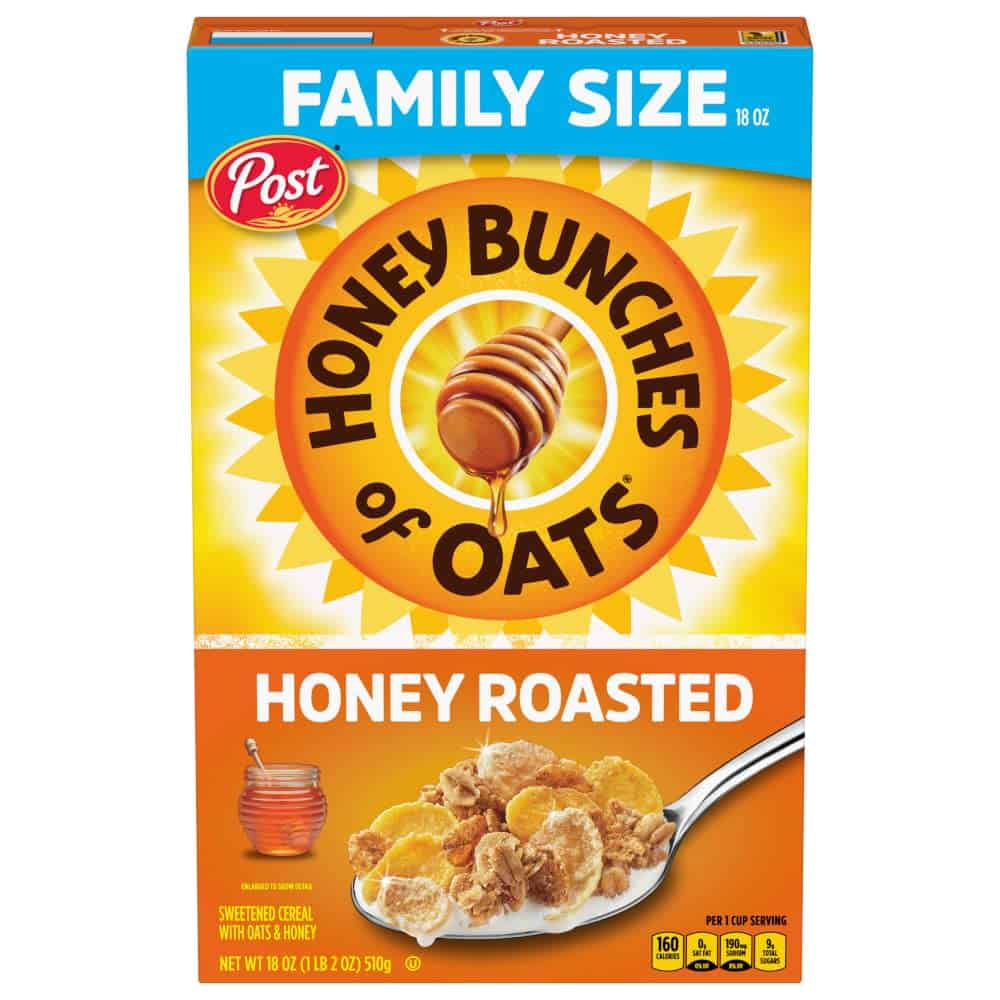 Post Honey Bunches of Oats is a whole grain breakfast cereal originally created by mixing three other Post products together. The cereal combines four different grains and granola clusters with the sweetness of honey.
It was first introduced in 1989, and over the past 30 years, it has become a breakfast staple and a favorite baking ingredient in many American homes.
Nutrition Facts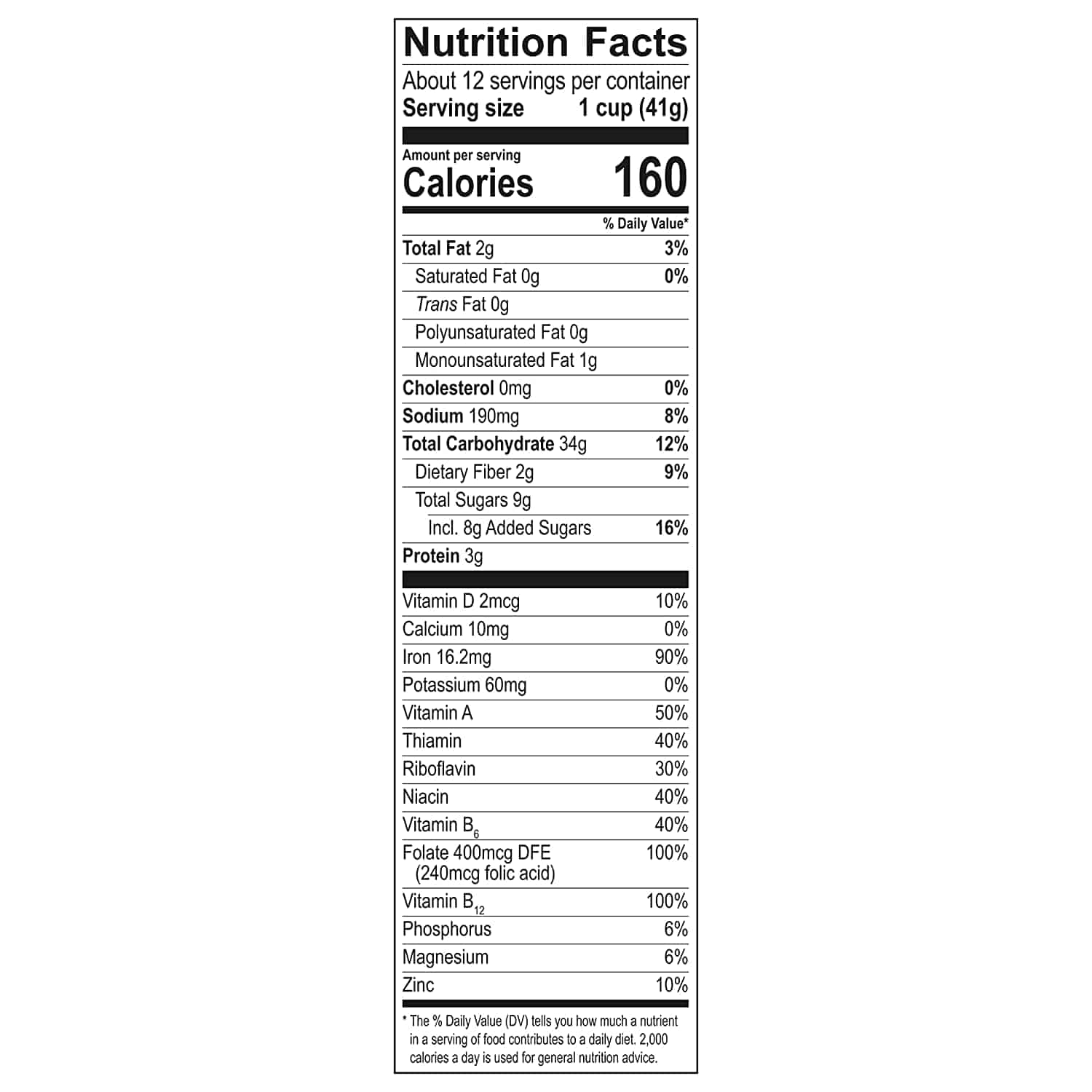 One serving (41 grams) of Honey Bunches of Oats cereal contains:
Calories – 160
Calories from fat – 18.7
Total fat – 2 grams / 3% DV
Polyunsaturated fat – 0.5 gram
Saturated fat – 0%
Trans fat – 0%
Monounsaturated – 1 gram
Cholesterol – 0mg / 0% DV
Sodium – 190mg / 8% DV
Potassium – 240mg / 10% DV
Total carbohydrates – 34 grams / 12% DV
Dietary fiber – 2 grams / 9% DV
Total sugars – 9 grams (including 8 grams added sugars) / 16% DV
Protein – 3 grams / 20% DV
Vitamin A – 50% DV
Vitamin B6 – 40% DV
Vitamin B12 – 100% DV
Vitamin D – 2mcg / 10% DV
Calcium – 10mg / 0% DV
Iron – 16.2 grams / 90% DV
Potassium – 60 mg / 0% DV
Thiamin – 40% DV
Riboflavin – 30% DV
Niacin – 40% DV
Folate – 400 mcg / 100% DV
Folic acid – 240 mcg / 100% DV
Phosphorous – 6% DV
Magnesium – 4% DV
Zinc – 10% DV
The above Daily Value percentage is based on a diet of 2,000 calories per day.
One 411-gram box of Honey Bunches of Oats contains around 10 servings.
In total, a serving contains 14 grams of whole grains.
Ingredients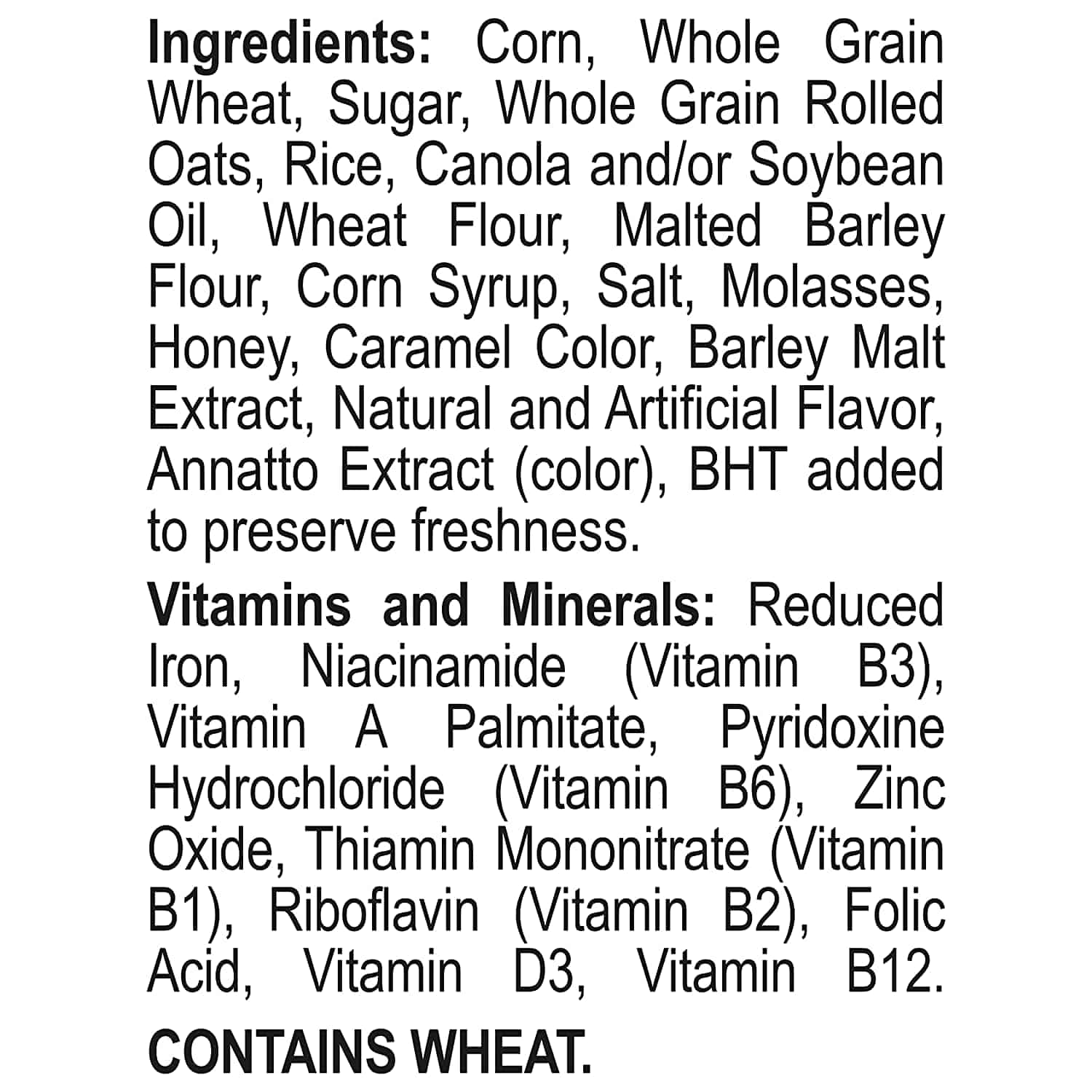 The ingredients list of this cereal includes:
Corn
Whole grain rolled oats
Whole grain wheat
Wheat flour
Malted barley flour
Rice flour
Sugar
Brown sugar
Sunflower or canola oil
Salt
Rice
Whey (from milk)
Honey
Molasses
Malted corn and barley syrup
Annatto extract
Caramel coloring
Niacinamide (B vitamin)
Vitamin A palmitate
Thiamine mononitrate (B vitamin)
Zinc oxide (zinc)
Folic acid (B vitamin)
Pyridoxine hydrochloride (B vitamin)
Natural and artificial flavor
BHT preservative
Is Honey Bunches Of Oats Cereal Healthy?
Honey Bunches of Oats is a popular breakfast cereal, and though fortified with many necessary vitamins and minerals, it falls short of being considered healthy.
Firstly, it contains a lot of refined carbs, primarily sugars. In fact, nearly 30% of the total ingredient list is sugar in some form, so this high sugar content erases much of its health benefits. One serving contains 9 grams of sugar – more than 2 teaspoons of sugar per bowl. There's no corn syrup, though.
Secondly, while there are numerous healthy ingredients, other things, such as the preservatives and artificial flavors, diminish the nutritional aspects.
Is Honey Bunches Of Oats Cereal Gluten-Free?
This cereal is not a gluten-free food. Some of the main ingredients of the cereal are whole grain wheat and whole grain oats, neither of which are gluten-free products. Post did make a Honey Bunches of Oats Chocolate version, which was gluten-free, but it has now been discontinued.
Is Honey Bunches Of Oats Cereal Vegan?
Honey Bunches of Oats, in all of its variations, are not vegan foods. One of the primary ingredients of the cereal, namely honey, is an animal by-product as it is made by bees.
Additionally, even though molasses is not an animal product, it is refined sugar, and the refining process often includes animal bone chars, and the molasses can become cross-contaminated.
Is Honey Bunches Of Oats Cereal Keto?
Honey Bunches of Oats Cereal is not a keto-friendly food. The sugar content alone gives this cereal a very high carbohydrate level. Keto diets typically only permit a total daily intake of 20 -30 grams of carbohydrates a day. One serving is more than 30 grams of carbohydrates by itself.
Is Honey Bunches Of Oats Cereal High in Protein?
With 3 grams of protein per cup serving, Honey Bunches of Oats honey-roasted cereal has more protein than sweeter cereals, such as Lucky Charms and Cheerios.
Most cereals considered high in protein typically have around 10 grams of protein per serving. So, this cereal's 3 grams of protein per serving is more than standard for a cereal, but not enough to be high in protein.
Is Honey Bunches Of Oats Cereal High in Fiber?
This cereal is relatively low in dietary fiber, with only 2 grams per serving. That only amounts to 9% of the total amount of fiber you need to consume each day. According to the FDA, the recommended dietary fiber intake should be around 25 grams.
Even though the cereal sounds like it has tons of grains and thus fibers, it doesn't. To qualify as a 'high fiber' food, a cereal would need to contain 5 grams of fiber minimum. So, Honey Bunches of Oats falls short.
Honey Bunches Of Oats Cereal Varieties
There are eight varieties currently available:
Honey Roasted
The original that started it all – it combines the sweetness of honey with crunchy granola bunches.
Cinnamon Bunches
This variation adds cinnamon which pairs well with the oats-honey combination.
Real Strawberry
This is the only version that incorporates fresh fruit, in this case, real strawberries.
Maple and Pecans
Upping the sweetness, this variation adds the flavors of maple syrup and pecans to the honey flavor base.
Almond
One of the most popular varieties, the almonds cereal adds these nuts to the original version and is very popular served with almond milk.
Vanilla
Another winning flavor pairing, this alternative adds vanilla to the original honey cereal.
French Vanilla Granola
This is an alternative to the popular vanilla cereal in the form of granola.
Honey Roasted Granola
Like the original version of the cereal, but intended to be more of a snack food than a breakfast food.
Where You Can Buy Honey Bunches Of Oats Cereal
You can purchase Honey Bunches of Oats, in all of its varieties, at virtually every grocery store.
Famous Honey Bunches Of Oats Cereal Commercials
Post consumer brands have a YouTube channel dedicated to commercials for the cereal. There you can see Diana Hunter, the unofficial face of the cereal from 2015 to her retirement in 2017, but has been featured in additional commercials since.
User Reviews
Review Summary
0 out of 5 stars (based on 0 reviews)
Recent Reviews
There are no reviews yet. Be the first one to write one.
Submit a Review