Besides protein, a good quality healthy breakfast cereal should contain a high amount of fiber. Especially so if you are an athlete looking to keep up your strength throughout the day or are on a diet and are trying to avoid snacking throughout the day.
Fiber keeps us feeling fuller for longer, allows for healthy bowel movements, controls blood sugar levels, and lowers cholesterol levels. There are lots of benefits to consuming a fiber-rich diet. One of the best ways to establish such a diet would be to implement plenty of fiber into your breakfast – but what's the best way of doing that?
In this article, we'll detail the best high-fiber cereals to help you attain a steady level of fiber in your diet.
Nature's Path Organic Flax Plus Raisin Bran Flakes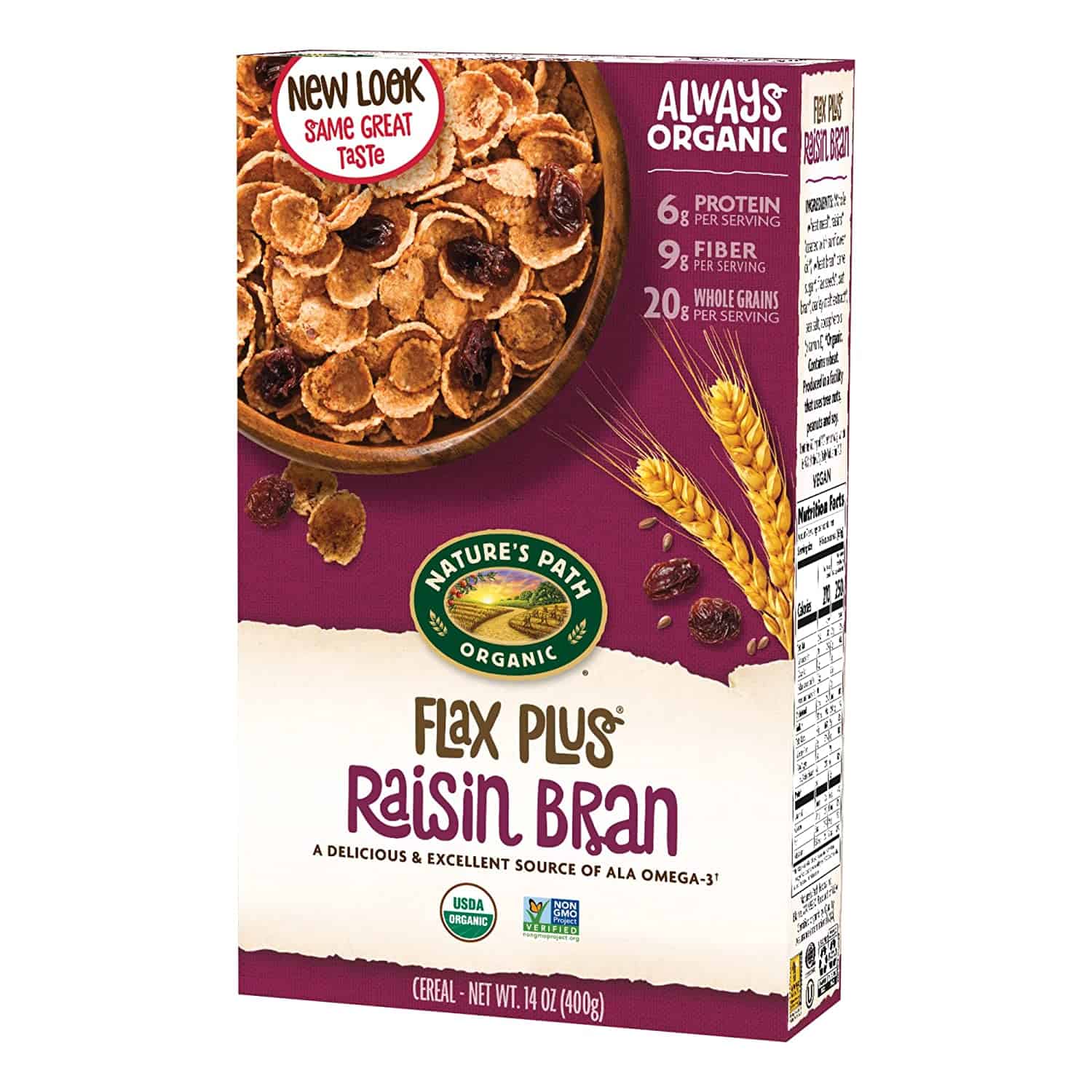 Nature's Path Organic Flax Plus is lightly sweetened and toasted, allowing you to start your morning with a satisfying crunch – and, as the name implies, a healthy dose of fiber. This is one of the best high fiber cereals, given that a single, 60-gram serving will provide you with 9 grams!
The multi-bran flakes are also omega-rich and full of healthy fats. Not only can this cereal be considered a high fiber cereal, but it's also relatively high in protein, featuring 6 grams per serving. Plus, with a total of 20 grams of whole grains, and such vitamins as potassium, iron, and vitamin D, you can ensure Nature's Path Organic Flax is an all-around healthy cereal.
Post Raisin Bran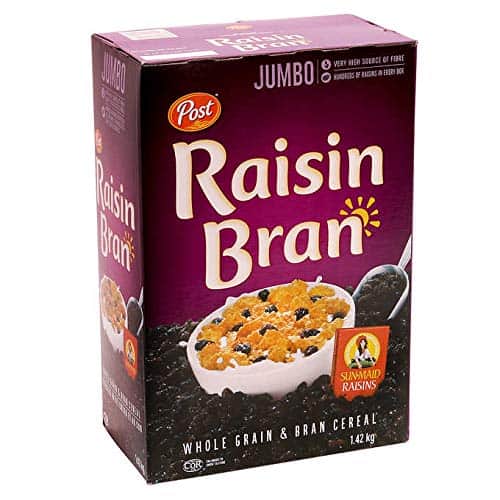 If you love to snack on Sun-Maid raisins and are looking to take in a healthy dose of fiber each morning, Post Raisin Bran delivers exactly what it says in its title. The dry cereal flakes, made using wheat bran and whole grain wheat, are combined with the sweet flavor of raisins, providing you with a nutritious and appetizing way to start your day.
Like several high-fiber cereals, a single serving of Post Raisin Bran will contain 9 grams of fiber. In addition to dietary fiber, the cereal also contains 5 grams of protein, as well as vitamin B-12, B6, D, A, calcium, and iron in every serving!
Kellogg's All-Bran Buds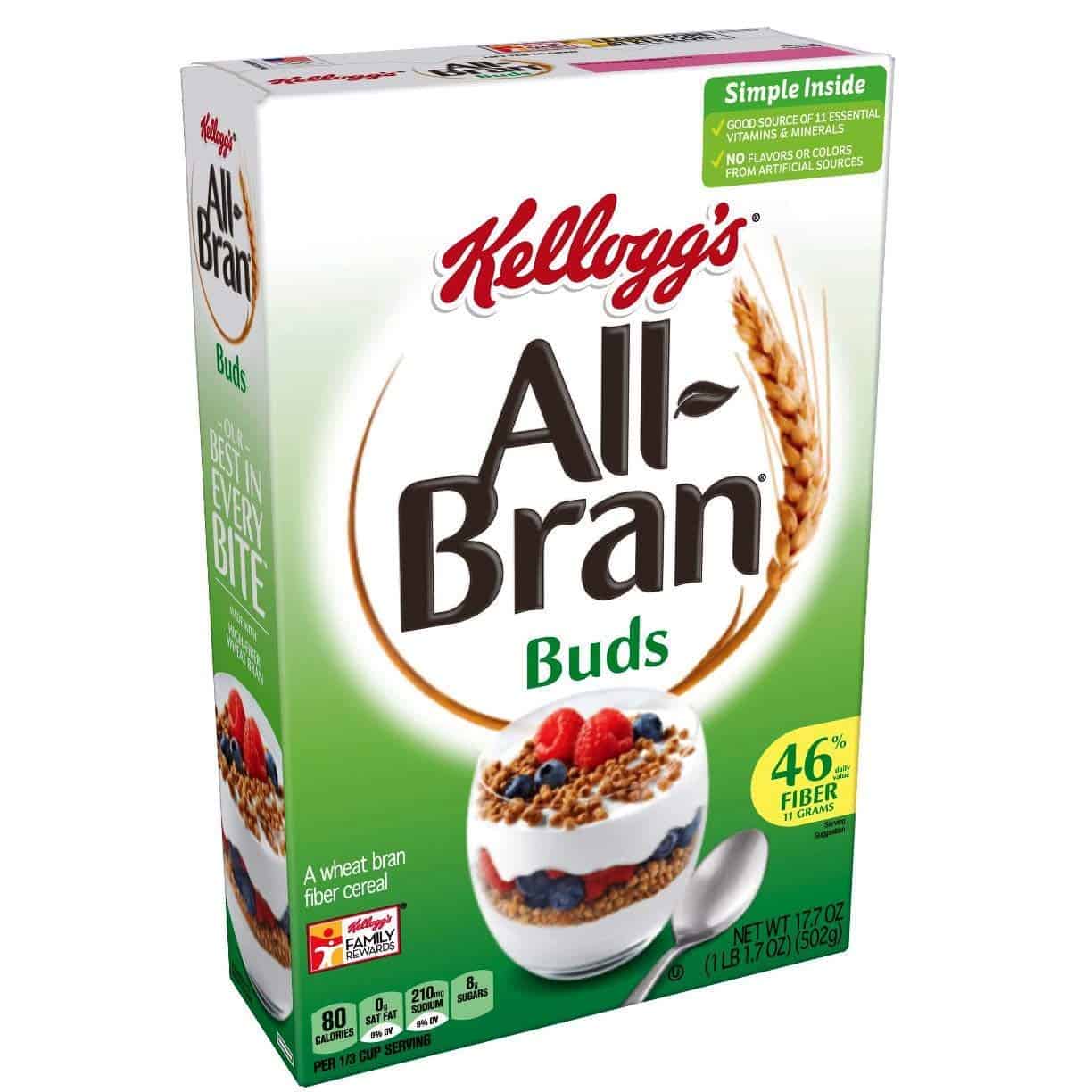 Blending psyllium and wheat bran, Kellogg's All-Bran Buds is one of the most versatile fiber cereals to make this list. It can be enjoyed as a simple breakfast cereal or later in the day alongside yogurt as a snack. Some consumers have it plain, while others add fruits and sweeteners to it.
Not only is it highly versatile, but it is also one of the most fiber-rich cereals available – a 45-gram serving contains 17 grams of fiber!
In addition to its high fiber count, this cereal is also low in fat and mineral-rich.
Kellogg's All-Bran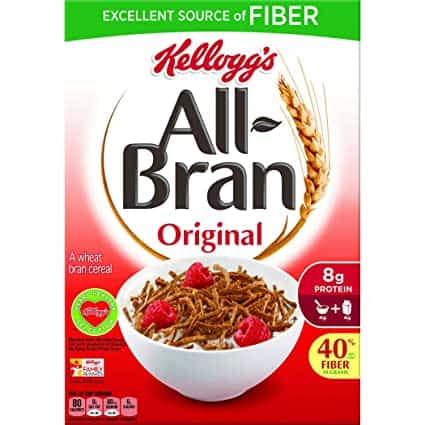 The original, Kellogg's All-Bran is just as versatile and almost as fiber-rich as All-Bran Buds. In a single serving of Kellogg's All-Bran, you'll find 12 grams of fiber, which is less than the Buds but still a significant amount of fiber to be consumed in the morning. It makes up nearly half of the recommended daily amount for adults!
Plus, you can add banana slices, strawberries, or any other fruit you like to the cereal to elevate its taste and nutritional value. As a standalone cereal, it is already vitamin and mineral-rich, featuring the likes of Vitamins B12, C, B6, D, and A.
General Mills Fiber One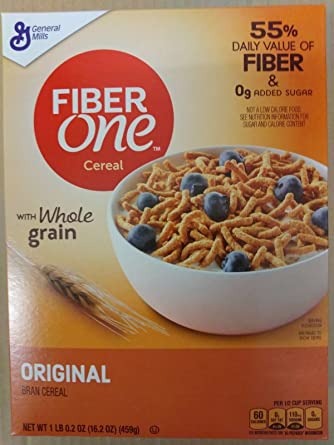 General Mills Fiber One features a range of different fibers, mainly insoluble fiber that is derived from chicory root. A single serving of Fiber One provides you with over half of your daily fiber needs and keeps you full for most of the day.
A lot of General Mills products come packed with artificial flavors and fructose syrup, but not this one. Instead, it is packed full of vitamins and minerals, including folic acid, B12, B2, and B6.
Besides its high nutritional value, Fiber One is noted for its persistent crunch, even after its been sitting in milk for a while. This makes it as enjoyable as it is healthy to eat.
Post Grape Nuts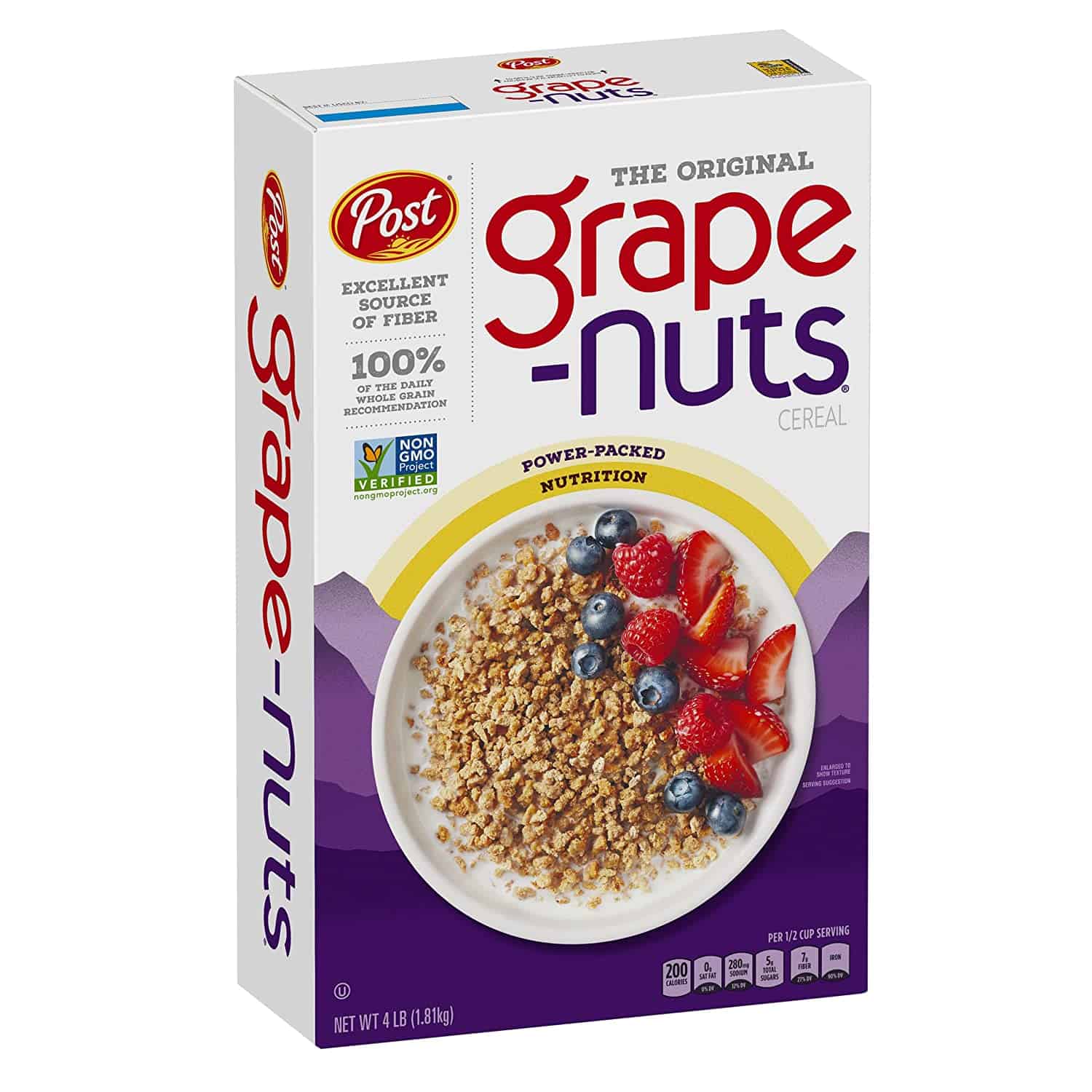 Post Grape Nuts have been supplying consumers with their daily fiber needs for well over a century now, having first launched in 1897. They have maintained enduring popularity thanks to their great taste and high fiber content. The salt, dried yeast, and flour ingredients create a crunchy texture and one that stands out next to other cereals on this list.
In terms of nutrients, this century-old cereal can still compete with some of the modern-day healthy cereals. The product features 7 grams of dietary fiber, 1 gram of soluble fiber, and 6 grams of insoluble fiber per standard serving. It is pretty low in sugars, containing just 5 grams per serving. It also supplies a decent amount of protein, with 6 grams found in each serving.
Barbara's Shredded Wheat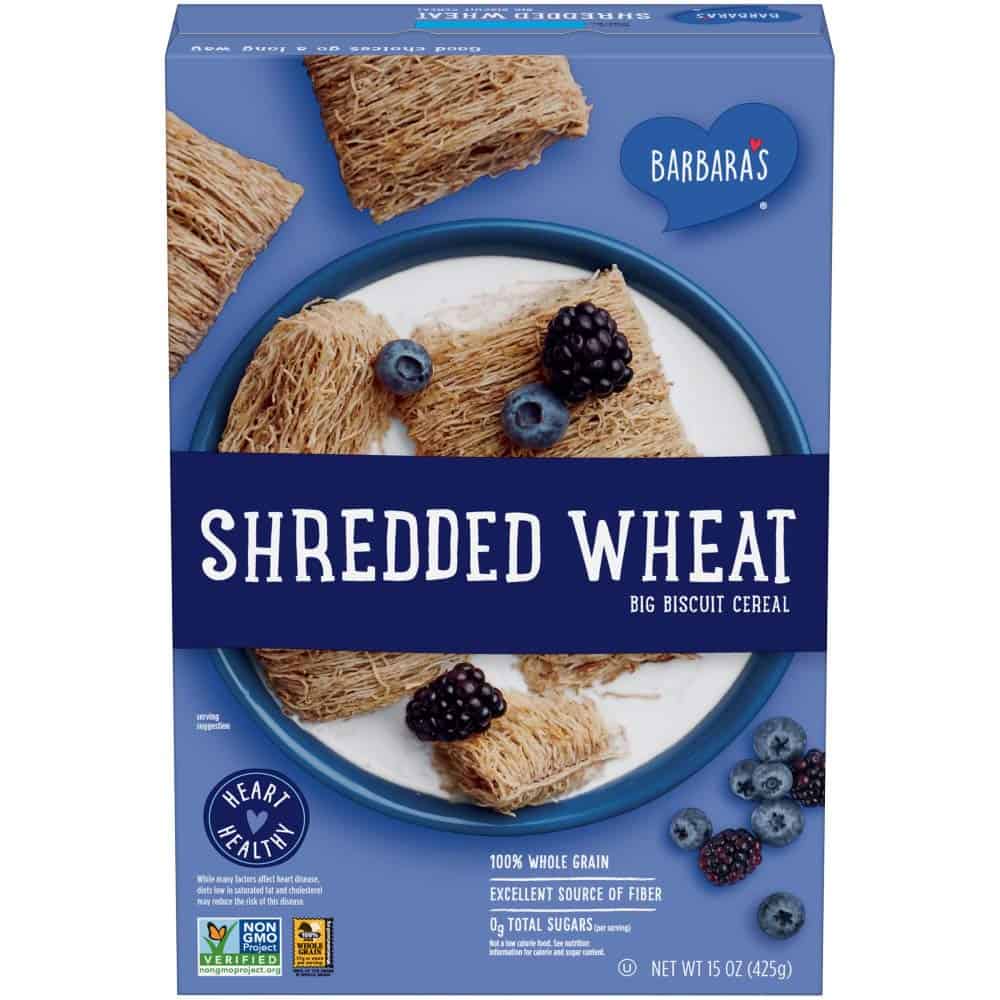 Shredded Wheat, made by anyone, is always going to contain a healthy dose of fiber, and Barbara's Shredded Wheat is no exception to that rule. In 2 biscuits (the standard serving size), you'll find 7 grams of dietary fiber, 6 grams of insoluble fibers, and 1 gram of soluble fiber.
The best and most interesting thing about Barbara's Shredded Wheat, however, is that it's made using only one ingredient: whole grain wheat. On the strength of that ingredient alone, Barbara's Shredded Wheat can supply you with all that fiber, as well as 6 grams of protein, 170mg of potassium, and 20mg of calcium.
Quaker Simply Granola, Oats, Honey, Raisins & Almonds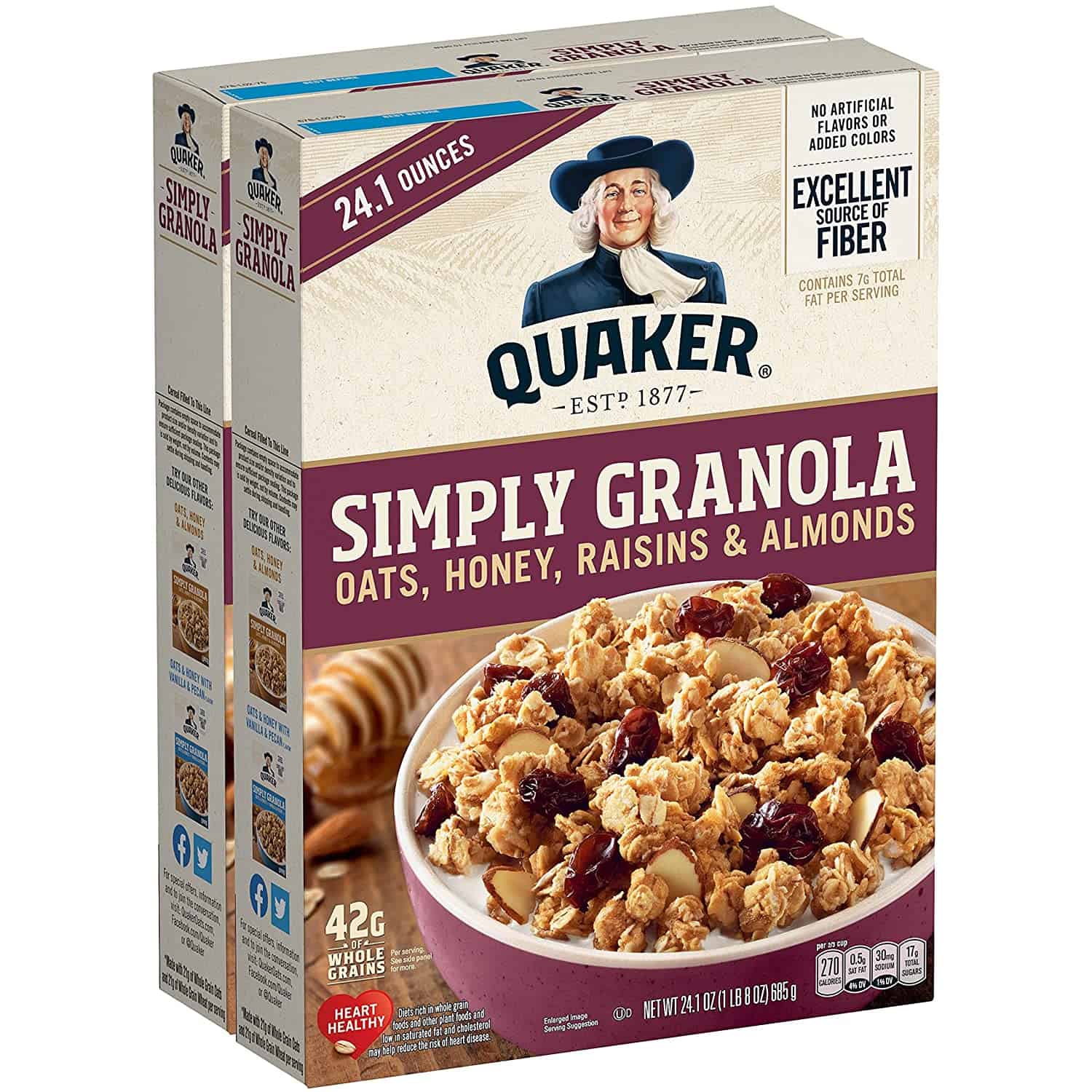 Quaker combines granola, oats, honey, raisins, and almonds to create this mouthwatering and well-balanced breakfast cereal. The finished clustered product is chewy and sweet and goes exceptionally well with oat milk. Given the sheer amount of ingredients that go into this fiber cereal, it's no surprise that it contains 7 grams of total fat per serving.
Although fat-rich, Quaker Simply fills you up for longer, meaning you won't be craving snacks throughout the day. Plus, with 7g of fiber per serving, it certainly delivers most of what you need from a fiber cereal. This cereal goes very well with fresh fruit, so it's easy to top up the fiber count.
Nature's Path Smart Bran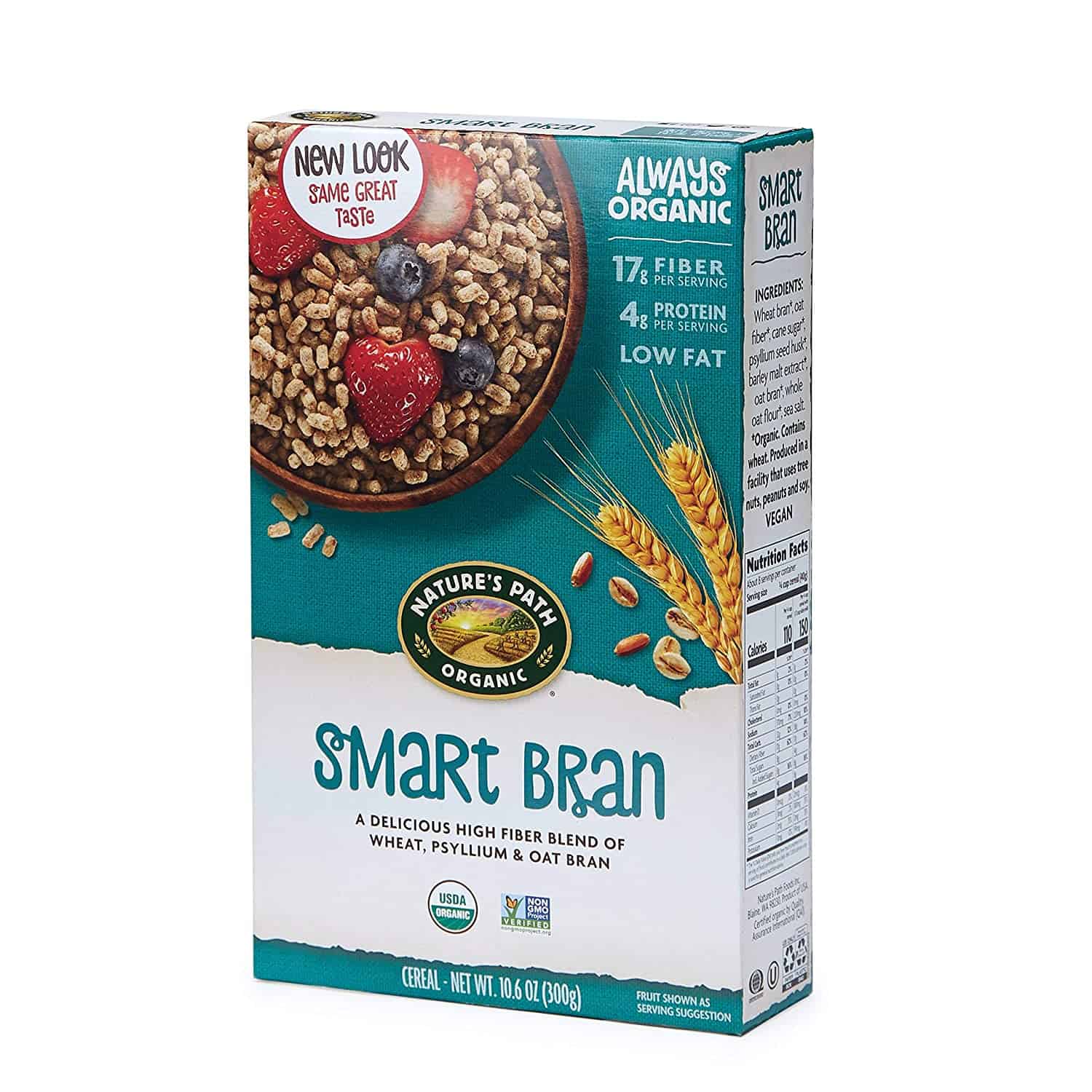 The nuggets found in a box of Nature's Path Smart Bran come packed with fiber and fuel and are the perfect way to kick-start an action-packed day of exercise. A single 40-gram serving of Smart Bran will give you 17 grams of fiber and 4 grams of protein.
Made using wheat bran, oat bran, and barley, Nature's Path Smart Bran also packs your body full of calcium and iron. Another good feature of this cereal is that it derives a lot of its fiber from psyllium husk, which is great for reducing cholesterol.
Kashi Island Vanilla Whole Wheat Biscuits
Kashi Whole Wheat Biscuits Vanilla Flavor comes in the form of small biscuits that are bursting with fiber. They come with 7 grams of fiber per serving, but that's not the best bit of this cereal; they are baked with real vanilla bean extracts, which tastes as good as it sounds!
Interestingly, these cereals are more of a protein-rich cereal than a fiber-rich cereal, with 1 gram more protein per serving. Still, 7 grams is relatively high. Consumers often pair this cereal with nut milk, which would increase both the protein and fiber count.
The cereal also comes packed with magnesium and calcium, making this option a good allrounder in terms of nutritional value.
Bear Naked Granola Fruit & Nut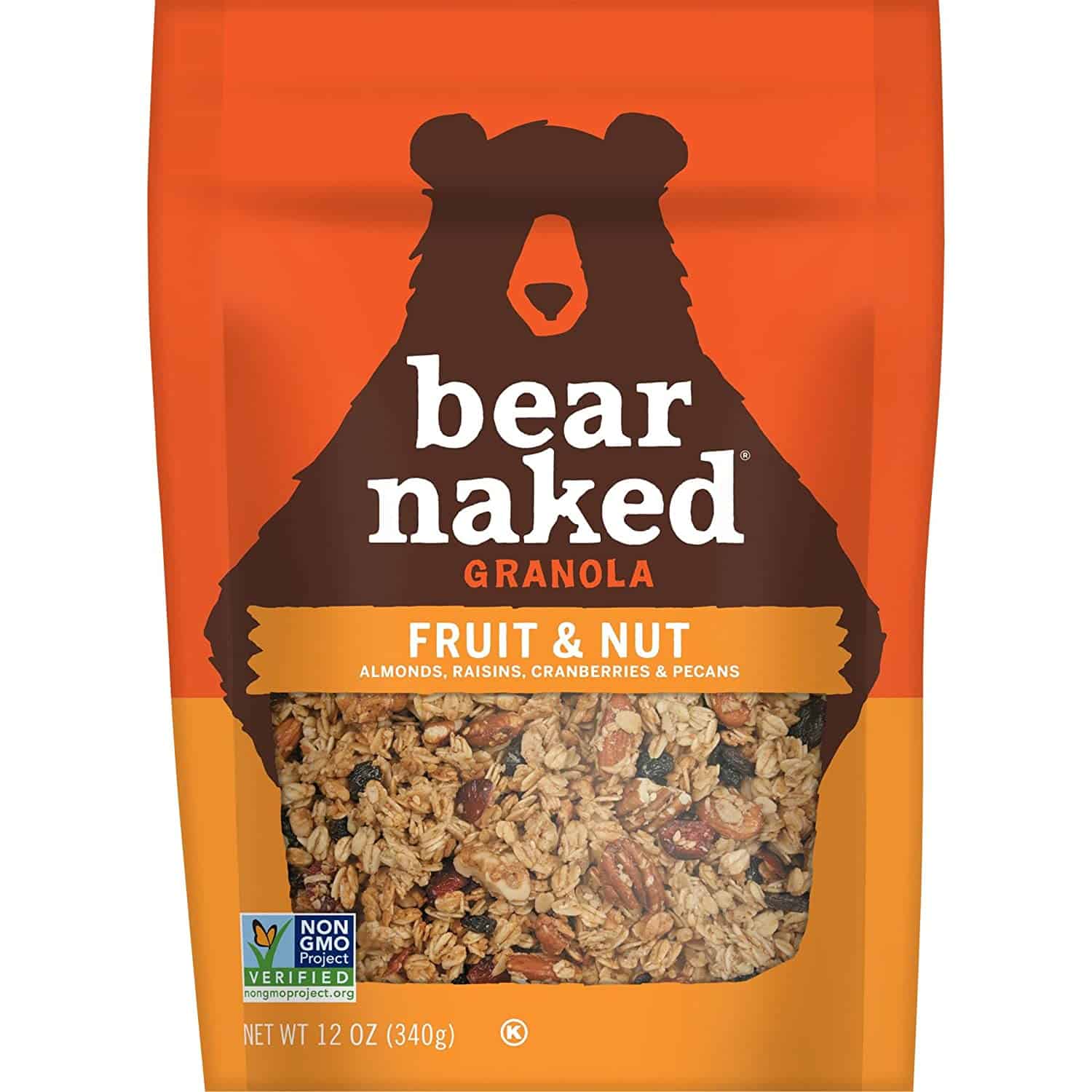 Featuring the biggest range of extra flavors, Bear Naked Granola Fruit & Nut is packed with a variety of different dried fruit and nuts. In terms of dried fruit, you'll find cranberries and raisins, which are paired with almonds, walnuts, and peanuts. This, alongside the whole grain oat clusters, makes for a truly satisfying, chewy, and diverse crunch.
In terms of nutritional value, Naked Granola Fruit & Nut has lots of it. In a 60-gram serving, you'll find 6 grams of protein and 39 grams of carbohydrates, as well as zinc, magnesium, and phosphorus.
Its fiber content is nowhere near as significant as some of the others in this list, containing just 5 grams of dietary fiber, but it's still worth considering if you need a fiber-rich cereal.
Kellogg's Cracklin' Oat Bran
This bran cereal is oven-baked and sprinkled with nutmeg, cinnamon, and vanilla flavorings. If you struggle to get enough fiber in your diet, Kellogg's Cracklin' Oat Bran can help you out with 7 grams of fiber per serving. The cereal also features 4 grams of protein per serving and is rich in terms of vitamins and minerals.
The cereal contains a few unhealthy ingredients, such as artificial colors and flavorings, making Kellogg's Cracklin' Oat Bran a good one for satisfying both your breakfast and your snacking needs.
However, the cereal is quite high in sugar content, with 16 grams found in each serving. Although not as bad as other sugary cereals, this cereal may not be the best option if you're on a low-sugar diet.
Seven Sundays Wild & Free
With 100% whole grains, non-GMO ingredients, and chia seeds used as its main fiber source, Seven Sundays Wild & Free delivers plenty in terms of nutrition. Chia seed is not only great for fiber, but it's also full of healthy omega 3 fatty acids and antioxidants, making this cereal great for your heart.
In just a 1/2 cup serving, you'll find 240 calories, 7 grams of fiber, 8 grams of protein, 5mg of sodium, and a healthy dose of potassium, iron, and calcium. To make this all the more nutritious, Wild & Free comes with dried blueberries. This dried fruit makes the cereal not only healthier but a whole lot more appetizing.
Market Pantry Raisin Bran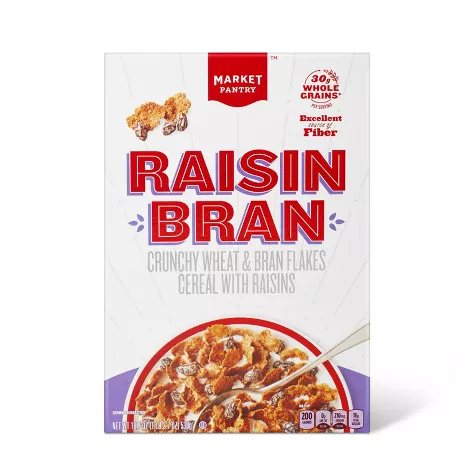 Market Pantry Raisin Bran is just as nutritious as any other raisin bran cereals, featuring 7 grams of fiber per serving, as well as a whole host of other healthy ingredients. In terms of vitamins and minerals, this raisin bran features folic acid, B12, D, B6, A, and B2, amongst others. In one serving, you'll get an impressive 30 grams of whole grains.
Other highlights of this cereal are its high raisin content and its value for money. It has nice packaging, too!
Post Shredded Wheat
Post Shredded Wheat comes close to the shredded wheat competition by only featuring 2 ingredients: whole grain wheat and BHT (for freshness). Still, these breakfast biscuits deliver just as much as other shredded wheat brands in terms of nutrition.
2 biscuits of Post Shredded Wheat equates to 170 calories, 20 grams of carbohydrates, 3 grams of protein, and, most importantly, 8 grams of total fiber. This total is made up of 3 grams of dietary fiber and 5 grams of insoluble fiber.
Additionally, these biscuits can supply you with 24% of your recommended daily copper intake and 15% of your total magnesium and phosphorus intake.
Alpen Muesli
A classic fiber-rich cereal, Alpen Muesli remains a popular breakfast option thanks to its nut flavor, chewy dried fruits, and high protein and fiber count. It features rolled oats, crunchy hazelnuts, sliced almonds, and plump raisins, all of which combine to make a hearty way to start the morning.
This Alpen product features 4 grams of insoluble and 3 grams of soluble fiber. Relative to other cereals to make this list, this isn't the highest. However, it is often paired with oat milk – which contains 2 grams of fiber per 1 cup serving – which would top up the count to 9 grams in total.
The combination of dried fruits, whole grains, and nuts offers consumers a whole range of additional nutritional value, including 260mg of potassium and 30mg of calcium.
Familia Muesli
Another Swiss-inspired breakfast option, Familia Muesli, features rolled whole grain, nuts, and dried fruits, all of which add together to create this high fiber cereal. With no added sugar and 4 grams of fiber per half-cup, Familia Muesli is certainly a healthy way to add more fiber into your diet. It can be paired with cold milk or Greek yogurt to create a well-balanced meal.
Generally, it needs to be soaked in cold milk or yogurt for a couple of minutes before it can be consumed – this and the price appear to be the main downsides of this high in fiber option. Still, it provides a good balance of fiber, protein, and calcium.
Weetabix Wholegrain Cereal Biscuits
Saving the most obvious til last, Weetabix Wholegrain Cereal Biscuits is one of the best and easiest ways to add fiber to your diet. However, Weetabix Biscuits alone don't actually add too much fiber to your daily intake, with just 3.8 grams of fiber found in every 2 biscuits.
Although still technically classed as a high-fiber option, you may want to add some additional fruits and nuts to your Weetabix to top up the fiber numbers.
Still, Weetabix acts as a good cereal base, with plenty of nutritional value to offer. With just 134 calories found in a standard serving, Weetabix Biscuits provide you with 4.5 grams of protein, as well as iron and calcium.
FAQs
Does Kellogg's All-Bran Buds cause gas?
Most high-fiber products, including several high-fiber cereals, produce some degree of bloating. This bloating creates a lot of gas, particularly when you first start consuming a high fiber diet. This bloating and gas should subside as your body gets used to the high fiber content consumed.
Due to this, we'd recommend building up your fiber intake gradually. If you start with too much, you could experience painful cramps and a lot of gas.
Why is Post Grape-Nuts hard to find?
Post's Grape-Nuts recently experienced shipping issues during the pandemic, which left many stores unable to supply it. Post blamed production line difficulties as the root of the issue, as well as an increase in demand for the cereal throughout the pandemic. This led to Grape-Nuts cereal being sold over the odds.
Currently, production is running smoothly, so Post Grape-Nuts should be easy to find now.
What is the best milk for high-fiber cereal?
If you want to make your high-fiber cereal even better for your digestion health, try consuming it alongside oat milk. Out of all the milk alternatives, oat milk has the most nutritional value.
Are high-fiber cereals good for you?
High-fiber cereals improve our health in many ways, as fiber is key in improving your digestion health overall. Specifically, a healthy amount of fiber can reduce bacteria build-up in your colon, ensures you have regular bowel movements, and prevents colon cancer.
Still, you need to be wary not to overindulge in it, as too much fiber can lead to abdominal pain, bloating, gas, and other unhealthy symptoms.
Final Thoughts
Generally, most good high-fiber breakfast cereals have between 6-9 grams of fiber per serving, including the likes of Post Grape Nuts and Quaker Simply Granola. If you're looking to increase your morning fiber intake significantly, you should opt for Kellogg's All-Bran Buds, which feature 17 grams of fiber per serving.
If you're only aiming to slightly increase your fiber intake, consider the likes of Weetabix Wholegrain Cereal Biscuits.