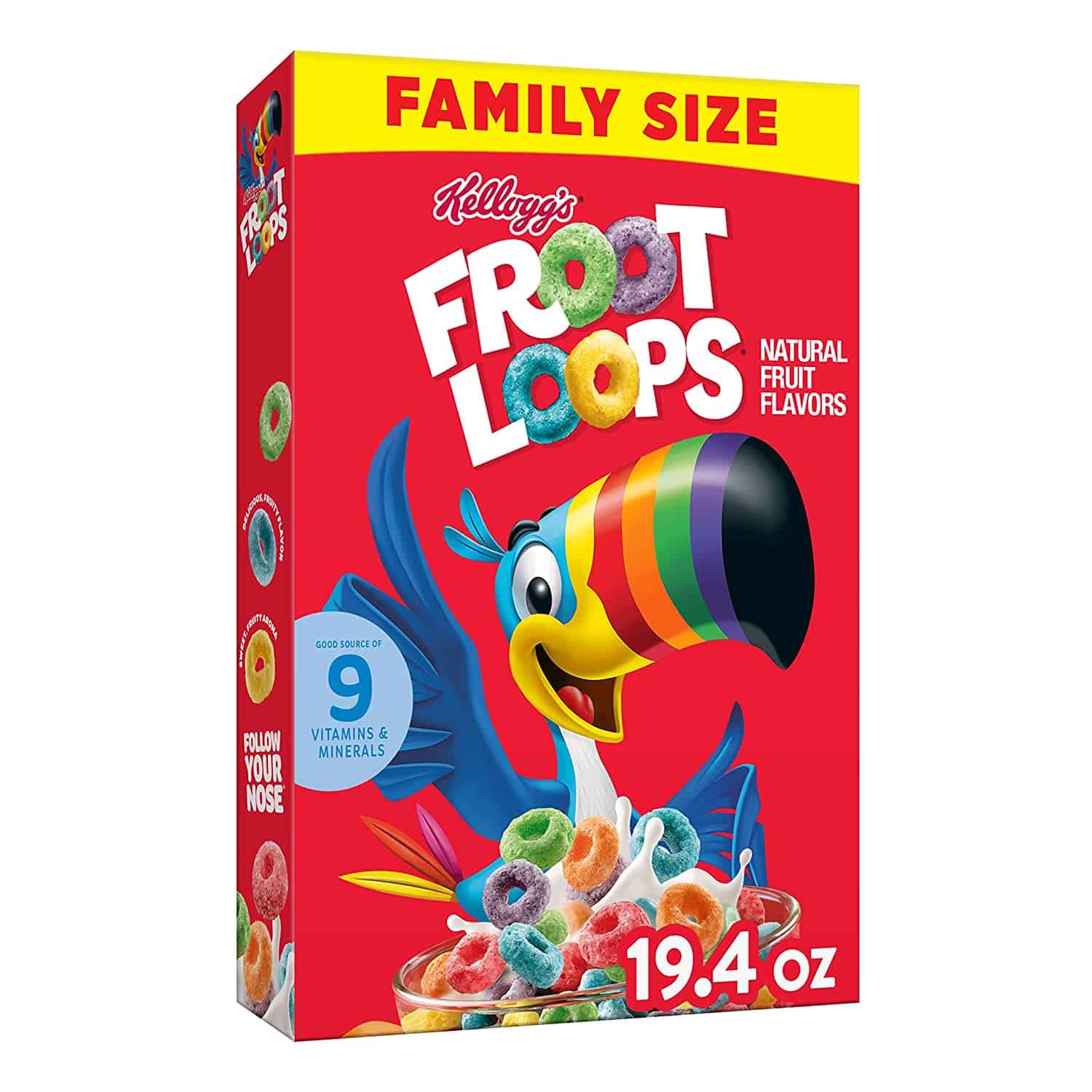 The Froot Loops cereal brand is one of the most iconic in the whole of the U.S. The breakfast cereal has been helping kids eat in the morning since 1959, when it was first introduced by Kellogg's. The initial eye-catching colors of red, orange, and yellow captured the attention of consumers and the imagination of kids, and the cereal quickly flew off the shelves.
Despite its misleading title, Froot Loops don't actually contain any natural fruit flavors – all of the colors are, in fact, the same fruit-inspired flavor. The cereal was originally titled 'Fruit Loops Cereal,' but Kellogg's was forced to change this title as a result of a 1963 lawsuit regarding the inaccurate title.
The popularity of this cereal has dwindled in recent years as more people switch to healthier alternatives. So, what kind of nutritional value do Froot Loops actually contain?
Nutrition Facts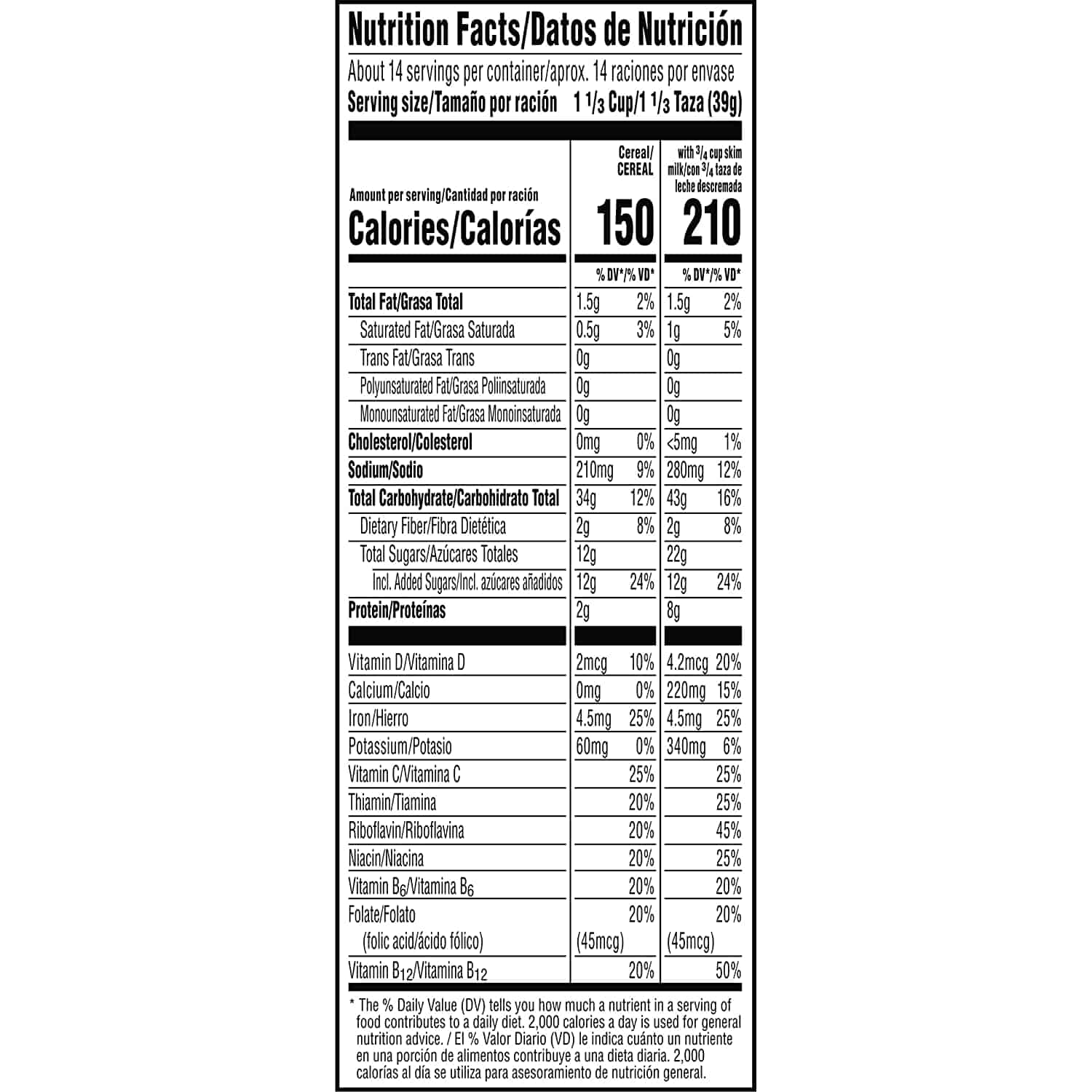 A 29-gram cup of the cereal contains:
Calories – 109
Cholesterol – 0mg (0% daily value)
Total fat – 1mg (2% DV)
Saturated fat – 0.5mg (3% DV)
Monounsaturated Fat – 0.2g
Polyunsaturated Fat – 0.3g
Sodium – 136mg (6% DV)
Total carbohydrates – 26g (9% DV)
Sugars – 12g
Dietary fiber – 2.7g (11% DV)
Potassium – 34mg (1% DV)
Protein 1.5g
Vitamins and minerals:
Vitamin C (25% DV)
Vitamin A (10% DV)
Iron (25% DV)
Calcium (0.2% DV)
Niacinamide
Vitamin D3
Vitamin B1 (thiamin hydrochloride)
Vitamin B2 (riboflavin)
Vitamin B6 (pyridoxine hydrochloride)
Vitamin B12
Folic acid
Ingredients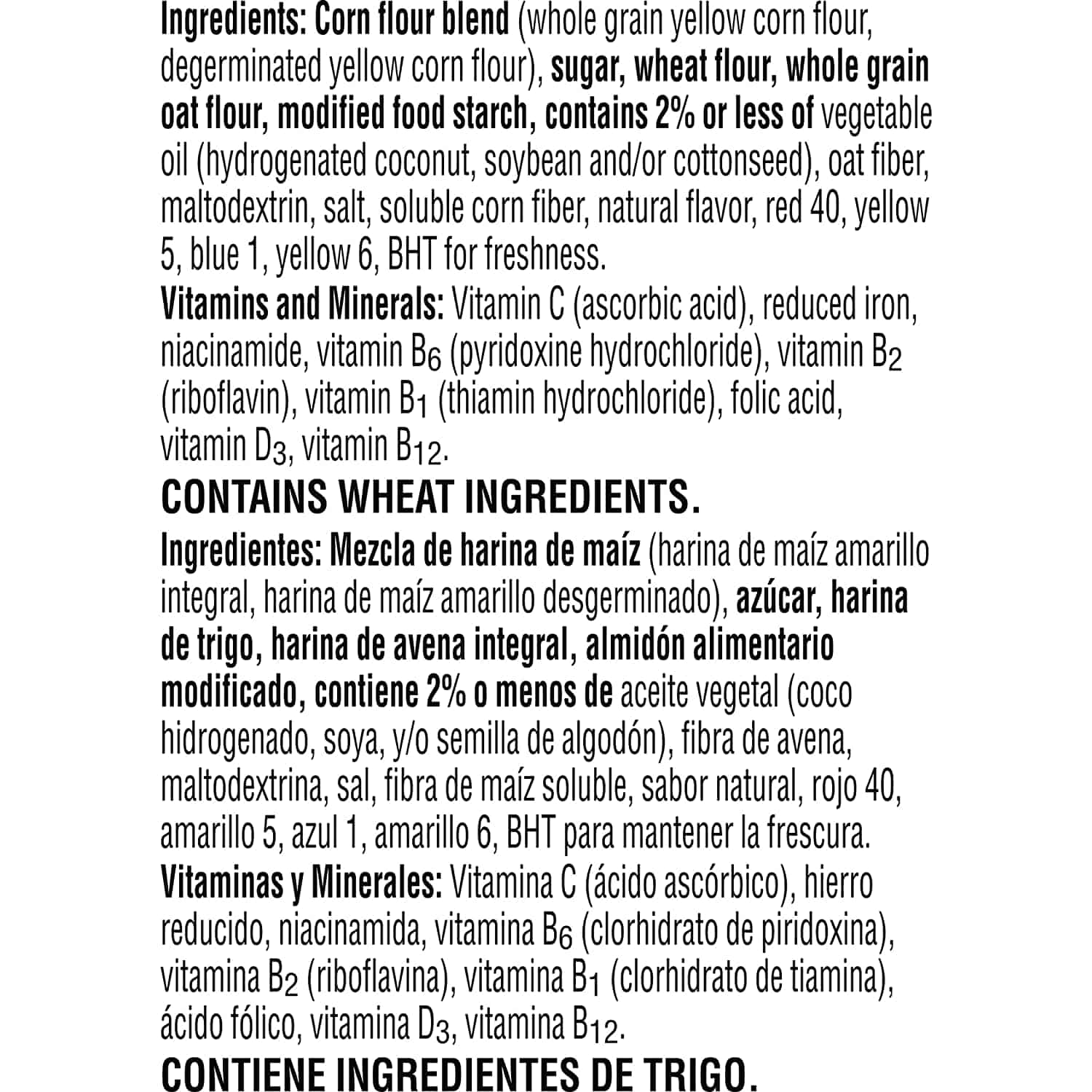 The ingredients for this cereal include:
Corn flour blend (containing degerminated yellow corn flour and whole-grain yellow corn flour)
Wheat flour
Sugar
Whole grain oat flour
Vegetable oil
Modified food starch
Oat fiber
Salt
Natural flavor
Maltodextrin
Soluble cornflour
Blue 1
Red 40
Yellow 6
Yellow 5
BHT
Is Froot Loops Cereal Healthy?
Kellogg's Froot Loops cereal cannot be considered a healthy breakfast choice. Although they do contain a high level of fiber and a number of other vitamins and minerals, the huge sugar content, in addition to the trans fat and artificial colorings, cannot be ignored.
In just 29 grams of Froot Loops, there is 12 grams of sugar – this means that nearly half of the total content of the cereal is sugar! Given that the recommended sugar intake is 24 grams for women and 36 grams for men, a bowl of Froot Loops takes up an unhealthy amount of your daily allowance.
Plus, regularly consuming a product with such a high sugar count could lead to spiked insulin and blood sugar levels.
In addition to this, Froot Loops contains partially hydrogenated vegetable oil, which can be extremely detrimental to your cholesterol and can increase the risk of heart disease.
Although the box claims to have 0 trans fat, the product does, in fact, contain a small amount. The FDA allows for products with less than 0.5 trans fat to claim to have 0%, which is why Froot Loops get away with this.
Froot Loops contain Yellow 6, Blue 1, and Red 40. These colorings have been banned in some parts of the world because they may be cancer-causing substances.
Is Froot Loops Gluten-Free?
Froot Loops contain wheat and derivatives such as wheat flour, so they cannot be considered gluten-free cereal. This is the case for all varieties of the cereal, including Wild Berry and Marshmallow. If you are allergic to gluten, avoid all Froot Loops products.
Is Froot Loops Cereal Vegan?
On the surface level, Froot Loops can be considered a vegan product, as they contain no direct animal products. However, there are plenty of grey areas featured in its ingredient list that would render the product non-vegan to some.
These grey area ingredients include:
Vitamin D3 – This vitamin comes primarily from lanolin which is often derived from sheep wool.
Sugar – A lot of non-organic cane sugar is filtered alongside cattle bone char in order to give it a whiter appearance.
Overall, whether Froot Loops are vegan or not depends on how strictly you follow veganism.
Is Froot Loops Cereal Keto?
No, Froot Loops are not keto-friendly. On top of containing soybean oil and a high sugar count, Froot Loops contain 26.4 grams of carbohydrates, rendering them unsuitable to be eaten as part of a keto diet.
Is Froot Loops Cereal High In Protein?
Froot Loops is relatively low in protein, with just 1.5 grams per cup serving, which is small even for a breakfast cereal. In the same serving size of Kellogg's Special K Protein Cereal, you'd get 10 grams of protein.
Is Froot Loops Cereal High In Fiber?
Kellogg's Froot Loops Cereal is surprisingly high in fiber. In a 29 gram serving, you'll find 2.7 grams of dietary fiber, which equates to around 11% of your recommended daily intake. This is a reasonably high protein level for a breakfast cereal and is mainly due to the corn flour blend, oat fiber, soluble corn fiber, and whole grain oat flour.
Froot Loops Varieties
Froot Loops come in a variety of different flavors, which includes:
The original Froot Loops have remained much the same since they were first introduced as 'Fruit Loops' to the public. The fruity flavors of this product are described as a lemon, blueberry, apple, cherry, raspberry, and lime mix.
A recent addition to the Froot Loops product range, Froot Loops Sweethearts were introduced for Valentine's Day 2022 and come in orange, yellow, blue, green, and pink. Besides the color change, this edition of the product tastes much the same and features the same nutrients.
Froot Loops with Marshmallows is the same as the original cereal, except with added marshmallows. Due to this addition, this variety is slightly unhealthier than the original.
Where You Can Buy Froot Loops
You can buy this tasty classic from most retailers in the U.S., including Walmart. Being as popular as it is, you'll likely find this cereal at most stores.
Famous Froot Loops Commercials
Froot Loops has featured many famous commercials over the years, most of which have featured the product's mascot, Toucan Sam. Commercials typically follow Toucan Sam – colored to match the colors of the cereal – as he smells and locates the cereal from great distances.
User Reviews
Review Summary
4 out of 5 stars (based on 1 review)
Recent Reviews
Confused than ever, I guess
I loved froot loops until i saw this post. I didn't expect a lot of nutrition since I understand it's just a decent cereal meant to fill bellies and kill hunger. But it is clear that my breakfast choices can do better. Thanks for shedding light on this.
Submit a Review