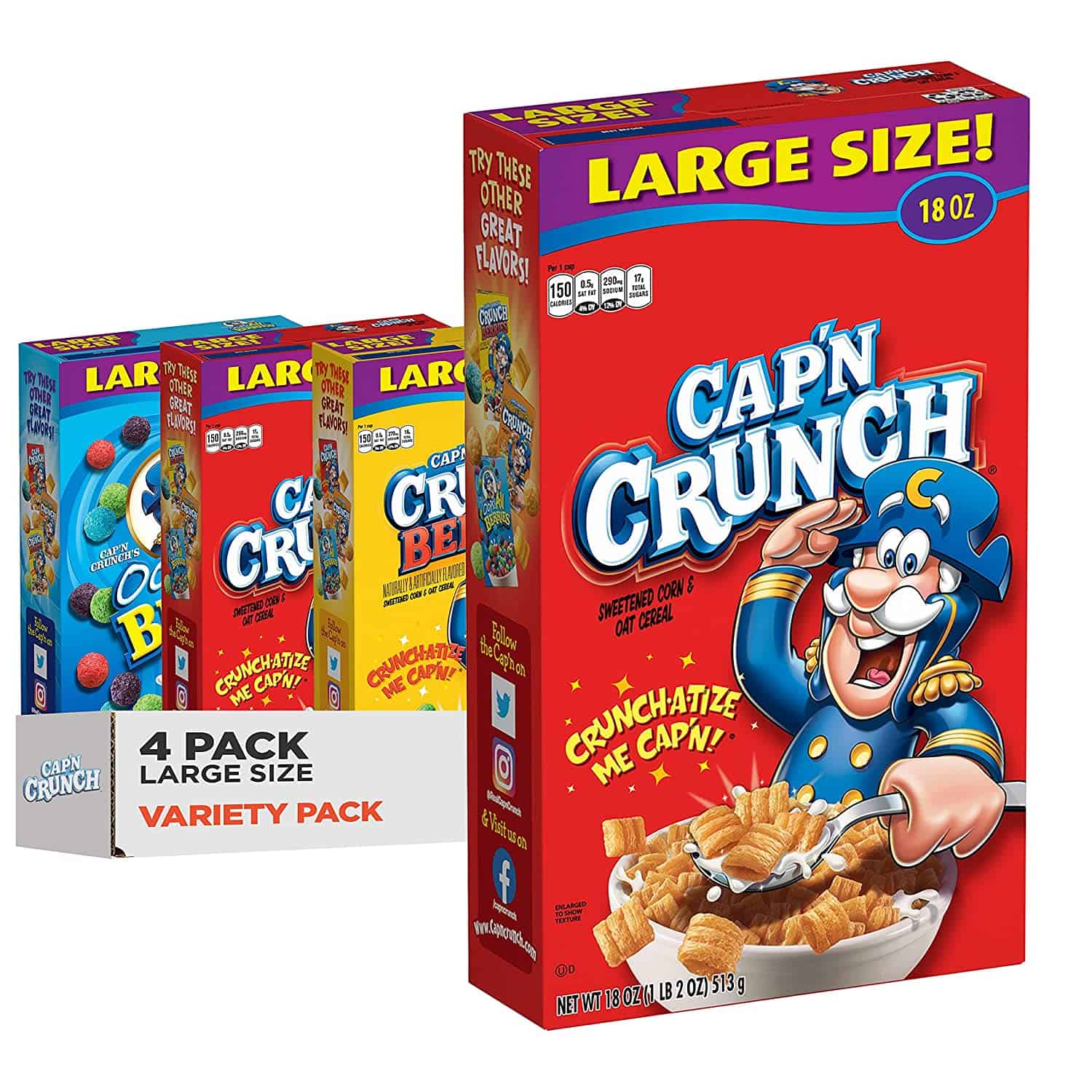 Cap'n Crunch was first produced by the Quaker Oats Company in 1963 and since then has remained one of the most popular and beloved cereal brands in the States.
The lightly sweetened corn oats are coated with a sweet oil to evoke the taste of brown sugar over rice. The syrup makes this cereal stay crunchy in milk, and it's this crunchy, sweet popcorn texture and moreish flavor that has given it its fame, making it a breakfast favorite ever since.
If you haven't tried Original Cap'n Crunch, the gold color and sweet taste of the UK's Golden Nuggets cereal is a dead ringer for this cereal.
Nutrition Facts
A serving size (36g) of Cap'n Crunch contains:
Calories – 143
Calories from fat – 16.6
Total fat – 1.8g
Saturated fat – 1.2g
Monounsaturated fat – 0.2g
Polyunsaturated fat – 0.3g
Trans fat – 0g
Sodium – 271.4mg/12% DV
Potassium – 67mg/2%
Carbohydrates – 30.8g
Net carbs – 29.9g
Sugar – 16g
Fiber – 0.9g/4%DV
Protein – 1.6g
Ingredients
Corn flour
Sugar
Oat Flour
Brown Sugar
Palm and/or Coconut oil
Salt
Reduced Iron
Yellow 5
Niacinamide (One of the B vitamins)
Yellow 6
BHT (to preserve freshness)
Thiamin mononitrate
Pyridoxine hydrochloride
Riboflavin
Folic acid
Is Cap'n Crunch Cereal Healthy?
In short, no. Cap'n Crunch is made specifically to be a sweet breakfast cereal and, as such, should not be eaten as a healthy snack.
Cap'n Crunch uses the old trick of making the serving sizes on their boxes smaller than other cereals to make the reduced nutritional values appear more alike to Cornflakes or Cheerios.
16g of sugar in each serving is only 9g off your full daily serving of sugar for the day, meaning just a little extra in your bowl and one serving of Cap'n Crunch has just taken up your full allowance of sugar for the day!
It's recommended to consume less than 10g of sugar for your breakfast to hit that sweet spot without essentially starting your day with a bowl of candy. The high sugar is also unsatisfying in the long run and can lead to a sugar crash shortly after, leaving you open to wanting a second bowl or something else sweet to make up for the drop-off in energy.
Is Cap'n Crunch Cereal Gluten-Free?
Cap'n Crunch is an oat cereal – it is made with oat flour which, although gluten-free, may have been processed alongside gluten-containing ingredients. So, this cereal is not suitable for celiacs or people observing a gluten-free diet, unless your sensitivity is minor.
Is Cap'n Crunch Cereal Vegan?
Cap'n Crunch contains no explicit animal products, so it's suitable for a vegan diet. However, certain ingredients would put up red flags for more stringent vegans observing a cruelty-free diet.
The decolorizing of cane sugar involves an ingredient called bone char, which is made from ground and roasted cattle bones. While it's not definite that your bowl will contain sugar that was colored with bone char, the fact that cereals acquire their sugar from different locations means it's a possibility.
Further to this, the palm oil in Cap'n Crunch is an unfortunate source of deforestation in Asia, America, and Africa. Its production requires huge swathes of land to be cleared to make space for palm trees, leading to the destruction of animal habitats, causing widespread death among animal populations. So while technically a plant product, the means of getting it is strictly against vegan principles.
Is Cap'n Crunch Cereal Keto?
Cap#n Crunch is much too high in sugar and too low in healthy fat to encourage ketosis in the body.
The high sugar count of 16g in one 3/4 cup is only 4g left than the recommended 20g of sugar DV on a keto diet and will go a long way towards stopping your body from producing ketones.
Further to this, the very low fat content is not desirable for a keto diet. Anyone trying to do keto properly needs to significantly up their daily fat intake, and Cap'n Crunch is not a good snack to do it with.
Is Cap'n Crunch Cereal High in Protein?
At only 1.6g of protein, this sweet cereal is typically low in protein.
Is Cap'n Crunch Cereal High in Fiber?
The FDA says that foods must contain 5g of fiber to be considered 'high fiber'.
This oat cereal is very low in fiber, even by guilty pleasure cereal standards, with one serving containing only 0.9g of fiber.
Cap'n Crunch Cereal Varieties
Crunch Berries Cereal
The crunch of the original cereal mixed with the sweet taste and aroma of berries. The cereal pieces also come in red, purple, and pink colors.
Peanut Butter Crunch
Everyone loves a peanut butter theme on their favorite sweet treat, and Peanut Butter Crunch adds brown coloring and a delicious peanut butter taste to their original flavor.
Cap'n Crunch's Oops, All Berries
An upgraded version of the Crunch Berries cereal, this is a bumped bumped-up berry version with extra colors and a stronger berry hit.
Cap'n Crunch Cereal Store Brand Alternatives
Cinnamon Toast Crunch by Cascadian Farm
This organic, whole-grain cereal is a great healthy alternative to Cap'n Crunch, with higher fiber and vitamin counts with no artificial colors.
Reese's Puffs
This peanut butter and chocolate combo blends both flavors perfectly and is a great alternative to Peanut Butter Crunch.
Mallow Oats by Lucky Charms
This cereal contains no artificial flavors or preservatives, and it comes with Lucky Charms marshmallows! What's not to like?
Where You Can Buy Cap'n Crunch Cereal
Cap'n Crunch can be bought at any grocery store where cereals are sold.
Famous Cap'n Crunch Cereal Commercials
This classic, nostalgic commercial dates back to the 1980s.
This was a time when the character who was the mascot for the brand, in this case, Captain Crunch, was fully fleshed out as a cartoon character used to capture the hearts and minds of kids and families.
User Reviews
Review Summary
0 out of 5 stars (based on 0 reviews)
Recent Reviews
There are no reviews yet. Be the first one to write one.
Submit a Review