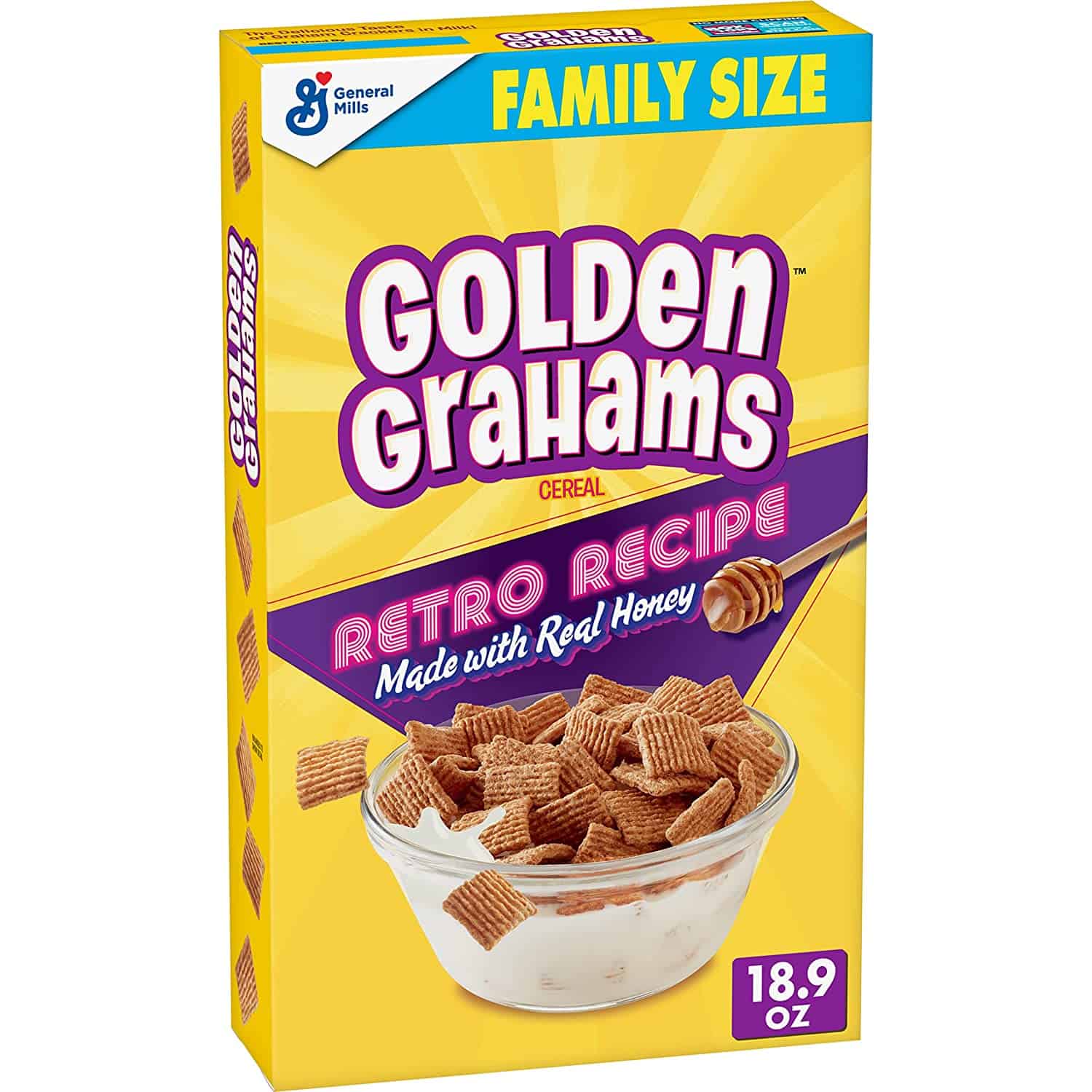 Golden Grahams cereal was first introduced in 1976 by the General Mills cereal company. These toasted square-shaped pieces are made from whole grain wheat flour, corn, and other ingredients, and are fortified with minerals and vitamins such as iron and zinc.
Golden Grahams have long been one of the most popular breakfast cereals, thanks to their mixed taste of honey and brown sugar.
The recipe used to create this cereal includes no artificial flavors, colors from artificial sources, or high fructose corn syrup. These facts lead many to believe that Golden Grahams are a healthy way to start the day – but this may not be the case. Let's find out how healthy this cereal really is and which dietary requirements it is suitable for.
Nutrition Facts
The following nutritional facts are based on a 0.75 cup (31g) serving.
Calories – 120
Total fat – 1g (2% DV)
Saturated fat – 0g (0% DV)
Polyunsaturated fat – 0.5g
Trans Fat – 0g
Monounsaturated fat – 0.5g
Cholesterol – 0mg (0% DV)
Sodium – 240mg (10% DV)
Potassium – 65mg (2% DV)
Total Carbohydrate – 26g (9% DV)
Dietary Fiber – 2g (6% DV)
Sugars – 9g
Other Carbohydrate -15g
Protein – 2g
Vitamins and minerals:
Vitamin A (10% DV)
Vitamin C (10% DV)
Calcium (10% DV)
Iron (25% DV)
Vitamin D (10% DV)
Magnesium (2% DV)
Niacin (25% DV)
Phosphorus (4% DV)
Vitamin B6 (25% DV)
Zinc (25% DV)
Vitamin B12 (25% DV)
Riboflavin (25% DV)
Thiamin (25% DV)
Folic Acid (25% DV)
Percentage daily values are based on a 2,000 calorie diet. Your daily values may be higher or lower depending on your calorie needs.
A family pack of this corn meal cereal contains around 21 servings.
Ingredients
Golden Grahams Cereal's list of ingredients and allergens includes:
Whole Grain Wheat
Corn Meal
Sugar
Canola Oil
Dextrose
Brown Sugar Syrup
Salt
Natural Flavor
Calcium Carbonate
Baking Soda
Is Golden Grahams Cereal Healthy?
The two main ingredients in Golden Grahams are whole grain wheat and corn meal, both of which are healthy additions to breakfast cereal. Whole grain wheat is a source of fiber and helps to reduce the risk of diabetes, cancer, and heart disease.
Golden Grahams are also low in cholesterol and saturated fat and are a good source of B vitamins, iron, and magnesium. It also doesn't contain any artificial flavors.
However, the cereal is high in sugar and calories, so it cannot be considered to be a healthy cereal.
Is Golden Grahams Cereal Gluten-Free?
It is not gluten-free as it contains whole grain wheat flour. Unfortunately, General Mills doesn't offer a gluten-free alternative to the cereal, which has led many to make their own instead.
Is Golden Grahams Cereal Vegan?
Golden Grahams are considered vegan to some, as they are not made using any dairy products. However, they do contain sugar and natural flavors, which could put some stricter vegans off the product. Plus, the retro edition of the product also contains honey, which is normally an ingredient that vegans avoid, being animal-derived.
Is Golden Grahams Cereal Keto?
Golden Grahams should not be consumed as part of a keto diet as they contain around 26 grams of carbohydrates per serving at least. This level of carbs would make it impossible to reach ketosis. Plus, the cereal also contains such ingredients as dextrose, sugar, and canola oil which those following a keto diet should avoid.
Is Golden Grahams Cereal High in Protein?
Golden Grahams are not high in protein, as they only contain 2 grams of protein per serving. Considering that men should aim to eat around 56 grams of protein per day, while women are recommended to aim for about 46 grams per day, Golden Grahams are not particularly helpful in reaching this target. Unless, of course, you get plenty of protein from your other daily meals.
If you're looking to consume plenty of protein during breakfast time, you should consider such breakfast cereals as Magic Spoon, which contains as much as 13-14 grams of protein per serving at least.
Is Golden Grahams Cereal High in Fiber?
Golden Grahams is made with whole-grain wheat, which means that the cereal contains some level of fiber. However, there is only 2 grams of dietary fiber in a regular serving, which is a small amount relative to other cereals. This only amounts to around 6% of your recommended daily intake, which makes Golden Grahams a low fiber cereal.
Total dietary fiber for an adult should be between 25 and 30 grams per day.
Golden Grahams Cereal Varieties
There are not many varieties available of this cereal besides the Retro edition, which is made with honey. The cereal stopped featuring honey in the recipe back in 2012.
It's also possible to get Golden Grahams S'mores Chocolate Marshmallow Breakfast Bars, which is a chewy bar alternative to the standard cereal, with the same distinct Golden Grahams taste.
Golden Grahams Cereal Store Brand Alternatives
There are a number of cereals that are similar to Golden Grahams on the market, including Cinnamon Toast Crunch and Chocolate Toast Crunch.
Cinnamon Toast Crunch also contains whole grain wheat but features rice flour instead of corn flour, so it has a slightly different taste to Golden Grahams. Although both contain similar vitamins and minerals, it could be argued that Cinnamon Toast Crunch is a slightly unhealthier option as it contains more calories.
Where You Can Buy Golden Grahams Cereal
You are able to purchase them online at Amazon as well as online or in-store at Walmart, Target, and other leading supermarkets.
Famous Golden Grahams Cereal Commercials
Golden Graham Cereal has been around for a long time and has produced many commercials promoting its brand. The tune of "Oh, Dem golden slippers," written by James Bland, became the inspiration for the theme song for this sweet graham goodness cereal.
You can watch one of the classic commercials here, which shows a family enjoying the cereal's delicious graham cracker taste after a busy day on the ranch.
User Reviews
Review Summary
1.0 out of 5 stars (based on 2 reviews)
Recent Reviews
THEY ARE ADDING TRI SODIUM PHOSPHATE
These are NOT the correct ingredients. They are now adding Tri sodium phosphate which is a powerful concrete cleaner. DO NOT PUT THIS CEREAL IN YOUR BODY! IT WILL CAUSE HEALTH ISSUES.
CONCRETE CLEANER / PAINT SURFACE CLEANER
PLEASE BE ADVISED OF THE ACTUALL INGREIDIENTS OF THIS CEREAL AND SO MANY OTHERS LIKE IT. THIS WEBSITE MISREPRESNETS GOLDEN GRAHAMS INGREIDENTS I HAVE A BOX SITTING IN MY CABINET RIGHT NOW THAT SAYS IT HAS TRISODIUM PHOSPHATE WHICH IS INDUSTRIAL CLEANER. PUB CHEM LISTS IT WITH MATERIAL SAFETY DATA SHEETS AND SHOULD NOT BE USED FOR FOOD. THIS COUNTRY SO BENT ON PROFITS IT CHOOSES TO KEEP THE CLEANING OF AMERICA IN FULL EFFECT AFTER ALL US FILTHY AMERICANS NEED TO BE CLEANED WHAT BETTER WAY THAN TO GIVE US A HEAPING TEASPOON TSP DOES A BODY GOOD TSP IS JUST NOT FOR BREAKFAST ANYMORE
Submit a Review