Although not the most healthy breakfast option, who doesn't love indulging in chocolate cereal once in a while? Plus, if you've got younger kids, you'll likely have to satisfy their chocolate cravings regularly. But what are the best chocolate cereals available in the U.S. today? Chocolate cereals have changed a lot over the decades, some for better and others for worse.
In this article, we'll take a look at the current state of popular chocolate cereals, and establish what you can expect in terms of taste, nutritional value, and value for money.
Cookie Crisp
Cookie Crisp is a popular breakfast cereal from General Mills that tastes exactly as it looks – like miniature cookies! To create this cookie taste, General Mills uses whole grain corn, yellow corn flour, corn syrup, caramel color, and cocoa processed with alkali for the chocolate chips.
Like a lot of chocolaty breakfast cereal, Cookie Crip comes high in sugar, with 1 cup serving containing 12.1g. The cereal also lists brown sugar syrup as one of its main ingredients. This same serving size contains 133 calories, 29.3g of carbohydrates (making it unsuitable for keto diet followers), 1.8g of protein, and 1.5g of total fat.
Cookie Crisp may be considered vegan as it doesn't contain any dairy products; however, it does contain sugar, which some consider to be non-vegan friendly.
Cocoa Pebbles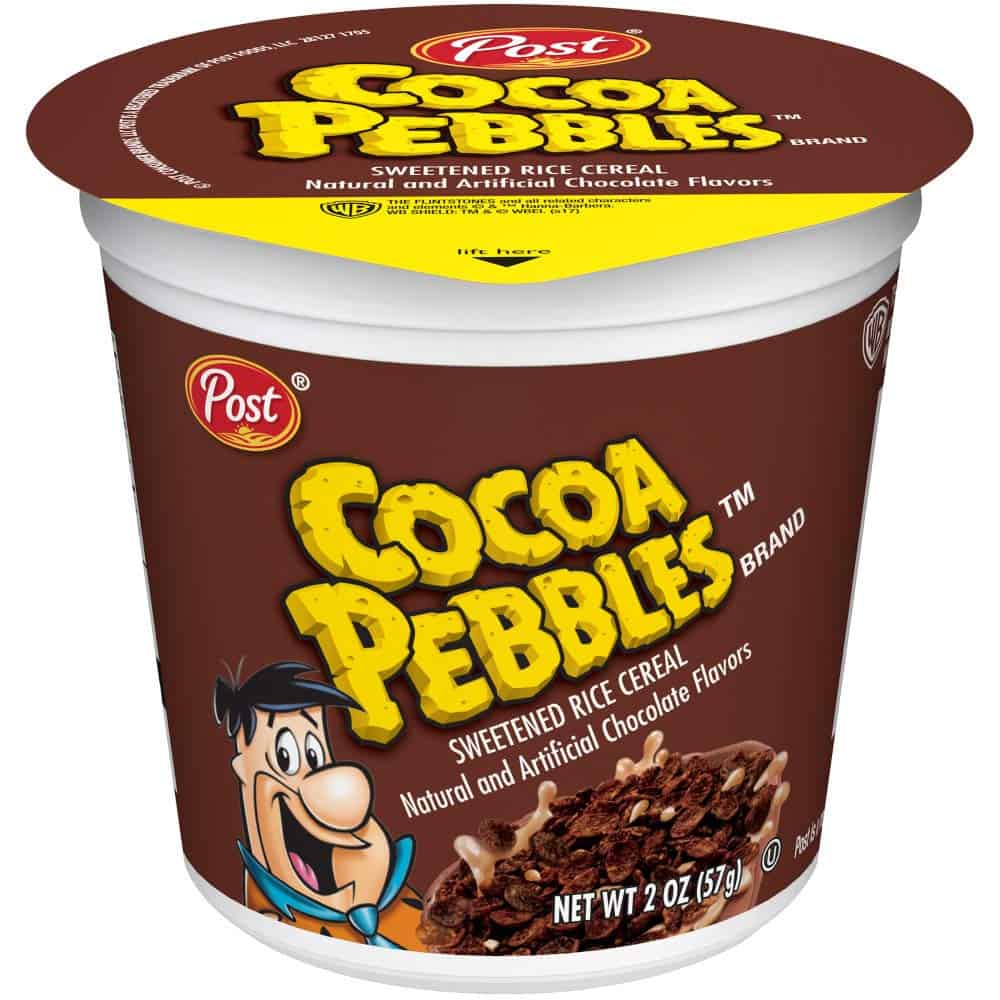 Post Consumer Brands have been making Cocoa Pebbles and Fruity Pebbles since 1971. Inspired by the Flinstones, the rice-based Cocoa Pebbles is the longest-running cereal to be linked with a movie or TV show.
Although delicious, and despite their name, Cocoa Pebbles don't actually contain any real chocolate, but an alkali processed chocolate. A 1 cup serving of Cocoa Pebbles contains 140 calories, 1.5g total fat, 31g carbohydrates, 0.5g dietary fiber, and 12 grams of sugar.
This makes Cocoa Pebbles unsuitable both for those looking for a healthy breakfast cereal and for those looking to reach ketosis.
Other ingredients in Cocoa Pebbles include caramel color, salt, rice, and BHT for freshness.
Kashi GO Chocolate Crunch
If you need a non-GMO, vegan, and high fiber product that also features some delicious chocolate chunks, consider getting Kashi Go Chocolate Crunch. This cereal features clusters made up of whole grain oats, semisweet chocolate, puffed whole-grain blend, canola oil, soy lecithin, and soy flakes, amongst other natural flavor additions.
This is the healthiest option on this list as it features 7 grams of fiber per serving – this is over twice as much as you'll find in the likes of Chocolate Cheerios. Although it features 10g of sugar, it makes up for it through the product's high vitamin content.
Chocolate Chex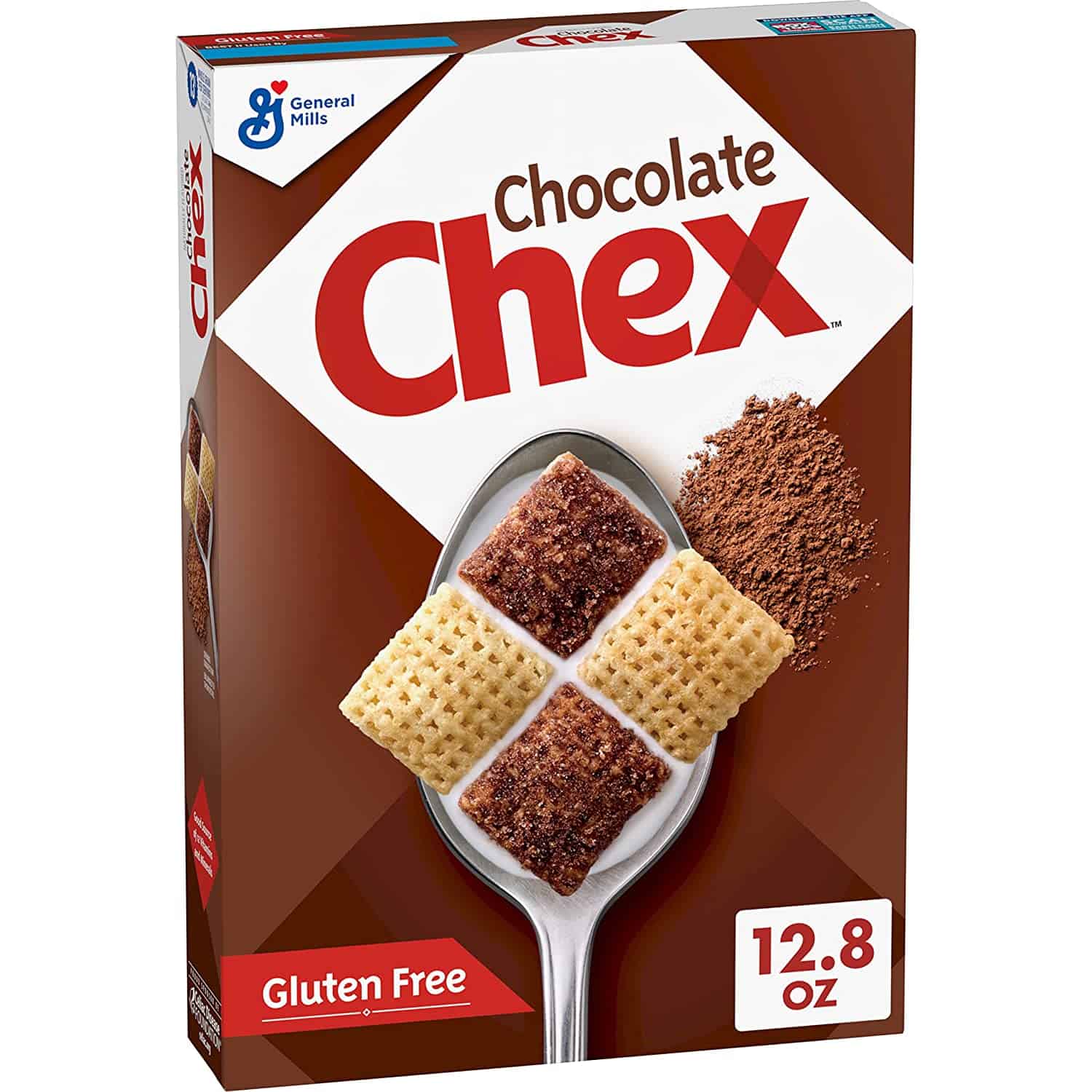 Chocolate Chex is not overly chocolatey, with just half of each Chex square being coated in chocolate. However, it does provide a good option for those looking to balance out the chocolate sweetness with the plain and savory chequered side.
Plus, the side that is coated uses real cocoa, which maximizes the flavor. However, like all chocolate cereals, sugar is unavoidable. A standard 0.75 cup contains 8g of sugar, which is still not great but better than some other chocolate cereals. The cereal is pretty low in fiber and protein, offering just 2g of both per serving.
Chocolate Chex is unsuitable for keto-followers, given its large 36g carbohydrate count per serving.
Count Chocula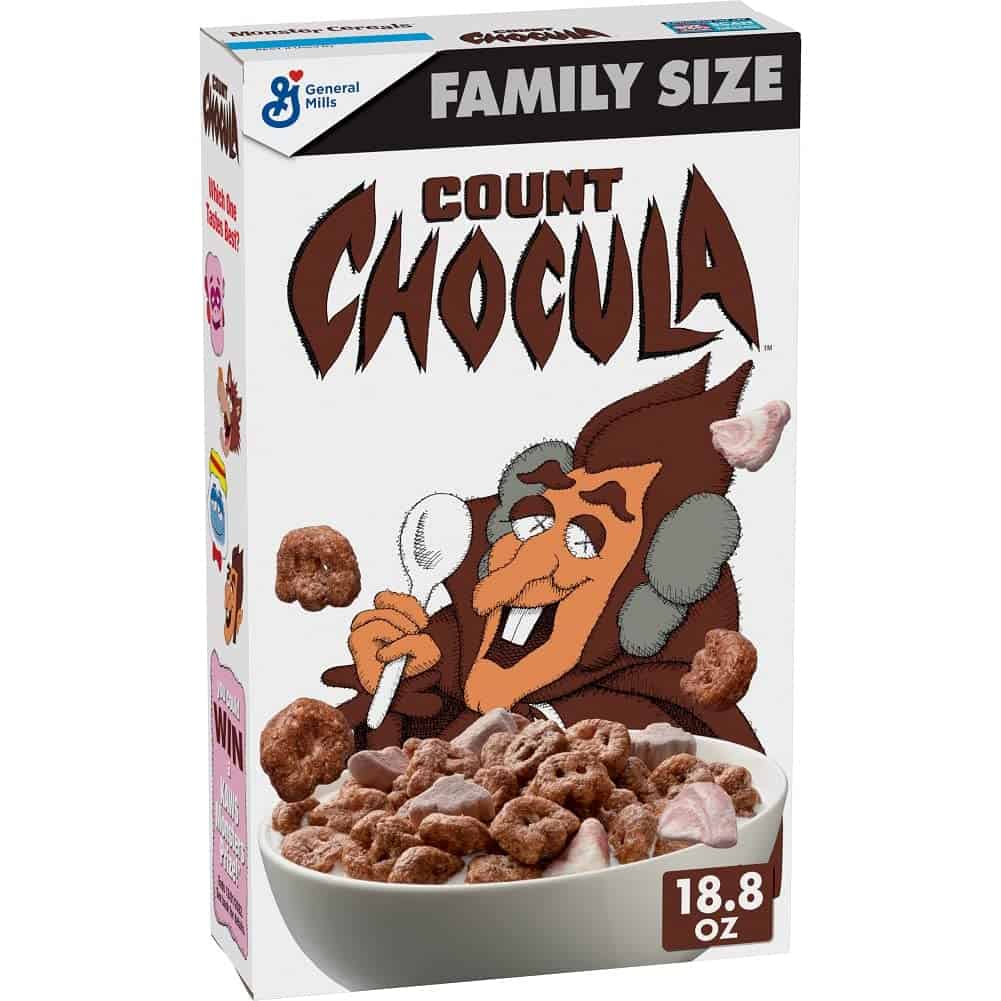 Count Chocula forms part of General Mills' Monster cereal range, having been considered one of the best chocolate cereals since its initial release in 1971. The cereal consists of whole-grain corn puffs in the shape of ghosts mixed in with chewy pieces of marshmallows that are in the shape of flying bats.
Although pretty strong in terms of chocolate flavor, the cereal doesn't actually contain any real chocolate. Instead, it features cocoa processed with alkali alongside sugar (12g per serving), cornmeal, and corn syrup. Featuring one of the highest carbohydrate counts on this list, with 30.7g per serving, this product should be completely avoided for keto followers.
In terms of protein and fiber, this product only features 1.3g of each per serving.
Hershey's Cookies 'n' Creme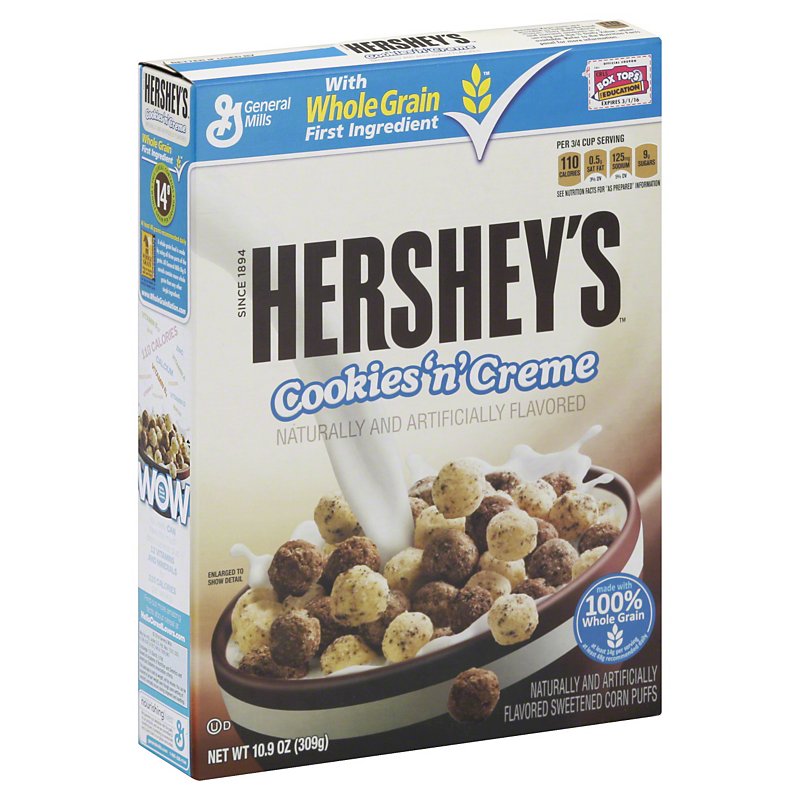 Using 100% whole grains, this product from General Mills is meant to replicate the taste sensation of Hershey's Cookies 'n' Creme chocolate bar using corn puff cereal shapes. The cereal features whole grain corn, soybean oil, dextrose, salt, whole wheat flour, and natural and artificial flavor to create the Cookies 'n' Creme taste.
Just as you should only indulge in real Hershey's chocolate once in a while, you should really only eat the cereal alternative as a one-off treat occasionally. Its total carb count is 21g, 1g of which is dietary fiber and another 9g of which is sugar. Because of this sugar count, the product can't be considered vegan. It also cannot be considered keto-friendly.
Special K Chocolatey Delight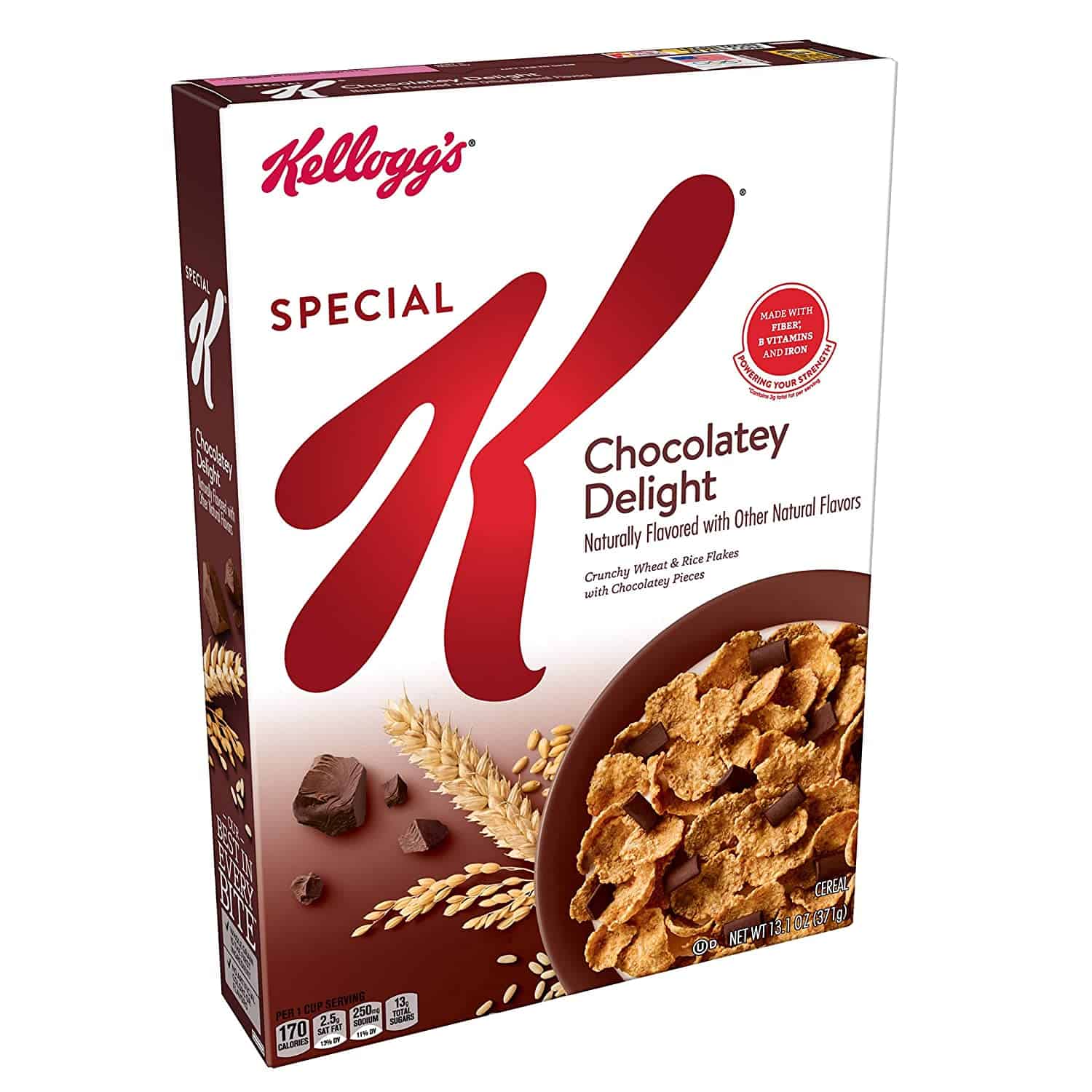 We consider Special K Chocolatey Delight to be one of the best chocolate cereals because they get the balance just right between the chocolate chunks and the rice and whole wheat flakes. If you're looking for a healthy alternative to standard chocolate cereal but don't want to miss out on the sweet cocoa taste, then consider Special K Chocolatey Delight.
A pretty nutritious option, Chocolatey Delight Special K provides consumers with a decent source of fiber and protein, with around 3 grams of each found in each serving. Real cocoa can be found in every spoonful, adding to the overall enjoyment but also adding to the cereal's sugar count, which is 13g per cup serving.
Chocolatey Delight Special K features D3, which makes it unsuitable for vegans, and its high carbohydrate content makes it a bad choice for keto followers. It may come as a surprise, but Special K Chocolatey Delight also features brown sugar syrup.
Oreo O's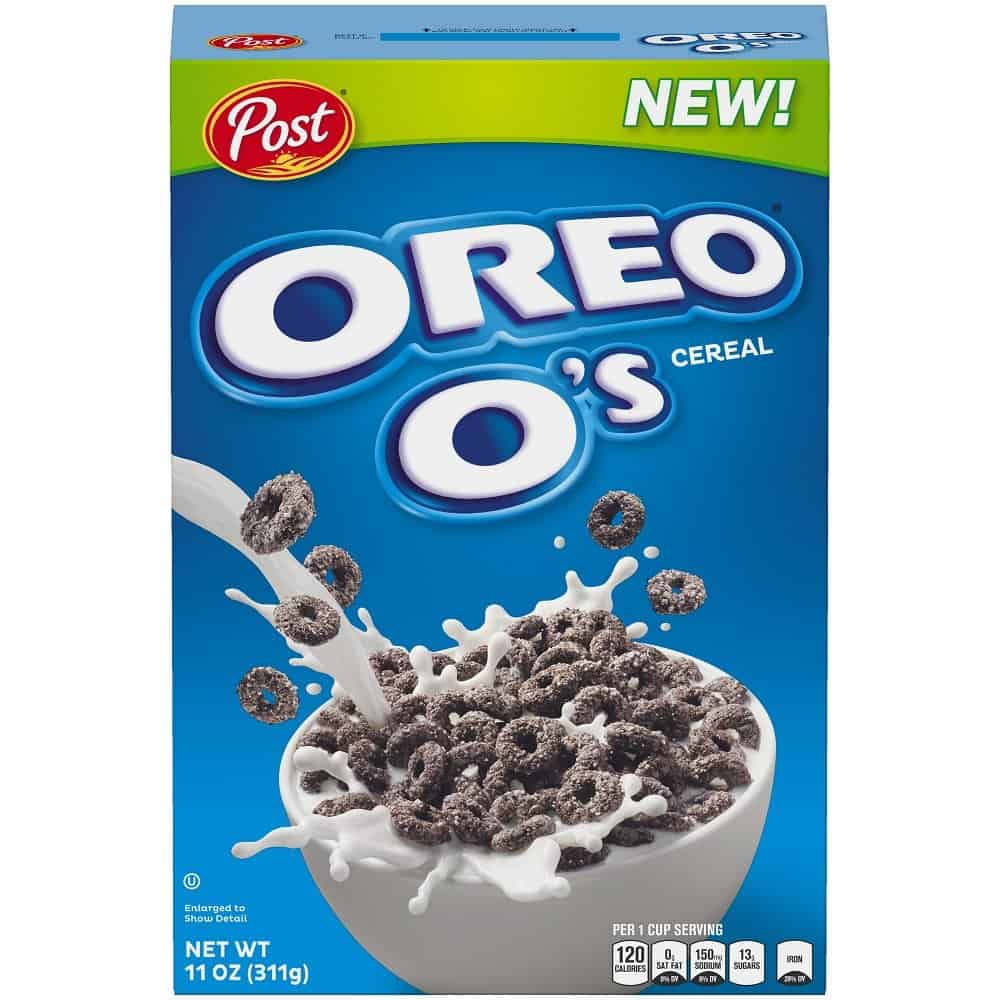 Another chocolate cereal offering from Post, Oreo O's, is for fans of the Oreo cookie. The O's themselves are made from corn and oats, with a creme coating featuring chunks of Oreo. This makes for a crunchy, sweet, and incredible moreish breakfast cereal that can either be consumed first thing or throughout the day as a snack.
But, is there any nutritional value to this chocolate cereal? Well, the cereal does feature 25% of the daily recommended intake of iron. However, it also features 13g of sugar and basically no fiber or protein. They are not recommended for vegans or keto dieters, as they may contain dairy and have 26g of carbohydrates per serving.
Chocolate Frosted Flakes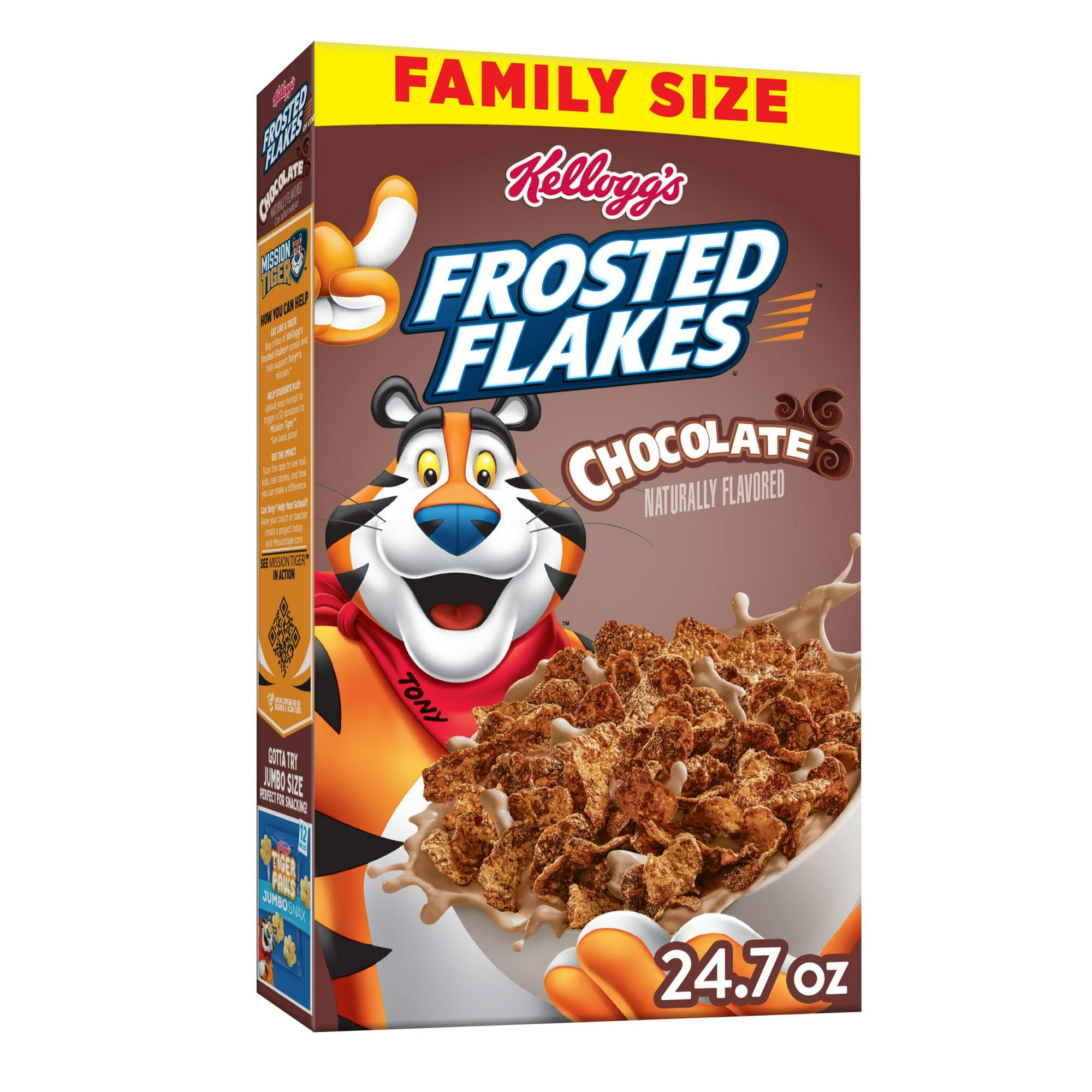 Chocolate Frosted Flakes should be purely seen as an occasional indulgence, considering that a single serving contains 15 grams of sugar! This product is also particularly high in carbohydrates, palm kernel oil, and processed cocoa, none of which should be regularly consumed.
This product is just like regular Frosties, except they feature a thick coating of chocolate, so they are arguably, less healthy for you than the original product. Like seemingly all of the best chocolate cereals, this product is not officially vegan-suitable due to it containing questionable ingredients such as sugar and vitamin D3.
Chocolate Lucky Charms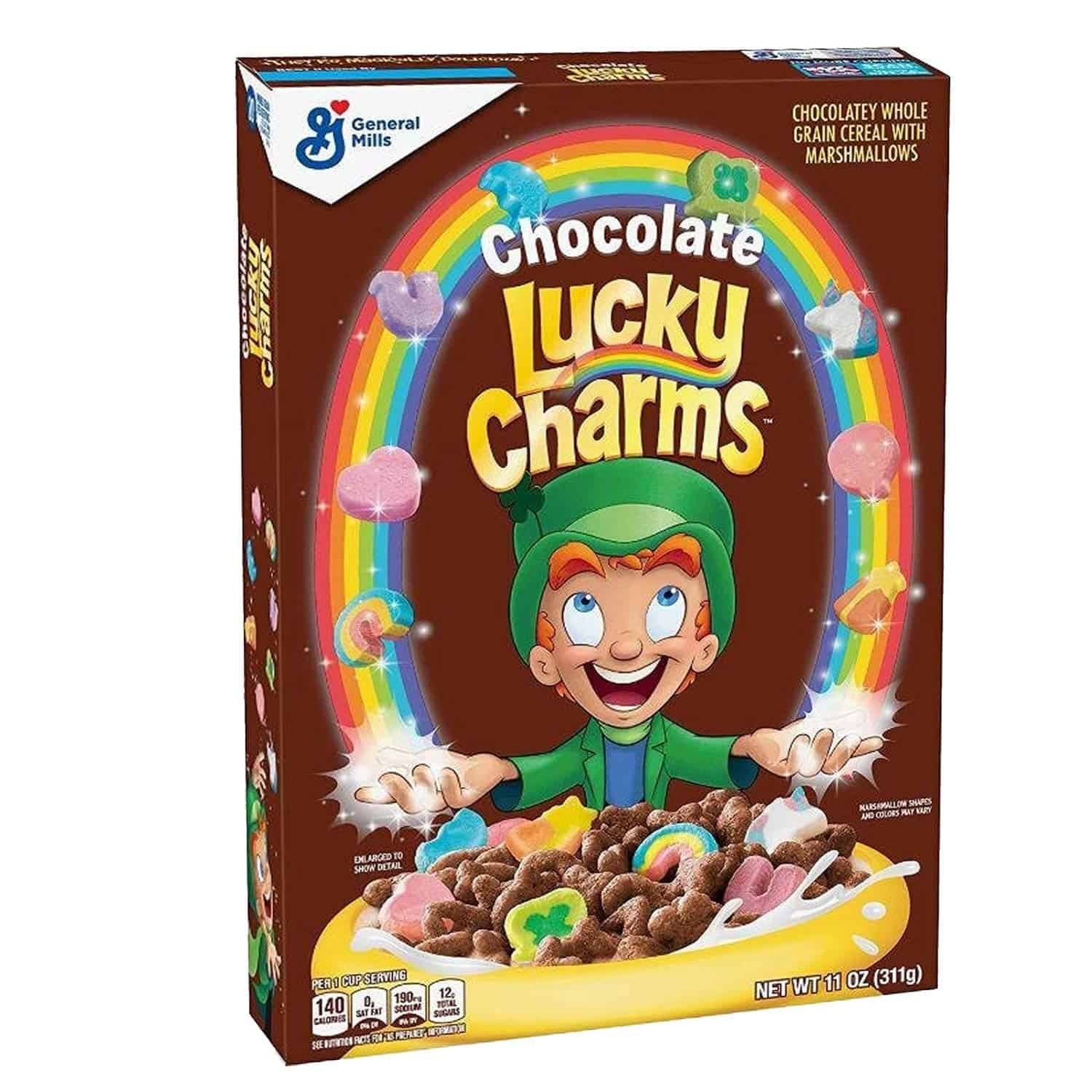 As if Lucky Charms weren't unhealthy enough, General Mills went a step further in 2005 by releasing Chocolate Lucky Charms. A lot remains the same in the chocolate alternative version of the classic cereal, except the whole grain corn cereal shapes are chocolate coated – the marshmallows remain the same.
Chocolate Lucky Charms feature a number of unhealthy ingredients, including colorings and additives such as red 40, blue 1, and yellows 5 & 6. Because of the inclusion of swine gelatin and D3, this product cannot be considered vegan, nor can it be considered keto.
Kellogg's Krave Chocolate Cereal
A relative newcomer, Krave has only been available in America since 2012 but has made a big impact in that time. The real chocolate found in the center of these crispy shells (made of oats, rice, and wheat) is what makes consumers crave this product.
In terms of nutrition, this cereal provides 160 calories per 31g serving, 11 grams of sugar, and 24 grams of carbohydrates. Given that sugar is the product's main ingredient, this cereal is far from being considered a healthy option. Another one of the product's main ingredients is brown sugar syrup.
Its ingredient list also features milk, rendering it unsuitable for vegans, while its high carbohydrate count makes it a bad choice for followers of a keto diet.
Cocoa Krispies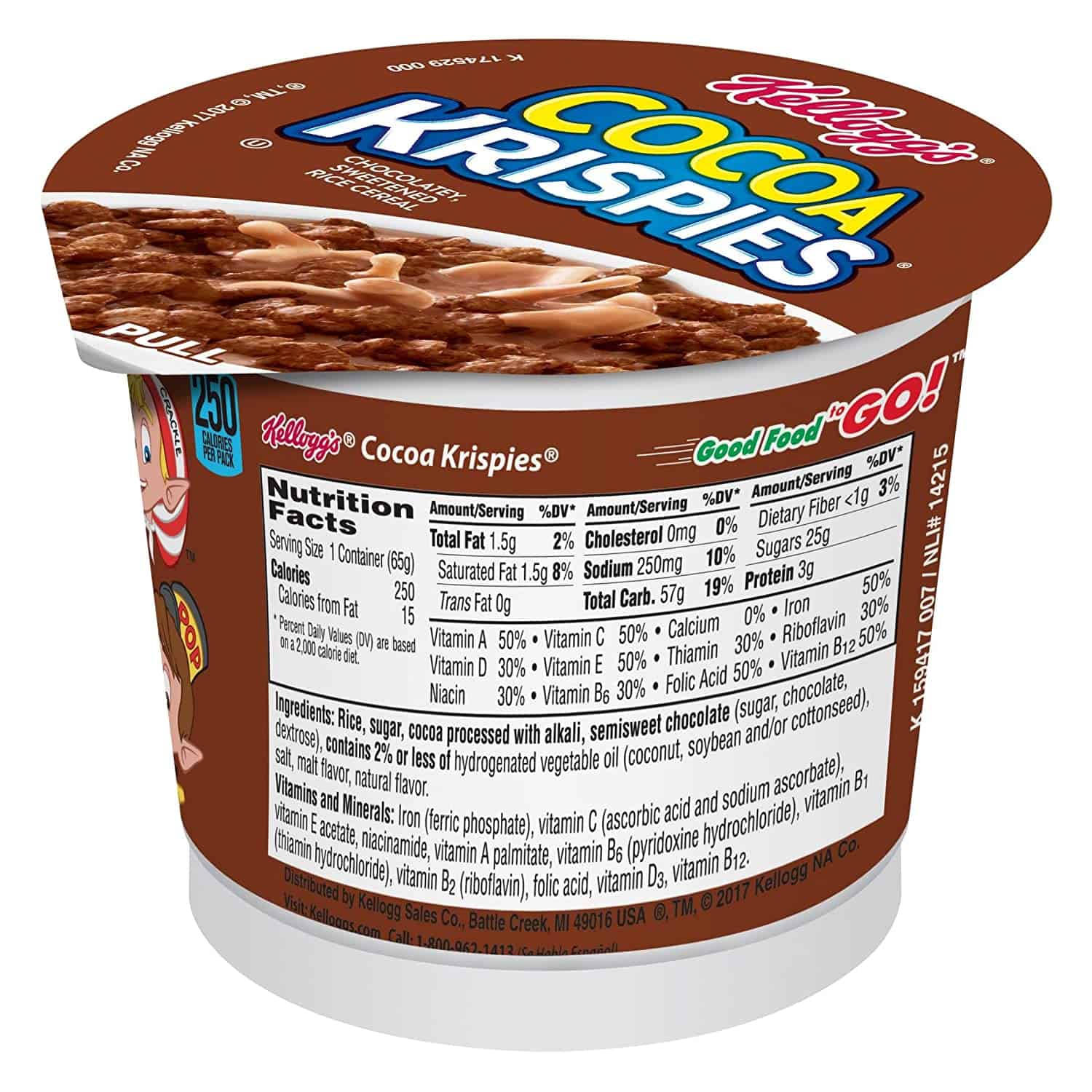 Kellogg's Cocoa Krispies are much like their Rice Krispies counterpart, except with a layer of cocoa on the outside of these puffs. A classic breakfast product since the 1950s, this chocolate cereal is famous for turning the milk chocolatey and makes for a very appetizing way to start your day.
Being light and airy, these chocolate puffs are considerably low in fat and come with the bonus of featuring 11 different vitamins and minerals. This includes vitamin D!
Featuring 27g of carbohydrates, Cocoa Krispies also come with semisweet chocolate, hydrogenated vegetable oil, vitamin B6, and iron, amongst other ingredients, vitamins, and minerals. The inclusion of vitamin D3 makes them questionably non-vegan, and their high carb count definitely makes them unsuitable for followers of keto.
Cocoa Puffs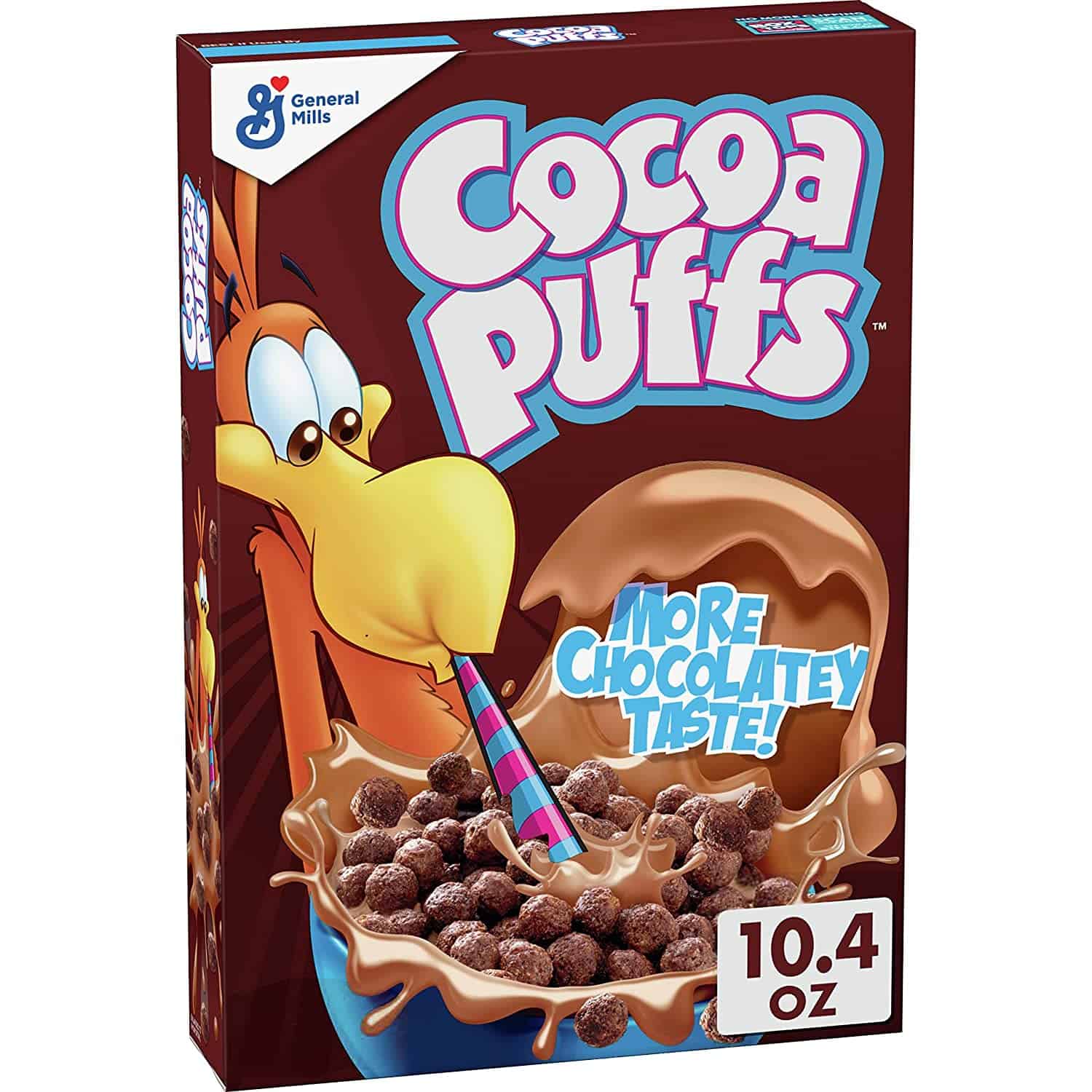 Perhaps better known for the whacky bird called Sonny that promotes this cereal, Cocoa Puffs are a General Mills product and have been a prominent chocolate cereal for decades now. They're basically a chocolate version of General Mills' Kix cereal, with added chocolate and sweetness.
Like a number of other cereals to make this list, Cocoa Puffs aren't exactly healthy; however, they aren't the worst chocolate cereal out there. They're fortified with vitamins, including vitamin b2, b1, a, b12, d3, and many others. The downside of this is that a number of the vitamins listed are animal-derived, making this cereal unsuitable for vegans.
Cocoa Crunch
If you're looking for an affordable cereal with chocolate flavoring, check out Cocoa Crunch from Great Value, available at Walmart! Great Value aims to live up to the company name by providing not only an affordable price but cereal that is packed with plenty of vitamins and minerals, too.
This corn cereal features 12 vitamins and minerals, including zinc, vitamin b12, and iron. It is also free of saturated fat, making it a good choice for weight watchers! It does feature a lot of carbs, tho, making it a bad choice for keto diet followers.
Chocolate Toast Crunch
Not only does General Mills use real chocolate for Chocolate Toast Crunch, but they also use real cinnamon, making this one of the most unique cereals with chocolate flavoring to make this list. To add to the irresistible flavor, the ingredient list also includes coconut oil, sunflower oil, and rice flour.
Sugar is one of the main ingredients in this whole-grain wheat cereal, with 12g of it found in every cup serving. This tasty cereal may not be good to have every morning, but it certainly makes for a good indulgence once in a while – unless you are vegan or dedicated to keto.
Chocolate Honeycomb
Post's Chocolate Honeycomb is the chocolate flavored equivalent to the standard Honeycomb variety, coming in the same shape but covered in chocolate! Post sometimes removes Chocolate Honeycomb from the shelves, only to bring it back shortly after due to popular demand.
The ingredients for this cereal include whole grain corn flour, whole grain corn flour, and 10g of sugar per serving. True chocolate lovers may be disappointed by the processed cocoa that gets put into this cereal but still satisfied enough with its sweet taste.
The cereal contains just 2g of fat and 2g of fiber.

Cheerios are a relatively healthy breakfast cereal option, and Chocolate Cheerios are too, except with added flavor! If you're looking to avoid saturated fats but don't want to give up chocolate breakfast cereals, then Chocolate Cheerios could be a healthy option for you.
You'll find no fats, saturated fats, gluten, or cholesterol in Chocolate Cheerios. What you will find, however, is 1og of sugar and 28g of carbohydrates.
Generally, though, with 3g of both protein and fiber, and lots of vitamins, Chocolate Cheerios are by far one of the most healthy chocolate cereals available.
Frosted Mini-Wheats Little Bites Chocolate Cereal
Kellogg's Frosted Mini-Wheats work exceptionally well at soaking up milk and turning regular milk into chocolate milk. The taste is irresistible, thanks to the real cocoa used. They are titled Frosted Mini-Wheat Bites as they are half the size of the original Frosted Wheat Bites.
They come in the form of whole-grain wheat biscuits and provide consumers with a good source of fiber – an average bowl contains 6g!
Unfortunately, they are not vegan as they contain gelatin, amongst other ingredients derived from animals. They are also not keto, as they're quite high in carbohydrates.
Chocolatey Peanut Butter Crunch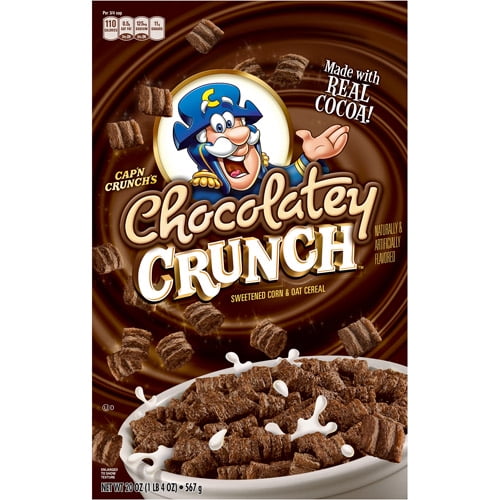 Impressively, this Cap'n Crunch offshoot product contains real cocoa and is also fortified with vitamins and minerals, including zinc and iron. Low in fat and cholesterol-free, this chocolate-peanut flavored cereal combines two great flavors into one cereal and manages to remain relatively healthy.
Although it does use a lot of natural flavors, it also has some unnatural additions, such as red 40 and blue 2. It also only contains 1g each of both dietary fiber and protein, which is really low for a breakfast cereal. Other additions include folic acid and BHT.
Hershey's Kisses Cereal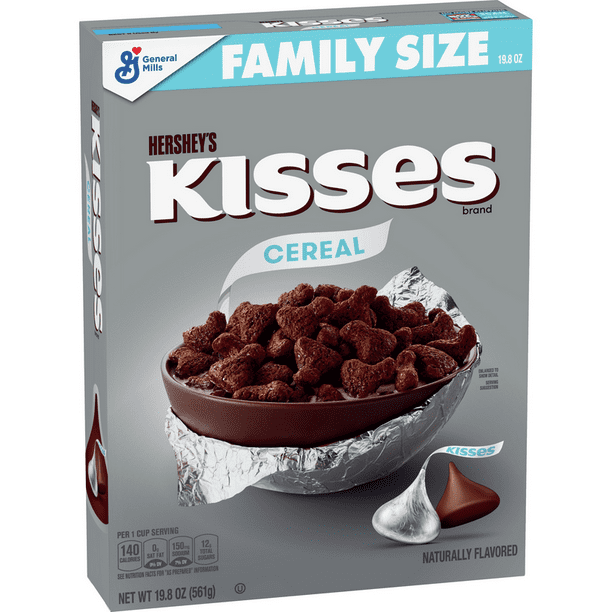 Another cereal inspired by the country's leading chocolate brand, Hershey's Kisses Cereal, guarantees to satisfy your chocolate cravings whenever they might hit. Featuring genuine Hershey's cocoa, this crunchy whole-grain corn cereal delivers in terms of taste and is shaped to look like kiss candy, hence the name.
Of course, this delicious taste has got to come with a price. Hershey's Kisses are quite high in a lot of negative areas. For example, the cereal provides you with 140 calories per serve, in addition to 12g of sugar, 31g of carbohydrates, and 1.5 grams of fat.
FAQs
Is chocolate cereal good for you?
It really depends on which type of cereal you buy. Things like Chocolate Cheerios balance out the sugar content by containing no saturated fats and a decent protein and fiber content. Cereals like Chocolate Toast Crunch, on the other hand, don't have as many redeeming features.
Do Chocolate Cheerios taste good?
If you're looking for a lighter-tasting chocolate-based cereal, Chocolate Cheerios is definitely weaker in taste than the likes of Chocolate Toast Crunch. If you're looking for a stronger chocolate taste, you may not enjoy Chocolate Cheerios.
How many calories are in a bowl of Special K Chocolatey Delight cereal?
In a standard, one-cup serving (42g) of Special K Chocolatey Delight, you'll find 170 calories.
How much fat is in Cocoa Puffs?
In a standard, one-cup serving (36 grams) of Cocoa Puffs, you'll find 1.9 grams of total fat. This is much less than the likes of Chocolate Toast Crunch.
Final Thoughts
Cereal featuring chocolate, by default, isn't exactly the healthiest cereal available. All of the cereals listed above included sugar, from Chocolate Toast Crunch to Chocolate Cheerios. Sugar is necessary to attain the chocolate flavor; however, some cereals compensate for this by being high in fiber and low in the likes of high fructose corn syrup, like Kashi GO Chocolate Crunch.
Overall, chocolate cereals are good now and again, but they should not be relied on to provide you with nutrition daily.