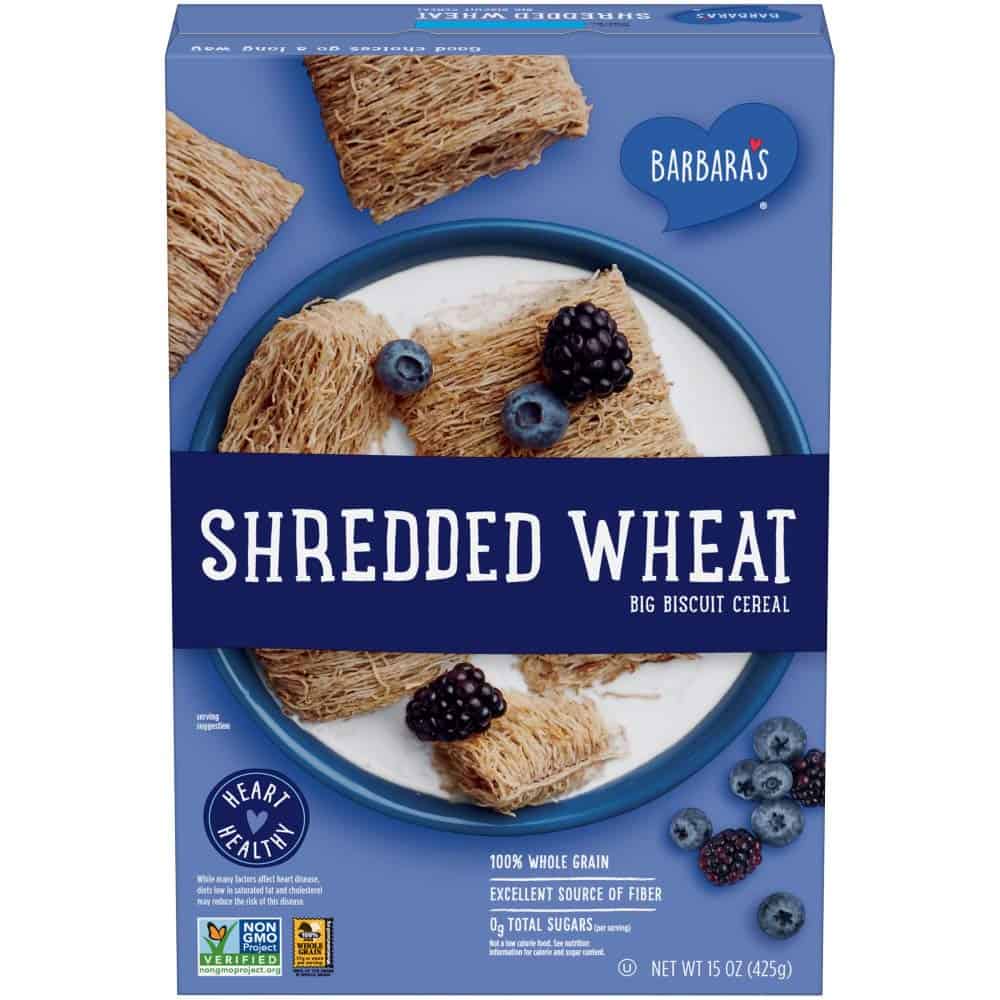 Shredded Wheat cereal is a wholesome choice and is popular among those who like to keep it lean and clean. Barbara's version has zero grams of sugar and is 100% whole grain, making for a fantastic fiber source. It is a heart-healthy cereal and is non-GMO project verified.
Barbara's original Shredded Wheat cereal has been around since 1971 and has been a favorite breakfast cereal ever since.
Nutrition Facts

A serving size of two biscuits (51g) of Barbara's Shredded Wheat cereal contains:
Calories – 170
Total fat – 1 gram/1% DV
Saturated fat – 0 grams/0%
Trans fat – 0 grams
Polyunsaturated fat – 0.5 grams
Monosaturated fat – 0 grams
Cholesterol – 0mg/0% DV
Sodium – 0mg/0% DV
Total carbohydrates – 41 grams/15% DV
Dietary fiber – 7 grams/24% DV
Solubale fiber – 1 gram
Insoluble fiber – 6 grams
Total sugars – 0 grams
Includes added sugar – 0g/0%
Protein – 6 grams
Vitamin D – 0mcg/0%
Calcium – 20mg/0% DV
Iron – 1.6mg/8% DV
Potassium – 170mg/4% DV
One box of Shredded Wheat cereal contains about eight servings.
The Daily Values (DV) shown above are based on a daily diet of 2000 calories.
One box is about 425 grams.
Ingredients
Whole grain wheat is the only ingredient in this cereal. It also contains BHT to keep it fresher for longer.
Is Shredded Wheat Cereal Healthy?
It is classified as a healthy cereal with a short list of ingredients and 7 grams of fiber per serving. It also has an excellent nutritional value compared to most other cereals. The main benefit is that it isn't loaded with tons of added sugars. It is also a whole-grain food.
One cup is said to contain less than one gram of sugar. According to the American Heart Association, women shouldn't have more than 24 grams of sugar per day. Men shouldn't eat more than 36 grams daily. So, Shredded Wheat cereal is a healthy enough choice for the sugar content. Eating too much sugar can lead to heart disease and various other problems.
Foods are considered high fiber if they contain more than 5 grams, and this great cereal has 7 grams, which is higher than most other breakfast cereals. Shredded Wheat cereal also supplies us with a good amount of minerals and vitamins. Top the bowl off with some berries or sliced bananas to add even more nutritional value.
Is Shredded Wheat Cereal Gluten-Free?
Shredded Wheat, as the name suggests, contains wheat, so it is not a gluten-free cereal. However, there are some gluten-free options on the market; these are usually made from quinoa, sorghum, rice, and others.
You should also ensure that the cereal you choose includes the nutrients that can be harder to get when on a gluten-free diet, such as fiber, folate, and B vitamins (niacin and riboflavin). Removing wheat from the cereal can make getting these nutrients fairly challenging.
Some good choices include Puffins Protein, Berry Burst from Barbara's Bakery, Thrive Market, and Organic Brown Rice Crisps Cereal from Barbara's Bakery.
Is Shredded Wheat Cereal Vegan?
Yes, it is. Barbara's Big Biscuit Shredded Wheat cereal has been certified as vegan-friendly, making it a healthy and plant-based breakfast choice. However, Mini Wheat and Frosted Shredded Wheat are not vegan as they contain gelatin.
Is Shredded Wheat Cereal Keto?
When on a ketogenic diet, your carb intake is reduced to less than 50 grams daily and sometimes as low as 20 grams. Shredded Wheat cereal is not suitable for a keto diet as it is a high-carb food. 100 grams of the product contains about 68.33g of net carbs, so you will not be in ketosis if you eat this.
Suppose you are looking for something healthy and keto-friendly. In that case, we suggest Cocoa Protein Cereal as it only contains four grams of net carbohydrates.
Is Shredded Wheat Cereal High in Protein?
Yes, it is an excellent source of protein. One cup has about 6 grams of protein in it; other cereals only contain about 2.4 grams. Protein is fantastic for our body's growth and development functions; it also gives us energy. Many suggest that we should be eating 15-20 grams of protein for breakfast.
You get a good amount of protein from eating Shredded Wheat cereal, but you can up the protein by adding milk or soy milk, peanut butter, or yogurt.
Is Shredded Wheat Cereal High in Fiber?
Shredded Wheat has about 7 grams of fiber, making it higher than the recommended 5 grams of fiber cereals should have. Fiber is fantastic for your digestive system, and you must eat enough of it. Most people should be eating up to 25 grams of fiber a day, so eating one serving of Shredded Wheat is a good way of reaching that total.
Shredded Wheat Cereal Varieties
Big Biscuit Shredded Wheat
This is the original. It is whole grain, low in saturated fat and cholesterol, and has no artificial flavors. Adding some fruits to a bowl makes it the perfect breakfast meal.
Shredded Wheat Spoon Size
These are smaller bites than the original big biscuit, and they are 100% whole grain. They give you the same nutrients and health benefits.
Shredded Wheat Spoon Size Wheat 'n Bran Cereal
It is made from wheat bran and whole grain wheat, another healthy breakfast cereal packed with fiber and valuable nutrients.
Shredded Wheat Cereal Store Brand Alternatives
As well as Barbara's Shredded Wheat cereal, you can also find Post Shredded Wheat. Nestle also has Shredded Wheat cereal, all made from 100% natural wheat.
Where You Can Buy Shredded Wheat Cereal
You can buy it online through Amazon and find it at retail giants like Walmart and Target. You can also buy online from the specific brand you are looking for.
Famous Shredded Wheat Cereal Commercials
Post consumer brands have done many commercials since they introduced the product in 1993. There is a commercial for Post Shredded Wheat where the founder talks about the product, the ingredients, and how good it is – enough to convince anyone to choose Post Shredded Wheat!
Kellogg's also has a good commercial from the 1970s. The Kellogg's commercial includes a jingle about Mini Wheats and has children and adults singing about the cereal.
User Reviews
Review Summary
0 out of 5 stars (based on 0 reviews)
Recent Reviews
There are no reviews yet. Be the first one to write one.
Submit a Review