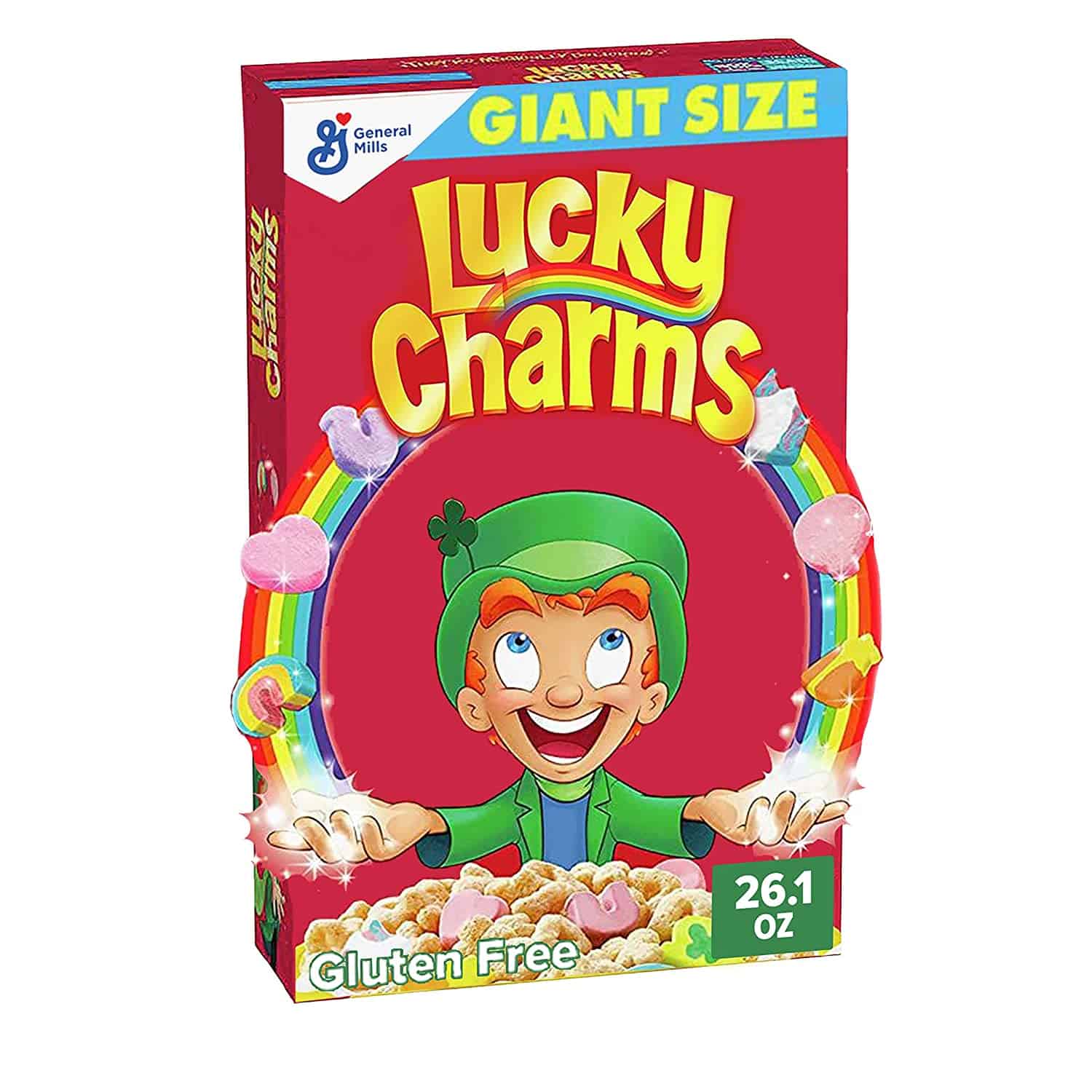 General Mills Lucky Charms is one of America's most beloved cereal brands. The timeless combination of toasted wholegrain oats and sweet marshmallow pieces has been imitated by many other brands, but Lucky Charms did it first back in 1964.
The brand's leprechaun mascot, Lucky, is instantly recognizable. Lucky for us, he hasn't succeeded in his quest to keep our hands off his delicious magical charms!
Nutrition Facts
The nutritional values of 1 cup (36g) serving of Lucky Charms are:
Calories – 140Kcal
Total fat – 1.8G
Monounsaturated fat – 0.6g
Polyunsaturated fat – 0.5g
Trans fat – 0g
Sodium – 226.8mg/10% DV
Potassium – 77.7mg/2% DV
Carbohydrates – 30g
Sugar – 12.6g
Fiber – 1.8g/8%DV
Glucose – 1.6g
Fructose – 0.3g
Maltose – 0.6g
Sucrose – 10.1g
Protein – 2.7g
Vitamins and Minerals:
Vitamin D – 2mcg/10% DV
Calcium – 130mg
Ingredients
Whole grain oats
Sugar
Corn Starch
Corn Syrup
Dextrose
Salt
Gelatin
Trisodium Phosphate
Red 40
Yellow 5&6
Blue 1
Natural and artificial flavor
Vitamin E (mixed tocopherols)
Is Lucky Charms Cereal Healthy?
Although the whole grain pieces in Lucky Charms contain two grams of fiber per serving, this health benefit is massively outweighed by the negatives of those sweet, brightly colored marshmallows.
A single serving of Lucky Charms contains just under half your RDA of sugar. So just a little extra than the serving size on the box, and you'll have had half your sugar intake for the day in one bowl!
Further to this, the dyes used to color the marshmallows have been linked to cancer, as well as allergies and behavioral issues in children.
Is Lucky Charms Cereal Gluten-Free?
Lucky Charms is a gluten-free cereal.
It is made with oats which are gluten-free but can be mixed accidentally with rye or wheat.
For this reason, General Mills goes to great lengths to ensure that they sift the wheat and rye from their oats to keep Lucky Charms gluten-free.
Is Lucky Charms Cereal Vegan?
Thanks to the marshmallows, Lucky Charms are not vegan. They are made with gelatin and are therefore not suitable for a vegan diet. Gelatin is a collection of animal materials processed into a clear ingredient that is used as part of the setting process to help bind the marshmallows and is a common ingredient in a lot of sweet foods.
Is Lucky Charms Cereal Keto?
Lucky Charms are not suitable for keto for two major reasons.
Firstly, the high sugar in a serving content will prevent your body from reaching ketosis, the state in which your body begins using ketones for energy. The recommended amount of sugar on a keto diet is as close to 0g as you can get, with around 20g being the maximum. For this reason, sweet cereals like this are best avoided on a keto diet.
Furthermore, the fat content is insufficient. Keto requires a high amount of healthy fat to encourage ketones, and the 1.8g in Lucky Charms doesn't cut it.
Is Lucky Charms Cereal High In Protein?
Lucky Charms only offers 2.7g of protein in a serving and is therefore not a high-protein food.
Is Lucky Charms Cereal High In Fiber?
The FDA states that food with over 5g of fiber counts as a high fiber food. With only 1.8g, Lucky Charms is very low in fiber and doesn't meet the FDA standards.
Lucky Charms Cereal Varieties
Lucky Charms don't rely solely on their original beloved breakfast cereal to get their world-famous taste out there.
They know their fans have a sweet tooth and have released a range of flavors and styles of food to make the start, or the end, of the day magically delicious!
Chocolate
A chocolatey twist on Original Lucky Charms with tasty chocolate flavored oat pieces.
Fruity
Fruity Lucky Charms are made with sweetened fruity corn cereal instead of whole-grain pieces. It also includes three new unicorn marshmallows for the marshmallow completists out there!
This sweet juicy flavor is also gluten-free due to it being made with corn flour.
Frozen Dairy Dessert
Who needs cereal when you've got ice cream?
This mixture of frozen dairy dessert with a swirl of cereal and lucky charms marshmallows is the ultimate after-dinner tribute to your favorite cereal.
Further to this, it's made with light ice cream and is lower in fat and calories than regular ice cream.
Marshmallows
There's something magic about those marshmallows that make adults and kids alike love them. So it makes sense that you're able to skip out the cereal and just get a bag of fun marshmallow goodness. These bags can be small or huge and can be bought officially or from other cereal traders.
No more sifting through toasted oats to find your favorite one!
Honey Clovers
This version takes the original mixture and tosses in crunchy honey-flavored cereal pieces, adding a new honey-sweetness to the classic formula.
Instant Oatmeal
Start your day with a warm, energizing bowl of oatmeal, and don't forget to sprinkle the packet of marshmallows over your warm breakfast cereal for a little extra fun.
Marshmallows Clusters
Jumbo, crunchy clusters of puffed rice take the place of oats in this take on Lucky Charms.
These big, cloud-shaped puffs are like giant Rice Krispies, only with more crunch and marshmallow flavor.
Swiss Miss
This winning team-up between Swiss Miss hot cocoa and real Lucky Charms marshmallows is a sweet, delicious way to warm up.
Where You Can Buy Lucky Charms Cereal
Lucky Charms is a nationwide brand and can be found anywhere that cereals are sold.
Famous Lucky Charms Cereal Commercials
The branding of Lucky Charms is one of the most successful attempts at branding by any cereal company and is one of the reasons they hold such a strong place in our hearts.
Lucky the Leprechaun is always trying to keep the hungry hands of kids off his magical Lucky Charms in the commercials, but he never seems to have any luck!
User Reviews
Review Summary
4 out of 5 stars (based on 1 review)
Recent Reviews
No Title
Lucky charms with the nurse serial for everyone eat up.
Submit a Review