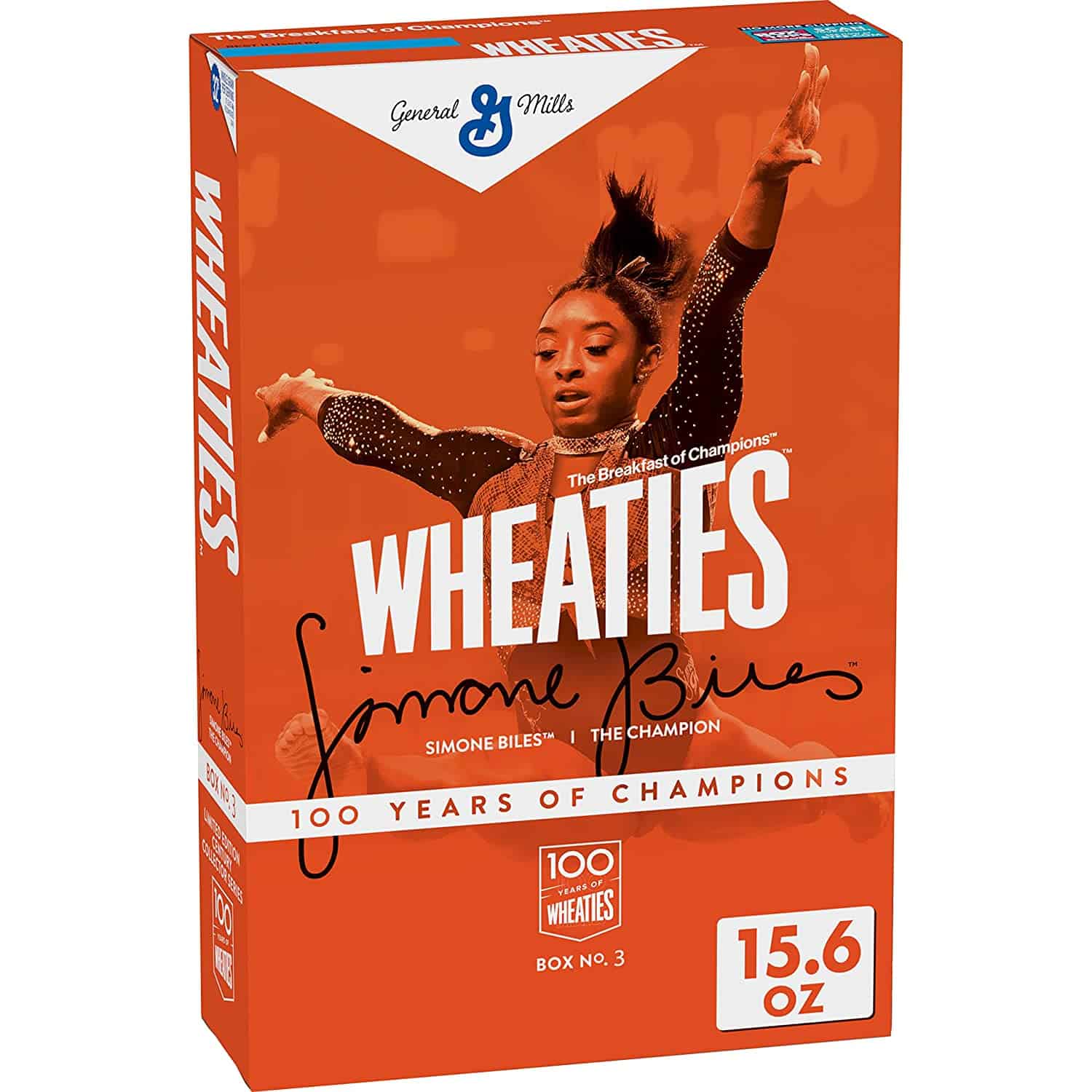 Wheaties is a delicious American cereal brand produced by General Mills, the manufacturer responsible for other famous breakfast cereals like Lucky Charms, Cheerios, and Cinnamon Toast Crunch.
Originally introduced by the Washburn Crosby Company as "Washburn's Gold Medal Wheat Flakes" in 1924, the name was dropped for "Wheaties" a year later. The story goes that Wheaties were created by accident when an accidental spill of wheat bran mixture on a hot stove occurred.
Nowadays, the Wheaties brand remains one of the biggest names in cereal across the world. Many of the world's most famous athletes have appeared on the cover of the box and in print and TV commercials, including olympian Bruce Jenner, basketball star Michael Jordan, and golfer Tiger Woods.
One of the healthier options in the General Mills brand offerings, Wheaties is made of wheat whole grain flakes and is a low-fat cereal option targetted at athletes and health-conscious individuals.
In this article, we take a look at the nutritional information of Wheaties and whether or not they're a healthy breakfast option.
Nutrition Facts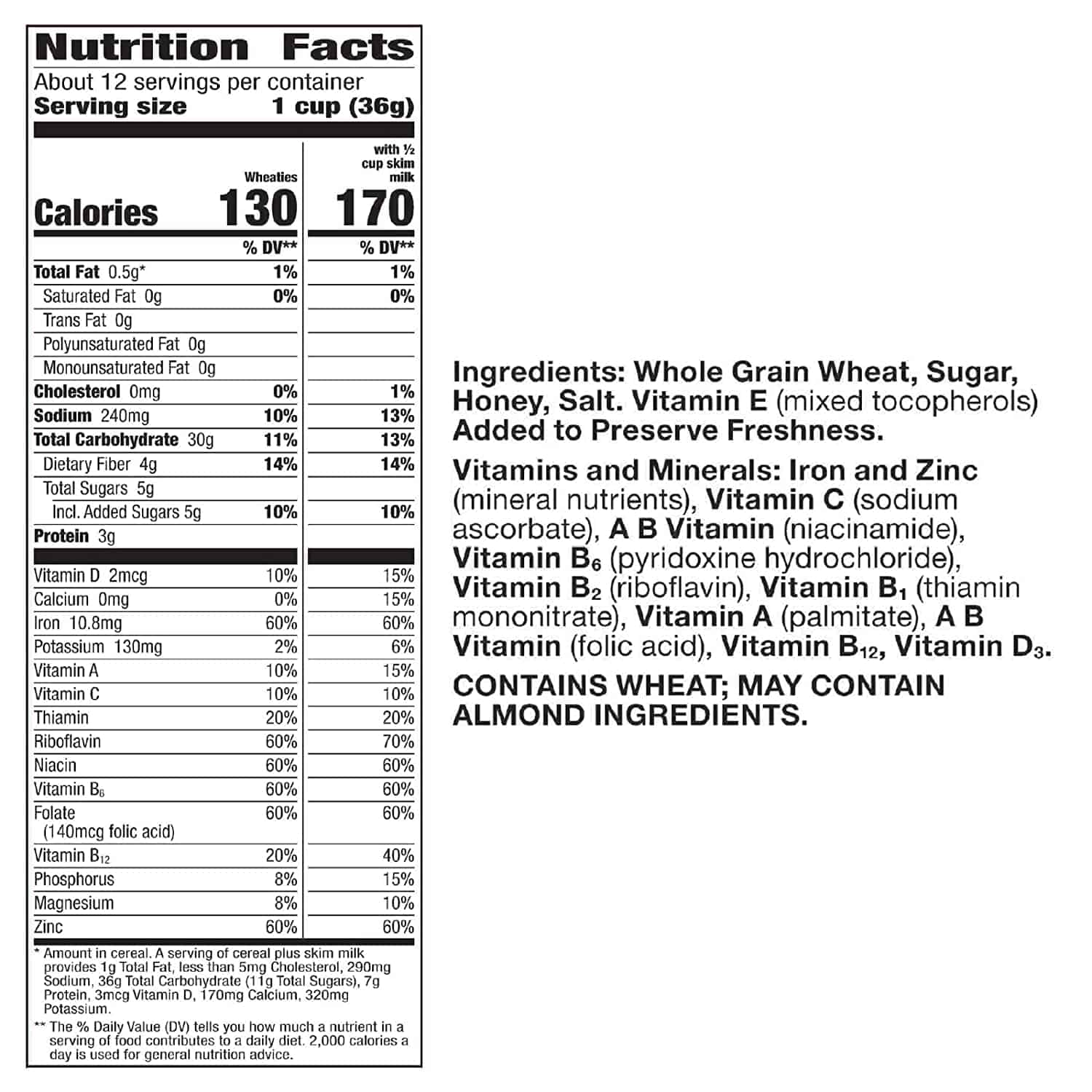 These nutrition facts are based on an average serving size of 36g (1 cup). Percent daily values are based on a 2000 calorie diet, but your daily values may be different depending on your dietary needs.
Total Fat:  0.5g/1% DV
Saturated Fat:  0g
Polyunsaturated Fat: 0g
Trans Fat:  0g
Monounsaturated Fat:  0g
Cholesterol: 0mg
Sodium:  240mg/10% DV
Total Carbohydrate: 30g/11% DV
Dietary Fiber:  4g/14%
Total Sugars:  5g
Added Sugars:  5g/10%
Protein: 3g
Vitamins and Minerals
Vitamin D: 10%
Calcium: 0%
Iron: 70%
Vitamin A: 10%
Vitamin C: 10%
Thiamin: 20%
Riboflavin: 10%
Niacin: 10%
Vitamin B6: 20%
Folate: 20%
Vitamin B12: 20%
Phosphorus: 8%
Magnesium: 8%
Zinc: 20%
Ingredients
Whole Grain Wheat
Sugar
Honey
Salt
Iron and Zinc
Vitamin C
Niacinamide
Vitamin B6
Riboflavin
Vitamin B1
Vitamin A
Folic acid
Vitamin B12
Vitamin D3
Vitamin E (mixed tocopherols) is also added to preserve freshness.
Wheaties contain wheat and may contain almond ingredients.
Is Wheaties Cereal Healthy?
If you're looking for a healthy cereal option to start off your day on the right foot, Wheaties is a great option.
Its whole-wheat flakes are low in sugar and calories, high in fiber, and a good source of iron (70% of your DV) which is why it's marketed as the "breakfast of champions." One serving of Wheaties contains 4g of fiber, which is 14% of your daily recommended intake.
The wheat bran mixture that this cereal is made of is very filling, and it makes a great base for adding fruit like bananas or berries. Doing this is a great way to add some diversity to your morning routine and improve the taste.
Wheaties also contains a variety of healthy ingredients, such as essential B vitamins and vitamin C, which are required to maintain our overall health.
It's important to note that although it is one of the healthier cereal options, Wheaties does contain some added sugar which makes it slightly less healthy than other breakfast options.
Although Wheaties previously contained corn syrup, producers have switched this ingredient to honey, a healthier alternative. This is why it's always a good idea to read labels before choosing the best food to eat.
Is Wheaties Cereal Gluten-Free?
As Wheaties grain flakes are made from whole grain wheat, this is not a gluten-free cereal.
Is Wheaties Vegan?
Wheaties is not considered vegan as it is fortified with vitamin D3, calcium carbonate, and pyridoxine hydrochloride. These ingredients are obtained from animal sources, so the cereal isn't suitable for those on a strict vegan diet.
Is Wheaties Cereal Keto?
A single serving of Wheaties contains 30g of carbohydrates. This means it's not a keto-friendly breakfast option, as the keto diet typically suggests eating between 20-30g of carbs in total each day. This means that with a single serving of Wheaties, that limit will already be reached. It also contains sugar, which is also not suitable for a keto diet.
Is Wheaties High In Protein?
A single serving of Wheaties contains 3g of protein, which is higher than many other kinds of cereal out there. Its high protein and fiber content are what makes Wheaties a true "breakfast of champions" and why the brand uses top athletes to market itself.
Is Wheaties Cereal High In Fiber?
Yes, Wheaties contain 4g of fiber per serving. This accounts for 14% of your daily values. Moreover, Wheaties is a great base for adding fiber-rich fruits like bananas, kiwis, or berries.
Where You Can Buy Wheaties
The Wheaties box still graces the shelves of supermarkets across the world. You can also purchase Wheaties from online retailers such as Amazon and have them delivered to your door.
Famous Wheaties Cereal Commercials
Wheaties has one of the most prolific commercial histories of any cereal brand. The first occurred in 1926 when a barbershop quartet held the world's first singing radio commercial with the memorable jingle "Have You Tried Wheaties?"
Many athletes have been associated with the Wheaties brand over the last hundred years.
Its first spokesperson was Olympic pole vaulter Bob Richards. Other prolific athletes to grace the famous whole wheat flakes cereal box include Bruce Jenner, Walter Payton, Chris Evert, Jesse Owens, and Michael Jordan. The first team depicted on the box was the 1987 World Champion Minnesota Twins.
The brand has celebrated American sports history over the year, with its commercial history acting as a timeline for the biggest names in sport over the years. Its most famous TV commercials have featured Bruce Jenner, Michael Jordan, and Tiger Woods.
The first woman to be featured on the Wheaties box was aviator Elinor Smith, and the first African-American athlete to become an ambassador for the brand was track and field star Jesse Owens who appeared on the box in 1936.
Other important moments in Wheaties commercial history include when the first non-orange Wheaties box was released in the year 1932; it changed its colors to red and black to honor the Chicago Bulls.
User Reviews
Review Summary
0 out of 5 stars (based on 0 reviews)
Recent Reviews
There are no reviews yet. Be the first one to write one.
Submit a Review