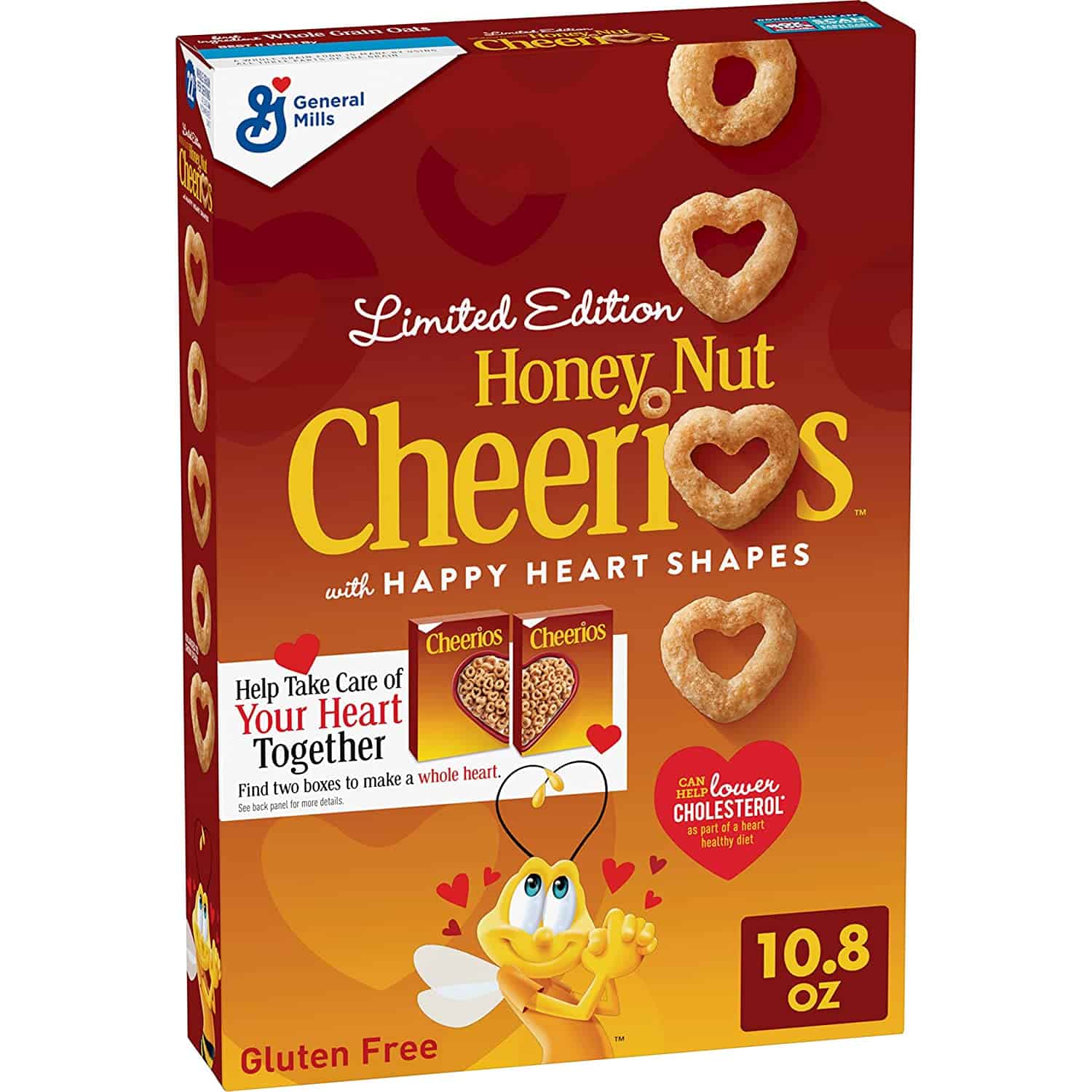 Honey Nut Cheerios is one of the most popular variations of Cheerios available today. We're sure you are familiar with the delicious sweet flavor and the famous Honey Nut Cheerios bee!
Families all around the country have been enjoying Honey Nut Cheerios for 43 years now. We have Yandel Gonzalez, who worked for the General Mills cereal company, to thank for this tasty gluten-free breakfast cereal.
Sweeter than the original version, Honey Nut Cheerios has an almond and honey flavor. While actual nuts were initially an ingredient in this whole-grain cereal, they were discontinued as of 2006. Instead, apricot pit and peace are used for natural flavoring.
Nutrition Facts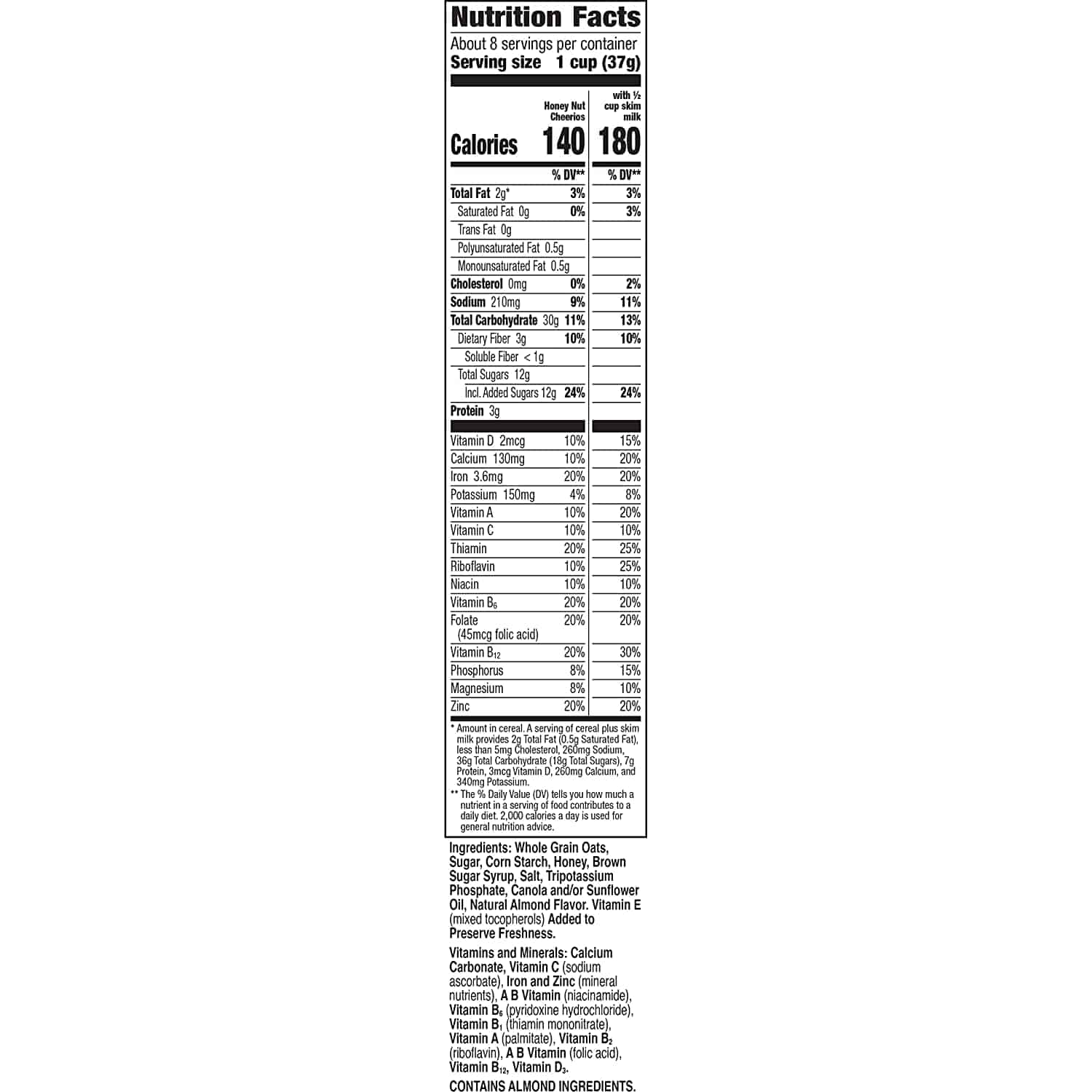 A serving size for this healthy Honey Nut cereal is one cup, which is around 37g. There are eight serving sizes per every standard box of Honey Nut Cheerios.
You will find 140 calories in one serving of Honey Nut Cheerios.
Total fat = 2g
Saturated fat = 0g
Monounsaturated fat = 0.5g
Protein = 3g
Total Carbohydrate = 30g
Dietary Fiber = 3g
Sodium = 120mg
Ingredients
There are a number of different ingredients in General Mills' Honey Nut Cheerios, including honey, corn starch, oat bran, sugar, whole grain oats, natural almond flavor, canola oil and rice bran oil, tripotassium phosphate, salt, brown sugar syrup, and vitamin E (mixed tocopherols), which is added to preserve freshness.
Are Honey Nut Cheerios Healthy?
Honey Nut Cheerios are not considered to be a healthy cereal or a diet product. This is because of the sugar and syrup that are included. However, you can enjoy eating Honey Nut Cheerios as part of a healthy and balanced diet.
In fact, there are many benefits associated with eating this Cheerios breakfast cereal. For instance, Honey Nut Cheerios are low in fat and made with whole grains. Plus, they provide 12 essential vitamins and minerals.
So, if you love Honey Nut Cheerios, you can eat them with a smile on your face, knowing they're providing you with lots of great benefits.
Are Honey Nut Cheerios Gluten-Free?
Yes, you will be pleased to know that this quick breakfast cereal is gluten-free. They do not contain any ingredients that have gluten. They also have a gluten-free label on the package.
Are Honey Nut Cheerios Vegan?
Sadly, most Cheerios are not vegan. This is because Honey Nut Cheerios, as the name indicates, contains real honey, which is not vegan. Both this version of the cereal and the original version contains Vitamin D, which is derived from wool grease. So, if you are a vegan, we're afraid you will have to look for a different variety of cereal to enjoy.
Are Honey Nut Cheerios Keto?
No, Honey Nut Cheerios is not considered Keto-friendly. This is the case for all traditional cereals because they contain sugar and high fructose corn syrup.
Are Honey Nut Cheerios High In Protein?
In a serving of Honey Nut Cheerios breakfast cereal, you will consume 3g of protein. The typical adult will need around 0.8 grams of protein for every kilogram of body weight per day.
Are Honey Nut Cheerios High In Fiber?
Honey Nut Cheerios contain a moderate amount of dietary fiber, i.e., 3g. To be considered a food high in fiber, there needs to be at least 5g or more fiber within the food product.
Honey Nut Cheerios Varieties
There have not been any varieties of Honey Nut Cheerios, as this breakfast food is a variety in itself.
The original Cheerios cereal has been made into a huge number of varieties over the years. However, there is no denying that Honey Nut is one of the most popular. In fact, back in 2011, it was deemed the most popular cereal in the United States.
Some of the other varieties of Cheerios that are available include Multi-Grain Cheerios, Cheerios Oat Crunch, Maple Cheerios, and Blueberry Cheerios, plus many more.
Honey Nut Cheerios Store Brand Alternatives
As Honey Nut Cheerios are so popular, it probably does not come as any surprise for you to learn that there have been a number of variations of this product made.
In fact, a lot of the big supermarket chains have made their own variation, typically selling them at a lower price tag to try and tempt people to purchase their product instead of the original Honey Nut Cheerios. Walmart's Great Value Honey Nut O's are a prime example. However, while they may be cheaper, they are not gluten-free.
Honey Nut Cheerios also retain their crunchiness for longer once milk is added. Plus, they are larger and less dense when compared with the supermarket alternative.
Some other Honey Nut Cereals and whole-grain oat foods that are on the market include Love Grown Honey Nut Grain-Free Cereal, Cascadian Farm Organic Honey Nut O's Cereal, and Post Honey Bunches of Oats Crunchy Honey Roasted Cereal.
Where You Can Buy Honey Nut Cheerios
You should have no trouble finding Honey Nut cheerios in your local supermarket. You can purchase this variety of cereal from the likes of Target, Walgreens, and Walmart.
Famous Honey Nut Cheerios Cereal Commercials
We are sure you are familiar with the mascot for Honey Nut Cheerios, the anthropomorphic bee! This was designed by Dean Yeagle at the New York City's Zander's Animation Parlour.
Until 2000, the bee did not have a name. However, a national contest was held, and a fifth-grade student from Coolidge, Texas, called Kristine Tong, won, naming him the BuzzBee.
As Buzz has been in a number of commercials over the years, many people have voiced him, including Oliver Whyman, Jason Marsden, Charlie Schlatter, Billy West, and Hadley Kay.
You can check out some of the funniest ever Buzz the Bee commercials in this YouTube video!
User Reviews
Review Summary
0 out of 5 stars (based on 0 reviews)
Recent Reviews
There are no reviews yet. Be the first one to write one.
Submit a Review