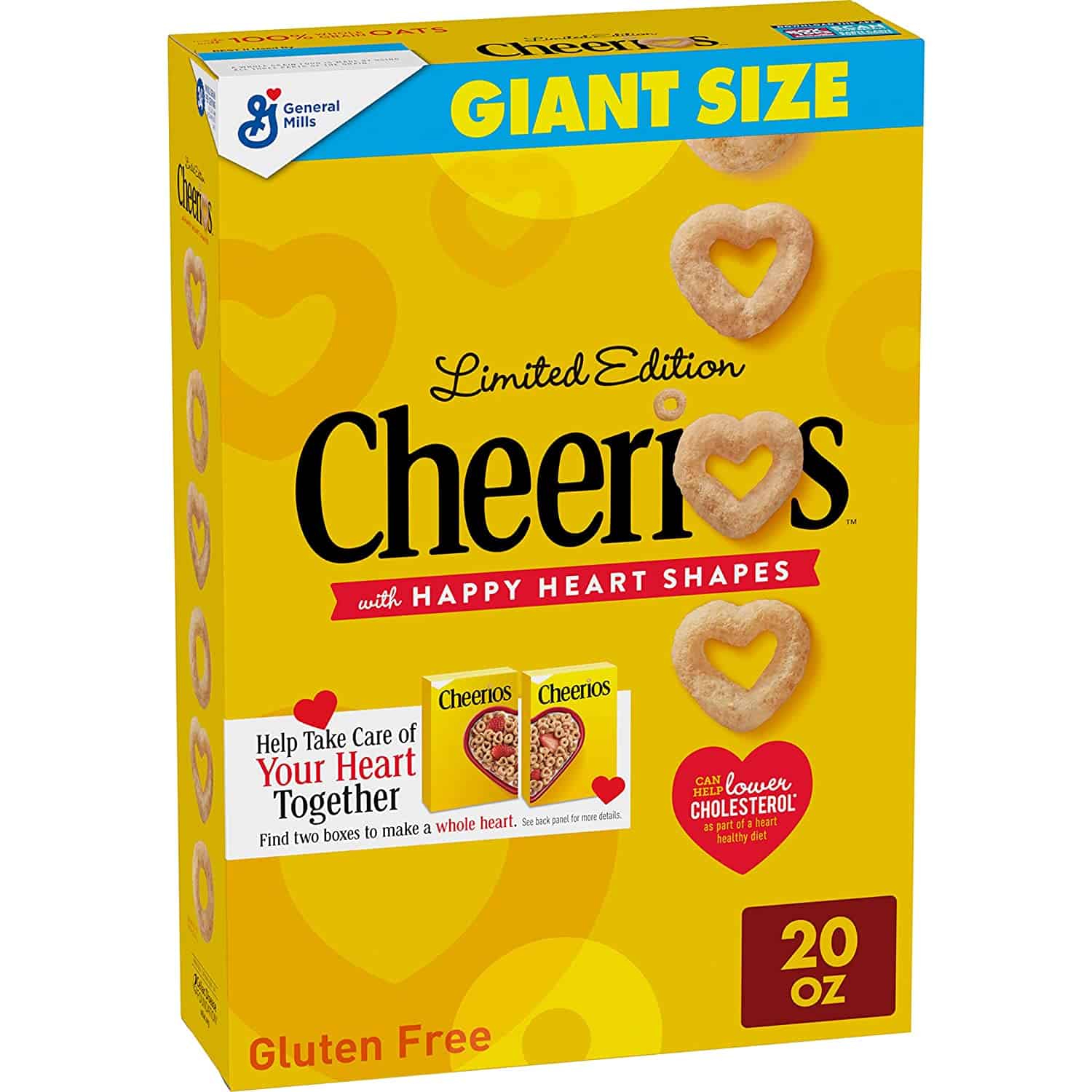 Cheerios heart-healthy cereal is a brand of breakfast cereal manufactured by General Mills in the U.S. and Canada since 1923.
There are many different varieties of Cheerios breakfast cereal – Honey Nut Cheerios, Blueberries Cheerios, and many more.
Cheerios looks to have a lot of nutritional benefits, which is why it's become such a popular breakfast cereal. Let's see if Cheerios is a tastier, healthier choice than other cereals.
Nutrition Facts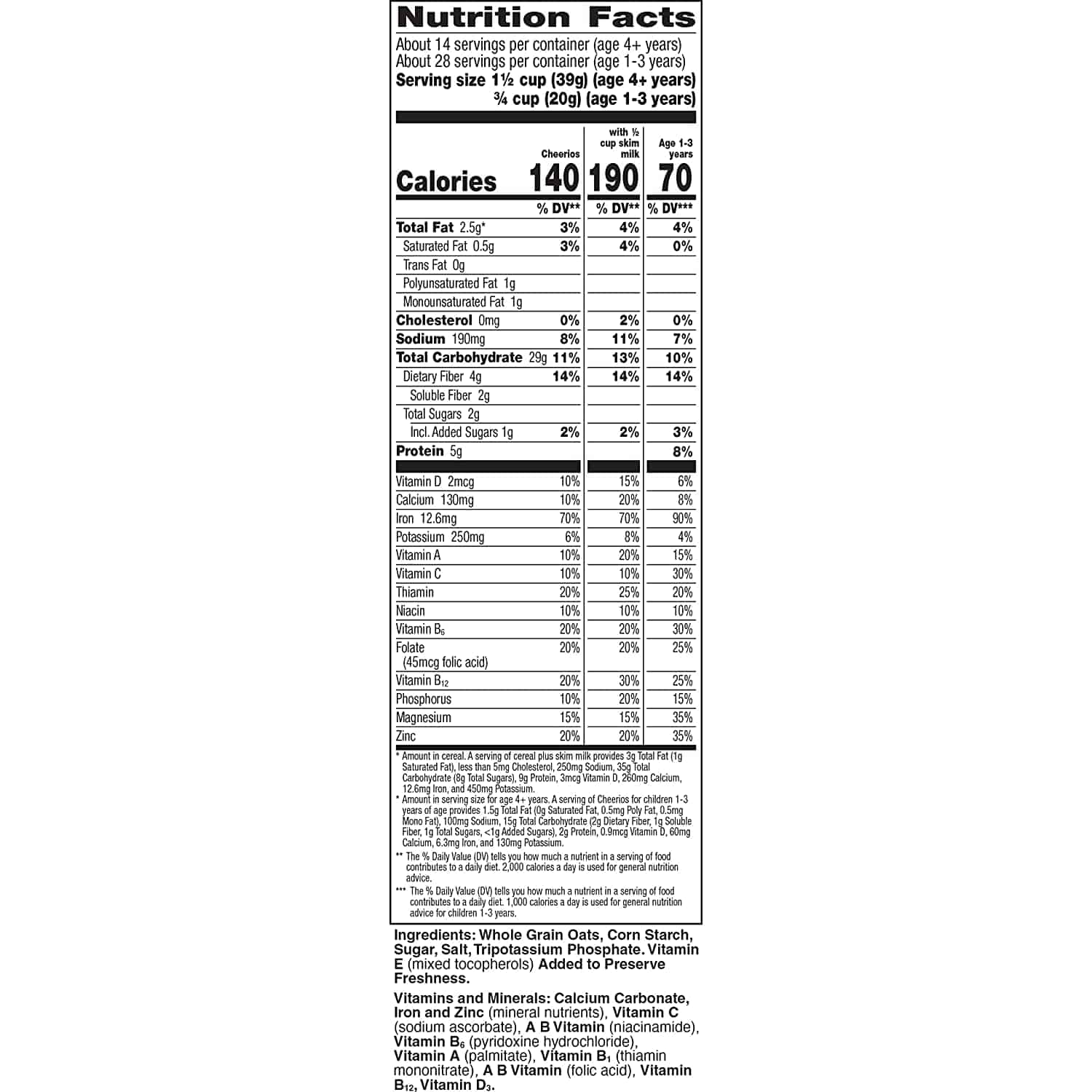 One cup (28 g) of plain Cheerios without milk contains:
Calories: 100
Fat: 2g
Carbohydrates: 20g
Fiber: 3g
Sugar: 1g
Protein: 3g
Vitamin A: 10% DV
Vitamin C: 10% DV
Vitamin D: 10% DV
Vitamin B12: 25% DV
Calcium: 10% DV
Iron: 45% DV
Zinc: 25% DV
Cheerios are minimal in fat and calories.
Notably, one cup (28 grams) of Cheerios has 45 percent of the Daily Value (DV) for iron, which many individuals need. This mineral serves a key function in oxygen transport throughout the body.
However, keep in mind that many of these minerals, such as iron, vitamin B12, and vitamin D, are added during processing and are not naturally occurring.
Ingredients
Cheerios, like many other bowls of cereal and snacks, have a plethora of ingredients:
Whole grain oats
Corn starch
Sugar
Salt
Tripotassium phosphate
Vitamin E
Calcium carbonate
Iron and zinc
Vitamin C
Niacinamide
Vitamin B6
Vitamin A
Vitamin B
Folic acid
Vitamin B12
Vitamin D3
Are Cheerios Healthy?
Cheerios is a healthy cereal that's packed with whole-grain oats. The tiny whole grain oats, along with the other nutrients found in this breakfast classic, are good for your heart and a healthier alternative to traditional sugary cereals.
Cheerios is one of the most nutritious cereal brands around! Cheerios are made from whole grain oats and have a lot of vitamins and minerals that can help your body grow strong.
Because whole grains contain all portions of the grain, they provide more nutrients than processed grains. Furthermore, consuming fiber-rich whole grains may help decrease cholesterol and minimize your risk of heart disease.
Cheerios are also minimal in calories and fat. They include numerous critical nutrients, like fiber and vitamin D, that many individuals do not receive enough of.
Cheerios are extremely low in calories, protein, and fat. As a result, they do not offer a balanced meal on their own.
If you select non-dairy milk, which is often low in protein, top your cereal with a handful of pumpkin seeds or sliced almonds for a plant-based dose of protein. Including protein in every meal or snack might help you feel fuller for longer.
Cheerios cereals are also low in calories and sugar, making them an excellent alternative for anyone attempting to lose or maintain weight. In addition, Cheerios are gluten-free and have a low glycemic load, so they will not cause blood sugar spikes.
Are Cheerios Gluten-Free?
Yes, Cheerios are a gluten-free cereal. Cheerios are made without corn, soy, or wheat. While Cheerios are a whole grain gluten-free cereal, many Cheerios varieties are not nut-free, such as the Honey Nut Cheerios, whose delicious medley includes almonds.
Are Cheerios Vegan?
Cheerios are not vegan due to the presence of non-vegan components such as refined sugar, vitamin D3, and honey. Animal bone char is used to whiten refined sugar, and sheep wool lanolin is used to produce vitamin D3. In addition, honey is not considered vegan due to bee suffering.
Are Cheerios Keto?
This whole-grain cereal is not a keto-friendly food since it is a high-carb packaged food with harmful components, like sugar. Sugar is a high-glycemic sweetener that can elevate blood sugar levels and keep your body from achieving ketosis. So no, this toasted oat cereal is not keto-friendly.
Are Cheerios High in Protein?
Morning cereals are typically marketed as a complete meal replacement. However, the majority of them are low in protein, and Cheerios cereal is no exception.
If you're going to eat Cheerios as a meal, couple it with something protein-rich like milk or nuts.
Are Cheerios High in Fiber?
Cheerios heart-healthy cereals aren't the highest-fiber cereals. One cup of Cheerios has 3g of dietary fiber, which is roughly 11% of the daily fiber intake advised by the U.S. Food and Drug Administration.
Cheerios Varieties
Cheerios are available in a variety of flavors. There are at least 15 types, with seasonal ones arising from time to time.
The following are some of the most popular Cheerios flavors:
Plain
These are the original Cheerios heart-healthy cereal, as well as the most basic choice. Oats are the initial component. They have only 1 gram of added sugar and no other flavorings.
Honey Nut
Honey Nut Cheerios cereal is one of the best-selling types, and they're sweetened with sugar and honey, with a tinge of almond taste.
Chocolate
This kind contains maize and oats, as well as chocolate powder and sugar.
Apple Cinnamon
This variety is made mostly of whole-grain oat foods and sugar, but it also contains apple purée and cinnamon.
Frosted
These cookies are made from full-grain and cornmeal and are sweetened with a vanilla-scented sugar coating.
Multigrain
This blend includes full-grain oats, maize, and brown rice. It's sweetened with a little less sugar than usual.
Where You Can Buy Cheerios
Cheerios are available at a variety of grocery shops and merchants. Cheerios heart-healthy cereal is also available online at Amazon and Cheerios.com. Target, Walmart, and Kroger are among the stores that also sell Cheerios.
Famous Cheerios Commercials
Cheerios has had many different commercials over the years. Two of the most famous Cheerios commercial characters were "The Cheerios Kid" and "The Cheerios Bee."
Cheerios Kid was comparable to Popeye. The slogan for these advertisements was "You have go with Cheerios – energy O's that help you develop – you're feeling your Cheerios."
Honey Nut Cheerios Bee commercials featured a funny buzzy bee on the search for tasty little Cheerios cereal O's packed with honey.
User Reviews
Review Summary
0 out of 5 stars (based on 0 reviews)
Recent Reviews
There are no reviews yet. Be the first one to write one.
Submit a Review