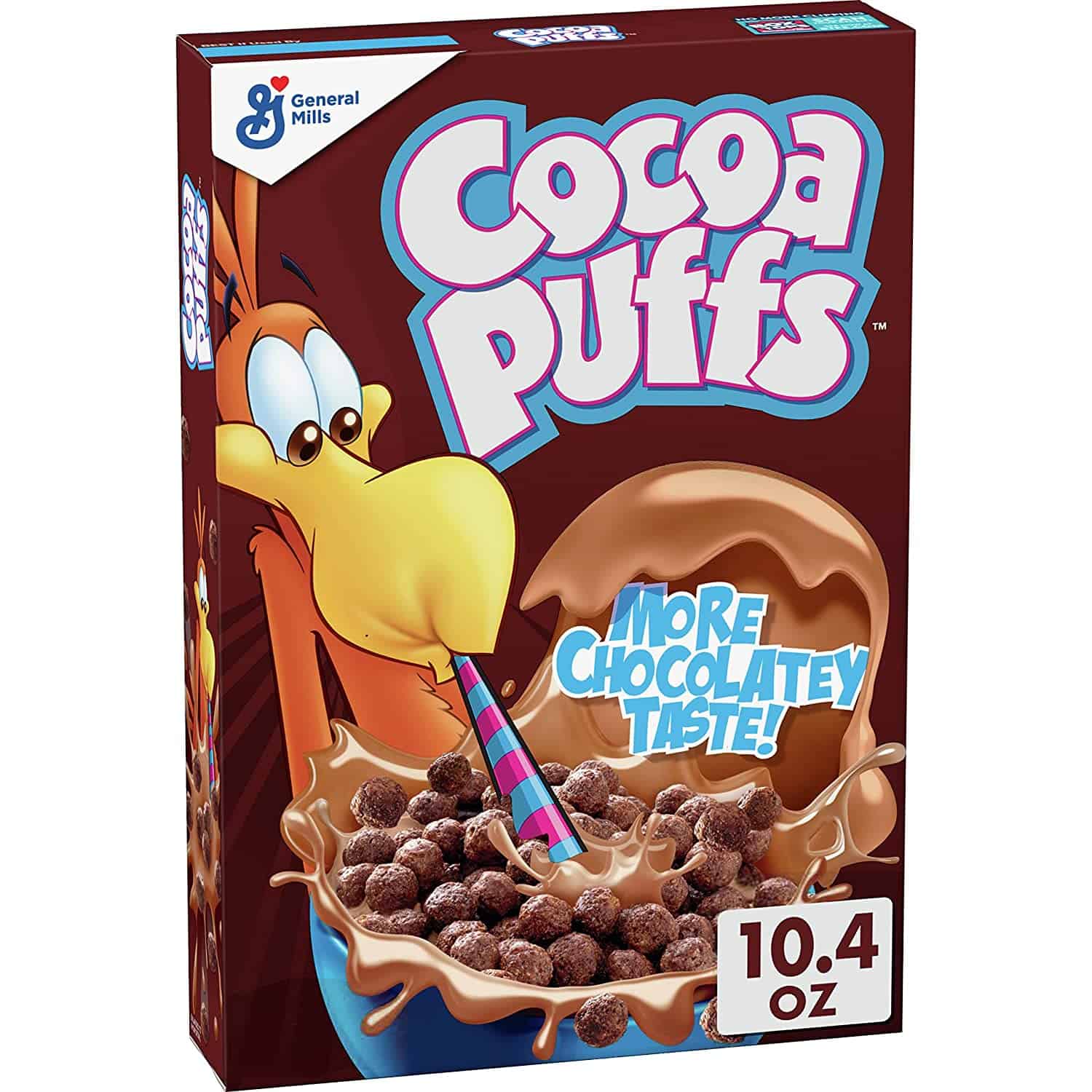 Cocoa Puffs chocolate cereal has been around for many years. This delicious breakfast cereal was first introduced in 1958, and children and grownups have loved it since!
General Mills manufactures cocoa Puffs; however, in other regions (including Canada, Europe, Southern Africa, and Latin America), it is sold under the Nesquick brand due to a partnership between Nestle and General Mills.
This chocolatey cereal is made from puffed whole grain corn and cocoa to give it that chocolate flavor.
Nutrition Facts

A 3/4 cup (27g) of Cocoa Puffs without milk contains:
Calories – 100
Total fat – 1.5 grams/2% DV
Trans fat – 0%
Monosaturated fat – 0.5 grams
Polyunsaturated fat – 0.5 grams
Sodium – 100mg/4% DV
Cholesterol – 0mg/0% DV
Potassium – 85mg/2% DV
Total carbohydrates – 23 grams/8% DV
Total sugars – 9 grams
Dietary fiber – 1 grams/6% DV
Other carbohydrates – 12 grams
Protein – 1 gram
Vitamin A – 10% DV
Vitamin C – 10% DV
Vitamin D – 10% DV
Calcium – 10% DV
Iron – 25% DV
Thiamin – 25% DV
Riboflavin – 25% DV
Niacin – 25% DV
Vitamin B6 – 25% DV
Folic acid – 25% DV
Vitamin B12 – 25% DV
Phosphorus – 6% DV
Magnesium – 4% DV
Zinc – 25% DV
Copper – 2% DV
The above Daily Value percentage is based on a diet of 2,000 calories per day.
One 11.8 oz box of Cocoa Puffs contains around 16 servings.
Ingredients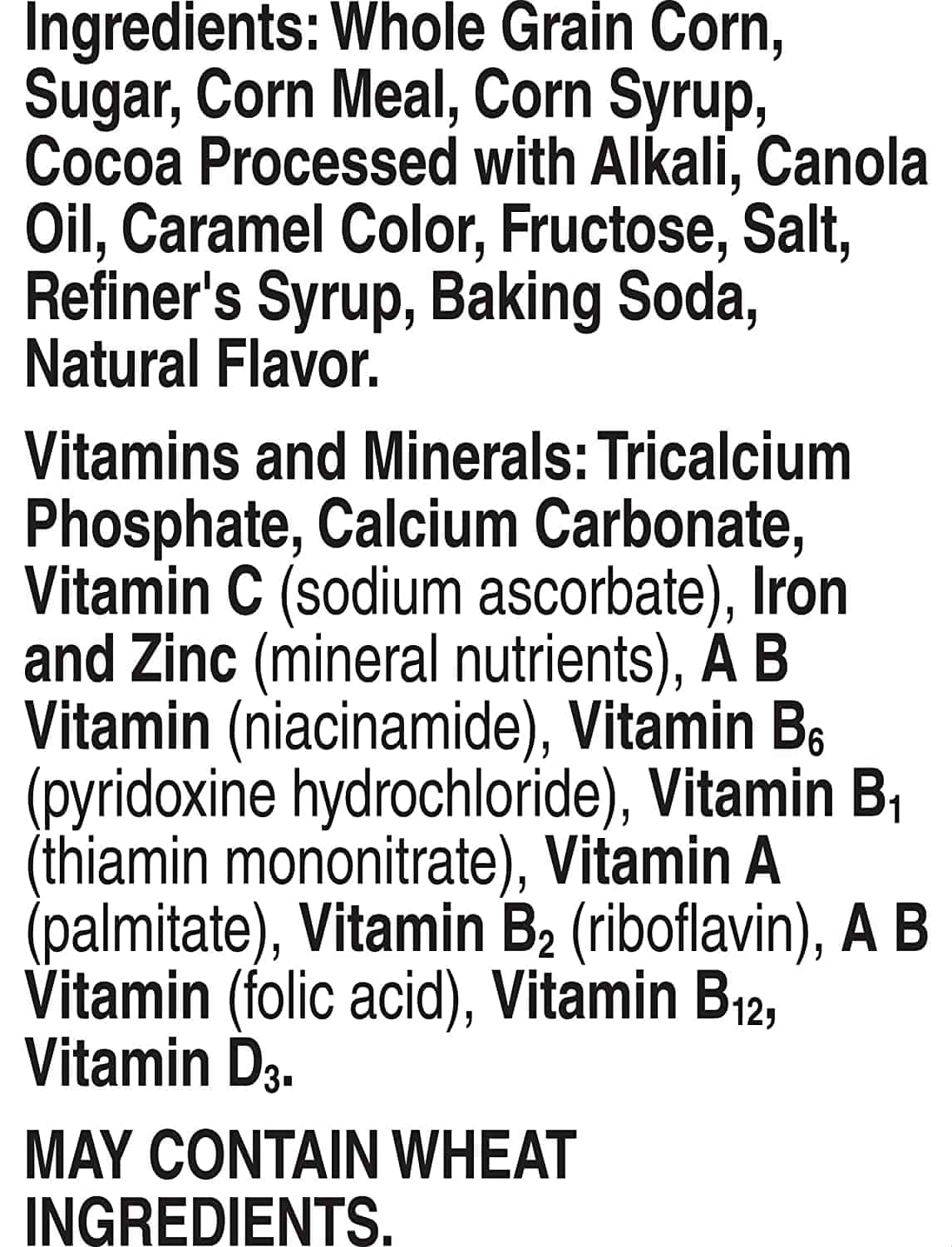 The list of ingredients in Cocoa Puffs includes:
Whole grain corn
Sugar
Corn meal
High-fructose corn syrup
Cocoa processed with alkali
Canola oil
Fructose
Salt
Caramel color
Refiner's syrup
Baking soda
Natural flavor
Mineral nutrients include:
Tricalcium phosphate
Calcium carbonate
Zinc
Iron
Vitamin C
Niacinamide
Vitamin B6
Vitamin B2 (riboflavin)
Vitamin B1
Vitamin A
Folic acid
Vitamin B12
Vitamin D
Is Cocoa Puffs Cereal Healthy?
Yes, if you eat them in moderation, Cocoa Puffs are considered healthy. This cereal provides a variety of nutrients and minerals. However, if you eat too much of it, it could be unhealthy.
Here are some reasons why it is considered healthy in moderation:
Contains lots of mineral nutrients
Cocoa Puffs contain a lot of vitamins, like Vitamins A, D, B, and C. It also contains calcium, magnesium, zinc, and iron, which help maintain strong bones and a good memory.
Has a good amount of fiber
Although Cocoa Puffs provide less than the daily recommended amount of fiber, when eaten along with other foods in a healthy diet, it is an important source of fiber that can aid digestion and improve gut health.
Low sugar content
There are some Cocoa Puff varieties that are lower in sugar. It contains 9 grams of sugar, which is lower than other popular chocolate cereals.
Uses natural flavoring
This chocolatey cereal does not use any artificial flavor to get that delicious taste, only the natural flavor of cocoa processed with alkali. Cocoa, which gives that chocolatey taste, helps with inflammation and improves the immune system.
Low in unhealthy fats
Unsaturated fat tends to be healthier than saturated fat. Cocoa Puffs contain less saturated, "bad" fats, meaning they won't contribute to a high cholesterol level or increased blood pressure levels.
Unhealthy Side of Cocoa Puffs
As we mentioned, Cocoa Puffs are only healthy in moderation. If you eat them often, you will be consuming many calories from the corn syrup and sugar, which can cause heart problems in the long term. The sugar in Cocoa Puffs can also contribute to tooth decay and weight gain.
Is Cocoa Puffs Cereal Gluten-Free?
No, Cocoa Puffs are not gluten-free. According to the ingredients list, this cereal may contain wheat products, which is not safe for those with gluten sensitivity or Celiac disease, despite using gluten-free ingredients like corn meal and corn syrup.
Is Cocoa Puffs Cereal Vegan?
The answer is yes and no, depending on how strict your vegan beliefs are. If you look at it technically, then no, Cocoa Puffs are not vegan-friendly.
This is because of two ingredients: sugar and Vitamin D.
White sugar is processed and whitened with bone char from cattle bones, meaning animal products are used to process this type of sugar, making it non-vegan.
Vitamin D3 that is added to foods mostly comes from lanolin, which is the oil found in the wool of animals. This means it is very rare that Vitamin D3 is vegan.
Is Cocoa Puffs Cereal Keto?
Because of the high amount of carbohydrates, sugar, and high fructose corn syrup, Cocoa Puffs are not keto.
Is Cocoa Puffs Cereal High in Protein?
When eaten without milk, Cocoa Puffs are not very high in protein. One serving of Cocoa Puffs provides 1 gram of protein, which is just below the daily recommended 2 or more grams of protein per serving for cereal. However, when taken with milk, the protein level will increase to within the recommended amount.
Is Cocoa Puffs Cereal High in Fiber?
Cocoa Puffs are made from whole grain corn, and although it does contain some fiber (1 gram per serving), it is far below the recommended 3-5 grams of fiber content for cereal.
Cocoa Puffs Cereal Varieties
There aren't any other varieties of the cereal itself, but fans can also try Cocoa Puffs breakfast bars. These 1.42 oz cereal bars are made from cocoa puffs on a bed of sweet condensed milk.
Where You Can Buy Cocoa Puffs Cereal
You can buy Cocoa Puffs at most grocery stores and retailers. You can find it stocked on the shelves of Walmart and Kroger, or you can purchase it online from General Mills or Amazon.
Famous Cocoa Puffs Cereal Commercials
Joseph Gordon-Levitt
In this 1992 commercial, Cuckoo enters the "real world" to share Cocoa Puffs with children. The now-famous actor Joseph Gordon-Levitt takes a bite of the cereal and says, "hmmm, it is chocolatey."
1986
This old-school animated commercial shows the cuckoo mascot singing a song about Cocoa Puffs and its chocolatey taste, saying he is "cuckoo for Cocoa Puffs."
User Reviews
Review Summary
0 out of 5 stars (based on 0 reviews)
Recent Reviews
There are no reviews yet. Be the first one to write one.
Submit a Review