Are you craving a delicious nutty cereal that's quick to prepare? If so, you're in luck! We've rounded up some of the best almond cereals to start your day with.
Almonds are known for their high nutritional value, so it's not surprising that breakfast cereals containing this yummy nut are becoming more and more popular. To find your new favorite cereal, read along as we explore some of the best options.
Great Value Almond Crunchy Honey Oats Cereal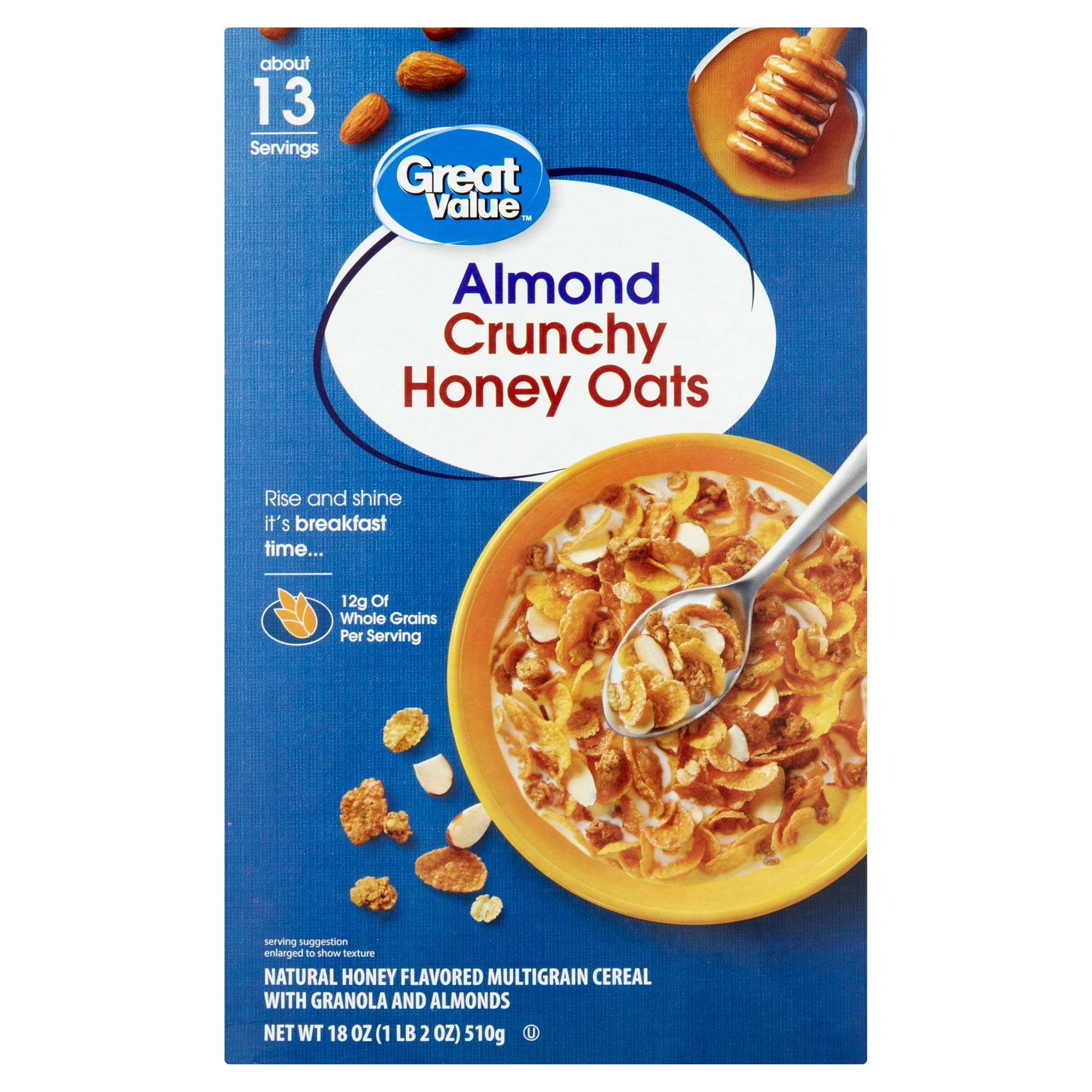 Kicking off our list is this delicious Great Value cereal. The sweet honey taste is sure to be loved by adults and children alike. Not only is it super yummy, but it's also packed with essential vitamins and minerals such as folic acid, and thiamine, as well as vitamin B6 and B3.
Post Honey Bunches of Oats with Almonds
Even if you're not a morning person, the wonderful taste of Post Honey Bunches of Oats and Almonds is sure to make you look forward to mornings! With a delicious blend of crunchy oat bunches, crispy flakes, and almond slices, this is one cereal not to be missed.
Kellogg's Special K Cereal Vanilla and Almond
Kellogg's needs no introduction when it comes to tasty morning meal options. Boasting a sprinkling of nutty almonds and a sweet vanilla flavor, Special K Vanilla Almond cereal has a great taste and will keep you satiated for longer.
This is especially good for people trying to lose weight as it can help stave off hunger. The smooth vanilla and yummy nutty taste make for a real morning treat.
General Mills Cheerios Oat Crunch Almond Cereal
Cheerios are one of the nation's most loved cereals, but if you're an almond fan, you'll be pleased to know that these iconic little O's are available in a yummy almond crunch flavor too! With crunchy rings and sliced almond pieces, this cereal provides a big flavor in every spoonful.
However, as tasty as it is, Almond Cheerios are very high in added sugar, with 14 grams in each serving. Because of this, it should ideally be eaten in moderation.
Post Great Grains Cranberry Almond Crunch Cereal
Containing real cranberry and almond pieces this Post cereal boasts crunchy whole-grain wheat clusters for a yummy snack any time of the day! A great source of dietary fiber, zinc, and iron, this wholesome whole-grain cereal doesn't contain any artificial colors or flavors.
KIND Honey Almond Gluten-Free Cereal
This honey almond cereal from KIND not only has a yummy natural flavor, but it also contains 6 grams of protein which is much more than other cereals. Even better, it's gluten-free so intolerance and Celiac disease sufferers can enjoy it.
Snack on it dry or add a little milk or fresh fruit to the tasty whole-grain flakes for a satisfying treat.
CLIF Blueberry & Almond Butter Cereal
Made with organic grain flakes, oat clusters, and real almond nut butter, CLIF Blueberry, and Almond Butter is the perfect way to start your day. It even boasts 30% less added sugar than other cereal brands, as well as containing whole blueberries for extra sweetness!
Low in saturated fat and rich in whole grains, it will keep you going for longer. Eat it in the morning, as a post-workout refuel, or as a tasty afternoon snack!
Kashi GO Cereal Honey Almond Flax Crunch
The combination of sweet almond slices, multi-grain clusters, and flax seeds in Kashi GO is not only tasty, but they boast naturally occurring essential nutrients. Made from 100% whole grains, this honey and almond mix boasts 9 grams of protein and 8 grams of fiber in each serving.
Bursting with flavor, Kashi GO is suitable for vegetarians and it's NON-GMO Project Verified. This means the product has been manufactured without using genetic engineering and the ingredients don't derive from GMOs.
Plentiful Breakfast Cereal Cinnamon Almond Butter
Combining irresistible almond butter-covered flakes along with clusters of nuts and seeds, Plentiful Cinnamon and Almond Butter is a delectable product that kids and adults can enjoy.
The fiber content is very good with 7 grams per serving. However, because of the 14 grams of added sugar in each portion, this product should ideally be considered a dessert.
RX Breakfast Cereal Vanilla Almond
With the sweet smell of vanilla and the tasty aroma of nuts, this RX cereal is packed with flavor. Consisting of crispy rice flakes, pumpkin seeds, yummy almonds, and a hint of honey, this is a satisfying product with a relatively short list of ingredients.
Cereal generally isn't known for being high in protein, but this one from RX packs a huge 11 grams into each serving! Although it's suitable for vegetarians, sadly it's not vegan-friendly as it contains honey.
Food For Life Organic Ezekiel 4:9 Sprouted Whole Grain Almond Cereal
If you're looking for a healthy way to start your morning, look no further than this Organic Ezekiel 4:9 Sprouted Whole Grain cereal from Food for Life. Made from fresh, sprouted and organically grown grains, seeds, and legumes, this product boasts the full flavor and is packed with nutrients.
Rich in fiber and protein with only 1 gram of added sugar in each serving, this product is a breath of fresh air amongst the many highly processed products available. Eat it with your favorite almond milk for an extra healthy and tasty treat every morning!
Premier Protein Mixed Berry Almond Cereal
Many of us are trying to fit more protein into our diets, but it can be hard to find protein-rich breakfast ideas. However, your search is over! Post-Premier Protein Mixed Berry and Almond pack an enormous 20 grams into each serving.
This product is a tasty and nutritious powerhouse with raspberries, strawberries, and sliced almond pieces!
Kellogg's Raisin Bran Crunch Breakfast Vanilla Almond Cereal
Deliciously crafted, Kellogg's Raisin Bran Vanilla Almond Crunch makes a great start to your day. Featuring crispy flakes of granola and almond slices combined with irresistibly sweet vanilla and raisins, it can be enjoyed by the whole family.
It's not just for mornings either! Eat it as a quick pick-me-up whenever you're feeling in need of a tasty snack.
Great Value Vanilla Almond Awake Cereal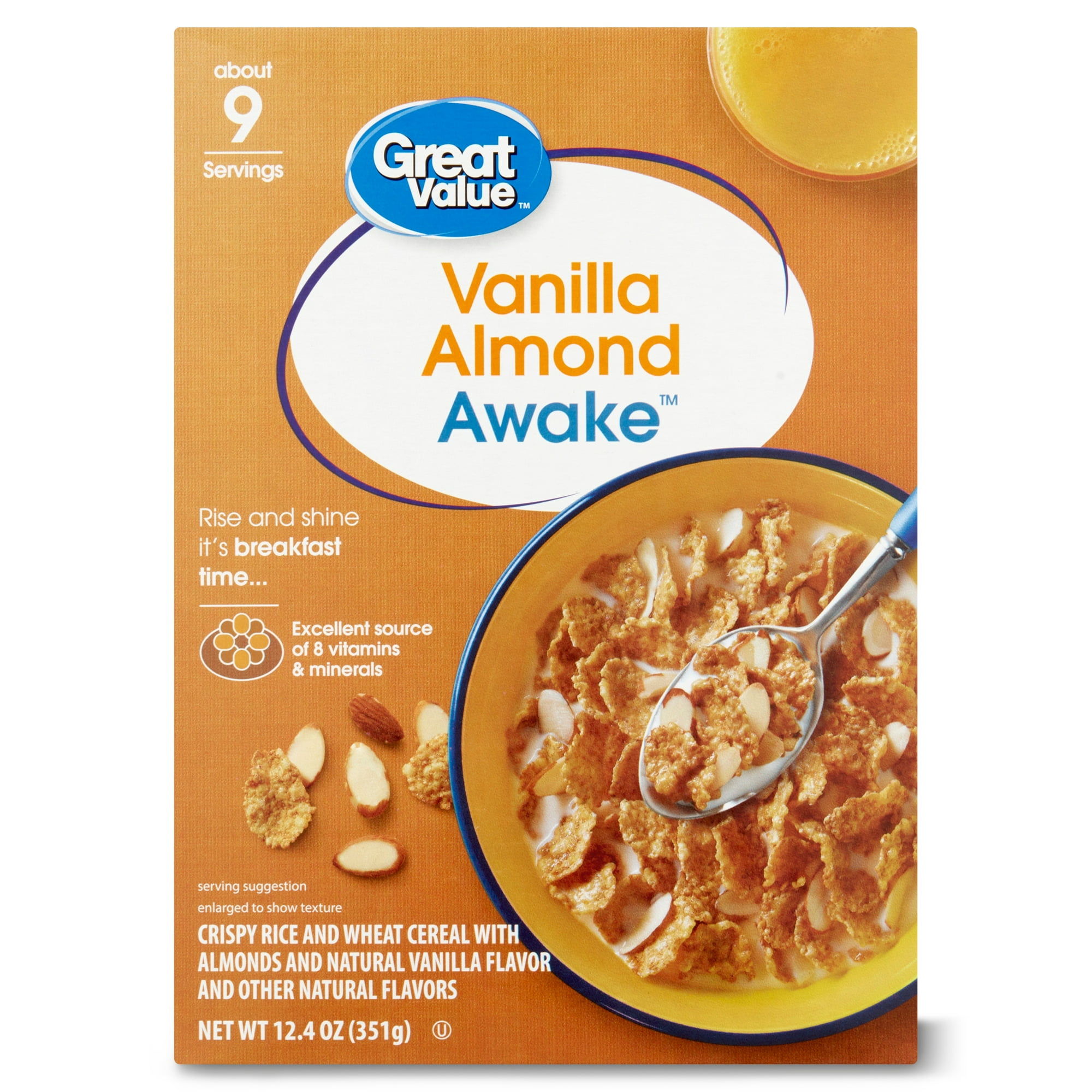 If you're looking for a quick and easy morning meal, Walmart stocks its Great Value range, including a Vanilla Almond Awake cereal! Enjoy with coconut, soy, regular, or almond milk. It's also great on its own as an afternoon or late-night snack.
Seven Sundays Classic Bircher Apple Cinnamon Almond
Named after a Swiss inventor who created muesli, Maximilian Bircher-Benner, this apple, cinnamon, and almond mix from Seven Sundays is a fresh and modern take on a classic cereal. Gluten-free and full of nourishing ingredients, this fruity, nutty mix will provide a perfectly healthy start to the day.
FAQs
How healthy is almond cereal?
Almonds on their own are a very nutritious food. However, when it comes to almond cereals, how healthy they depend on the other ingredients.
If there's a high amount of added sugar, the health benefits of almonds will be overshadowed. Try to look for brands that have short ingredient lists with ingredients that are easily recognizable.
How many calories are in Kellogg's Special K Almond cereal?
One serving of Kellogg's Special K Vanilla Almond contains 150 calories, with one serving being 1 cup or 40 grams. Keep in mind that this calorie amount is just cereal on its own. If you add milk the calories will be higher.
The total calories are depending on how much milk you add and what type. Cow's milk tends to have more calories than unsweetened almond milk, however, it provides more calcium. Which one you choose will depend on either your dietary needs or personal preference.
Is almond a protein or carbohydrate?
Almonds are nutritious, travel-friendly, and with only 6 grams of carbs per 1 oz serving, they're very low in carbohydrates. They're also a good protein source, with 6 grams per portion. They're surprisingly versatile as well.
You can use almonds to create other low-carbohydrate ingredients – almond flour is a good substitute for regular flour. Use it to make low-carb versions of your favorite foods such as crackers, muffins, and pancakes.
Are almond cereals good for weight loss?
Almonds are well known for being nutritious and an excellent choice for weight loss because they can help keep you fuller for longer.
Although almond cereals sound like a good idea, it's important to choose one that has a low sugar and high protein content, as many of them have added sugar. Be aware that there are many different names for sugar, so you may be consuming it without knowing it.
Some of these names include:
Glucose
Dextrose
Fructose
Maltose
Lactose
Galactose
Agave nectar
Cane sugar
Corn syrup
Final Thoughts
Hopefully, this guide has given you a good idea of some of the best almond-based cereal products that are available.
A product high in protein and low in sugar can be a very nutritious start to your day, but one that is high in sugar can leave you feeling very hungry soon after eating it.