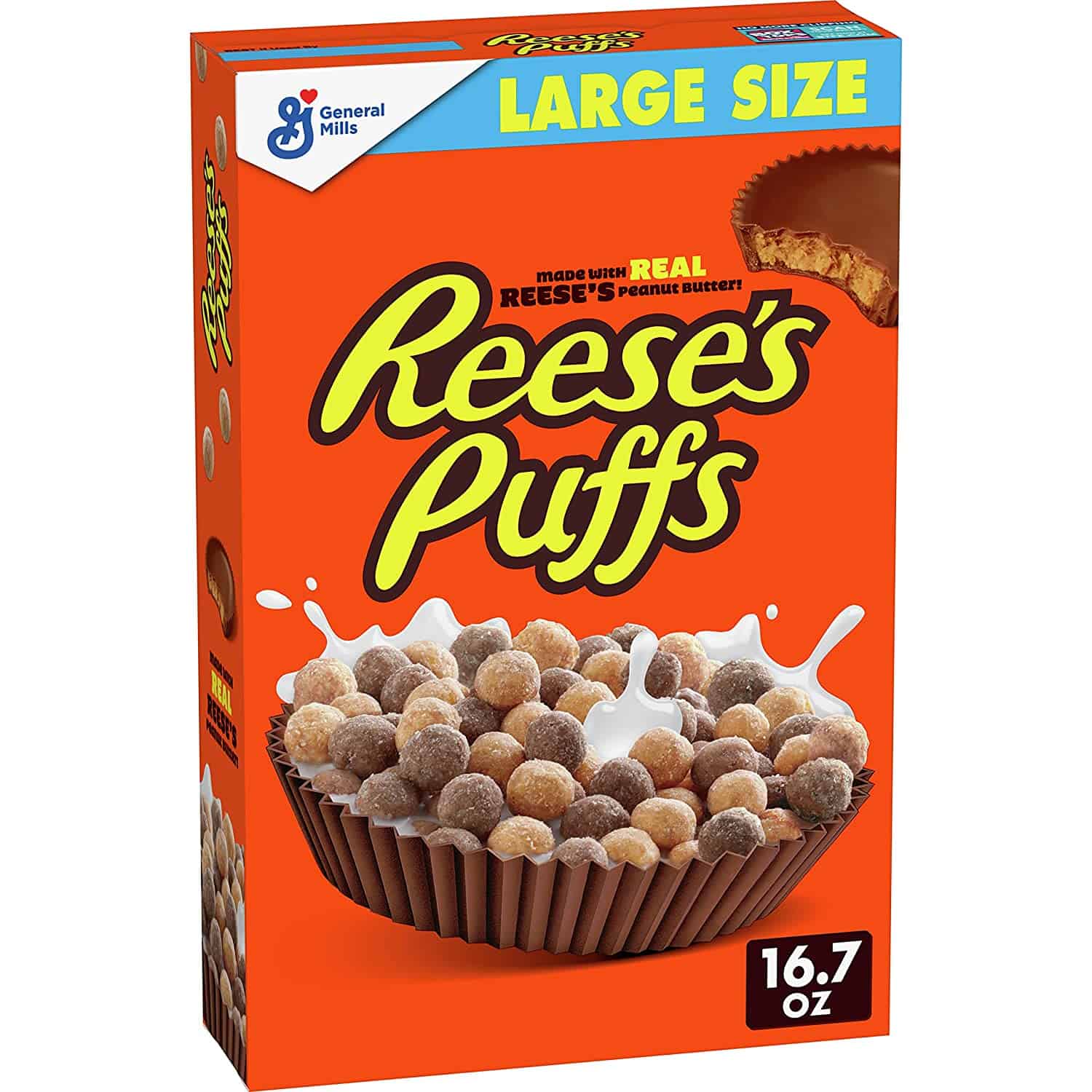 Reese's Peanut Butter is a brand of confectionary that many worldwide love. While it might not be for everyone due to its peanut content, there are many variations of the beloved chocolate, including the breakfast cereal Reese's Puffs.
A sweet, nutty, and crunchy bowl of goodness, Reese's Puffs are a great option for anyone looking for the real Reese's peanut butter taste in their morning bowl of cereal. General Mills are the makers behind the cereal that has provided many households with a sweet and savory kick to their day.
Here are some helpful nutritional facts, ingredients, and common questions asked about this breakfast cereal.
Nutrition Facts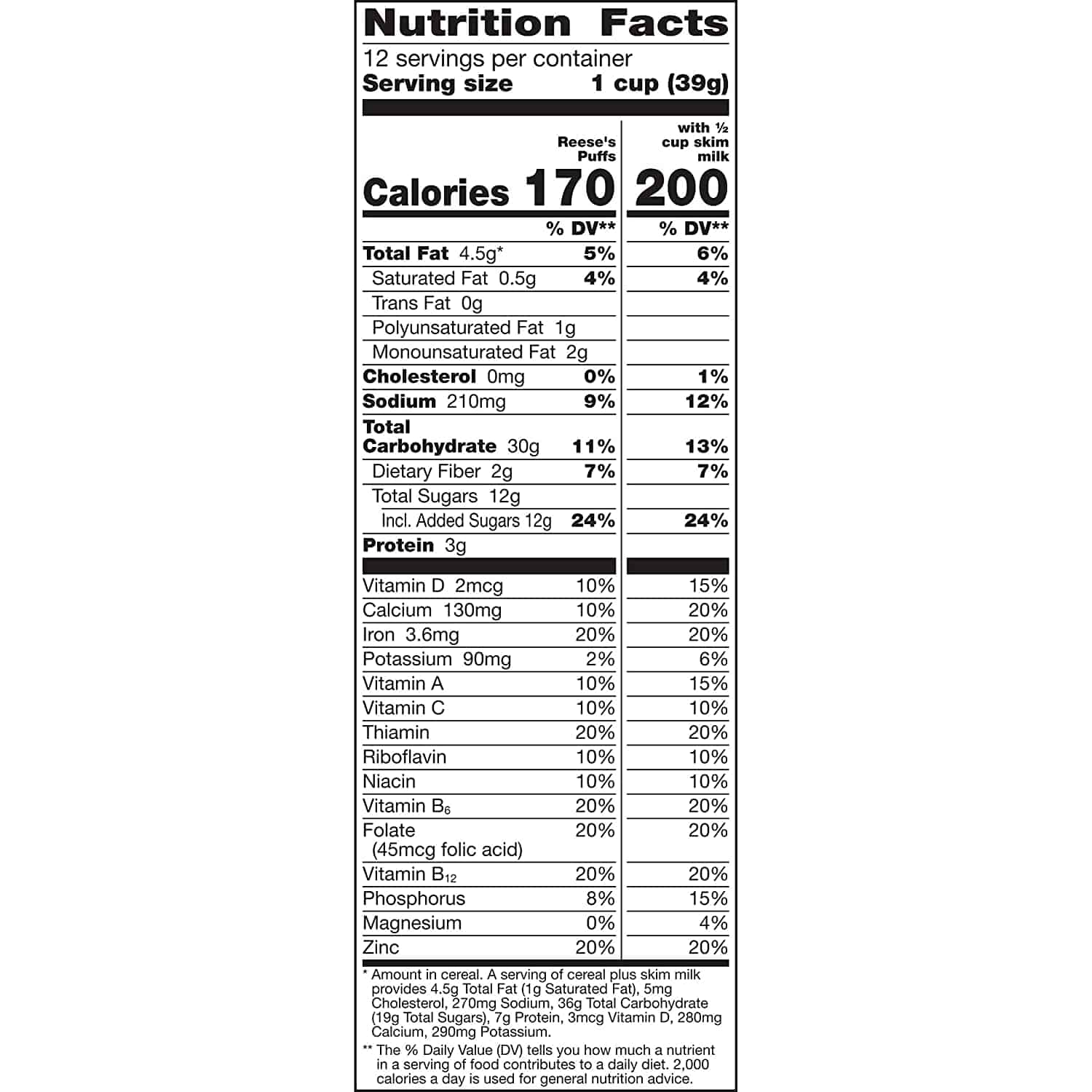 This box of cereal contains twelve servings of 1 cup/39g per serving. Here are some nutritional facts to understand what you'll get from each bowl of Reese's Puffs.
Calories: 160
Total Fat: 4.5g
Saturated Fat: 0.5g
Polyunsaturated Fat: 1g
Trans Fat: 0g
Monounsaturated Fat: 2g
Cholesterol: 0mg
Sodium: 220mg
Potassium: 90mg
Total Carbohydrate: 30g
Dietary Fiber: 2g
Total Sugars: 12g
Added Sugars: 12g
Protein: 3g
Calcium: 130mg
Folate: 0
Niacin: 0
Zinc: 0
Iron: 3.6mg
Vitamin D: 2mcg
Vitamin B6: 0
Vitamin C: 0
Riboflavin: 0
Vitamin A: 0
Phosphorous: 0
Kosher: 0
Vitamin B12: 0
Magnesium: 0
Thiamin: 0
Folic Acid: 45mcg
Ingredients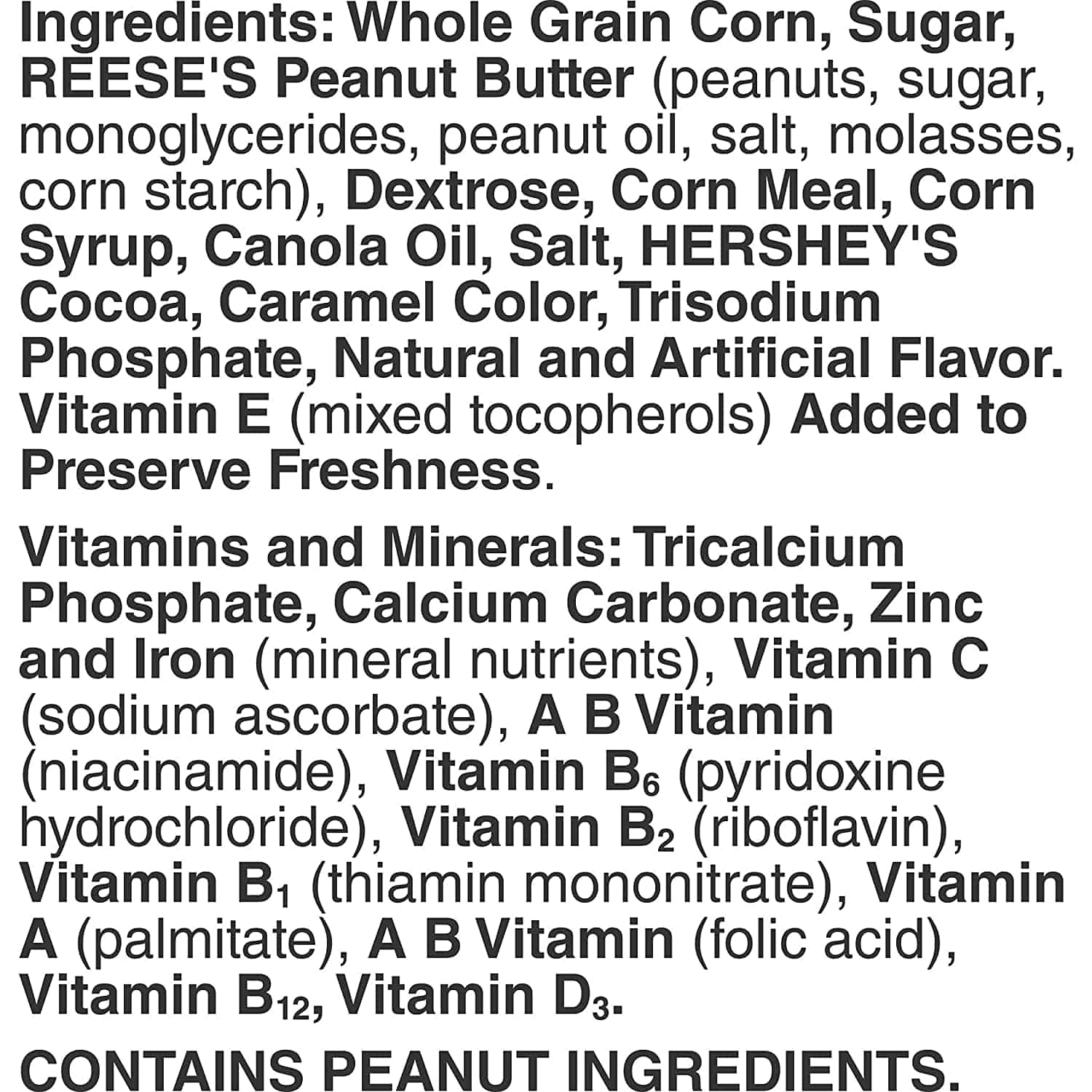 Reese's Puffs cereal is fairly rich in ingredients. Here's a complete list of what makes up this fun kid's breakfast idea.
Whole Grain Corn
Sugar
Reese's Peanut Butter (Peanuts, Sugar, Monoglycerides, Peanut Oil, Salt, Molasses, Corn Starch)
Dextrose
Corn Meal
Corn Syrup
Canola and Sunflower Oil
Salt
Hershey's Cocoa
Caramel Color
Trisodium Phosphate
Natural and Artificial Flavor
Vitamin E (Mixed Tocopherols) Added to Preserve Freshness
Vitamins and Minerals: Tricalcium Phosphate, Calcium Carbonate, Vitamin C (Sodium Ascorbate), Iron and Zinc (Mineral Nutrients), A B Vitamin (Niacinamide), Vitamin B6 (Pyridoxine Hydrochloride), Vitamin B1, (Thiamin Mononitrate), Vitamin A (Palmitate), Vitamin B2, (Riboflavin), A B Vitamin (Folic Acid), Vitamin B12, Vitamin D3.
Is Reese's Puffs Cereal Healthy?
This cereal can often be a good choice due to its zero grams of sugar content. This cereal also has a healthy amount of fiber that a child would need in their daily consumption. However, while they're delicious, a chocolatey puffs cereal is not the healthiest option for breakfast cereals.
As chocolate does contain natural sugars, it can provide a temporary energy kick followed by a sugar crash. It might not be the best for those wanting a healthier breakfast or snack.
Is Reese's Puffs Cereal Gluten-Free?
Good news for those who require a gluten-free option for their breakfast cereal. Reese's Puffs are a fun kids' breakfast idea that uses whole-grain corn over wheat flour. Wheat flour contains gluten, but whole grain corn is one of the good ones as it's naturally gluten-free.
General Mills is a breakfast brand conscious about catering to all foodies, so this is great for those who have an aversion to gluten.
Is Reese's Puffs Cereal Vegan?
No, Reese's Puffs aren't vegan. At first glance, they may look vegan due to their lack of milk, milk products, or eggs. However, there are some animal-derived ingredients, including Vitamin D3, which, although they can be plant-based, isn't in this case.
Depending on your veganism, you may choose this as a breakfast option or prefer to look elsewhere for a vegan-friendly alternative.
Is Reese's Puffs Cereal Keto?
Just like some of the other breakfast cereals available on the market, Reese's Puffs cereal isn't keto-friendly. This is because it's high in carbohydrates and is considered a processed food that contains a range of unhealthy ingredients.
These unhealthy ingredients defined by a keto diet are sugar, high fructose corn syrup, and sugar. A keto diet can be challenging for cereals, especially with so many of them being processed.
Is Reese's Puffs Cereal High In Protein?
With only 3g of protein per serving, there's not a huge amount of protein found in this breakfast cereal. For most breakfast cereals they can tend to only have so much protein in them, with many diets getting their protein intake via lunch and dinner meals.
Hershey's cocoa Reese's Puffs are a great option when it comes to an average protein intake.
Is Reese's Puffs Cereal High In Fiber?
For a bowl of cereal, this one, in particular, offers a fairly low amount of fiber. These sweet, crunchy corn puffs aren't going to be majorly helpful when it comes to improving the state of your digestive system.
As they're fairly low in fiber, you're going to need a number of helpings to fill you up, but alternatively, it'll make a good school snack for the kids.
Reese's Puffs Cereal Store Brand Alternatives
There's not a considerable amount of alternatives to Reese's puffs breakfast cereal. Still, it's worth trying the 365 Everyday Value Organic Peanut Butter and Cocoa Balls from Whole Foods Market. This is one of the options that provide an alternative that's very much similar to the real deal.
Where You Can Buy Reese's Puffs Cereal
You can purchase Reese's Puffs cereal from a variety of stores. Here are just a few places to get these breakfast boxes.
Amazon
Target
Walmart
Instacart
Famous Reese's Puffs Cereal Commercials
There are plenty of Reese's Puffs cereal commercials that have been released over the years. This Reese's Puff Rap Commercial was a popular one amongst the younger generations and is one of the most famous ones to be made.
Here's a Reese's Puffs Cereal Commercial- 2003 that appeals to those who already love Reese's chocolate pieces. It shows a kid going to a diner where his sister works, who serves him Reese's puffs for the first time.
Finally, here's a Reese's Puffs Cereal- featuring High School Musical star Vanessa Hudgens. This was three years before she made her movie debut. It's a group of friends playing on the golf course that shares Reese's Puffs' wonderful tasty experience.
User Reviews
Review Summary
0.0 out of 5 stars (based on 0 reviews)
Recent Reviews
There are no reviews yet. Be the first one to write one.
Submit a Review