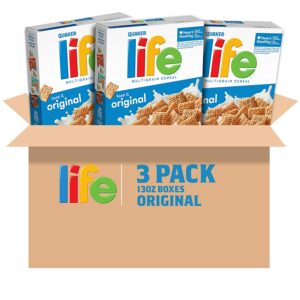 Life Original Multi-Grain Cereal is a whole grain breakfast cereal, currently made using whole wheat flour, rice flour, and other ingredients. A Quaker Oats Company product, Life is characterized by its brown, chequered appearance. It has long been a staple of the American breakfast table, having first been introduced in 1961.
Life is promoted as a healthy alternative to other breakfast cereals and comes in a variety of flavors – cinnamon, vanilla, and chocolate.
Nutrition Facts
One cup (42 grams) of Life Original Multi-Grain Cereal contains:
Calories – 160
Total fat – 2 grams/2% DV
Trans fat – 0%
Saturated fat – 0%
Monosaturated fat – 0.5 grams
Polyunsaturated fat – 0.5 grams
Sodium – 210mg/9% DV
Cholesterol – 0mg/0% DV
Total carbohydrates – 33 grams/12% DV
Total sugars – 8 grams
Dietary fiber – 3 grams/12% DV
Protein – 4 grams
Vitamin D – 0mcg
Calcium – 150mg/10% DV
Iron – 13.2mg/70% DV
Potassium – 120mg/2% DV
Thiamine – 0.36mg/30% DV
Riboflavin – 0.33mg/25% DV
Niacin – 4mg/25% DV
Vitamin B6 – 0.43mg/25% DV
Folate – 240mDV
Folic acid – 135mcg
Phospherus – 130mg/10% DV
The above Daily Value percentage is based on a diet of 2,000 calories per day.
One 370 gram box of Life contains around 9 servings.
In total, Life contains 26 grams of whole grains.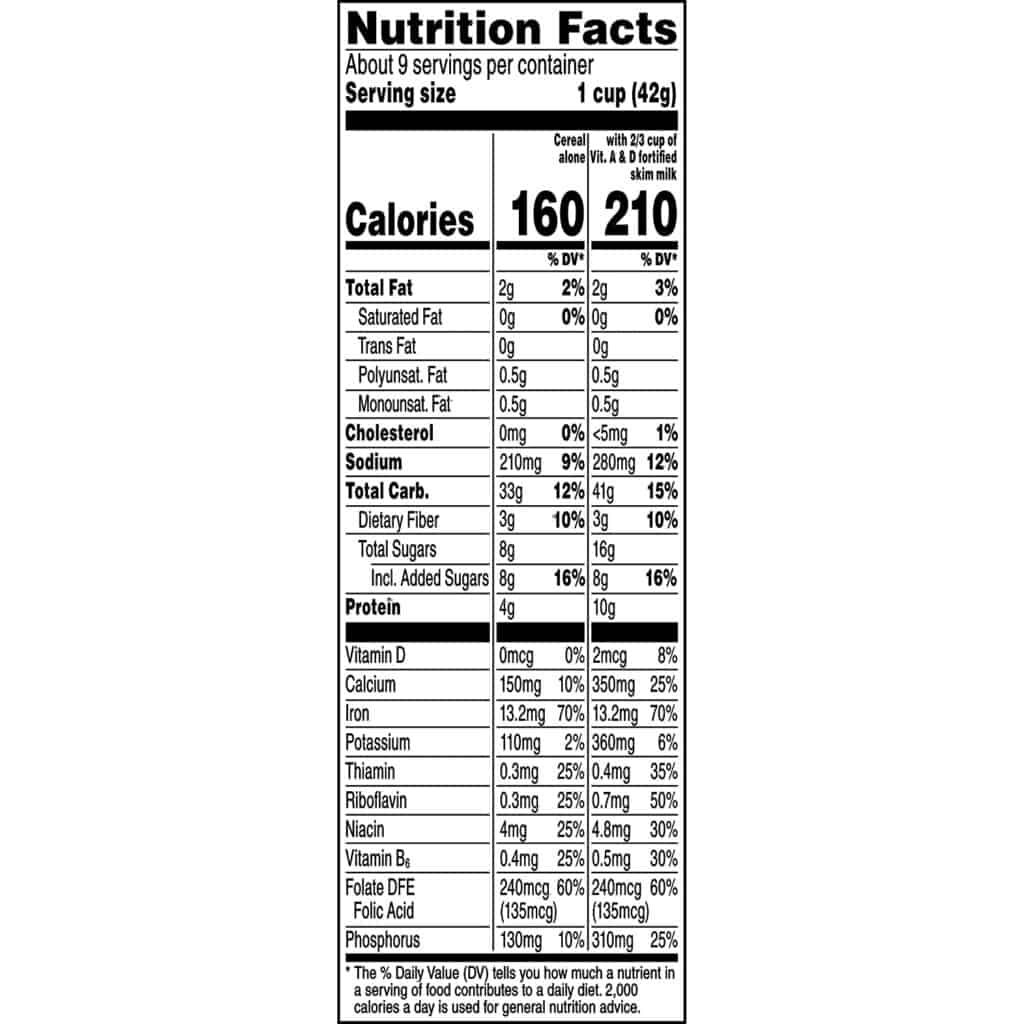 Ingredients
The ingredients list of Life original Multi-Grain Cereal includes:
Corn flour
Whole grain oat flour
Whole wheat flour
Sugar
Salt
Carbonate
Calcium
Disodium phosphate
Tocopherols (used to keep the cereal fresh)
Reduced iron
Annatto
Niacinamide
Thiamine mononitrate (B vitamin)
Pyridoxine hydrochloride (B vitamin)
Riboflavin (B vitamin)
Folic acid (B vitamin)
Is Life Cereal Healthy?
It may have been rightfully billed as a healthy alternative to the likes of Lucky Charms and Fruit Loops throughout the 60s, but Life isn't exactly the most nutritionally beneficial cereal on the market today.
Firstly, Life contains a lot of sugar, which gives it a sweeter flavor than most other healthy breakfast cereals. One cup of Quaker Life breakfast cereal contains 8 grams of added sugars. This far exceeds the amount found in other healthy whole-grain foods, such as original Cheerios, which contain only 1 gram of sugar per serving.
Secondly, Life contains several preservatives, including pyridoxine hydrochloride, BHT, and the food dye yellow 6. The latter is used to add a yellow tinge to the cereal, which makes it more attractive when eating.
However, Life does contain some health benefits. Like most Quaker Oats products, Life uses whole grains. Additionally, it is fortified with vitamins and minerals such as vitamin A, calcium, riboflavin, phosphorus, and thiamin.
Is Life Cereal Gluten-Free?
Life Original Multi-Grain Cereal is not a gluten-free product, given that one of its main ingredients is whole wheat. Despite their similarities, nearly every Chex Cereal product is gluten-free, except Wheat Chex.
Is Life Cereal Vegan?
Life is considered to be a vegan cereal, with none of its varieties containing any animal products in the ingredients lists. However, given the sugar content of Life, some may not consider Life to be officially vegan. Sugar cane is sometimes processed alongside bone char to increase the whiteness of the finished product.
Is Life Cereal Keto?
Life breakfast cereal should not be consumed as part of a Keto diet as it would take you over the carbohydrate limit. A keto diet demands that you eat only between 20-30 grams of carbohydrates per day, whereas one cup of Life contains 33 grams. Additionally, Life breakfast cereal contains sugar, which should be avoided when on a keto diet.
Is Life Cereal High In Protein?
With 3 grams of protein per cup serving, Life has a higher protein count than some other big-brand cereals, such as Lucky Charms and Cheerios. However, its protein amount is considerably less compared to other healthy cereals, such as Kashi GO Honey Almond Flax Crunch, which contains 8 grams of protein.
Is Life Cereal High In Fiber?
Life is relatively low in fiber when compared to other healthy breakfast cereals. One cup of Life only provides 3 grams of dietary fiber, which makes up only 12% of your daily requirements. According to the FDA, the recommended dietary fiber intake should be around 25 grams. To qualify as a 'high fiber' food, a cereal would need to contain 5 grams of fiber minimum.
Don't take Life's 'multi-grain' label as an indicator that the cereal will provide you with sufficient fiber. Although the likes of whole-grain oat, corn, and wheat grains are fiber-rich, there is not enough found in Life to make it a high fiber source.
Cereals such as Barbara's High Fiber Original contain 14 grams of fiber per cup, which is far closer to your daily intake requirements.
Life Cereal Varieties
Life comes in 4 different varieties, each of which uses whole grain Quaker Oats as a base.
Original
The original Life has a simple oat taste, hence why the cereal box encourages consumers to add fruits to liven it up.
Cinnamon
This alternative contains a sweet cinnamon flavor, making it enjoyable to eat plain. Sweeter than the original, the Cinnamon version contains 10 grams of sugar.
Vanilla
Vanilla Life has a simple and sweet flavor, with notes of butter. It contains the same amount of whole-grain goodness and sugar as the original.
Chocolate
Chocolate Life was introduced to be enjoyed by the entire family. It is made with the same healthy whole grains with the addition of cocoa powder.
Where You Can Buy Life Cereal
You can buy Life cereal directly from the Quaker Oats website, or in such supermarkets as Walmart and Kroger.
Famous Life Cereal Commercials
Like most nostalgic childhood cereals, Life has had many iconic commercials over the decades. Most notably, the Little Mikey commercial first aired in 1972 and ran for over 12 years. It won the Clio Award in 1974 and has frequently been ranked amongst the top 10 commercials of all time. It helped to cement the product as a favorite family cereal.
User Reviews
Review Summary
5.0 out of 5 stars (based on 1 review)
Recent Reviews
Love it!
I eat life original cereal every morning. I love the taste and is somewhat healthy for you.
Submit a Review