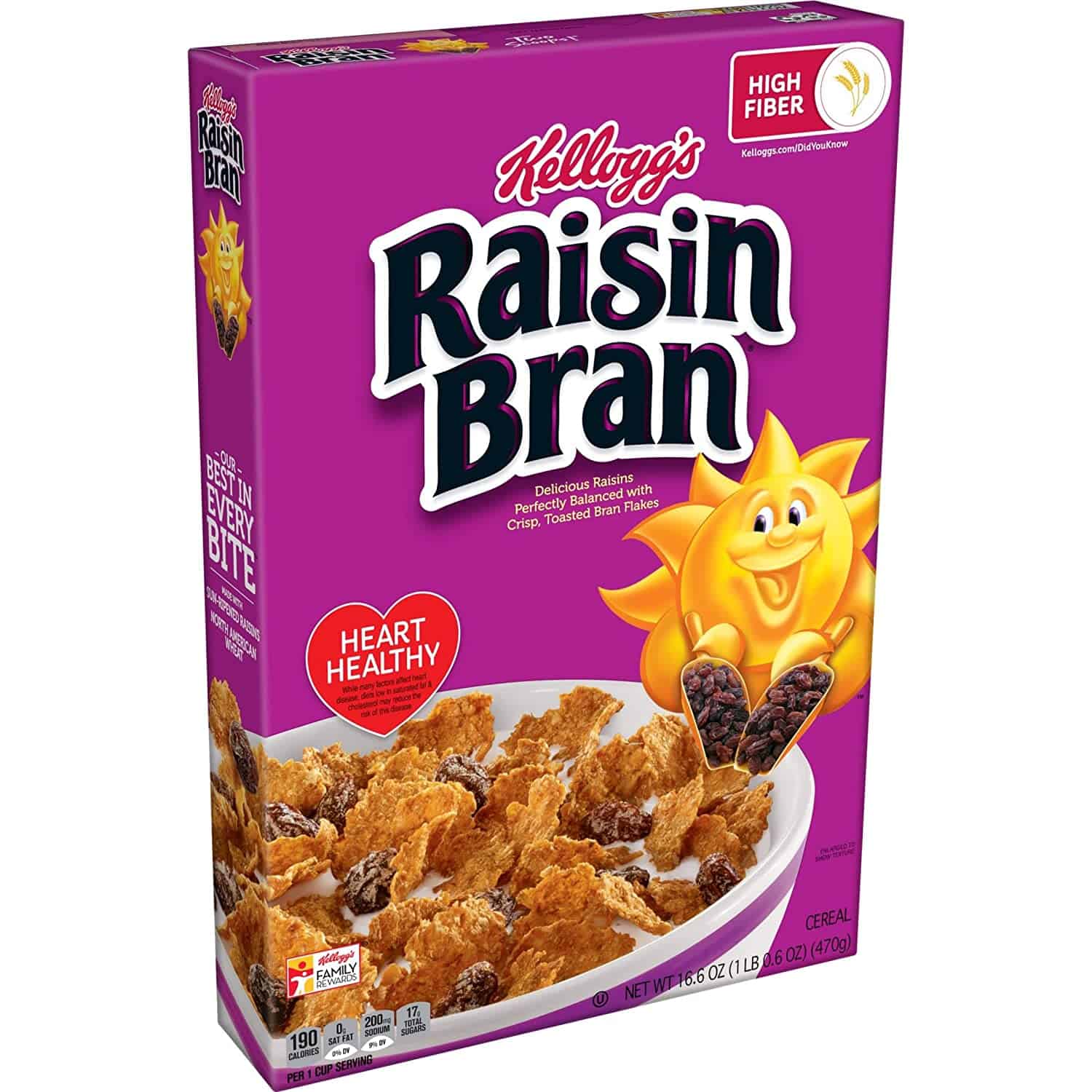 Raisin Bran is one of Kellogg's oldest cereals that remains popular to this day – it even outsells Special K! The reason for its endurance lies partly in its title, with the combination of both 'raisin' and 'bran' seemingly implying the utmost in breakfast nutrition.
On top of its sweetened taste, it can be hard for some to resist a bowl of this delicious cereal in the morning.
It's difficult to deny that the cereal does live up to its title to some degree, given that it features raisins, whole grain wheat, and a host of vitamins and minerals; it is also high in fiber and low in fat. However, there are some drawbacks to this Kellogg's classic that take away from its supposed nutrition guarantee – let's take a look at what these drawbacks are!
Nutrition Facts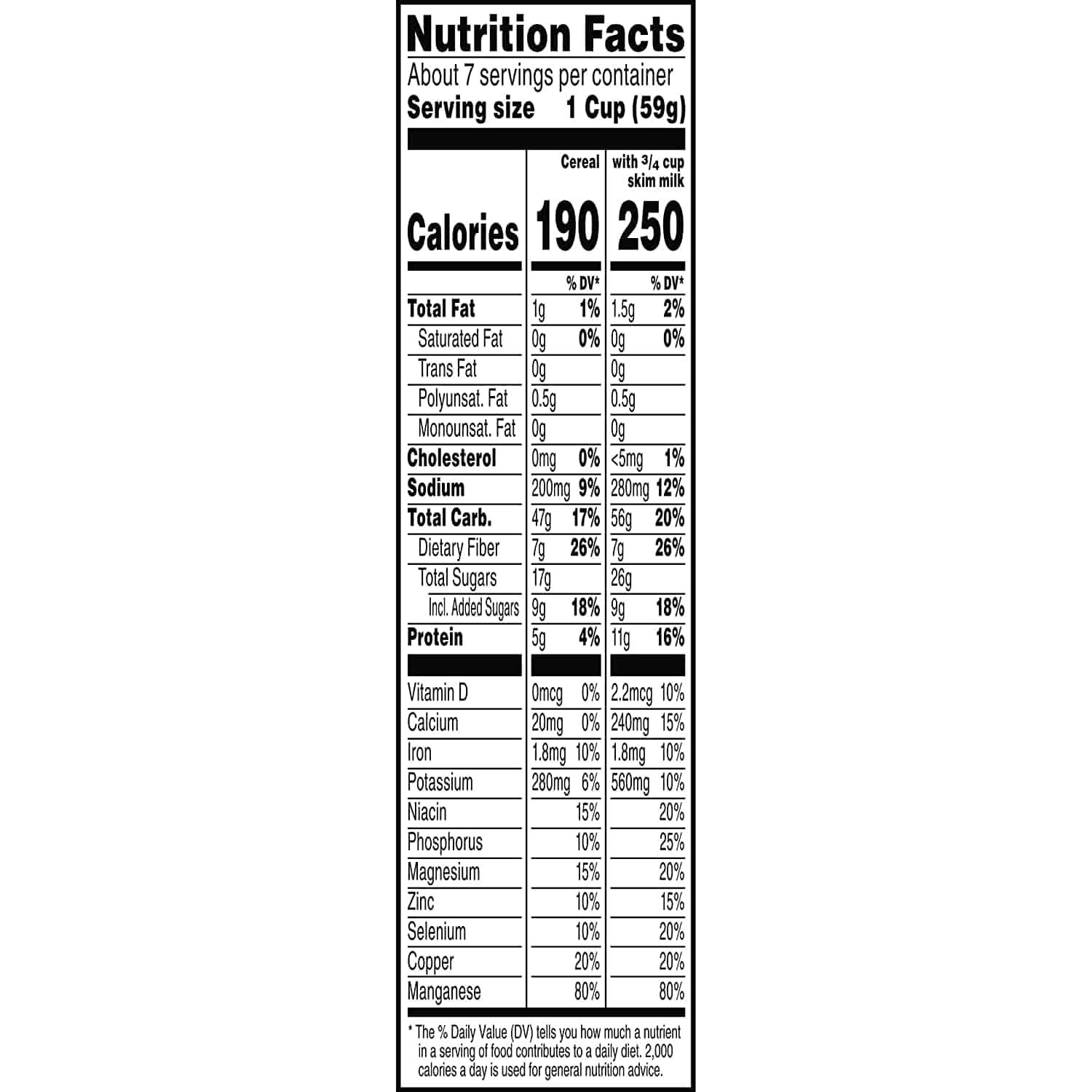 1 cup of the crunchy flakes and juicy raisins found inside a box of Raisin Bran contains the following nutritional value:
Calories – 190
Total fat – 1 gram (2% Daily Value)
Trans fat – 0 grams
Saturated fat – o grams
Cholesterol – omg
Sodium – 200mg (8% DV)
Total carbohydrates – 47 grams (16% DV)
Sugars (including added sugar) – 17 grams (18% DV)
Protein – 5 grams
Calcium – 20mg (2% DV)
Potassium – 376mg (8% DV)
Iron – 2mg (10% DV)
Ingredients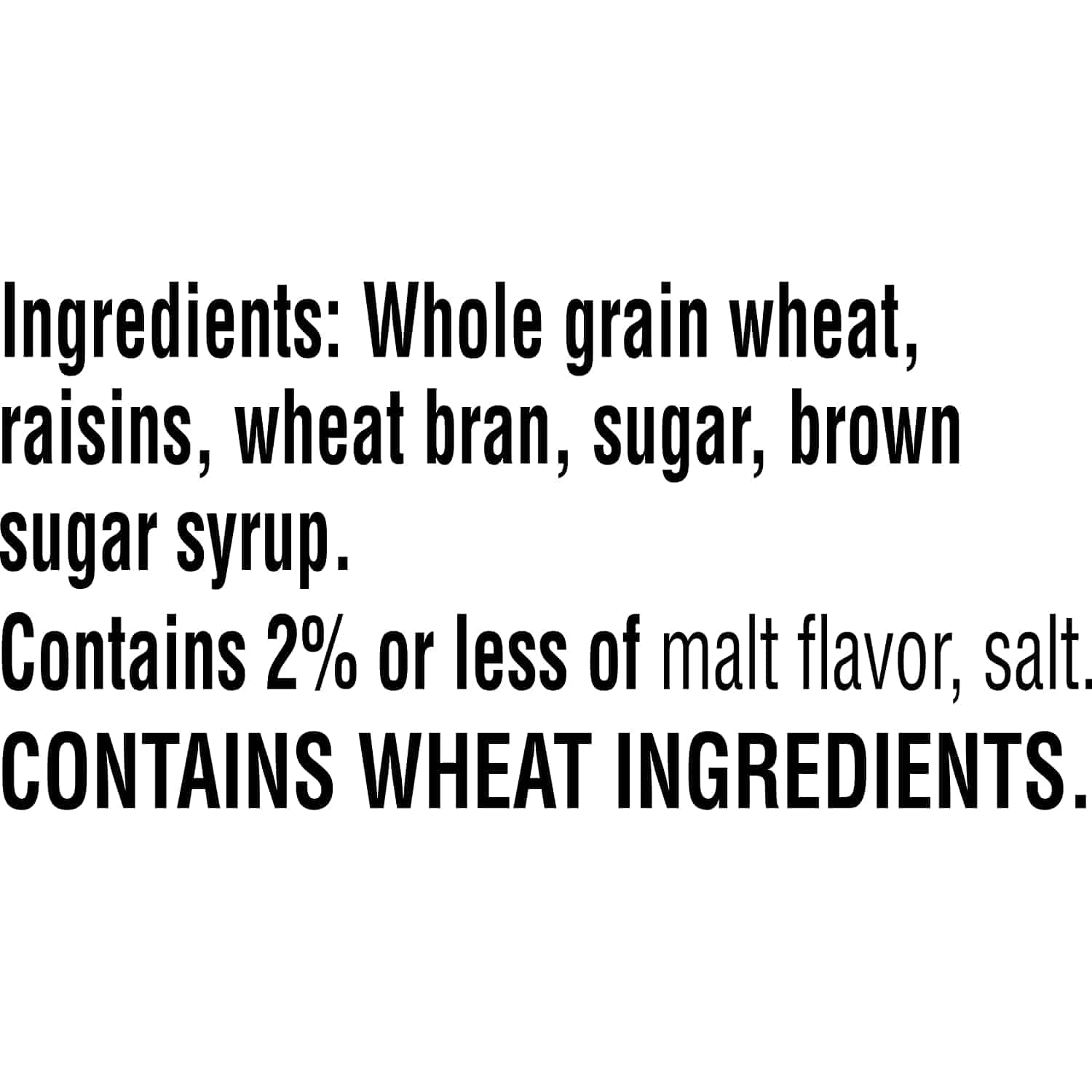 The ingredients for these crispy flakes include:
Whole grain wheat
Raisins
Wheat bran
Sugar
Malt flour
Salt
Brown sugar syrup
Is Raisin Bran Cereal Healthy?
In short, Raisin Bran is an undeniably healthy alternative to some other Kellogg's products, such as Frosties and Honey Smacks. Its whole grain make-up renders it a great source of fiber, while its raisin content can provide increased iron levels, allows for healthy digestion, and strengthens bones. The two main ingredients, raisins and wheat, are undeniably healthy.
Plus, eating Raisin Bran provides you with a wide range of vitamins and minerals, including vitamin B12, folic acid, potassium, zinc, vitamin A, and niacin. In addition to all of these, a cup of this cereal will provide you with 10.8mg of iron – well over the recommended 8mg daily target. Again, this further verifies Raisin Bran as a healthy cereal.
However, there are several unhealthy elements to this cereal that are worth considering. The main health concern of consuming Raisin Bran flakes daily is the huge sugar intake you'll get from just a portion of the cereal. In a 59-gram serving, you'll consume 17 grams of sugar, which is a significant figure for a supposedly 'healthy' breakfast cereal.
Secondly, this high sugar content far outweighs any health benefits of the cereal. Given that the sugar count equates to 5 teaspoons, and that women are only meant to consume 6 per day, consuming Raisin Bran increases the likelihood of you developing heart disease. What good is high fiber and iron levels when the product is doing more damage than good?
Is Raisin Bran Cereal Gluten-Free?
Raisin Bran is far from being gluten-free, containing a high quantity of whole-grain wheat and other gluten-featuring ingredients. If you have a gluten allergy, you should definitely avoid Raisin Bran.
Even popular alternatives to the cereal – General Mills Total Raisin Bran and Post Raisin Brain – are made using whole grain wheat, meaning that there isn't an alternative for those with gluten allergies.
Is Raisin Bran Cereal Vegan?
Raisin Bran cannot be considered vegan, as it contains several animal-derived ingredients. These ingredients include honey, palm oil, and D-3.
Is Raisin Bran Cereal Keto?
Raisin Bran should not be consumed as part of a keto diet as it contains a high amount of carbohydrates. In just 1 cup of the cereal, you'll find 47 grams of carbohydrates. Given that the goal of a keto diet is to attain ketosis through avoiding carbohydrates, Raisin Bran is unsuitable for this kind of diet.
Is Raisin Bran Cereal High in Protein?
This cereal provides a moderate dose of protein, with roughly 5 grams in each 59-gram serving. This is much more than other Kellogg's products such as Frosties and Corn Flakes, however, it is not high enough for this cereal to be classed as a 'high protein cereal'.
High protein cereals generally need to contain at least 10 grams of protein per serving, meaning that Raisin Bran is only halfway there.
Is Raisin Bran Cereal High in Fiber?
In one serving there are around 7 grams of dietary fiber, which equates to around 26% of your daily value. This is considered a healthy dose of fiber to be consumed for breakfast, however, still not as much as the likes of Bran Flakes, which contain 10.8 grams of fiber in the same sized serving.
Raisin Bran Cereal Varieties
Given that the cereal is almost 100 years old, it's unsurprising that Kellogg's have released a wide range of varieties over the years, from cranberry to vanilla almond flavor.
Kellogg's Raisin Bran® Original cereal
The original cereal improves the standard malt flavor with plump raisins. This makes for a balance of crispy wheat bran flakes with delicious, sweet raisins.
Kellogg's Raisin Bran® Original cereal with Bananas
This version comes with dried bananas instead of raisins, which provides you with a richer source of potassium.
Kellogg's Raisin Bran® Original Cranberries cereal
This version has all the benefits of the original, with added essential vitamins such as K1, E, and C.
Kellogg's® Raisin Bran Crunch® cereal
This version comes with irresistible honey oat granola clusters.
Kellogg's® Raisin Bran Crunch® Vanilla Almond cereal
For those looking for a sweeter taste, this variety comes with vanilla flavoring.
Kellogg's Raisin Bran® Toasted Oats & Honey cereal
With added honey and toasted oats, this version provides a more fulfilling alternative to the original.
Where You Can Buy Raisin Bran Cereal
You should be able to find Raisin Bran cereal in any retailer than sells cereal, being one of the most prominent cereals in the Kellogg's range.
Famous Raisin Bran Cereal Commercials
Raisin Bran has had many successful commercial campaigns through the years, including ones that featured the fictitious band, the California Raisins.
A prominent tagline for Raisin Bran commercials is 'two scoops', referring to the fact that each cereal box contains two scoops of raisins.
User Reviews
Review Summary
0 out of 5 stars (based on 0 reviews)
Recent Reviews
There are no reviews yet. Be the first one to write one.
Submit a Review