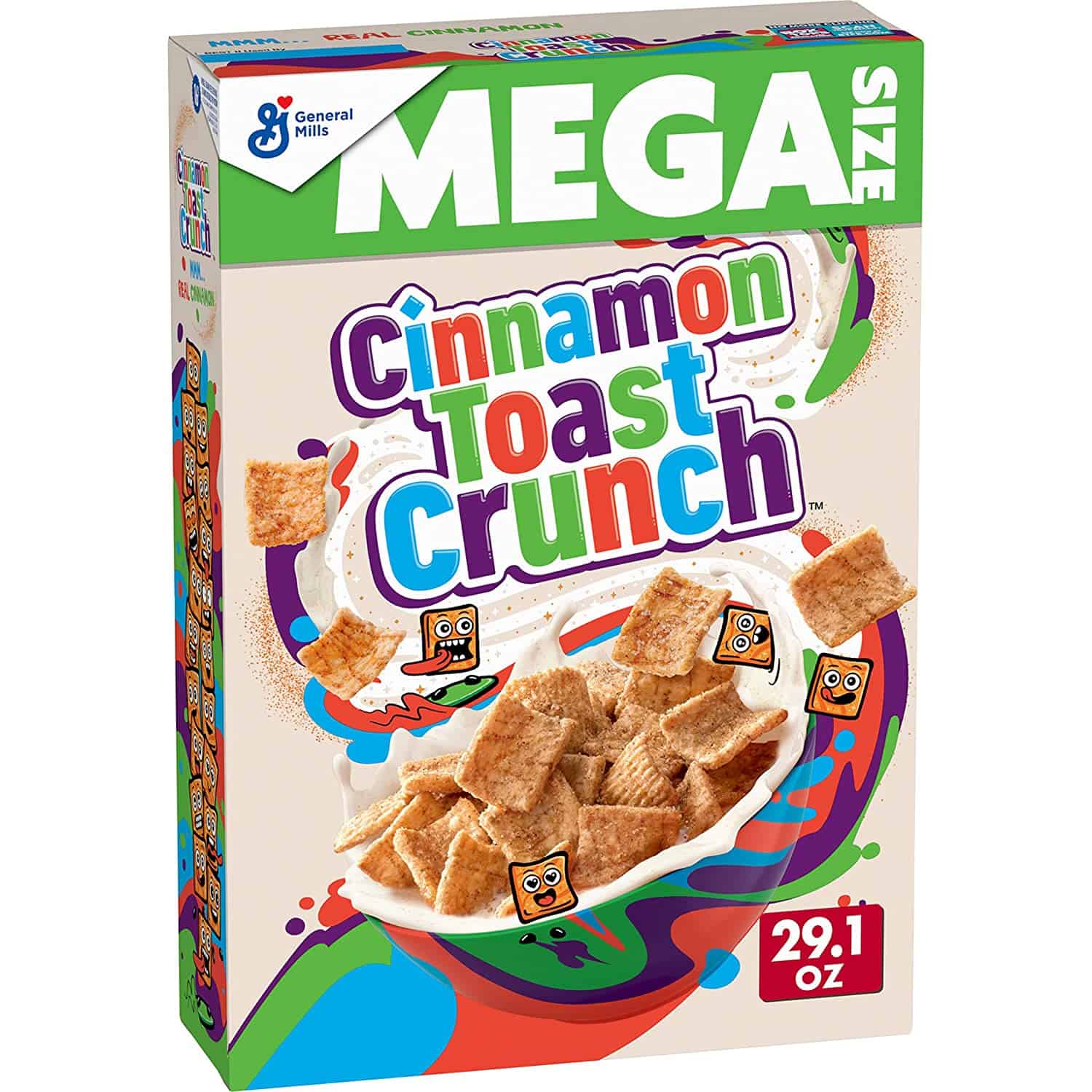 This popular breakfast cereal with an iconic cinnamon sugar combination has been a family favorite since its initial release by General Mills Inc. in 1984.
Every box of General Mills Cinnamon Toast Crunch cereal is packed with crispy, whole wheat, crazy squares; each of the cereal pieces 'blasted' with a delicious combination of real cinnamon and sugar.
Pour your favorite milk over this tasty cereal for the perfect quick breakfast, or enjoy the great taste on its own as a snack throughout the day wherever your "Cinnadust" craving strikes!
Go ahead, load your cereal bowl with nutritious whole grains and dazzle your taste buds with epic cinnamon tang.
Nutrition Facts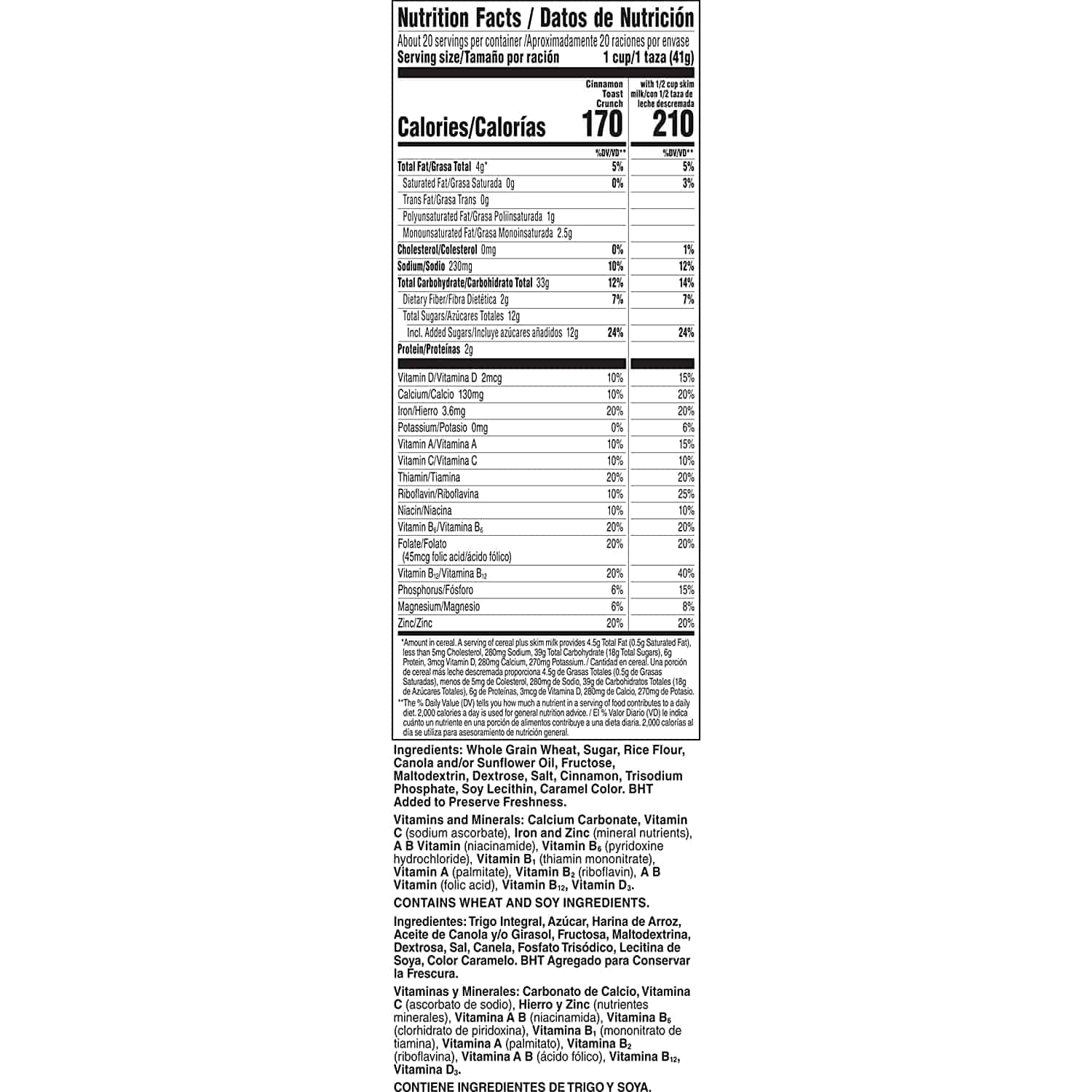 About 13 servings per container
Serving Size: 1cup (41g)
Calories 170
Total Fat 4g 5%
Saturated Fat 0g
Trans Fat 0g
Polyunsaturated Fat 1g
Monounsaturated Fat 2.5g
Cholesterol 0mg 0%
Sodium 230g 10%
Total Carbohydrate 33g 12%
Dietary Fiber 2g 7%
Total Sugars 12g
Incl. Added Sugar 12g 24%
Protein 2g
Vitamin D 2mcg 10%
Calcium 130mg 10%
Iron 3.6mg 20%
Potassium 0mg 0%
Vitamin A 10%
Vitamin C 10%
Thiamin 20%
Riboflavin 10%
Niacin 10%
Vitamin B6 20%
Folate (45mcg folic acid) 20%
Vitamin B12 20%
Phosphorus 6%
Magnesium 6%
Zinc 20%
Ingredients
Whole Grain Wheat, Sugar, Rice Flour, Canola and Sunflower Oil, Fructose, Maltodextrin, Dextrose, Salt, Cinnamon, Trisodium Phosphate, Soy Lecithin, Caramel Color. Bht Added To Preserve Freshness. Vitamins And Minerals: Calcium Carbonate, Vitamin C (Sodium Ascorbate), Iron And Zinc (Mineral Nutrients), A B Vitamin (Niacinamide), Vitamin B6 (Pyridoxine Hydrochloride), Vitamin B1 (Thiamin Mononitrate), Vitamin A (Palmitate), Vitamin B2 (Riboflavin), A B Vitamin (Folic Acid), Vitamin B12, Vitamin D3.
Is Cinnamon Toast Crunch Cereal Healthy?
The short answer? No, no, it is not. This cereal is made of whole grains that might sound healthy, but any goodness that might come from said grains is overridden by the incredible amount of sugar you intake with every mouthful.
It may be a delicious snack for the whole family, but with each of those crazy squares blasted with super-sweet "Cinnadust," one small serving delivers 10-12g of sugar. In moderation, it makes for a nice treat or an easy party snack, but be mindful of the sugar content if you start your day with a bowl of this cinnamon goodness!
Is Cinnamon Toast Crunch Cereal Gluten-Free?
Cinnamon Toast Crunch breakfast cereal is not gluten-free. It is made using whole wheat grains produced in a non-gluten-free facility.
Is Cinnamon Toast Crunch Cereal Vegan?
At first glance, Cinnamon Toast Crunch appears to be a vegan-friendly breakfast cereal since it does not contain meat or dairy in its ingredients. However, for the strict vegan, the answer is not so straightforward.
This cinnamon cereal contains Vitamin D3 from lanolin, derived from sheep wool. Furthermore, it contains Vitamin B12, which is not typically found in plant courses and is more frequently contrived in animal products, including fish, meat, eggs, and dairy.
This family favorite cereal does not claim to be vegan, and the lack of detailed labeling makes it difficult to know for certain whether these listed ingredients are of animal origin. Ultimately it comes down to personal preference.
Is Cinnamon Toast Crunch Cereal Keto?
With 33g of carbohydrate and 12g of sugar per serving, this cereal is not appropriate for the ketogenic 'keto' diet.
Is Cinnamon Toast Crunch Cereal High In protein?
A single serving of this delicious breakfast cereal contains 2.2g of protein – which constitutes 4% of your daily protein requirement.
While this cinnamon sugar cereal does contain protein, it should not be considered high in protein when competing cereal options serve a much high dose of protein per bowl.
Eating Cinnamon Toast Crunch with milk will increase the protein intake, and with the power-pack of cinnamon in each bowl makes for an easy kids' breakfast option.
Is Cinnamon Toast Crunch Cereal High In Fiber?
The amount of whole grain per serving provides approximately 2g of dietary fiber per bowl. This equates to 7% of your daily requirement.
A balanced daily diet should include approximately 30g of fiber per day – and a high dose of this fiber should be consumed at breakfast time to be absorbed by your body throughout the day.
2g is better than some very low fiber competitors – but this breakfast cereal should not be considered high fiber.
Cinnamon Toast Crunch Cereal Varieties
The same epic combination of cinnamon and sugar is also available in a longer, cylindrical shape. Interestingly this variation contains 3g of protein and 3g of fiber per bowl, arguably making it a marginally more healthy option.
Unlike the classic squares, the churro shape claims to stay crunchy even in milk.
French Toast Crunch
This miniature toast crunch breakfast cereal was discontinued in 2006, but high demand saw it return to nationwide distribution in January 2015.
Each piece of French Toast Crunch breakfast cereal is shaped like a tiny slice of toast soaked in sweet maple flavor.
This seasoning blend is perfect for mixing oatmeal, dusting over a stack of pancakes, or even mixing into cream for delicious coffee creamer.
The spreadable version of the popular cinnamon sugar squares cereal launched in March 2022, a new way for fans to enjoy Cinnamon Toast Crunch flavor.
Where You Can Buy Cinnamon Toast Crunch Cereal
This popular breakfast cereal or all-day snack is available nationwide. You can also purchase online from Walmart, Target, and Amazon.
Cinnamon Toast Crunch is available internationally under different names: Croque-Cannelle in French Canada; Curiously Cinnamon (previously Cinnamon Grahams) in the United Kingdom; and Cini Minis in parts of Europe, to name a few.
Famous Cinnamon Toast Crunch Cereal Commercials
If you're a fan of watching commercials, especially featuring delicious musical cereal, check out some of these "Oldies but Goodies" from Cinnamon Toast Crunch cereal!
Cinnamon Toast Crunch Commercial- 1989
Cinnamon Toast Crunch Commercial- 2009
Cinnamon Toast Crunch- Churros Time
French Toast Crunch- Maria West Commercial
User Reviews
Review Summary
0 out of 5 stars (based on 0 reviews)
Recent Reviews
There are no reviews yet. Be the first one to write one.
Submit a Review