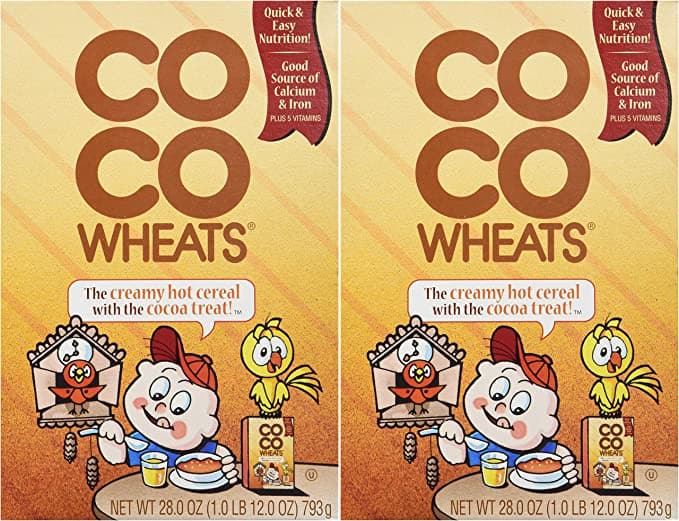 Coco Wheats is one of Post's most famous hot breakfast cereal options. It was created in the 1930s and has been in constant and stable production. Coco Wheats has been one of the best hot cereal products in the Post line, a creamy hot cereal that makes a winter's morning worth getting out of bed.
Malt o Meal Coco Wheats provides a healthier way to start the day with chocolate flavor that other cereals require a large amount of added sugar to provide. It is a long-time favorite of moms, and kids love the warm cocoa taste to get them going in the morning. Coco Wheats has been and continues to be an American breakfast cereal favorite.
Nutrition Facts

One serving (3 dry tablespoons or 31 grams) of Coco Wheats cereal contains:
Calories – 110
Calories from fat – 0
Fat – 0 grams / 0%
Saturated fat – 0 mg
Trans fat – 0mg
Cholesterol – 0mg
Sodium – 0mg / 0%
Carbohydrates – 24 grams / 9%
Total sugars – 0 grams / 0%
Dietary fiber – 1 gram / 4%
Protein – 3 gram / 0%
Vitamin B1 (Thiamin) – 30%
Vitamin B2 (Riboflavin) – 20%
Vitamin B3 (Niacin) – 30%
Vitamin D – 0%
Folate – 200 mcg DFE / 50%
Vitamin B9 (Folic acid) – 120 mcg
Potassium – 60 mg / 0%
Calcium – 100 mg / 8%
Phosphorus – 4%
Iron – 10.8 mg / 60%
Vitamin B6 (Pyridoxin) – 25%
*The above Daily Value percentage is based on a diet of 2,000 calories per day.
There are around26 servings per 793 grams box of Coco Wheats cereal.
Coco Wheats cereal contains 0 grams of whole grains.
Ingredients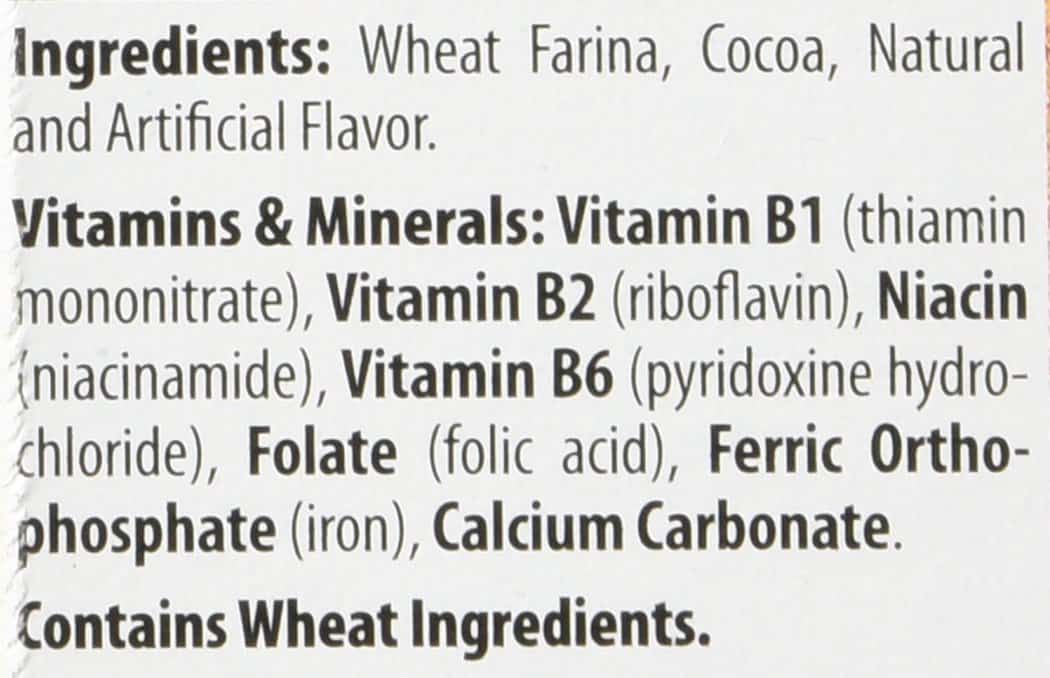 The ingredients list for Coco Wheats hot cereal includes:
Wheat farina
Cocoa powder
Natural and artificial flavor
Caramel color
Calcium carbonate
Ferric orthophosphate (Source of Iron)
Niacinamide (Vitamin B3)
Pyridoxine hydrochloride (Vitamin B6)
Folic acid
Thiamin mononitrate (Vitamin B1)
Riboflavin (Vitamin B2)
Is Coco Wheats Cereal Healthy?
Coco Wheats is a cocoa treat lovingly advertised as, "Kids love the warm cocoa taste and moms love the fortified nutrition". There are several health aspects of Coco Wheats that outweigh the few less than healthy aspects of the cereal, and with that delicious cocoa flavor, Coco Wheats is a healthier choice for a breakfast cereal.
First, Coco Wheats is fortified with iron and five essential vitamins. The main ingredient, farina, is a great source of potent antioxidants and Vitamin E. Unfortunately, the farina is milled greatly diminishes its dietary fiber content. And, it is worth noting that farina is not a whole grain.
Secondly, though Coco Wheats contains the chocolate flavor of cocoa, it is a sugar-free, sodium-free, and cholesterol-free cereal. However, some of the cocoa flavors are artificial.
Is Coco Wheats Cereal Gluten-Free?
Though the main ingredient in Coco Wheats is farina, many websites state that it is OK to consider this cereal a gluten-free food.
The most important thing to remember is that the primary ingredient in Coco Wheats is farina. Even though the farina is milled extensively, farina is a wheat, and thus Coco Wheats is a wheat-based cereal.
This issue may stem from how strictly the term gluten-free is defined. In addition, some people are much more sensitive to gluten than others, so even trace amounts can be dangerous. Regardless of how you define gluten-free, Post Malt of Meal Coco Wheats cereal is a wheat-based cereal and should not be considered gluten-free.
Is Coco Wheats Cereal Vegan?
Depending on how strictly you regulate your food as a vegan, Coco Wheats cereal may or may not be vegan-friendly.
Though the primary ingredient is farina flour, the cereal also contains certain ingredients that some people on a strict vegan diet may not approve of—specifically, the list of B vitamins, calcium carbonate, and artificial flavoring.
Is Coco Wheats Cereal Keto?
Though Coco Wheats can generally be considered a healthy cereal and is sugar-free, it cannot be considered a keto-friendly food. A keto diet typically only permits a total daily intake of 20 -30 grams of carbohydrates a day.
While one serving of Coco Wheats cereal would appear to satisfy the daily intake of carbs on keto, the nutritional profile of the cereal, in general, would be considered backward for the keto diet. Specifically, Coco Wheats is high in carbohydrates and very low in protein.
Is Coco Wheats Cereal High In protein?
Coco Wheats cereal would not be considered a high-protein food. Most breakfast cereal has three or fewer grams of protein. Typically, for a breakfast cereal to be high in protein, it needs to contain at least 5 grams of protein per serving. Coco Wheats would fall into the average category for protein content in cereal.
Is Coco Wheats Cereal High In Fiber?
Coco Wheats does not have a high dietary fiber content. The cereal is much lower in fiber than many other breakfast cereal options. Due to the need to make Coco Wheats cook fast, the milled farina wheat has diminished the fiber content of the wheat.
One serving of Coco Wheats does not even provide 1 gram of dietary fiber. According to the FDA, the recommended dietary fiber intake should be around 25 grams.
Coco Wheats Cereal Store Brand Alternatives
There is only one primary alternative to Post Malt o Meal Coco Wheats hot cereal: Cream of Wheat Cocoa hot cereal.
Where Can You Buy Coco Wheats Cereal?
Malt o Meal Coco Wheats is one of Post Cereals' most popular hot cereals and can be found in virtually any grocery store that sells Post products.
Famous Coco Wheats Cereal Commercials
Coco Wheats has been a staple Malt o Meal hot cereal for nearly a century. In the 1950s, the company introduced the animated pair of Pepper and Perry to sing the cereal's song and talk about its warm cocoa taste.
These commercials, and variations of Pepper and Perry, lasted up into the late 20th century.
User Reviews
Review Summary
5.0 out of 5 stars (based on 1 review)
Recent Reviews
Cocoa what's are a very healthy alternative compared to average boxed cereals
Submit a Review