When talking about fortified cereals, most people automatically assume that you are trying to separate the healthy cereal brands from those that are nothing but pure sugar. Indeed, sugar is not exactly a great ingredient for a healthy diet, especially in excess.
With that said, though, not all of the best-fortified cereals would be considered entirely healthy cereals. They could still have added sugar in them, but they simply have a healthy dimension to them. Fortified refers to the nutritional dimension of the cereal that comes from the vitamins and minerals that people need but whose diets also tend to lack.
So, which fortified cereals are also healthy breakfast cereals? Well, we aren't going to leave out all of our sugary friends, but here's our list of the best-fortified cereals in the cerealverse. Tell us if you agree.
Special K Nourish Cereal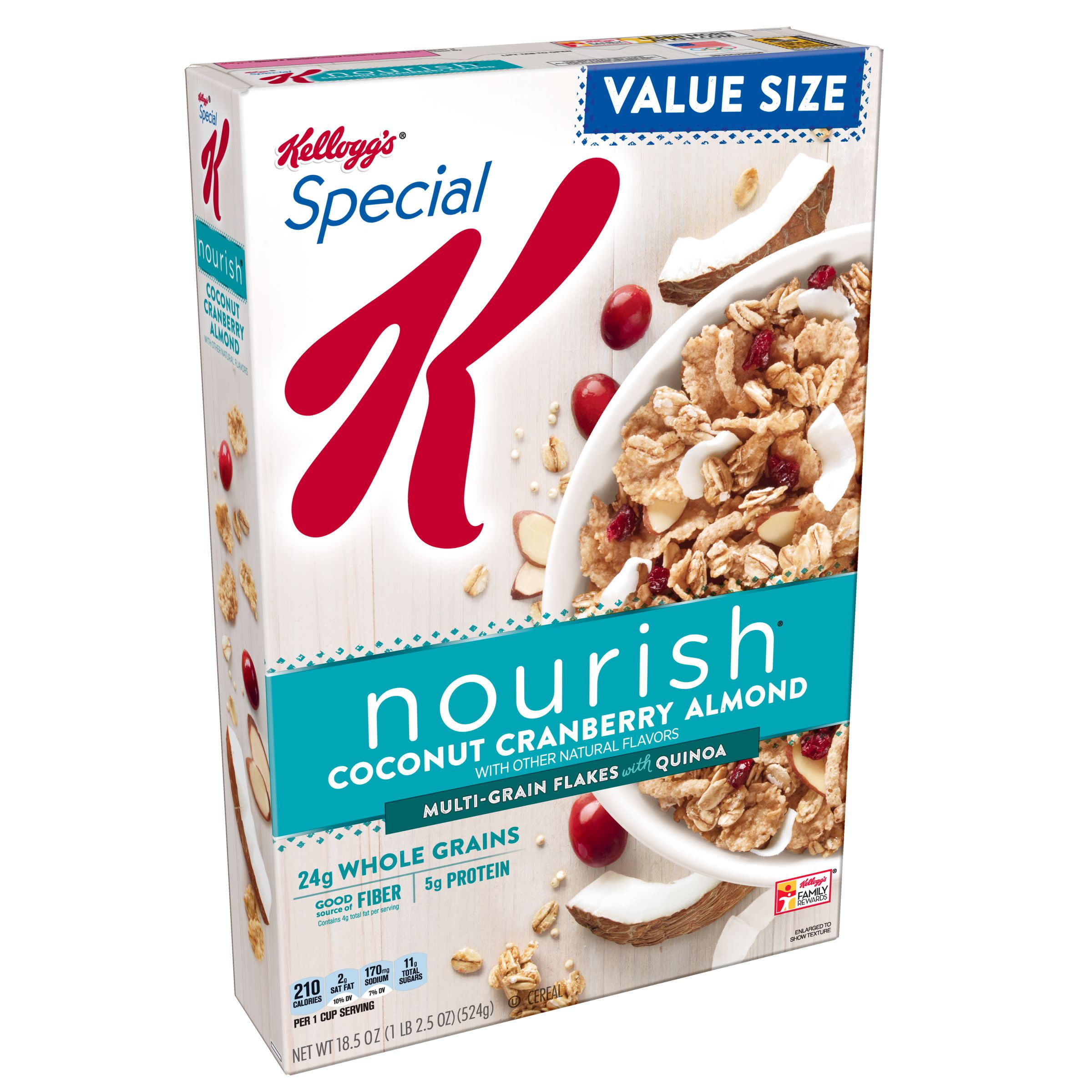 Where to start? Special K, of course. You cannot talk about healthy or fortified cereals without first thinking of Special K. One of the biggest OGs (Original Giants) of the cerealverse and a founding father of fortified cereals.
Considered one of the healthiest fortified cereals, there are 2 varieties. One with coconuts, cranberries, and almonds. The other with apples, raspberries, and almonds. These are not paired with the signature flakes made of whole-grain wheat flour and rice flour but with their take on quinoa flakes.
As processed foods go, there is added sugar, and in this case, it is high fructose corn syrup.
Post Bran Flakes
Another OG stepped up to the fortified breakfast cereals table. Though this is wheat bran flakes, it is not gluten-free. Remember, fortified usually means the healthiest cereals and not exactly healthy. Bran Flakes is essentially fat-free as well as provides both fiber and protein with 7 and 4 grams per serving, respectively.
Happy Belly Strawberry Good Balance
We will admit that this is one of the best cereal brand names in the cerealverse. Another good source of both fiber and protein, but not low in sugar. You are looking at 4, 3, and 11 grams per serving, respectively. This is whole wheat flour and rice, so not gluten-free. But, it goes very well with fresh fruit.
Kellogg's Special K Original
Speaking of OG! Here it is! The original and still heavyweight champion of the cerealverse. A founding father of breakfast cereals, Special K pretty much makes it onto any cereal list you are creating. Special K is so iconic that all the new kids on the block, such as Nature's Path, try to create their own version.
Iconic with a healthy breakfast, per serving, this is 7 grams of protein and all the vitamins and minerals you need, including Vitamin D and Vitamin C. However, it's not gluten-free or vegan, so Special K is about the other health benefits, such as a balanced diet.
Quaker Life Cinnamon Cereal
We've said it before; Quaker Life may very well be the most underrated cereal in the cerealverse. Do you agree or not?
Quaker is whole grain oats in their most flavorful form. Lightly sweetened with added sugars, but still a healthy alternative to some other cinnamon-flavored sugar fiestas. If you eat cereal, this is enjoyment in a bowl.
Post Great Grains Cereal
So how great can whole grains be? Well, these flakes of whole grain oats and wheat bran paired with raisins, dates, pecans, and a little natural added sugar are pretty great. With that said, it's added sugars; molasses, cane sugar, and rice syrup. But it's also a source of healthy fats and both fiber and protein.
Food for Life Ezekiel 4:9 Sprouted Whole Grain Cereal
There is just something about this cereal brand that makes me feel I can save the world when I eat cereal. This cereal brand prides itself more on all the things it leaves out than those it puts in. But, the nutritional value does all the talking in that area for them.
With 6 grams of fiber and 8 grams of protein per serving, this is an excellent source of both. And with only 1 gram of added sugar per serving, all of these beans and whole grains are worth a shot. Add some soy milk or almond milk and enjoy.
Quaker Oatmeal Squares Breakfast Cereal
Whole grain oatmeal is what made Quaker a cerealverse OG. Well, that and Life. Both are breakfast cereals that have become staples of the American breakfast. And brown sugar is an iconic Quaker sweetener. Along with maple syrup which goes great on this with hot milk.
And since you have gone that far, just go all the way and make some of the best overnight oats around. Add dried fruit, chia seeds, flax seeds, and pumpkin seeds; just let your imagination run wild. Trust us. It's Quaker. It will be good.
General Mills Total Whole Grain Cereal
While General Mills has big stars like Cocoa Puffs walk down the red carpet first, Total has always had to stand in the shadow of Special K, but no longer!
So yea, this is a whole-grain cereal with added sugar and corn syrup, but it's loaded with vitamins, and per serving, it has every bit of a great taste as any flakes cereal made of refined grains. It just has a lot to live up to, that's all.
Cheerios Original
Wow, the amount of OGs making this list. This is like the A-list of the cerealverse.
As far as whole-grain cereals go, Cheerios is a great option. It's gluten-free as it's made of whole grains, specifically oat bran, and did we mention that the box stands out like a school bus. Seriously, we haven't tested it, but it may just glow in the dark.
Cheerios are crunchy puffs of oaty goodness that all the new cereal brands, such as Nature's Path, also try to imitate. But trust us when we tell you, you will forget about all the healthy stuff and just enjoy the taste with every spoonful of the original OG.
FAQs
What Is Fortified Cereal?
Most cereal is a combination of sugar and wheat, corn, oats, or bran. As such, they do not have an inherently strong nutritional profile in regards to all the vitamins and minerals that people need. So, those vitamins and minerals are added, which makes the cereal fortified.
How do you know if a cereal is fortified?
As the fortified vitamins and minerals are added to the cereal to make it a complete and final product, they are exactly like all the other ingredients. Meaning they must be listed on the ingredient list. So, you can tell if a cereal is fortified if you see vitamins and minerals as ingredients.
Is granola a fortified cereal?
Granola is sort of the two-face of the cerealverse. It looks and sounds like it should be the healthiest of all cereals, but it's very commonly not. Along with adding tons of sugar, many companies over-fortify granola so that it has far too much vitamin and mineral content.
When did cereal get fortified?
Kellogg is considered to be one of the founding fathers of fortification. The Kellogg Company was the first cereal maker to employ a dietitian as part of their food development team. Kelloggs began voluntarily fortifying their cereals in 1938. Though not a legal requirement, many other companies voluntarily followed suit.
Final Thoughts
In today's health and diet-conscious food market, when you think of healthy cereal, you think that it needs to be from cassava flour or garbanzo beans or something. But that's not true.
Simply looking for a fortified cereal may be enough to get your family eating healthier. Breakfast cereals are meant to be enjoyed, not simply eaten for the nutritional benefits. So, if you can get crunchy clusters with added sugar but all the minerals and vitamins you need, what's the problem?
Right, no problem. Cereal makers add these essential ingredients to their cereals or fortify their cereals with them. This way, you can continue to enjoy the great American breakfast cereals and not simply be solely filling up on carbs and sugars but some good things as well.
Let's face it; we live in a world where processed food is king. And it has only been over the last few decades (if that) that real healthy food could come out of a bag or a box.
Is a cereal that is fully fortified with all the necessary minerals and vitamins per serving good enough for you and your family? Tells us why or why not.