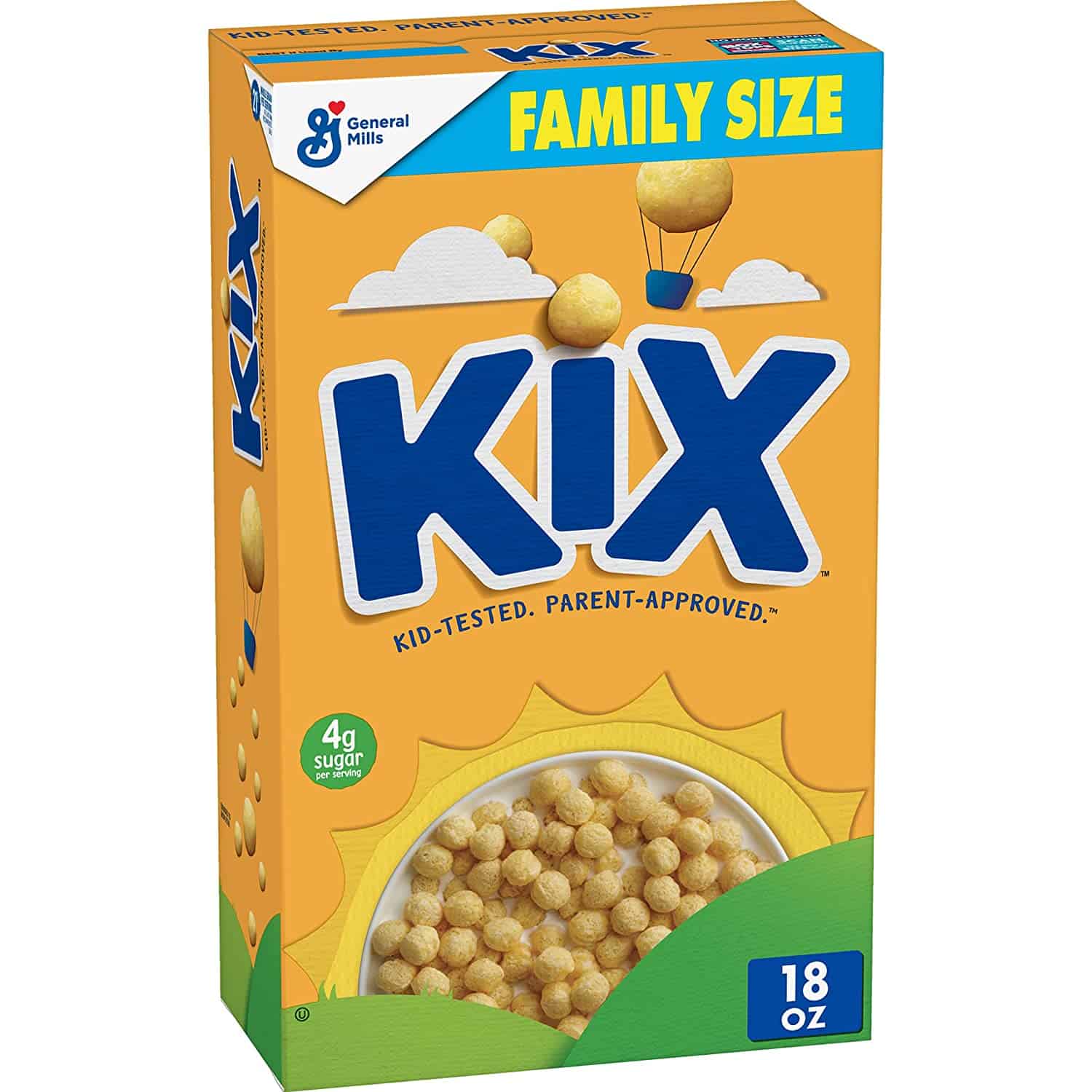 These kid-tested crispy corn puffs have glued themselves to supermarket stands since their debut in 1937. According to General Mills' Blog, they were the first batch of puffed corn ever to be made. Impressive right? Its great taste and good-for-you ingredients have helped kids get a bright start to their day all over the country.
Nutrition Facts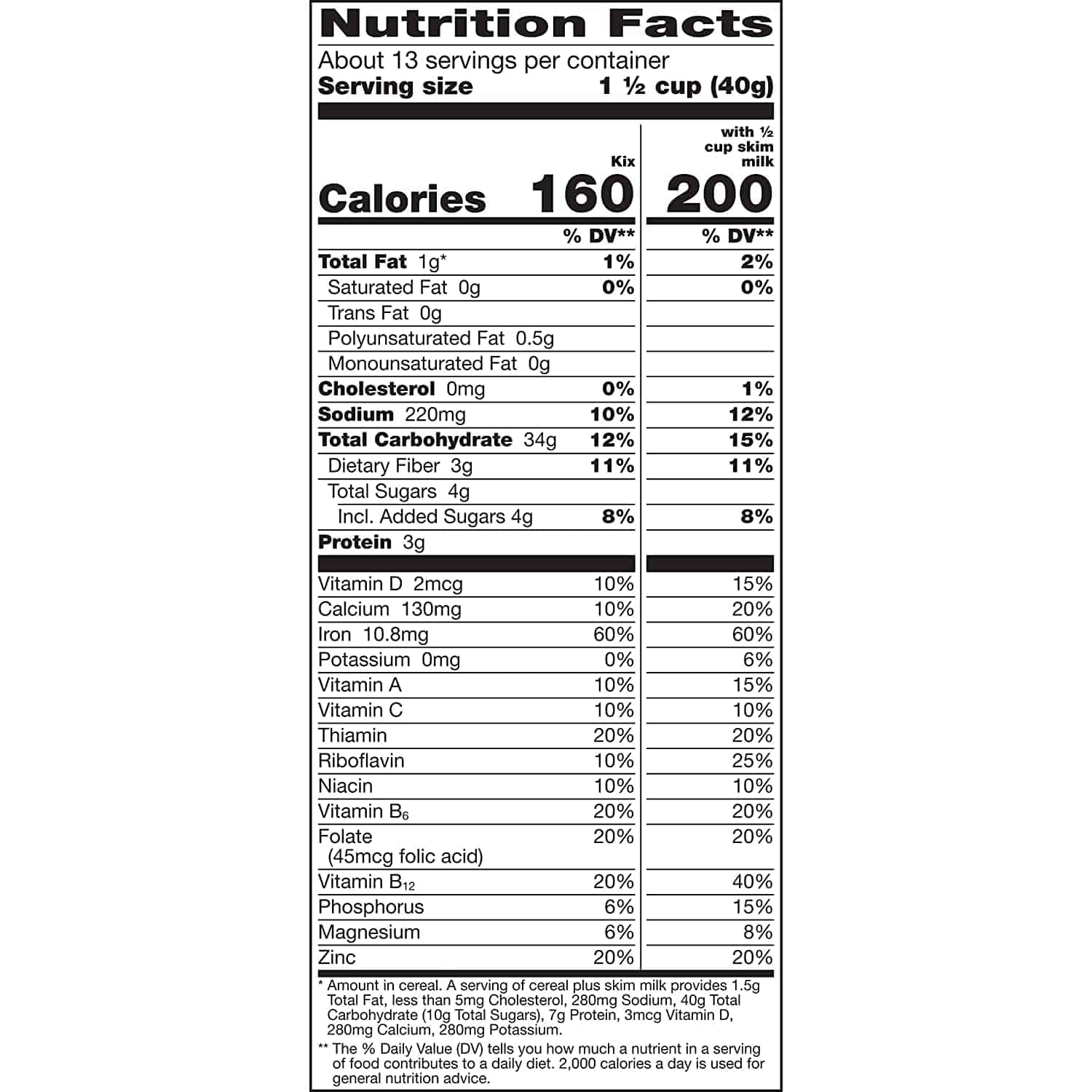 Serving size of 1 1/2 cups contains:
Calories: 160
Total Fat: 1g / 1% DV
Saturated Fat: 0g / 0% DV
Trans Fat: 0g
Polyunsaturated Fat: 0.5g
Monounsaturated Fat: 0g
Cholesterol: 0mg / 0% DV
Sodium: 220mg / 10% DV
Total Carbohydrate: 34g / 12% DV
Dietary Fiber: 3g / 11% DV
Sugars: 4g
Added Sugars: 4g / 8% DV
Protein: 3g
Vitamin D: 2mcg / 10% DV
Calcium: 130mg / 10% DV
Iron: 10.8mg / 60% DV
Potassium: 0mg
Vitamin A: Void / 10% DV
Vitamin C: Void / 10% DV
Thiamin: Void / 20% DV
Riboflavin: Void / 10% DV
Niacin: Void / 10% DV
Vitamin B6: Void / 20% DV
Folate: Void / 20% DV
Folic Acid: 45mcg
Vitamin B12: Void / 20% DV
Phosphorus: Void / 6% DV
Magnesium: Void / 6% DV
Zinc: Void / 20% DV
The Daily Value percentages are based on a diet of 2,000 calories.
Ingredients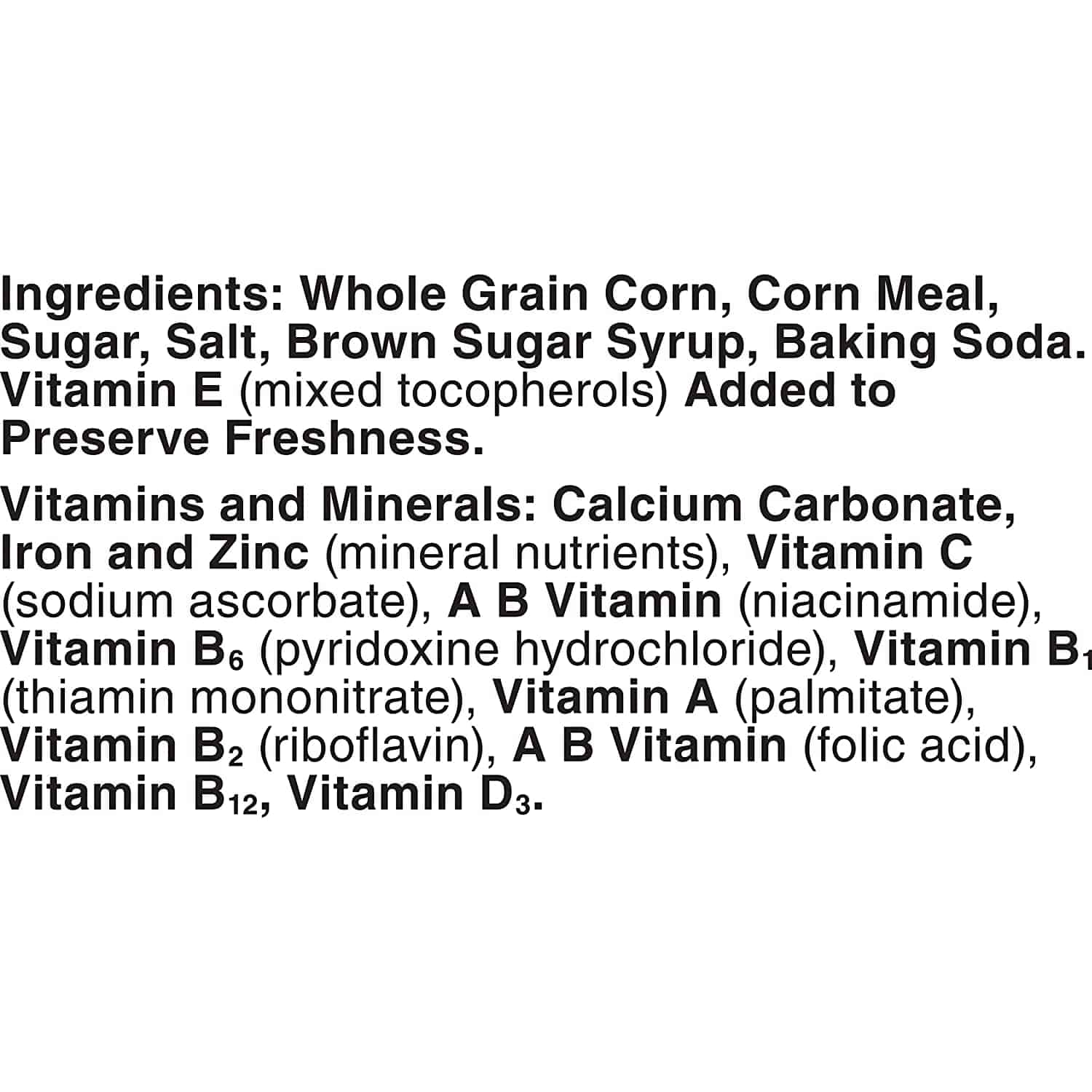 The ingredients found in a Kix Cereal box include:
Whole Grain Corn
Corn Meal
Sugar
Brown Sugar Syrup
Baking Soda
Salt
Mixed Tocopherols (Vitamin E, to preserve freshness)
Minerals and Vitamins / Mineral Nutrients (Calcium Carbonate, Iron and Zinc)
Sodium Ascorbate (Vitamin C)
Niacinamide (Vitamin A and B)
Pyridoxine Hydrochloride (Vitamin B6)
Thiamin Mononitrate (Vitamin B1)
Palmitate (Vitamin A)
Riboflavin (Vitamin B2)
Folic Acid (Vitamin A and B)
Vitamin B12
Vitamin D3.
Is Kix Cereal Healthy?
Understanding the nutrition label will help you determine if what you're eating is healthy. Typically, anything with artificial flavors isn't good for you. Thankfully, Kix doesn't contain any artificial preservatives or flavors.
Next, you want to look at the number of calories, cholesterol, and fat within the product. Typically, you want to eat food with healthy fats, such as monounsaturated and polyunsaturated fats, and avoid food with trans fat, saturated fat, and high cholesterol. Kix cereal contains 0.5g of polyunsaturated fat and 0g of cholesterol, trans and saturated fat.
Kix's first ingredient is whole grain corn. Having wholesome grains as the first ingredient is essential to maintaining a healthy meal plan. All in all, Kix is a healthy cereal compared to most kids' cereal that's usually stuffed with sugar.
Is Kix Cereal Gluten-Free?
Kix Cereal doesn't contain any ingredients with gluten in their three flavored bowls of cereal. However, they are not certified as gluten-free because General Mills hasn't labeled them like this. This means the product could be manufactured in an environment where gluten-containing ingredients are present.
Is Kix Cereal Vegan?
Kix cereal is vegan, depending on how strict a vegan you are. Let me explain what I mean by this.
There are two ingredients that some vegans may wish to avoid due to uncertainty. One of these ingredients is sugar. To make it its whiter color, sugar is often filtered with animal bone char. Not all vegans worry about this, but some tend to shun sugar altogether.
Vitamin D3, the last ingredient on the list, is usually made from the grease from a sheep's wool. It is made in small quantities, but some vegans might be uncomfortable eating it.
Is Kix Cereal Keto?
Kix cereal is not keto-friendly. On a keto diet, you typically want to avoid sugars and added sugars. Although Kix is a great children's cereal, it's not appropriate to stay in ketosis. You can calculate your ideal consumption using a keto calculator. This could determine whether Kix cereal is right for your keto diet.
Is Kix Cereal High In Protein?
Kix Cereal provides 3g of protein, which isn't as high as some of its cereal friends. Typically, the healthier cereals will contain close to 10g of protein, sometimes even more! Such as Kashi Go Lean's cereal which contains a whopping 11g in protein. Considering kids love this, it's more on the sweet side than it is plain.
Is Kix Cereal High In Fiber?
For a children's cereal, Kix isn't the lowest in fiber but it certainly isn't high. Its 3g of fiber can look puny compared to Kashi Go Lean's 13g of fiber per serving.
However, the wholesome goodness that comes with Kix cereal should provide enough fiber in your breakfast so you stay full for longer. The whole-grain cereal shouldn't be the first healthy choice for adults, but it will certainly provide good nutrition in helping kids maintain strong bones.
Kix Cereal Varieties
The original Kix went nearly 60 years before introducing its first sibling. Then, in 2009 came another flavor to make the Kix family complete.
Original Kix
This crunchy cereal is proof that the original is always better than the sequel! The original cereal makes a great snack on its own, as well as with milk.
Honey Kix
Doesn't everything taste better with honey? The Honey Kix is lightly sweetened with a rise in sugar, going from 4g to 7g.
Berry Berry Kix
This remains most similar to its original but with a hint of berry goodness. The Berry Kix contains 8g of sugar, which is the highest of the Kix family. Although it's unhealthier, it's still berry nice!
Where You Can Buy Kix Cereal
You can buy a box of Kix at Walmart, Target, or Amazon.
Famous Kix Cereal Commercials
The Lone Ranger upped Kix's sales when children mailed in a box top in exchange for a Lone Ranger safety belt and other appealing items. In 1947, 1.6 million box tops were sent to General Mills.
But this wasn't all that drew attention to Kix. Take a look at some of the most famous Kix commercials throughout the years.
Growing up in the 80s, all kids should remember this jingle on a Saturday morning: Kix, the 1983 commercial

User Reviews
Review Summary
0 out of 5 stars (based on 0 reviews)
Recent Reviews
There are no reviews yet. Be the first one to write one.
Submit a Review