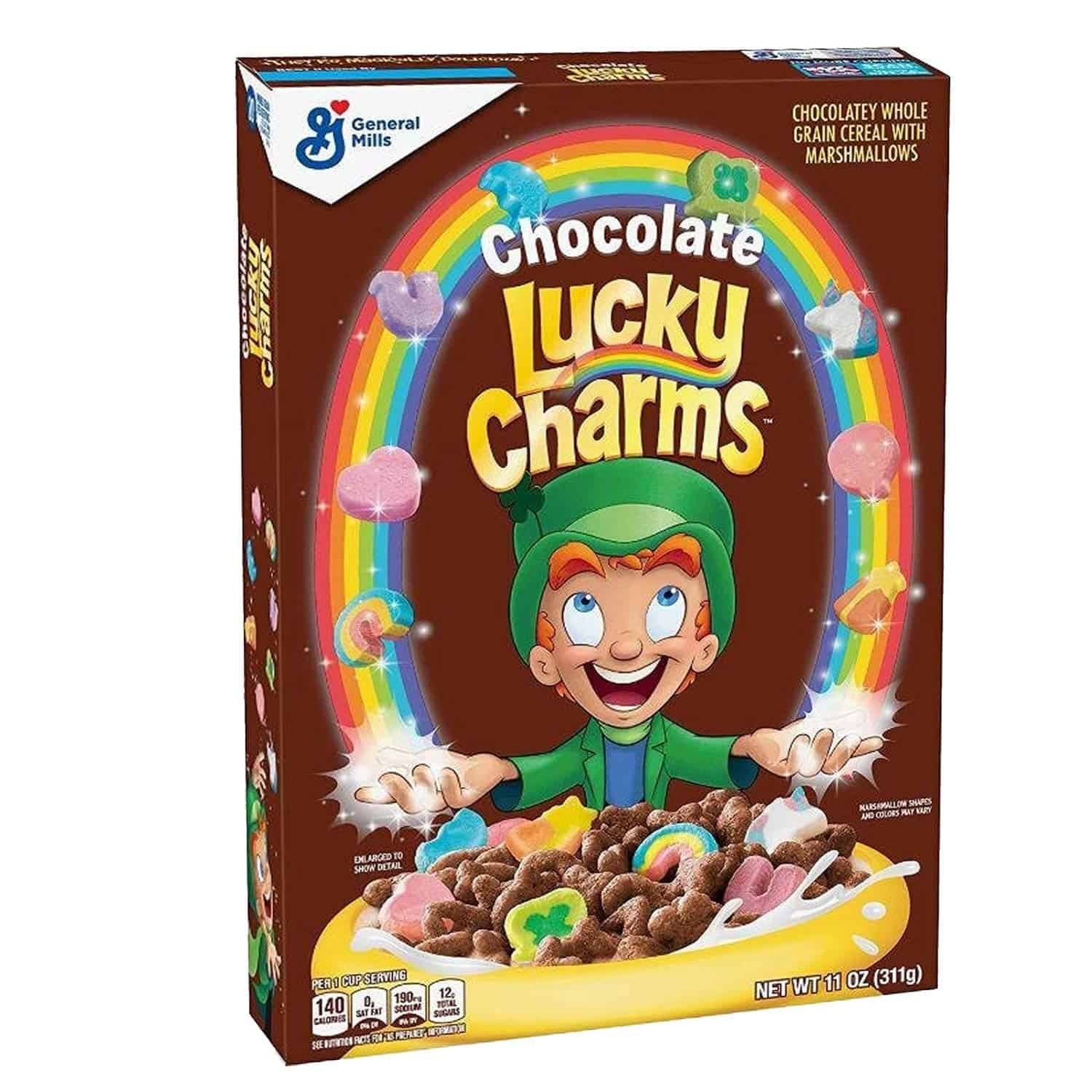 Lucky Charms comes in the shape of an oat-infused cereal boasting tasty marshmallow pieces that many of the commercials describe as 'magically delicious.' Asides from their unique taste, they're also very nutritious.
This delicious marshmallow breakfast cereal is a product of General Mills and was first launched in the 1960s as a breakfast that offers a great source of vitamins and minerals.
However, due to its high sugar content, Chocolate Lucky Charms cereal isn't a prevalent option for everyone.
Nutrition Facts
Based on a serving of 36 grams, the following general nutritional advice can be found on a box of chocolate lucky charms cereal:
Energy kJ: 583.6
Energy kCal: 140
Fat: 1.5 grams (of which saturates: 0.0 grams)
Total Carbohydrates: 30.0 grams (of which sugars: 12.0 grams)
Fiber: 2.0 grams
Protein: 2.0 grams
Salt: 0.5 grams
You can learn more about the general nutrients online.
Ingredients
The ingredients found in Lucky Charms cereal are as follows:
Whole Grain Corn (38%)
Sugar (23%)
Glucose Corn Syrup
Canola and Sunflower Oil
Cocoa Powder
Modified Food (Corn)* Starch, Marshmallows (20%) [Dextrose, Salt, Gelatine (from Beef]
Food Starch,
Emulsifier (E339),
Natural and Artificial Flavourings
Artificial Colours (E129**, E110**, E102**, E133)],
Natural Color added: E170
Acidity Regulator: E341
Iron
Zinc
Vitamin B12, A, B, B1, B2, C, D), Folic Acid
One important point to note, some of the mineral nutrients and ingredients in the delicious Chocolate Lucky Charms cereal may have been genetically modified, such as modified corn starch, colorful marshmallows, cocoa processed artificial flavor, and added sugars.
Are Chocolate Lucky Charms Healthy?
They're not the healthiest cereal on the market. However, they're not the unhealthiest either and do contain large amounts of folic, which is particularly beneficial to those who are pregnant or those trying to get pregnant.
Each serving of Chocolate Lucky Charms Cereal contains 50% of the recommended daily value of folic acid. It is also a great option for those wishing to increase their intake of whole grains, B vitamins, calcium carbonate, and other advantageous vitamins and minerals.
To learn more about the general nutrition advice, it is always a good idea to view the details on the back of the box.
Are Chocolate Lucky Charms Gluten-Free?
Yes, they are! Those wishing to stick to a gluten-free diet or those who suffer from Celiac disease can enjoy Chocolate Lucky Charms cereal as it is gluten-free.
Each box boasts less than 20 ppm gluten. To ensure this, also check the actual product packaging.
Are Chocolate Lucky Charms Vegan?
Unfortunately, Chocolate Lucky Charms cereal is not suited to those who wish to stick to a vegan diet. Why? They boast gelatin, which isn't a product that is classed as vegetarian or vegan.
Each box is also high in sugar, natural flavors as well as artificial colors, and vitamin D3, which are all classed as shady non-vegan ingredients, which many vegans prefer to avoid.
Are Chocolate Lucky Charms Keto?
Per a 21-gram serving, Lucky Charms Cereal from General Mills boasts 19% of calories; these equate to the Net Carbs. This makes this delicious breakfast cereal safe for those wishing to follow a keto diet.
Are Chocolate Lucky Charms High In Protein?
One single serving of the Lucky Charms chocolate cereal pieces boasts 22 grams of carbohydrates. This is important for energy!
Those leading a full lifestyle should consume at least 130 grams of carbohydrates each day. If your lifestyle is highly active, you may need to up this intake!
Each serving contains 2 grams of protein. You can add the likes of milk, nut butter, seeds, or Greek yogurt to your cereal bowl to increase your protein intake.
Are Chocolate Lucky Charms High In Fiber?
This cereal is celebrated for its magical unicorn marshmallows as opposed to its fiber content. This breakfast option only contains two grams of fiber per serving. This cereal is better as a one-off treat instead of an everyday breakfast option.
Chocolate Lucky Charms Varieties
There are a total of four regular Lucky Charms varieties; these include the original flavor, Frosted Flakes, Fruity, and of course, Chocolatey delicious Lucky Charms.
Whichever style you choose, you can ensure you're met with the likes of stars, hearts, clovers, horseshoes, blue moons, rainbows, unicorns, and tasty red balloons. It's definitely a fun shape kids-style well, rounded breakfast.
Chocolate Lucky Charms Store Brand Alternatives
Marshmallow Fruit Loops, Count Chocula, Boo Berry, and Marshmallow Rice Crispies are just a few alternatives to Chocolate Lucky Charms.
All can be found on the same aisle in the grocery store or can be purchased online.
Where You Can Buy Chocolate Lucky Charms
You can buy your favorite cereal in-store at local grocery stores or online at a variety of retailers. If you dine on this whole-grain cereal a lot, you may even wish to purchase it in bulk!
As well as being a cereal kids love, it also boasts adult appeal too and is therefore deemed suitable for the whole family.
Famous Chocolate Lucky Charms Cereal Commercials
These cereals get an average rating value of 5 stars in terms of being absolutely delicious, and this rings true in the many commercials they have released, with some showcasing information on how this magically delicious kids' brand loves to support schools.
This Chocolate Lucky Charms commercial from 2006 features the famous leprechaun alongside several other cutesy characters and embodies the brand's colorful, child-like ethos.
Here you can view a compilation of Lucky Charms commercials, all featuring the famed leprechaun and mascot, as well as his many colorful charms, which spread magically cheer to all who enjoy this cereal, which has been in existence for more than four decades.
On top of famous commercials, you can also find several video reviews online, many of which give this whole-grain cereal an average rating value of 5 stars, contributing to your daily diet and being the best cereal for the entire family. One such review can be found on YouTube via the same page link.
User Reviews
Review Summary
0 out of 5 stars (based on 0 reviews)
Recent Reviews
There are no reviews yet. Be the first one to write one.
Submit a Review