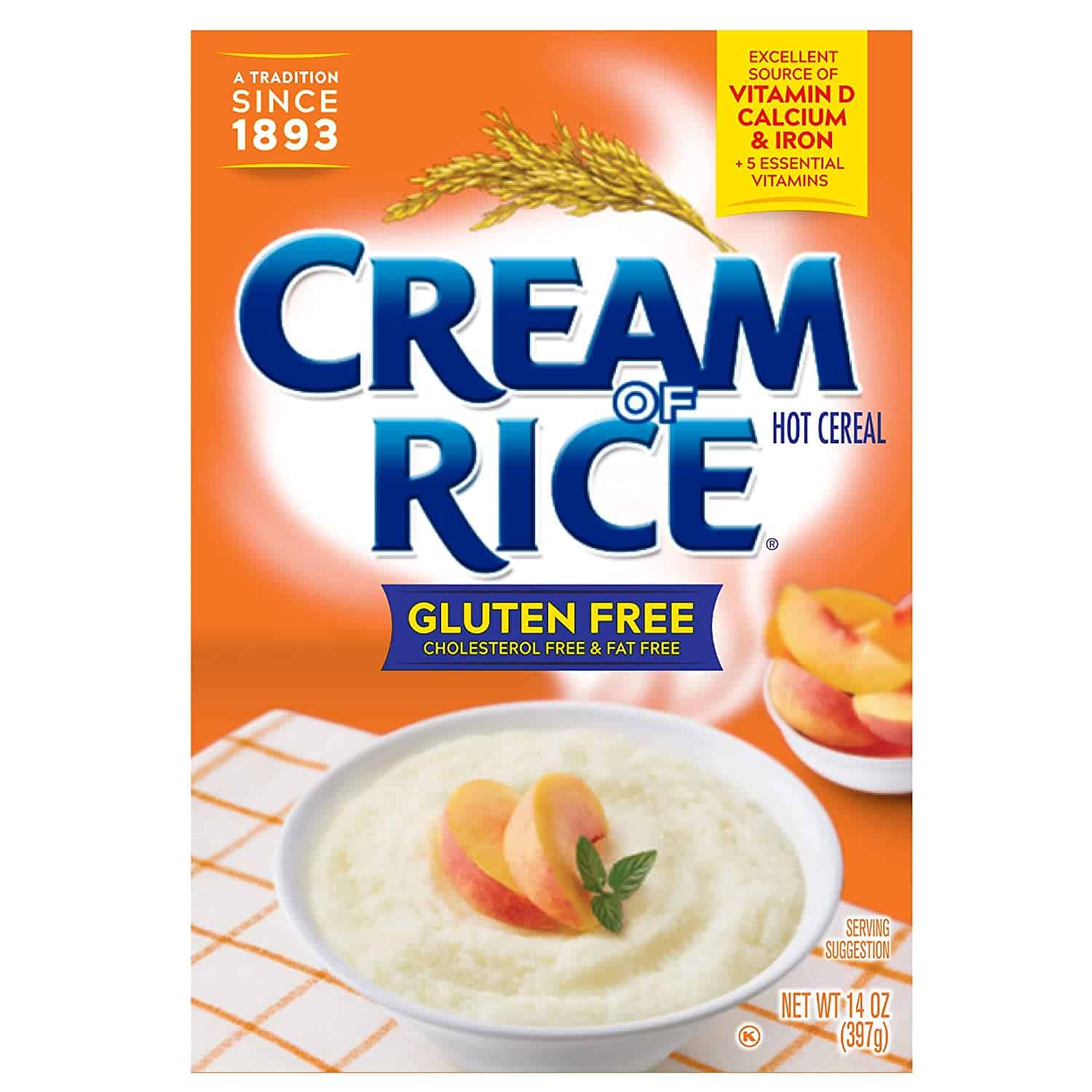 Nabisco's trademarked name is Cream of Rice, made of coarse flour prepared from uncooked rice and is a good source of vitamins and minerals, creating a hot, delicious bowl of gluten-free goodness.
Often served as a delicious hot bowl of cereal for breakfast, this delightful cereal is used in soups and desserts and substitutes for flour. Cream of Rice is a mainstay in Asian cultures and is often used as a thickening ingredient.
Nutrition Facts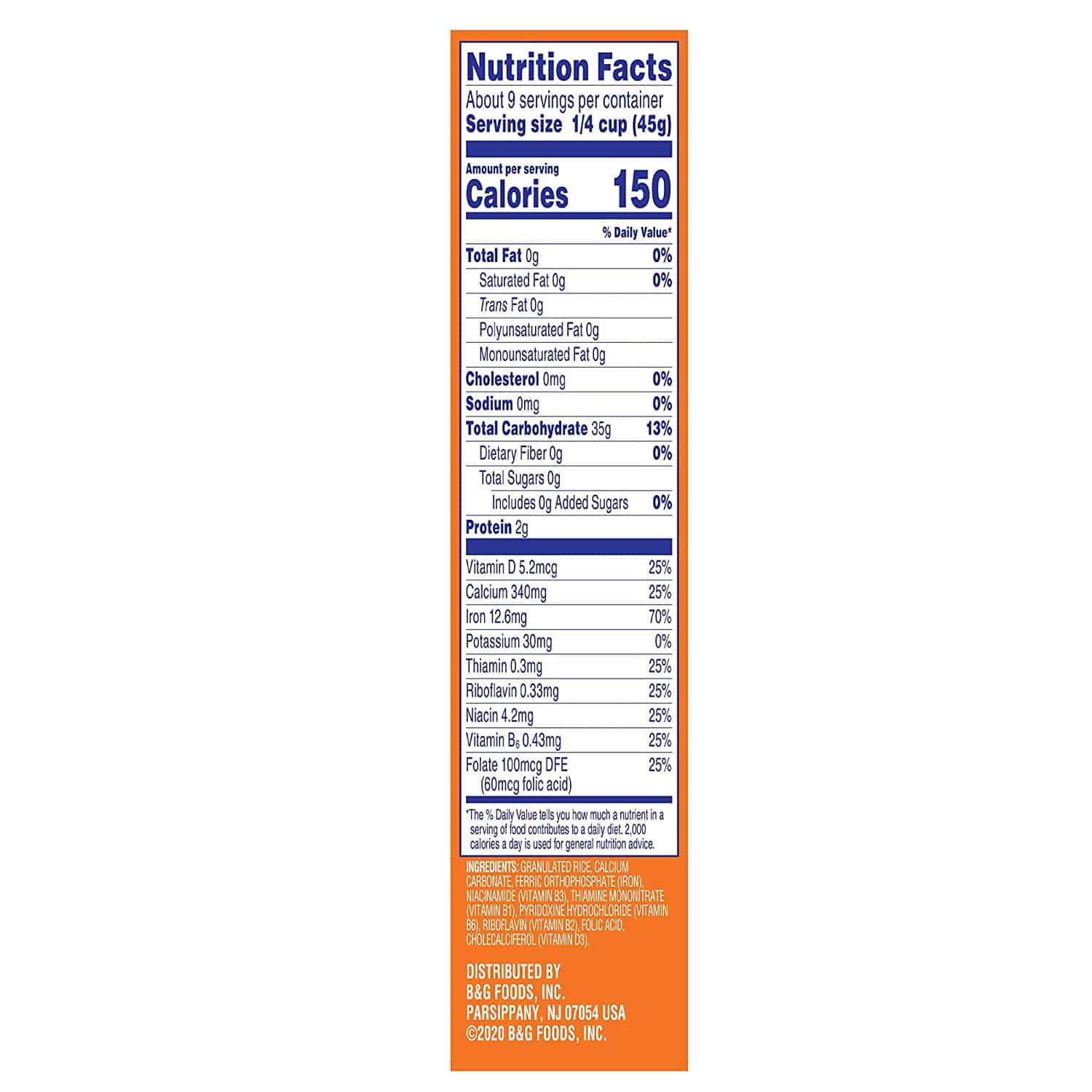 A single serving (43g) of Cream of Rice contains the following nutritional information:
Calories – 150
Total Fat / Cholesterol / Sodium – 0g / 0%
Total Carbohydrates – 33g / 12%
Protein – 2g
Calcium – 330mg / 25%
Iron – 12.1mg / 70%
Vitamin D – 5mcg / 25%
Thiamin – 0.3mg / 15%
Riboflavin – 0.3mg / 25%
Niacin – 4mg / 25%
Vitamin B6 – 0.4mg / 25%
Folate – 95mcg DFE 55/ 25%
Potassium – 30mg / 0%
The Daily Value of a nutrient indicates how much a single serving contributes to a daily diet of 2000 calories. The Daily Value may vary depending on your calorie consumption.
Ingredients
Cream of Rice contains the following elements:
Granulated Rice
Calcium Carbonate
Ferric Orthophosphate (Iron)
Niacinamide (Vitamin B3)
Thiamine Mononitrate (Vitamin B1)
Pyridoxine
Hydrochloride (Vitamin B6)
Riboflavin (Vitamin B2)
Folic Acid
Cholecalciferol (Vitamin D3)
Is Cream Of Rice Cereal Healthy?
While rice may seem bland and uninteresting on the surface, when its nutritional profile and versatility are examined, it reveals itself to be a 'superfood' in its own right. You may be surprised to learn that rice contains over 15 critical vitamins and minerals, including B6, B1, B3, folate, iron, and magnesium.
However, the benefits of rice for bodybuilding extend well beyond these circumstances. The quantity of carbohydrates consumed by a bodybuilder to get the energy required to grow is equally as critical as the amount of protein consumed.
While many weight-loss and even some strength-building diets call for a high-protein, low-carbohydrate diet, this is not necessarily true for bodybuilders. Muscle development requires a range of nutrients and protein to sustain your strenuous workout program.
This delicious cereal is also a good solid food choice for babies, seeing as it's fat-free. Physicians recommend rice cereal for babies because they are naturally fat-free, dairy-free, naturally cholesterol-free, and sodium-free food.
In terms of bodybuilding, one of the most significant benefits of Cream of Rice is that it is one of the most reliable and cleanest fuel sources to develop. This instant hot cereal is an easily digested carbohydrate that does not cause stomach irritation and delivers continuous energy throughout their exercises.
Is Cream Of Rice Cereal Gluten-Free?
Cream of Rice is naturally gluten-free, which is crucial for gluten intolerant people who have an autoimmune disease, celiac disease. It is the gluten-free hot cereal alternative to Cream of Wheat. The rice gluten-free hot cereal is approved and proudly sponsored by The Celiac Disease Foundation.
Is Cream Of Rice Cereal Vegan?
Vegans can enjoy Cream of Rice cereals. Animal byproducts are the most common source of Vitamin D in grains. The lanolin in Vitamin D comes from sheep oil, found in their wool or fatty fish. The Vitamin D in Nabisco's Cream of Rice is derived from plants. Typically, algae serve as the source of plant-based Vitamin D. Vegans and vegetarians may eat it without fear.
Is Cream Of Rice Cereal Keto?
Because of its high carb content, Cream of Rice Hot Cereal is not keto-friendly. Even a tiny portion size may be enough to knock you out of ketosis. Cream of Rice Hot Cereal is heavy in carbohydrates and low in fats, the polar opposite of the macros necessary for a keto diet.
Wildway Instant Hot Cereal Cups and Keto & Co. Hot Breakfast are suitable alternatives. Compared to Cream of Rice, Wildway Instant Hot cereal cups are made from ground coconut flour and paleo/keto-friendly ground nuts and seeds and come in chocolate and cinnamon flavors. The cereal has a net carbohydrate content of 10 grams and a fat content of 20 grams.
Keto & Co. Hot Breakfast is made from ground coconuts, is powdered, and is designed to be mixed with hot milk, water, or coconut oil before consumption. Additionally, it has some of the lowest net carbohydrate content of any cereal: just 3.5 grams per serving, combined with 3 grams of protein and 19 grams of total fat.
Is Cream Of Rice Cereal High in Protein?
This rice gluten-free hot cereal only contains 2mg of protein. Bodybuilders often add a scoop of protein powder to Cream of Rice before adding water as their pre-workout meal. On its own, this is a lackluster amount of protein if you follow a high protein diet.
Is Cream Of Rice Cereal High in Fiber?
Cream of rice is not a good source of fiber and contains 0g of dietary fiber. However, do not be alarmed. By adding fiber-dense fruits, nuts, and seeds to your cream of rice, you can suddenly transform it into a high-fiber morning cereal. According to the USDA, one tablespoon of chia seeds has around 69 calories, 2.3 grams of protein, and 4.9 grams of fiber.
Cream Of Rice Cereal Store Brand Alternatives
Oats and Nabisco's Cream of Wheat are a better alternative than Cream of Rice if you're hunting for a high-fiber breakfast cereal.
Where You Can Buy Cream Of Rice Cereal
This gluten-free cereal is available at large retailers as well as independent retailers. Cream of Rice is also available online via merchants such as Amazon, Walmart, and Instacart.
Famous Cream Of Rice Cereal Commercials
Nabisco has owned Cream of Rice since 1961, although the cereal dates back to 1893. When families want a hot cereal, Cream of Wheat and Oats are the go-to cereals.
When Cream of Rice debuted in 1974, the commercial featured a grocer persuading a woman whose family was not interested in oats or hot wheat cereal. According to The Grocer's well-known slogan, Cream of Rice was the "Ricest way to start your day."
User Reviews
Review Summary
0.0 out of 5 stars (based on 0 reviews)
Recent Reviews
There are no reviews yet. Be the first one to write one.
Submit a Review