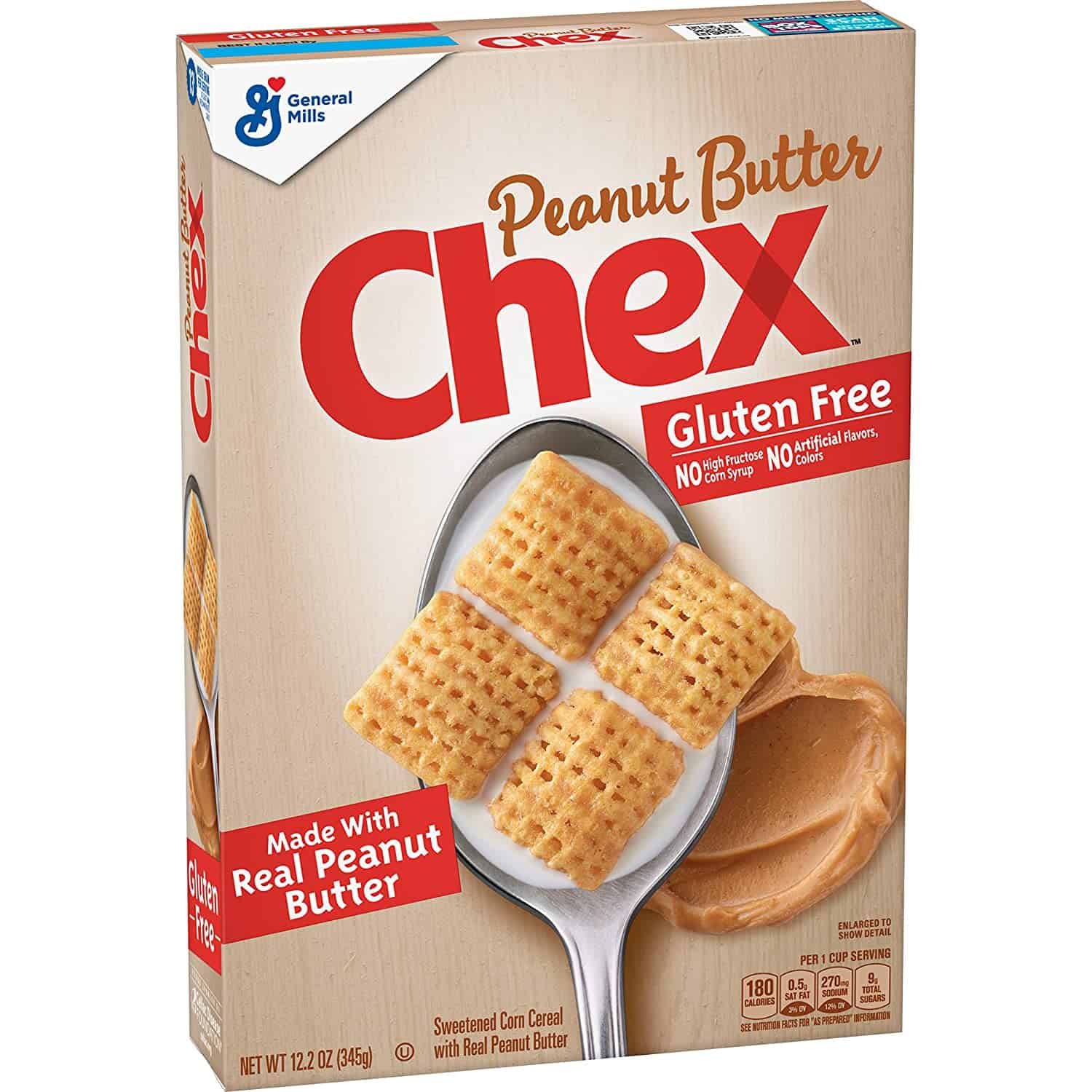 Peanut Butter Chex™ is one of the most delicious breakfast cereals out there. Made with real peanut butter and a soft, crispy Chex exterior – the whole family will love waking up to a bowl of this every morning.
If you're a fan of peanut butter (and let's face it, who isn't?), then you're going to love Peanut Butter Chex. This gluten-free peanut butter cereal contains no high fructose corn syrup and no artificial flavors or colors.
Eat a bowl by itself at breakfast time, chuck some PB Chex in a salty snack mix for taking to school or work, or mix them with chocolate, sugar, and butter to make peanut butter muddy buddies – the perfect snack for party time!
Keep reading to find out more about Peanut Butter Chex breakfast cereal.
Nutrition Facts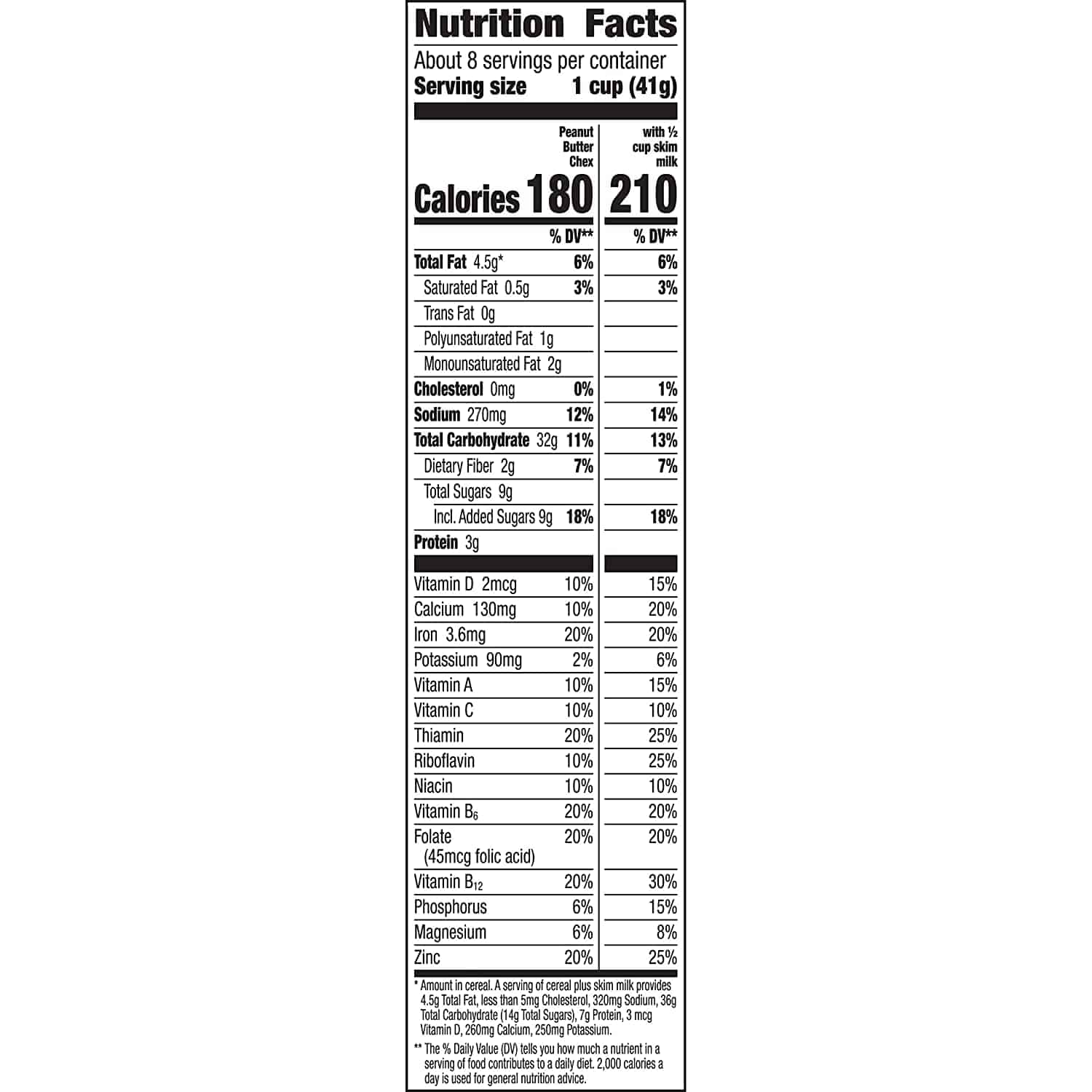 Servings per container: 14
Serving Size: 41.00 g
Amount per serving / % Daily Value
Calories: 210
Fat: 5 g / 6% daily value
Saturated Fat: 1grm / 5% daily value
Trans Fat: 0grm
Polyunsaturated Fat: 1grm
Monounsaturated Fat: 2.5grm
Cholesterol: 5mg / 1%
Sodium: 320mg / 14% daily value
Total Carbohydrate: 37g / 13% daily value
Dietary Fiber: 2grm / 7% daily value
Soluble Fiber: 0grm
Insoluble Fiber: 1grm
Sugars: 9grm
Includes Added Sugars: 9grm
Protein: 8grm / 15% daily value
Vitamin A: 170mcg / 15%
Vitamin C: 9mg / 10%
Calcium: 280mg / 20%
Potassium: 290mg / 6%
Iron: 10.8mg / 60%
Vitamin D: 3mcg / 15%
Vitamin E: 0mg / 0%
Thiamin: 0.2mg / 20%
Riboflavin: 0.4mg / 25%
Niacin: 10%
Vitamin B6: 0.3mg / 20%
Folic Acid: 45.00mcg
Vitamin B: 121mcg / 40%
Phosphorus: 190mg / 15%
Magnesium: 40mg / 8%
Zinc: 2.2mg / 20%
* The % Daily Value (DV) reflects how much a nutrient serving in food contributes to the amount recommended for a daily diet.
Ingredients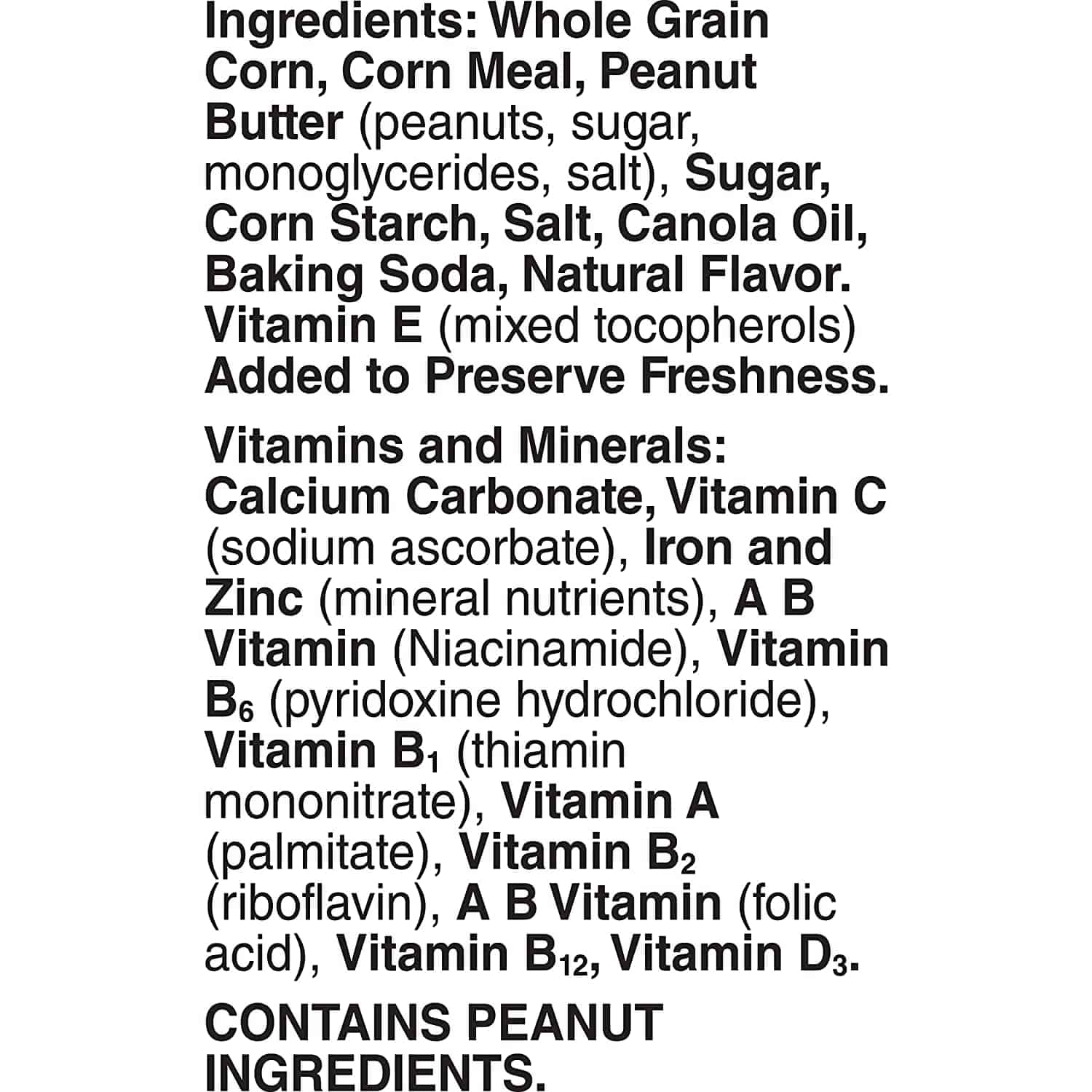 Whole Grain Corn, Corn Meal, Sugar, Peanut butter (peanuts, sugar, monoglycerides, salt), Corn Starch, Canola and/or Sunflower Oil, Salt, Baking Soda, Natural Flavors, Mixed Tocopherols.
Vitamins and minerals
Calcium Carbonate, Iron and Zinc (mineral nutrients), Vitamin C (sodium ascorbate), A B Vitamin (Niacinamide), Vitamin B6 (pyridoxine hydrochloride), Vitamin B1 (thiamin mononitrate), Vitamin A (palmitate), Vitamin B2 (riboflavin), A B Vitamin (folic acid), Vitamin B12, Vitamin D3.
It's important to note that peanut allergies present a serious threat to some people. Peanut Butter Chex is produced separately from all other products, so there's no possibility of cross-contamination.
Is Peanut Butter Chex Cereal Healthy?
This wholesome breakfast cereal offers a decent balance of nutritious ingredients, vitamins, and minerals.
Chex crunchy squares hold real peanut butter and less sugar than many other General Mills breakfast cereal options and Chex products like Honey Nut Chex, with just 9 grams per serving. You can also make your bowl of Chex a bit healthier in the morning by adding some fresh sliced fruit.
That being said, this is still a high-carb processed food that isn't as healthy as other cereal options like porridge, unsweetened muesli, or other whole grain products.
This cereal is also a key ingredient in favorite snack foods like classic muddy buddies and snack mix recipes. However, when mixed with other sugary ingredients, it's easy for this cereal to go from being relatively healthy to being very unhealthy.
Is Peanut Butter Chex Cereal Gluten-Free?
Yes, those with an intolerance to gluten will be happy to know that this is a gluten-free cereal as it doesn't contain any wheat or whole grain.
In fact, most Chex products are gluten-free, including Rice Chex, Corn Chex, Honey Nut Chex, Cinnamon Chex, Chocolate Chex, and Vanilla Chex.
Is Peanut Butter Chex Cereal Vegan?
This cereal is generally considered vegan. It contains real peanut butter, which is always vegan, and simply contains a mixture of peanuts, salt, and oil.
However, it's important to note that this cereal does contain sugar, natural flavor, and Vitamin D3, which are ingredients some vegans tend to avoid.
Be sure to check the box and read the ingredients before deciding if this is the right cereal for you.
Is Peanut Butter Chex Cereal Keto?
No, it's not suitable for those following a keto diet. This cereal contains 37grms of carbs per serving, which is more than the daily keto carb allowance. It's also highly processed and contains ingredients like sugar and canola oil which are generally avoided on a keto diet.
Is Peanut Butter Chex Cereal High in Protein?
Chex contains 13 grams of protein per serving, which is 15% of the daily value recommendation. This means they're relatively high in protein, making them a great option for starting the day or snack time.
Is Peanut Butter Chex Cereal High in Fiber?
No, this breakfast cereal isn't high in fiber, with just 2 grams of dietary fiber per serving, which is just 7% DV. This is much lower than many other breakfast cereal options like porridge or bran flakes.
Peanut Butter Chex Cereal Store Brand Alternatives
There are plenty of other creamy peanut butter flavored cereals on the market, such as Reese's Puffs, Peanut Butter Crunch, and Kellogg's Crunchy Honey Nut Bites.
But if you're looking for the best cereal that offers delicious flavor and simple goodness, Peanut Butter Chex is the way to go.
Where You Can Buy Peanut Butter Chex Cereal
You can purchase a box of this gluten-free breakfast cereal from Amazon, Walmart, Target, and other local supermarkets. Ask in your local store or check online to see where PB Chex is available near you.
Famous Peanut Butter Chex Cereal Commercials
Chex cereal has been around for a very long time. The brand has a rich marketing history, and for many years advertisements featured characters from Charles Schulz's famous Peanuts comic strip.
This famous video advertisement from the 1980s shows a family of kids sitting around a table trying Chex cereal for the first time. Another notable advertisement from 1980 is The Chexpress Train which is an animation showing kids eating various Chex products accompanied by a catchy jingle.