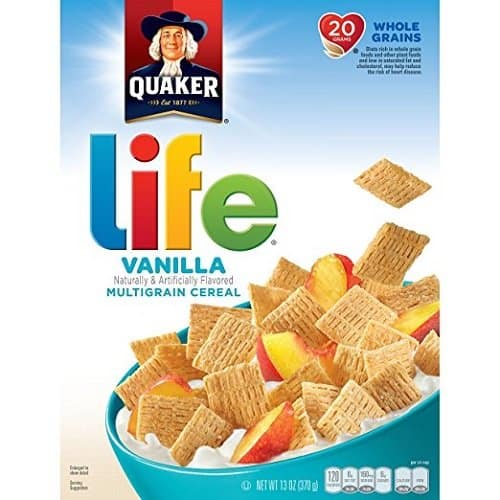 You probably remember waking up, heading down to the kitchen, and starting your day with a delicious bowl of Quaker Life Vanilla multigrain cereal. Over the years, this hearty breakfast cereal has become a staple in many family pantries.
Life Cereal is owned by Quaker Oats and has been around since 1961. It comes in various flavors, including Original Life cereal, Chocolate Life cereal, and Cinnamon Life cereal. But one of the best is the Vanilla Life Cereal Flavor, which has a familiar hint of yummy vanilla flavor, which is the perfect treat to start the day.
This breakfast cereal is simple, sweet, and filled with essential nutrients to keep you energized throughout the day. Made with whole grains and oats, the mouth-watering taste and soft crunch texture of this cereal is decidedly healthy. Each serving of Quaker Vanilla Life Cereal contains 26 grams of whole grains and is a great source of calcium and B5 vitamins.
Achieving just the right balance of crunchy and sweet, Quaker Life cereal promotes good heart health while satisfying the whole family. Giving Life Vanilla cereal, with its great delicious vanilla flavor, to your family at breakfast time is a great way to start their day off on the right foot. It'll soon become everyone's favorite cereal!
Nutrition Facts
One serving size of Vanilla Life cereal is 42 grams. There are approximately 9 servings per box.
The % Daily Value (DV) is calculated based on a diet of 2000 calories per day. Note that this might change depending on your specific circumstances.
Total Fat: 2g / 2% DV
Saturated Fat: 0.0g / 0% DV
Trans Fat: 0.0g
Polyunsaturated Fat: 0.5g
Monounsaturated Fat: 0.5g
Cholesterol: 0.0mg / 0% DV
Sodium: 210.0mg / 9% DV
Total Carbohydrate: 33g / 12% DV
Dietary Fiber: 3.0g / 10% DV
Soluble Fiber: <1.00g
Sugars: 8.0g / 16% DV
Includes Added Sugars: 8.0g
Protein: 4.0g
Vitamin A: 0%
Vitamin C: 0%
Calcium: 150.0mg / 10%
Potassium: 110.0mg / 2%
Iron: 13.1mg / 70%
Vitamin D: 0.0mcg / 0%
Thiamin: 0.3mg / 25%
Riboflavin: 0.3mg / 25%
Niacin: 4.0mg / 25%
Vitamin B6: 0.4mg / 25%
Folic Acid: 134.0mcg / 100%
Phosphorus: 130.0mg / 10%
Zinc: 25%
Ingredients
Whole Grain Oat Flour, Sugar, Corn Flour, Whole Wheat Flour, Rice Flour, Salt, Calcium Carbonate, Natural and Artificial Flavor, Disodium Phosphate, Reduced Iron, Niacinamide, Zinc Oxide, BHT (Preservative), Yellow 5, Yellow 6, Thiamin Mononitrate, Riboflavin, Pyridoxine Hydrochloride, Folic Acid.
Is Vanilla Life Cereal Healthy?
Yes, Vanilla Life Cereal is relatively healthy, especially when compared to other cereals on the market. Each bowl contains 26 grams of whole grains, which are essential for good heart health. Diets that are rich in whole grain foods and low in cholesterol and fat can help minimize the risk of heart disease.
Each serving is an excellent source of B5 vitamins and calcium, which are essential for maintaining your overall health. Moreover, this cereal contains no artificial preservatives, although it does have a fake vanilla flavor that gives this cereal its signature taste.
What's more, this great-tasting cereal has a slight vanilla that doesn't have the same chemical fake taste as many other sweet breakfast cereals out there.
Is Vanilla Life Cereal Gluten-Free?
No, this cereal is not gluten-free. All Quaker Life cereals contain whole wheat, meaning they're not suitable for consumption by those with a gluten intolerance or allergy.
Is Vanilla Life Cereal Vegan?
Life cereal is generally considered to be vegan as it doesn't contain any animal ingredients like milk, gelatin, or honey. It does contain sugar, though, which is a controversial ingredient for vegans. This is because non-organic cane sugar can be filtered using bone char which comes from cattle bones.
If you're vegan and want to enjoy the great vanilla taste of this Life cereal, consider adding a splash of non-dairy almond milk, soy milk, or rice milk to your bowl.
Is Vanilla Life Cereal Keto?
No, Vanilla Life is not suitable for those following a strict keto diet. Each serving contains 33 grams of carbohydrates. Those doing the keto diet prefer eating between 20-50 grams of carbohydrates per day, which means this product is not suitable. It also contains sugar which is what helps create the sweet vanilla taste, which most people on a keto diet also tend to avoid.
Those following a keto diet favor foods with a high fat and low carb content, such as eggs, dairy, meat, and lean vegetables.
Is Vanilla Life Cereal High in Protein?
Each serving of Vanilla Life has 4 grams of protein. This means it's not especially high in protein when compared to other cereal options on the market.
Is Vanilla Life Cereal High in Fiber?
A bowl of this cereal contains just 3 grams of fiber.
It's surprisingly low in fiber when you consider that it contains a large amount of whole grain. Whole grain means you're eating the entire grain, as opposed to a refined version where essential nutrients have been stripped or removed.
Vanilla Life Cereal Store Brand Alternatives
There are plenty of alternatives to this cereal. You can browse your local supermarket to find similar products that are high in whole grain and have a delicious vanilla finish. Life cereals also come in a range of delicious flavors, so you can mix things up if you want to try something different.
Where You Can Buy Vanilla Life Cereal
You can buy Life cereal at your local Target or Walmart store or many regular supermarkets. Head to the official Quaker Oats website to enter your postcode and find shops that stock Vanilla Life cereal near you.
Famous Vanilla Life Cereal Commercials
One of the most famous Life cereal commercials is the Mikey Likes It video advert. In the commercial, kids are refusing to try Life because it's a cereal that's meant to be good for you. They give it to their brother, who doesn't know what the cereal is but really likes it.
User Reviews
Review Summary
0.0 out of 5 stars (based on 0 reviews)
Recent Reviews
There are no reviews yet. Be the first one to write one.
Submit a Review