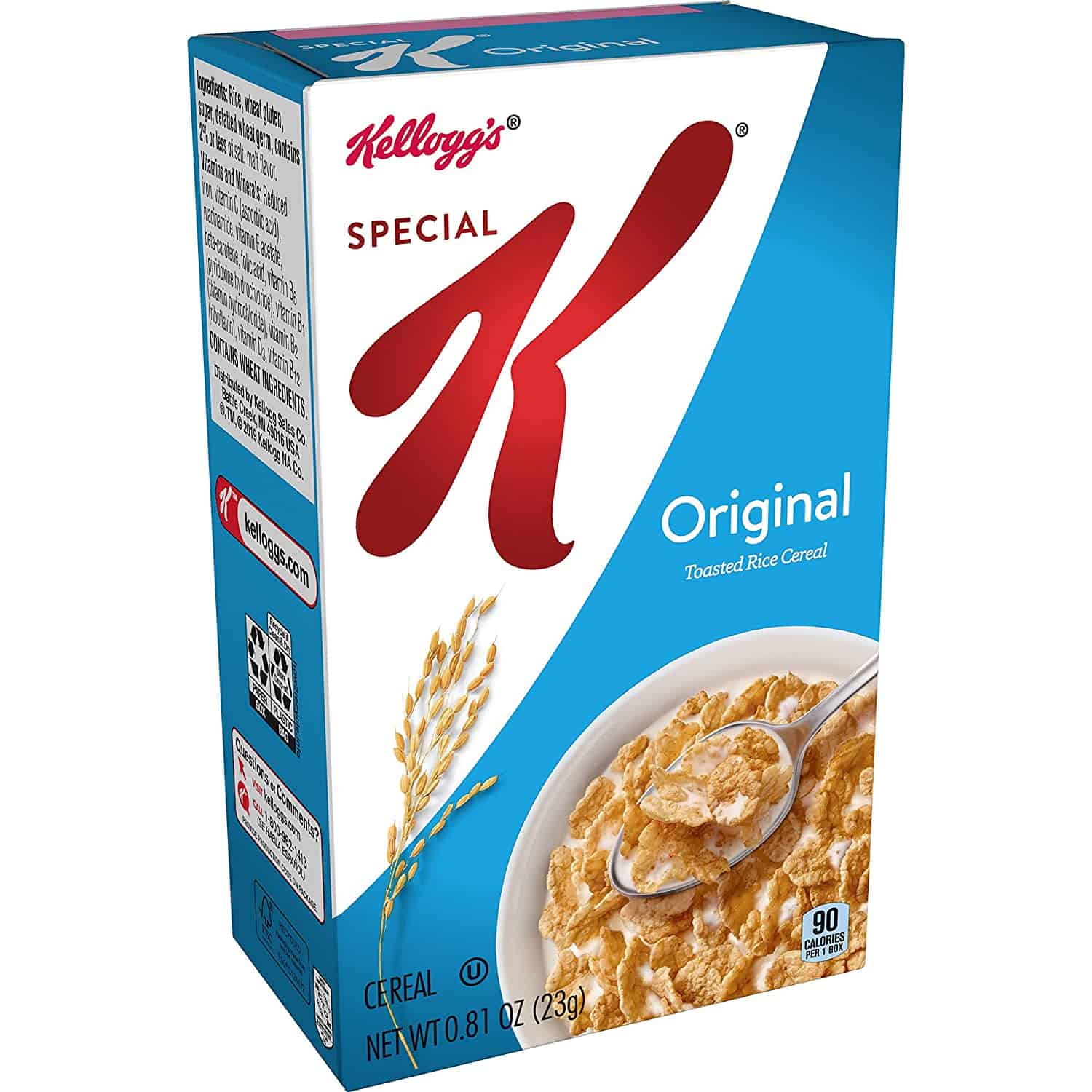 Kellogg's Special K is a delicious cereal that is marketed as a good source of vitamins and minerals. It's a nutrition-based breakfast that's low in calories but full of flavor. The Kellogg's company first released this brand in the country in the 1950s, and since then, it has added many varieties, aiming to make breakfast more healthy and less boring!
Nutrition Facts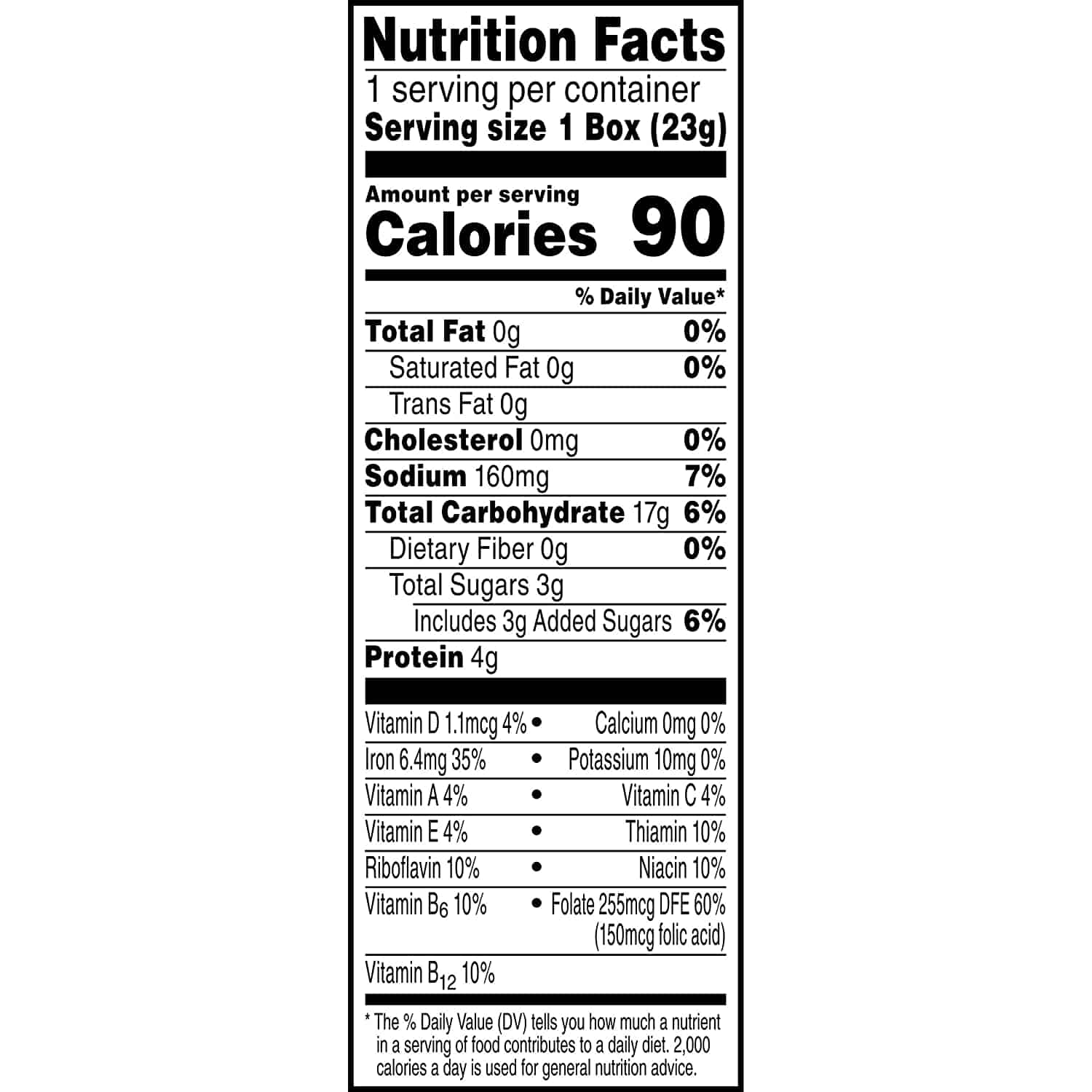 One packet of Original Special K contains a suggested 9 servings. One serving size is equivalent to 30g. The nutritional facts below are based on one serving:
Calories – 118
Total fat – 0.4g / 1%
Saturated fat – 0.1g /1%
Carbohydrates – 25g
Of which sugars – 4.5g / 5%
Defatted wheat germ
Trans fat – 0g
Polyunsaturated fat – 0g
Monosaturated fat – 0g
Colestoral – 0mg
Sodium – 270mg / 12%
Potasium – 10mg / 0%
Totak carbohydrate – 29g / 11%
Dietry fiber – 1.8g
Salt – 02.5g
Total sugars – 5g
Added sugars – 4g / 8%
Protein – 2.4g
Vitamin B12 – 25%
Calcium – 0mg / 0%
Vitamin D – 50%
Niacin – 25%
Vitamin B6 – 25%
Thiamin hydrochloride – 50%
Folic Acid – 50%
Iron – 25%
Zinc – 25%
Riboflavin – 50%
These nutritional facts are based on a diet of 2000 calories a day.
Ingredients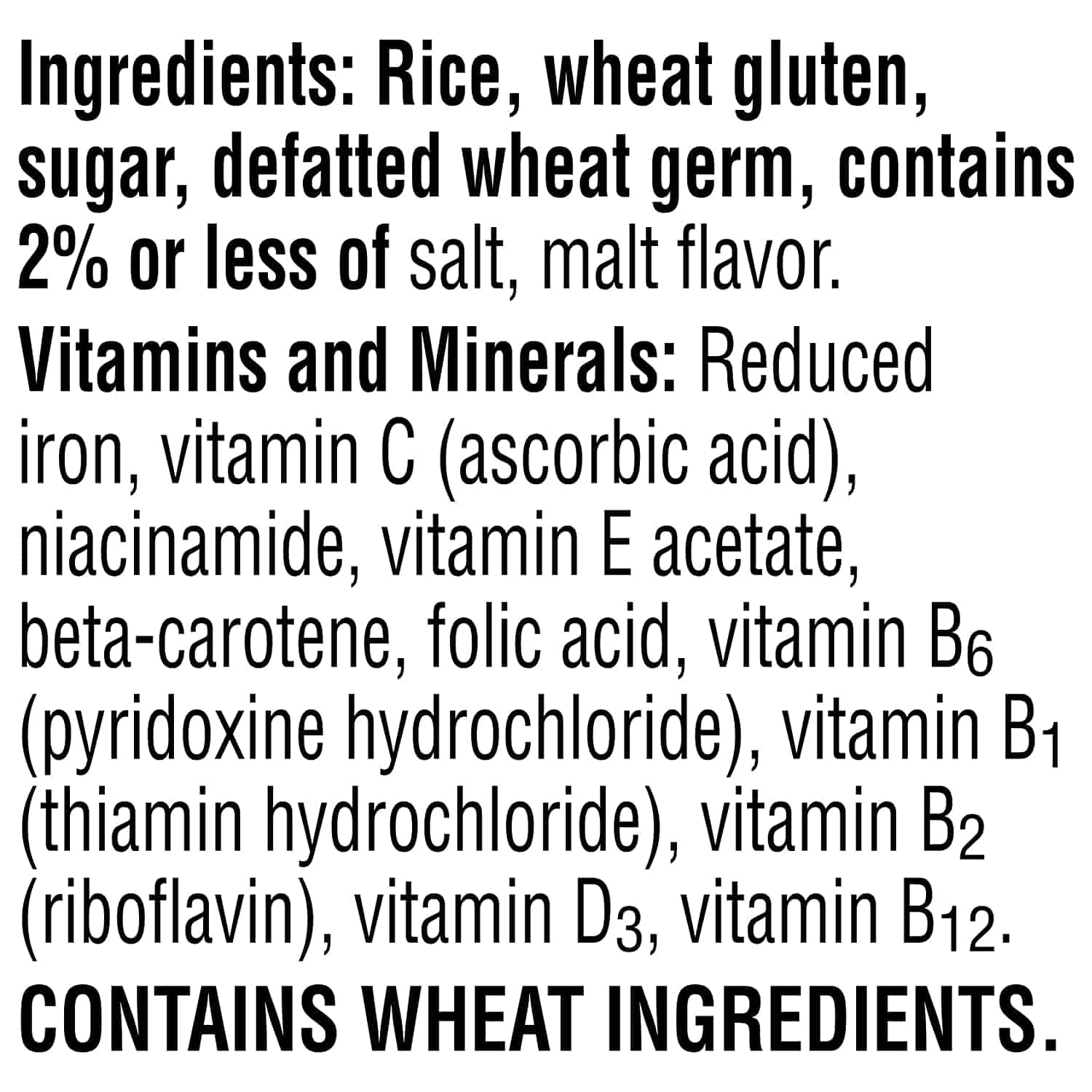 The ingredients of Special K cereals include the following:
Rice – 47%
Wholewheat – 37%
Sugar
Barley – 5%
Malted barley flour
2% or less salt
Barley malt flavor extract
Vitamins and minerals:
Reduced iron
Vitamin C
Niacinamide
Vitamin E acetate
Beta carotene
Folic acid
Vitamin B6
Vitamin B1
Vitamin B2
Vitamin D3
Vitamin B12
Is Special K Cereal Healthy?
Special K Original cereal is high in vitamins and minerals and is low in fat. It's advertised as a healthy option for your breakfast that doesn't make any sacrifices when it comes to flavor.
There has always been a lot of marketing hype around this cereal, with adverts claiming you can drop dress sizes and lose weight if you add Special K to your diet. There is even an advertisement on the side of the box claiming it can assist in achieving and maintaining a healthy weight.
If you look at the ingredients list, the first one is rice. This is more than likely white refined rice which is low in fiber, which isn't good for weight loss since fiber helps us to feel fuller for longer. The third ingredient is sugar, 5g plus an added 4g meaning one serving has a total of 9g of sugar.
Low-fat foods are not always the best option health-wise as they can sometimes compensate for the lack of fat by substituting sugars for flavor. Consuming refined carbohydrates such as white rice causes an insulin spike which makes our body store sugar in our muscles. If this sugar is not used, it turns to fat.
While Special K is a healthy breakfast, it is no more nutritious than your average bowl of cereal. So, as with any cereal, it's best to eat Special K as part of a balanced diet.
Is Special K Cereal Gluten-Free?
Kellogg's Special K is not gluten-free. One of the main ingredients is wheat gluten, so it isn't safe for people who suffer from gluten intolerance or celiac disease.
Is Special K Cereal Vegan?
Special K is not vegan as it contains a milk derivative called calcium caseinate and also Vitamin D3, which is synthesized from sheep's wool.
Is Special K Cereal Keto?
This cereal is not keto-friendly. A keto diet recommends that you eat around 20 to 30g of carbohydrates a day. One serving of Kellogg's Special K includes 29g, so it is your entire carbohydrate intake for one day, meaning you would not reach ketosis, a key aspect of the keto diet.
Is Special K Cereal High In Protein?
Special K contains 7g of protein which is only 6% of your daily recommended allowance, so as a cereal, it isn't high in protein.
Is Special K Cereal High In Fiber?
Special K only has 1% of your recommended daily intake of fiber. We need fiber to help us feel fuller for longer as well as to improve our gut health. If you're looking for a fiber-rich cereal, then Special K isn't going to provide it.
Special K Cereal Varieties
The Kellogg Company has bought out many different varieties of Special K since its conception and introduction into the United States in 1955.
Original
The Original cereal is simply the flakes. It has quite a bland flavor, which is why it was marketed to encourage the adding of your own fruit.
Protein
The Protein cereal had an added protein crisp or soy protein isolate. This cereal has 4.8g of protein, compared to the 2.4g in the Original cereal.
Brown Sugar Cinnamon
This version of Special K cereal has added brown sugar syrup and cinnamon flavoring.
Chocolatey Dipped Flakes With Almonds
This cereal has cocoa-coated and chocolate flavor dipped flakes with added crunchy almonds.
Blueberry
This is Special K Original cereal with added real blueberries.
Red Berries
Special K Red berries are the original flakes with freeze-dried strawberries.
Fruit & Yogurt
This cereal is crunchy rice and wheat flakes with fruit, clusters of oats, and yogurt.
Vanilla Almond
This variety has smooth vanilla extract with added nutty almonds
Cinnamon Pecan
This cereal includes cinnamon flavor and a mix of wheat and rice flakes.
Chocolatey Delight
The Chocolatey Delight includes real chunks of chocolate.
Granola Touch of Honey
This whole grain oaty granola mix is flavored with real honey.
Where You Can Buy Special K Cereal
You can buy Special K and all the different varieties from the Special K website. In the top right corner, it says 'where to buy'. Click on this, and you'll see a list of stores such as Amazon and Walmart. It also gives you the option of putting your location on a map to see where the nearest retailer selling Kellogg's is.
Famous Special K Cereal Commercials
There have been many Special K commercials over the years. One claims "doing something good for yourself has never been this easy,":
While another shows a woman exercising and enjoying life stating "I'm the only one that can write my story."
The commercials have always had a heavy focus on health, fitness, nutrition, and eating grains and fruit.
User Reviews
Review Summary
0 out of 5 stars (based on 0 reviews)
Recent Reviews
There are no reviews yet. Be the first one to write one.
Submit a Review