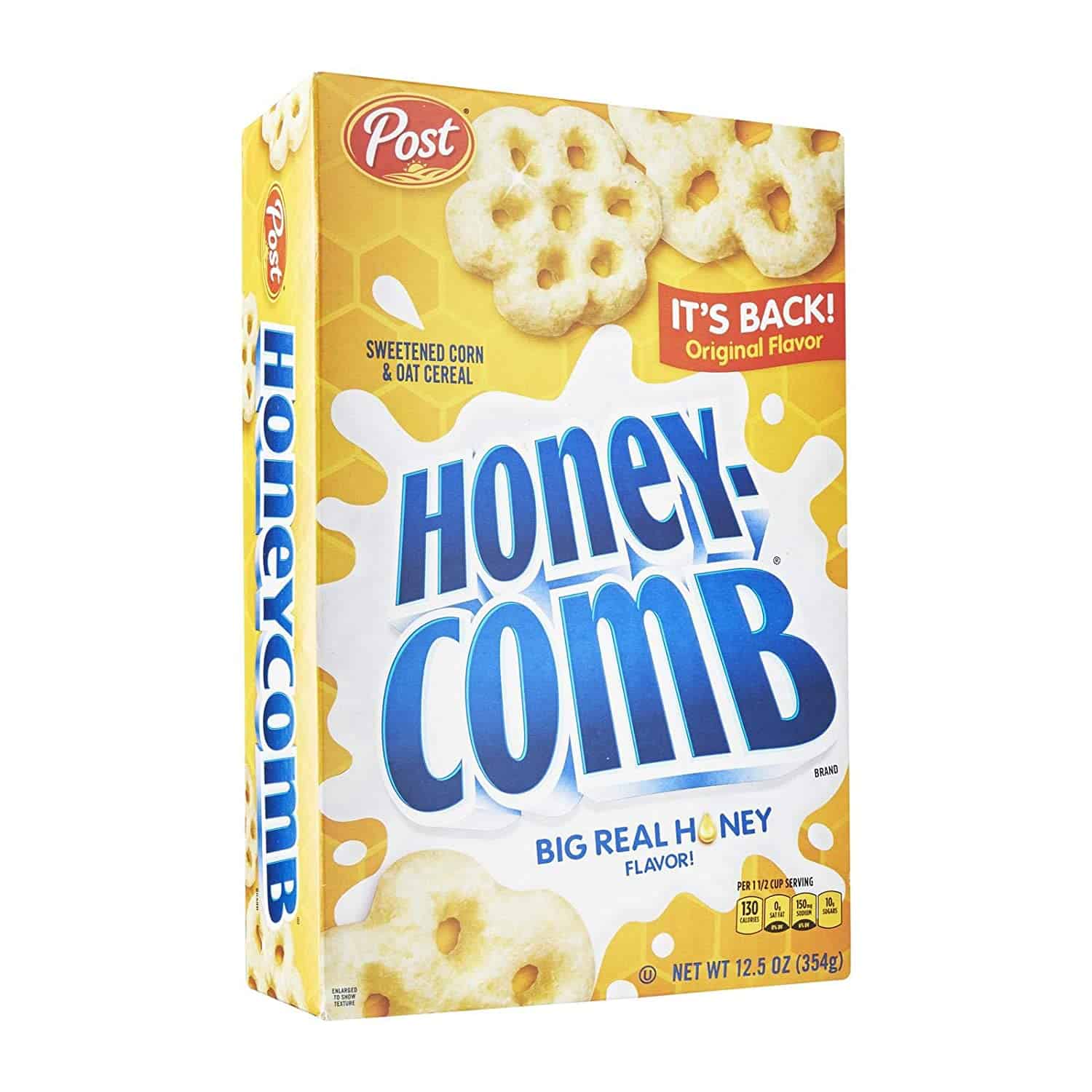 Posts Holdings initially introduced Honeycomb Cereal in 1965, quickly becoming a hit with families and young children. The Honeycomb sweetened corn & oat cereal is made with whole grain corn flour, sugar, oat flour, natural honey, and salt.
The cereal's pieces resemble a big honeycomb shape, and they can be eaten with milk or as cereal snacks on their own. This unique and playful cereal and its "big" honey taste may be used to make delicious treats like s'mores bars and can also be used to create a trail mix.
Post modified the recipe for Honeycomb at the end of 2006 to boost its healthiness, but the change was received with criticism. Post Foods further updated their Honeycomb cereal formulation in 2017 to increase its nutritional value, to mixed reviews.
Now that the recipe has been reformulated to a healthier version, is Honeycomb Cereal a healthy breakfast choice?
Nutrition Facts

One and a half cups (32 grams) of Honeycomb Cereal contains:
Calories – 126
Calories from fats – 8.4
Total Fat – 0.9 grams / 1%
Saturated Fat – 0.4 grams / 2%
Trans Fat – 0 grams
Polyunsaturated Fat – 0.3 grams
Monounsaturated Fat – 0.2 grams
Cholesterol – 0 milligrams / 7%
Sodium – 177 milligrams / 1%
Potassium – 45 milligrams / 9%
Total Carbohydrates – 28 grams / 4%
Dietary Fiber – 1 gram
Sugars – 10 grams
Protein – 1.9grams
Vitamin A – 15%
Vitamin C – 0%
Calcium – 0.3%
Iron – 15%
Because the Percent Daily Values are based on a 2,000-calorie diet, your values may vary based on your calorie requirements.
Ingredients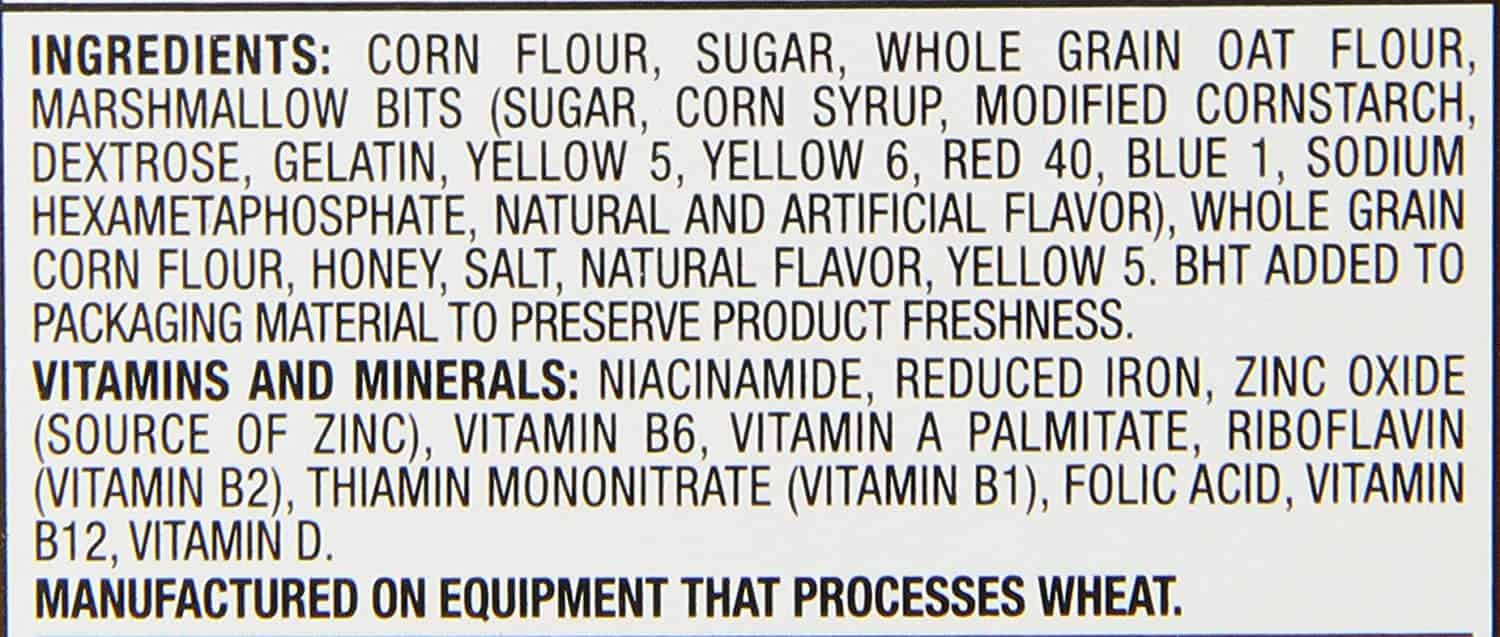 Post Honeycomb Cereal contains the following ingredients:
Degermed Yellow Corn Flour
Whole Grain Oat Flour
Sugar
Honey
Calcium Carbonate (is a dietary supplement used in cereals, nutritional bars, soups, and fortified beverages)
Salt
Natural Flavorant
Wheat Starch
Yellow 5 coloring (which is an artificial food coloring used in breakfast cereals)
BHT to preserve freshness
Vitamins and Minerals include:
Reduced iron
Zinc Oxide
Vitamins A, D, B3, B2, B6, B1, and B12
Riboflavin
Folic Acid
Is Honeycomb Cereal Healthy?
One serving of Honeycomb Cereal has 160 calories and 10 grams of sugar per serving, which is substantially lower than the norm for cereal. You'll receive 19 grams of whole grains, 2 grams of protein, and ten vitamins and minerals in one serving.
For both children and adults, the daily recommended whole grain consumption should be about 16g per serving or 48g per day, which equates to 3 to 5 servings per day. Honeycomb Cereal has 19g of whole grain per serving, which is fantastic; however, your favorite cereal is low in fiber.
Honeycomb cereal is low in sodium, which is great, but it has 10 grams of sugar (2 teaspoons) per serving, which may not be the healthiest breakfast choice for your overall diet.
Is Honeycomb Cereal Gluten-Free?
Honeycomb breakfast cereal contains whole-grain wheat flour. It is not gluten-free and should be avoided if you have celiac disease or gluten intolerance.
Is Honeycomb Cereal Vegan?
Honeycomb cereal is not vegan-friendly due to its vitamin D content. Most vitamin D3 supplements in breakfast cereals are sourced from one of two animal sources: fish oils from fatty fish skin or sheep lanolin, a waxy substance released by glands in sheepskin.
It also contains honey, which many vegans avoid because the bees are smoked out of their hives.
Is Honeycomb Cereal Keto?
Honeycomb Cereal is rich in net carbs, so it's best to avoid it if you're on a keto diet. Honeycomb cereal has 25 grams of net carbs per serving. You'll neep your net carb intake between 20 and 30 grams per day to remain in ketosis, meaning you won't be able to eat any more carbs after having one portion of this cereal.
Honeycomb cereal also includes sugar and honey, which hinder you from entering ketosis by raising your blood sugar level. Another concerning factor is that two additives, namely BHT and Yellow 5, are on the list of food additives to avoid.
Is Honeycomb Cereal High In Protein?
Protein can help you feel fuller. Unfortunately, this cereal has a low protein content compared to other breakfast cereals, with just 1 gram per serving.
Some cereals include extra protein, while others, such as oatmeal, have a naturally greater protein content. While certain sugary cereals like this one have just 1 or 2 grams of protein, healthy alternatives can include up to 10 grams.
Is Honeycomb Cereal High In Fiber?
Fiber and whole grains go hand in hand with breakfast cereals. Fiber is beneficial not just for a healthy digestive system, but it can also help you remain full. On the other hand, sugary cereals might make you hungry soon after you consume them.
Each serving of Post Honeycomb Cereal has 1.9 grams of dietary fiber, which is very low. When it comes to cereals, strive for at least 2.5 grams of fiber per serving.
Fiber is necessary for our bodies to absorb and digest any food we eat and keep blood sugar levels from rising too high as a result of carbohydrate-rich diets.
Where You Can Buy Honeycomb Cereal
Honeycomb cereal is sold in almost all retail supermarkets, if not all. You can also purchase Honey-Comb cereal online at Amazon, Target, and other online retailers.
Famous Honeycomb Cereal Commercials
Commercials for the classic Post cereal first aired in the 1970s, and the Honeycomb Kid, an animated cowboy, was featured in the first commercial. Ask any kid from the 70s to sing the song, and they will know it by heart!
Throughout the late 1970s and 1980s, commercials portrayed young kids in their clubhouse, the Honeycomb Hideout, sharing the cereal and singing the catchy jingles.
Post Honeycomb Cereal asked fans to contribute their versions of the Honeycomb jingle for a chance to win prize money in a jingle contest on the Honeycomb Facebook page in 2012. We The Kings, an up-and-coming band, recorded their version.
Terry Crews became the new face of Honeycomb cereal commercials in 2021.
User Reviews
Review Summary
5 out of 5 stars (based on 1 review)
Recent Reviews
Honeycomb! Yeah Yeah Yeah!
My favorite cereal since 1970 🙂 I hated when they changed it and stopped buying it. When Post went back to the original taste I was a happy camper once again.
Submit a Review