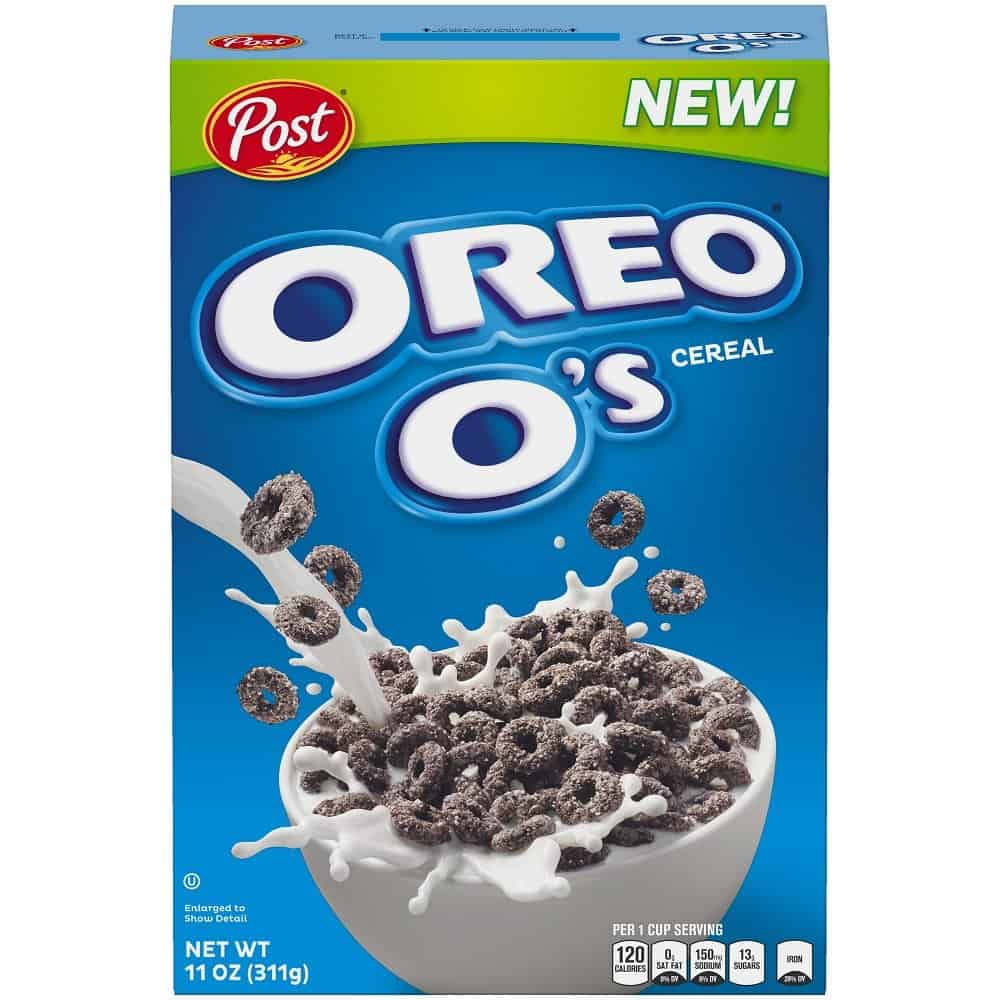 If youre like most people, you eat cereal at breakfast (and sometimes lunch or dinner). Most of the time, its not very exciting, but every once in a while, you get something new, and the world becomes right again.
Thats exactly how we feel about Post Oreo Os cereal, which combines two favorites, cookies and cereal, into one delicious treat. If youve been wishing it was acceptable to eat cookies for breakfast (and not just on your birthday or at Christmas), with this Oreo cereal, you can!
Its the stuff breakfast dreams are made of!
Nutrition Facts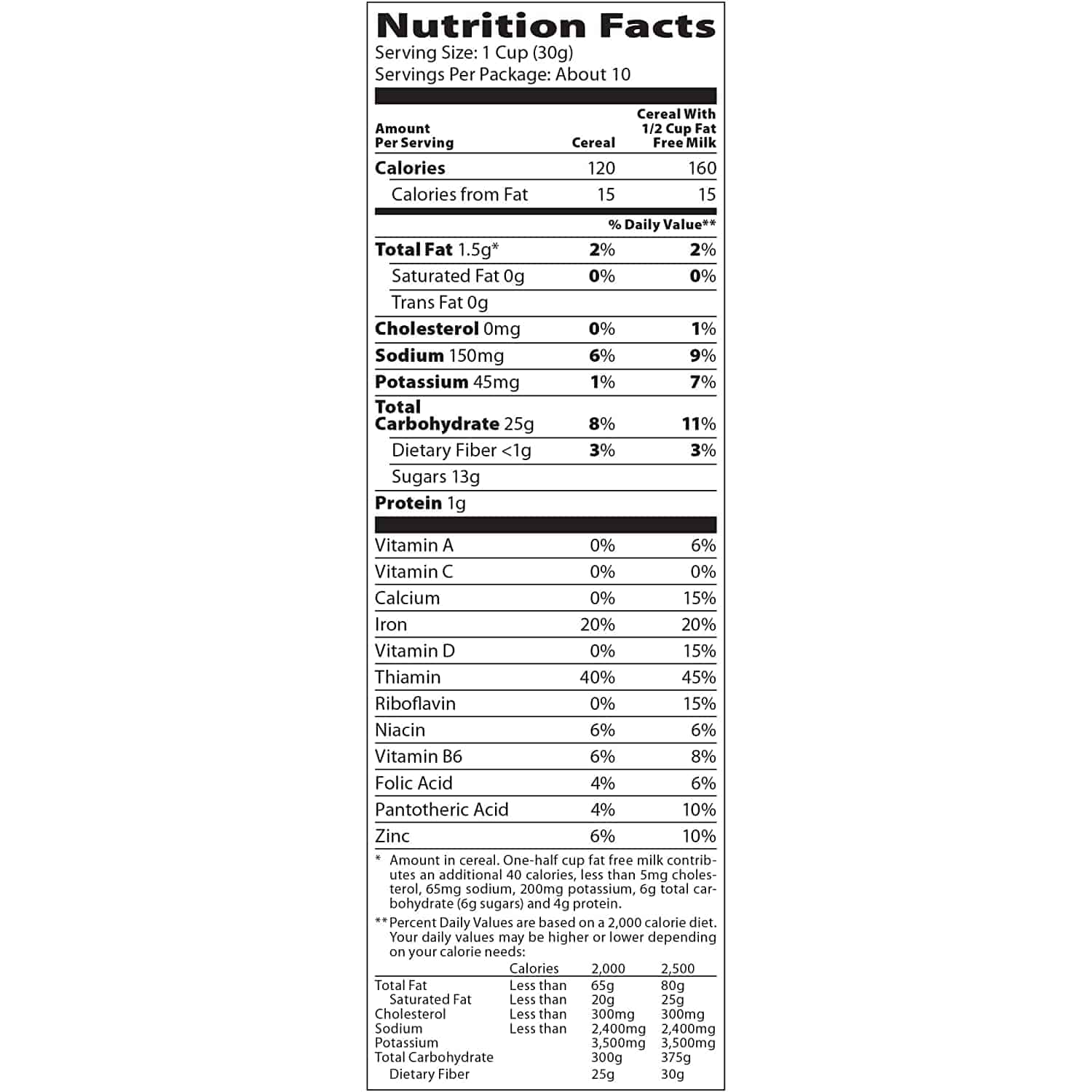 Based on a serving size of 1.25 cups (41g), Post Oreo Os cereal contains:
Calories - 160
Total Fat - 2g / 2% DV
Saturated Fat - 0g / 0% DV
Trans Fat - 0g / 0% DV
Cholesterol - 0mg / 0% DV
Sodium - 190mg / 8% DV
Total Carbohydrate - 35g / 13% DV
Dietary Fiber - 1g / 4% DV
Total Sugars - 19g (19g added sugars) / 38% DV
Protein - 1g
Vitamin D - 0mcg / 0% DV
Calcium - 0mg / 0% DV
Iron - 6.3mg / 35% DV
Potassium - 50mg / 0% DV
Thiamin - 70% DV
Riboflavin - 2% DV
Niacin - 10% DV
Vitamin B6 - 10% DV
Folate DFE - 40mcg
Folic Acid - 25mcg / 10% DV
Pantothenic Acid - 10% DV
Phosphorus - 2% DV
Zinc - 10% DV
The above percentage daily values are according to those on a 2,000 calorie diet. So, percentages may vary if you consume more or fewer calories per day.
Ingredients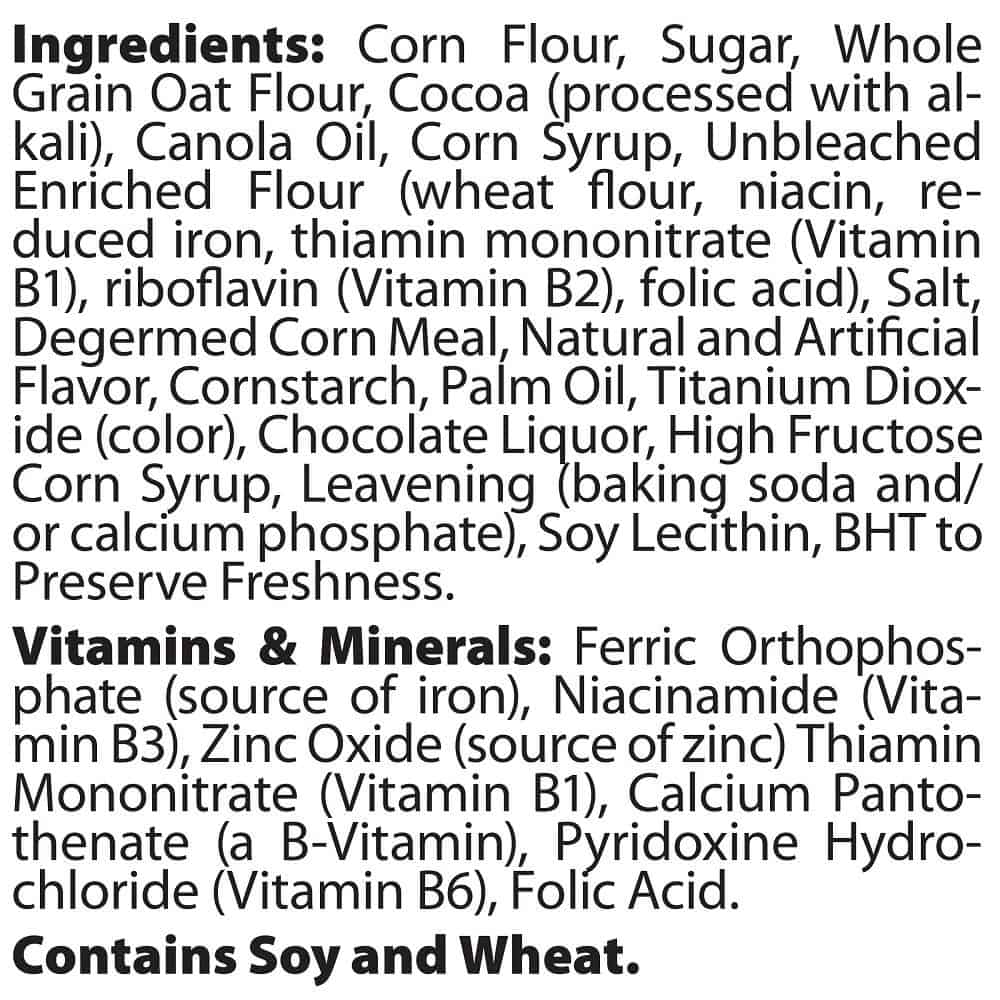 According to the packaging, Post Oreo Os cereal contains the following ingredients:
Corn Flour
Sugar
Whole Grain Oat Flour
Cocoa
Canola Oil
Corn Syrup
Unbleached Enriched Flour
Riboflavin
Salt
Degermed Corn Meal
Invert Sugar
Flavorings (both natural and artificial)
Cornstarch
Palm Oil
Titanium Dioxide
Leavening
Soy Lecithin
Unsweetened Chocolate
BHT for freshness.
Is Oreo O's Cereal Healthy?
These crunchy Os might have a delicious Oreo cookie taste, but are they as unhealthy as the cookies they are based on? Lets find out!
In terms of sugar content, this chocolatey breakfast favorite has a similar amount to Raisin Bran per serving. However, the portion size of Raisin Bran is considerably larger at 59g. Compared to Special K, which has a similar serving size of 39g, Post Oreo Os cereal contains almost four times as much sugar!
In terms of protein and fiber, theres only 1g of each. So, its safe to say this is far from being a healthy breakfast choice!
One good point, however, is the fact that many of the ingredients in this cereal are recognizable!
Is Oreo O's Cereal Gluten-Free?
Despite being made primarily from oat and corn flour, Post Oreo Os cereal is unfortunately not gluten-free. Therefore, those with allergies or intolerances should avoid this breakfast cereal.
As the cereal is not labeled as being gluten-free, its likely that it is manufactured in an environment that processes other cereals containing wheat.
Is Oreo O's Cereal Vegan?
You might be surprised to learn that this cereal is, in fact, vegan, in spite of the vanilla-flavored balls inspired by the deliciously creamy filling of Oreo cookies!
There are a few points to note, however. The first is that some forms of Vitamin D are derived from animal sources, most commonly sheeps wool. Secondly, the cereal may be made in an environment that handles milk products, meaning cross-contamination may be possible.
Is Oreo O's Cereal Keto?
Unfortunately for those following a keto diet, Oreo Os are not keto-friendly. Theyre very high in carbs, thanks to the huge amount of added sugar. In fact, 100g of this cereal contains around three times the amount of carbs you should eat in a day in order to remain in ketosis.
Its also packed full of high-glycemic sweeteners, including white sugar and high-fructose corn syrup.
Is Oreo O's Cereal High In Protein?
With just 1g of protein per serving, Post cereals like this one are certainly not considered high in protein.
Even relatively plain cereals that arent marketed as being high in protein often have more than this. For example, Cheerios have over 3g of protein in a typical bowl.
At the other end of the scale, you have things like Quaker Protein Instant Oatmeal, offering 10g of protein per serving.
Is Oreo O's Cereal High In Fiber?
No. Again, theres only 1g of fiber in this product. Other Post Foods cereals, in particular Grape-Nuts, offer considerably more fiber. This breakfast cereal will bring 7g of fiber to your table with every serving!
Oreo O's Cereal Varieties
If youre a fan of the original Oreo Os, youre sure to love these other dream cereal flavors!
Original Oreo O's
The original and best, the chocolatey flavor cereal and delicious creme coating combine to make your breakfast table that little bit more exciting! Even after finishing the cereal, youll be left with cookie-flavored milk - its clear to see why this is a favorite cereal of many!
Extreme Creme Oreo O's
Post dream cereals bring joy to kids and adults everywhere, but its unfortunately only those in South Korea who get to enjoy the marshmallowy deliciousness of Extreme Creme Oreo Os.
This is because Dongsuh retained the rights to produce Post Foods cereals there. This variety was discontinued everywhere else back in 2007.
Golden Oreo O's
If youre not such a fan of chocolate, this could be one of your favorite cereals. It combines the rich creme coating of traditional Oreo Os with sugary, vanilla-y, frosted deliciousness!
Where You Can Buy Oreo O's Cereal
This delicious breakfast option is available in grocery stores across America. If you prefer to shop online, youll find it at Amazon, Target, and Walmart.
Famous Oreo O's Cereal Commercials
From the 1999 commercial showing the nation running out of milk due to the huge demand for Oreo Os to the more recent 2019 commercial showing you can eat cookies for breakfast, there has been some memorable advertising for Oreo Os over the years!
User Reviews
Review Summary
0 out of 5 stars (based on 0 reviews)
Recent Reviews
There are no reviews yet. Be the first one to write one.
Submit a Review