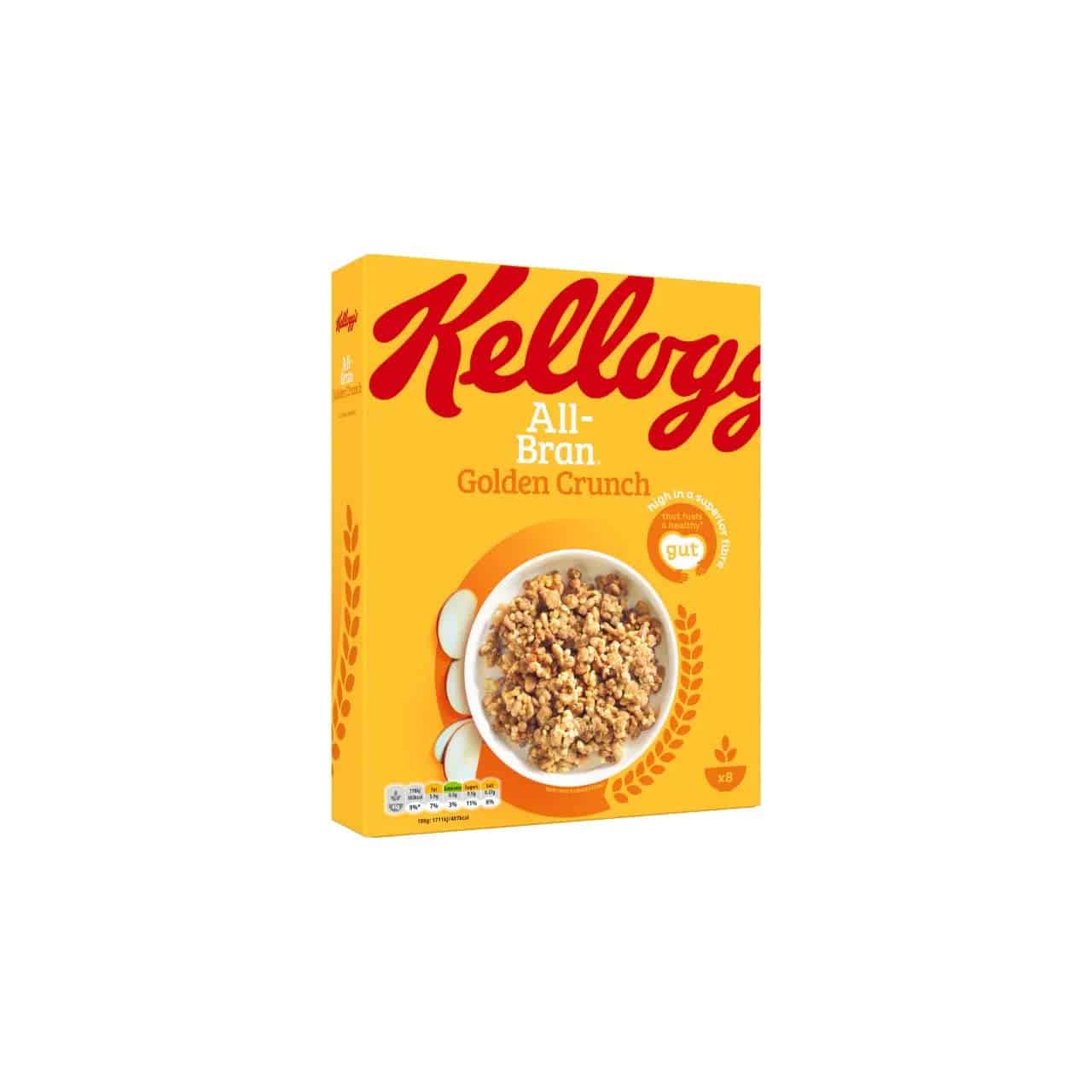 High-fiber diets are a great way to maintain good digestive health and fuel yourself with enough energy to keep going until lunchtime, so it makes sense that plenty of cereals offer a big dose of fiber.
All-Bran is a cereal that's known for its great fiber credentials, however, some people may be put off by its lack of sweetness, this is the problem golden crunch fixes.
With All-Bran Golden Crunch you get the high fiber of traditional All-Bran and the goodness of natural wheat bran with a delicious, caramel flavor that brings to mind the sweetness of toffee popcorn but with all the goodness of a light high fiber multi-grain cereal.
Like popcorn, this cereal comes in lovely, crunchy clusters of wheat bran and rice flour all bursting with natural flavor.
The only problem with Golden Crunch is they're so tasty you might struggle to make a box last for more than a week!
Let's take a closer look at this temptingly sweet caramel cereal.
Nutrition Facts
100 grams of All-Bran Golden Crunch contains –
Energy 407kcal
Fat 11g
of which saturates 1.2g
Carbohydrate 63g
of which are sugars 21g
Fiber 13g
Protein 7.6g
Salt 0.83g
Vitamins and Minerals
Vitamin D 5.5µg/110 DV
Thiamin (B1) 0.62mg/56 DV
Riboflavin (B2) 0.78mg/56 DV
Niacin 9.0mg/56 DV
Vitamin B6 0.78mg/56 DV
Folic acid 111µg/56 DV
Vitamin B12 1.4µg/56 DV
Iron 5.3mg/38 DV
Ingredients
Wheat bran (28%)
Sugar
Rice flour
Wheat flour
Sunflower oil
Maize flour
Salt
Barley malt extract
Raising agents (sodium hydrogen carbonate ammonium bicarbonate)
Natural flavouringflavoring
Emulsifier (soy lecithin)
Skimmed milk powder.
Is All-Bran Golden Crunch Cereal Healthy?
The mixed cereal pieces in a bowl of Golden Crunch are all flavored naturally and contain no artificial colors, which stays true to the all-natural style of the original All-Bran.
Plus they've got the high fiber content that we've come to expect from All-Bran with 5.9g of high fiber multigrain every 45g serving. You'll also get a healthy serving of 8 essential minerals and vitamins in every bowl, crucial to a healthy diet.
However, the sweetness that gives this cereal its delicious golden caramel crunch has got to come from somewhere.
One 45g serving contains 9.5g of sugar, meaning just over a 5th of the recommended serving, about 11% of your sugar DV.
While this isn't a massive amount, you would need to carefully measure out 45g with every serving to match it, which is a small serving for the first meal of the day. This is especially true when it's so sweet and moreish. It's unlikely that a single bowl will fill you up with such a large amount of the taste coming from simple carbohydrates.
It's best to treat this cereal as part of a breakfast which includes more substantial energy or simply as an afternoon or evening snack as the energy of a 45g serving won't last until lunch.
Is All-Bran Golden Crunch Cereal Gluten-Free?
The mixed cereals pieces in this All-Bran cereal are made using whole grain wheat germ which is unsuitable for celiacs or people observing a gluten-restricted diet.
Is All-Bran Golden Crunch Cereal Vegan?
At face value this cereal contains no animal products, however, it's always worth being cautious around sweet cereals.
During the manufacturing, process sugar is often whitened using bone char, a substance derived from the leftovers of burnt cattle bones. While this product doesn't go into the cereals ingredients, and may not even have been used, it's a common practice and it's nearly impossible to know whether or not a particular cereal has used bone char.
With that in mind, eating any sweet cereal while observing a vegan diet should be done at your discretion.
Is All-Bran Golden Crunch Cereal Keto?
A keto diet is where your force your body into a state called ketosis, where it changes fat into a long-lasting energy source known as ketones.
To do this you need to consume less than 20g of carbohydrates a day while increasing your fat intake to substitute for the lack of carbs.
One serving of this crunchy wheat bran cereal contains 28g of carbohydrates which would stop your body from being able to reach ketosis. As well as this it contains virtually no fat, which is crucial to the body's production of ketones, making this cereal unsuitable for a ketogenic diet.
Is All-Bran Golden Crunch Cereal High in Protein?
45g of Kellogg's All-Bran Golden Crunch contains just 3.4g of protein, which is relatively high for cereals but still too low to be considered 'high protein'.
Is All-Bran Golden Crunch Cereal High in Fiber?
While it contains a little less fiber than standard All-Bran, Kellogg's All-Bran Golden Crunch offers 5.9g of fiber per serving, meaning it reaches the minimum 5g/serving of fiber required by the FDA to be considered a high fiber food.
All-Bran Golden Crunch Cereal Store Brand Alternatives
Cereals that offer the high fiber goodness of plainer muesli cereals but with the added incentive of sweet crunchy clusters are common nowadays and if you can't find Kellogg's All-Bran Golden Crunch at your local supermarket, they will have a similar light high fiber multigrain cereal to aid digestive health.
Where You Can Buy All-Bran Golden Crunch Cereal
You will be able to find Kellogg's All-Bran Golden Crunch in the cereal aisle of any reputable grocery store chain. If you have no luck in-store then you can purchase it online at many different outlets.
Famous All-Bran Golden Crunch Cereal Commercials
Here's a commercial from 2012 that was made for Irish television which gives us a closer look at exactly how this deliciously light high fiber cereal looks.
User Reviews
Review Summary
0.0 out of 5 stars (based on 0 reviews)
Recent Reviews
There are no reviews yet. Be the first one to write one.
Submit a Review