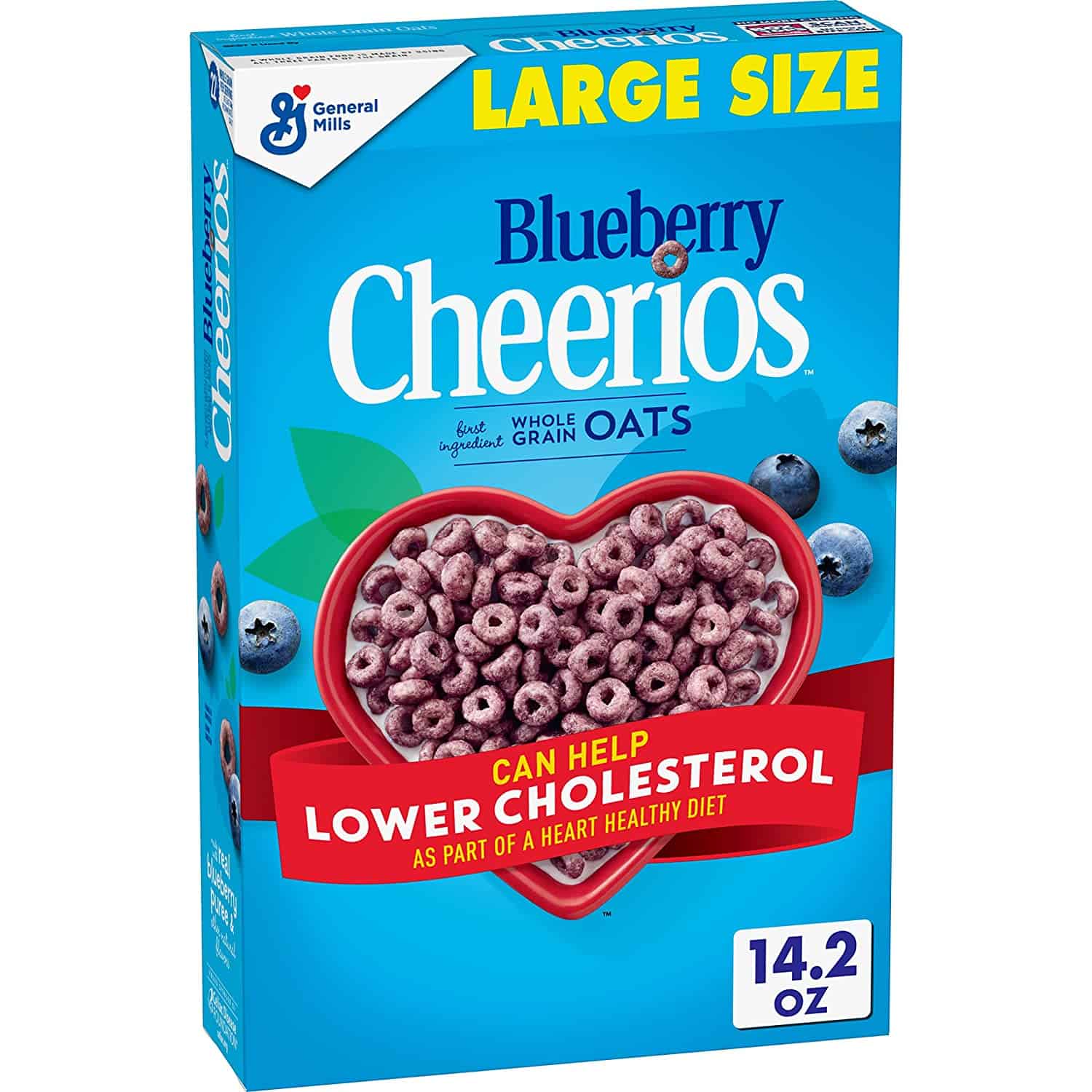 Introduced in 2019, Blueberry Cheerios is a fruity cereal infused with real blueberry puree. This is an ideal breakfast cereal choice if you're not keen on the sweeter honey or maple flavored varieties.
But is this whole-grain oat cereal healthy? What are the ingredients, and is it safe for vegans to eat? You'll find everything you need to know about this variety of Cheerios right here. So, if you'd like to know more about this fruity treat, keep scrolling for more information.
Nutrition Facts

A 3/4 cup serving of Cheerios contains 140 calories, with most of this coming from the 21g of carbs – around 84 calories. This blueberry flavor Cheerios has a slight blue tint which comes from the colors of the vegetable juices. Fortunately, it doesn't contain artificial colors.
One serving of blueberry flavored Cheerios contains:
Calories: 140
Fat: 2g 3% DV
Sodium: 170mg 7% DV
Carbohydrates: 29g 10% DV
Fiber: 3g 10% DV
Sugar: 10g 19% DV
Protein: 3g
Folate: 45mcg 20% DV
Iron: 3.6mg 20% DV
Vitamin D3: 2mcg 10% DV
Ingredients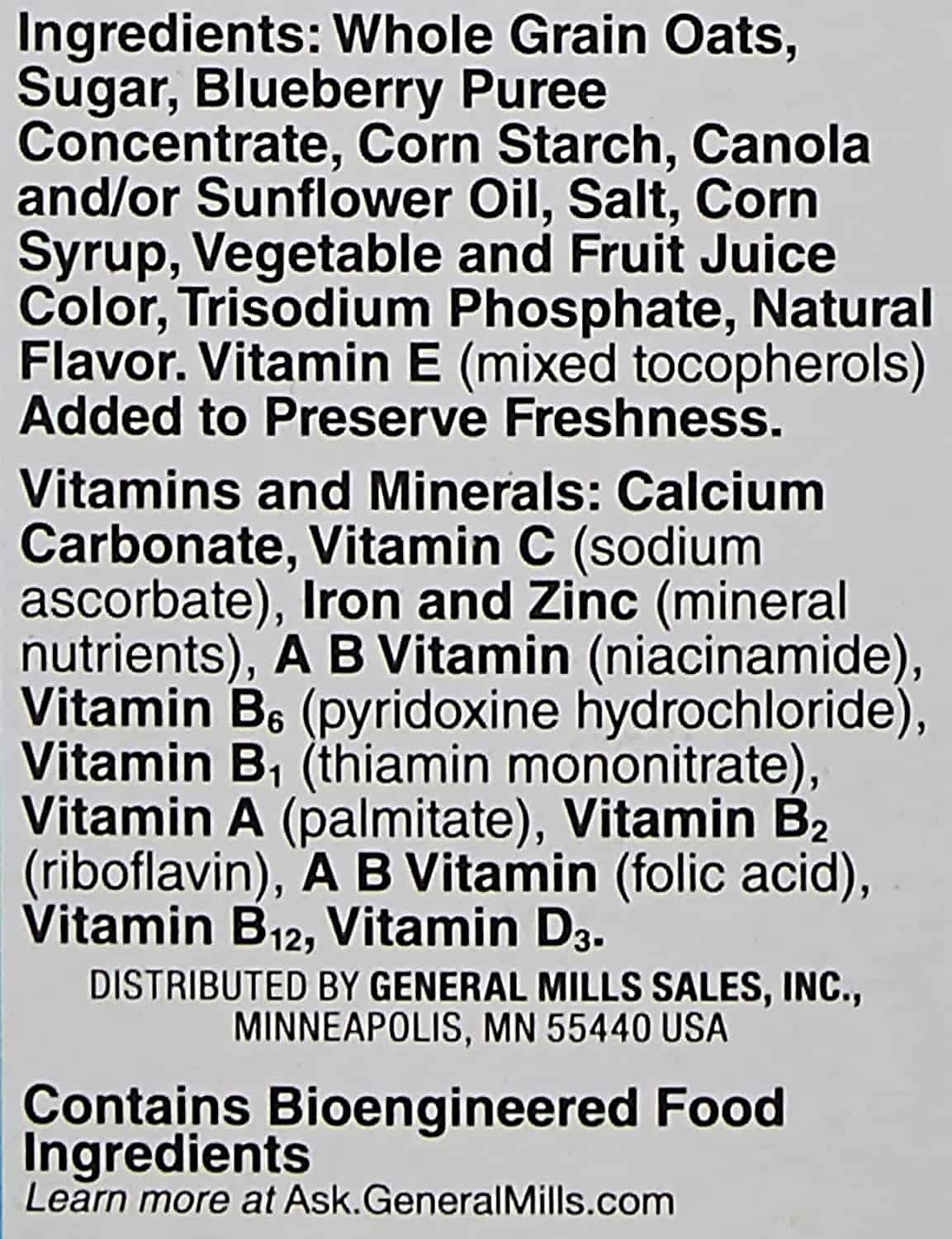 The ingredients in this whole-grain cereal include:
Whole grain oats
Oat bran
Glucose
Corn starch
Blueberry puree concentrate
Canola Oil
Salt
Trisodium Phosphate
Fruit juice color
Are Blueberry Cheerios Healthy?
The good thing about Cheerios is that they are made from whole grains, and they don't contain artificial flavors. But don't be fooled by the word Blueberry in the title. This fruity Cheerios cereal contains rather high levels of glucose, canceling out the fruity name.
This Cheerios breakfast cereal contains many essential vitamins and minerals such as folic acid, calcium, and iron. Although this sounds great, keep in mind that these nutrients don't occur naturally – they're artificially added during processing.
Because all Cheerios cereals, blueberry included, are processed, healthy isn't a word that can describe them. This is due to them being packed with unhealthy ingredients such as corn syrup, glucose, and preservatives.
Are Blueberry Cheerios Gluten-Free?
Cheerios that are made in different countries seem to have different gluten statuses – Cheerios produced in the United States are labeled as being free from gluten.
In the United States, making the Cheerios gluten-free is very thorough, with work being done to make sure that no barley, wheat, or grains are used – only oats.
Each batch of oats undergoes testing to ensure they have under 20 parts per 1 million gluten, allowing the product to be labeled gluten-free.
However, always check the label on your Cheerios breakfast cereal to see if it states gluten-free. This means the cereal was manufactured in an environment that has strict rules to make sure that the product only contains oats.
If you have an old box of Cheerios in your pantry without a gluten-free label, be very cautious. You could be at risk of consuming gluten unknowingly because of cross-contamination.
Are Blueberry Cheerios Vegan?
For many people, a plant-based diet is essential for their health and reduces the risk of illness. Unfortunately, not all food products on store shelves are vegan. Cheerios is one of those products that has vegan and non-vegan components.
So what are the ingredients in Cheerios breakfast cereal that make them unsuitable for vegans? For starters, vitamin D3 is not vegan, and it can be found in many of the Cheerios flavors. Vitamin D3 is derived from lanolin, which is sourced from the skin glands of animals or fish liver oil.
It's also very sugary, which is what gives it its sweet taste. Cane pulps are often used to make glucose, which starts as brown.
To give it the distinctive white color that we all know, it's filtered with calcium carbonate taken from animal bones. Because of this, blueberry flavored Cheerios can't be claimed as a vegan.
Are Blueberry Cheerios Keto?
Sadly, the blueberry-flavored Cheerios aren't suitable for a keto diet. One of the key things about keto diets is restricting your carb intake, and Cheerios contains lots of carbs!
What's more, Cheerios are a processed food that contains many unhealthy ingredients such as glucose and purees concentrate. Consuming a high-carb and processed product like this could stop you from reaching the coveted state of ketosis.
Are Blueberry Cheerios High In Protein?
Unfortunately, no. Blueberry flavored Cheerios are very low in protein, providing just 3g per portion. However, this is quite typical of breakfast cereal in general.
If you're looking for a cereal that provides a higher level of protein, Magic Spoon cereal packs an average of 10-12g of protein per serving, with many different varieties to choose from.
Are Blueberry Cheerios High In Fiber?
With only 3g of fiber per portion, Cheerios is not a rich source of fiber. Whole grain oat foods are a great way of meeting your daily fiber needs, but the natural fruit-flavored Cheerios fall short in that area.
Because of its low fiber and low protein levels, unfortunately, Cheerios does not provide a balanced breakfast.
Blueberry Cheerios Varieties
Although there aren't any other varieties of the blueberry-flavored Cheerios, there are plenty of other flavors. Some best-selling varieties include the Honey Nut Cheerios, Chocolate, and Multigrain.
Blueberry Cheerios Store Brand Alternatives
If you're looking for a store-brand blueberry flavored alternative, Kroger sells their own range of blueberry cereal bars. However, if you're looking for a healthier alternative, the original Cheerios flavor is a good choice as it's less sugary than its blueberry version.
Where You Can Buy Blueberry Cheerios?
Blueberry Cheerios breakfast cereal can be found in most supermarkets, including Walmart and Kroger. You can also find it online on Amazon and on the Cheerios website.
Famous Blueberry Cheerios Cereal Commercials
The blueberry variety was only introduced in the spring of 2019, so there aren't any iconic commercials like other varieties have, such as the original flavor and Honey Nut Cheerios.
However, there are many reviews on YouTube that explore this breakfast cereal in great detail, including how the packaging is designed and the product's taste, color, and texture.
User Reviews
Review Summary
0 out of 5 stars (based on 0 reviews)
Recent Reviews
There are no reviews yet. Be the first one to write one.
Submit a Review