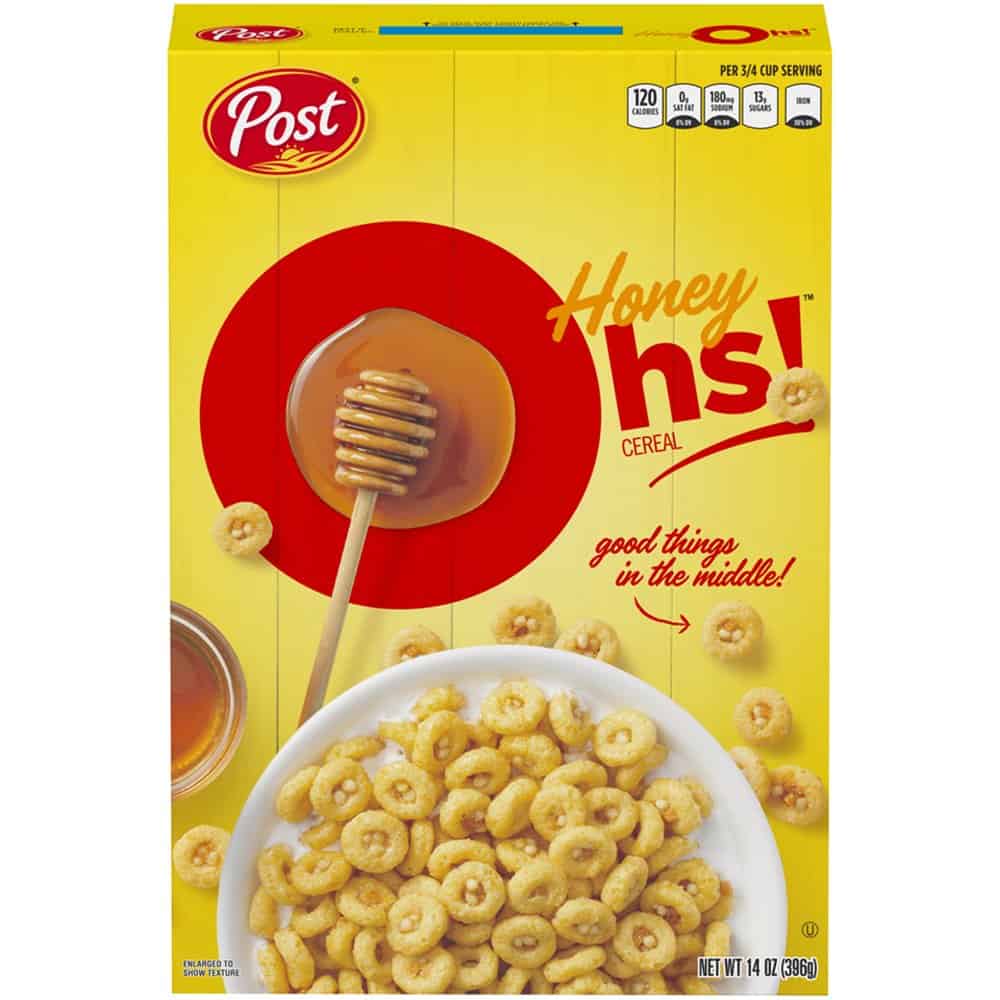 Honey Ohs! (previously Oh's!, Oh!s, or Honey Graham Oh!s)) come in the shape of a breakfast product originally introduced to the market by the Quaker brand despite now being manufactured by Post cereals. This change took effect in August 2014.
The original Ohs breakfast was first introduced in 1980 in two variants: 'Honey Nut' and 'Crunchy Graham,' which were later renamed 'Crunchy Nut' and 'Honey Graham.' These were later discontinued leaving only Honey Graham Ohs! available.
Quaker introduced several new flavors in 1989, comprising 'Apple Cinnamon Ohs,' 'Fruitangy Ohs' and 'Apple Ohs.'
In 2018, the Post Cereal brand reinvented the product, renaming it 'Honey Oh's.' This included a box revamp and reformulation. The new product doesn't contain brown sugar, coconut oil, graham flour, oats, or a handful of the other original ingredients.
Nutrition Facts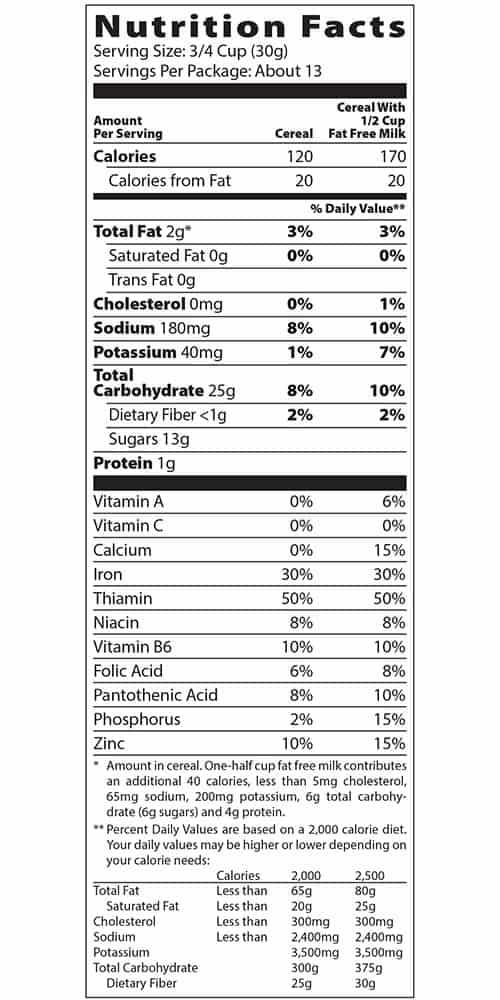 There are around seven servings in each box, and each serving is one cup or the equivalent of 40 grams. There are 170 calories per serving.
In terms of nutrition facts, the information presented on the back of the box is as follows:
Calories from fat
Total Fat:  3g / 4% DV
Saturated Fat  0g / 0% DV
Trans Fat: 0g
Cholesterol: 0mg / 0% DV
Sodium: 240mg / 11% DV
Potassium: 50mg / 0% DV
Total Carbohydrate: 34g
Dietary Fiber: 1g / 3% DV
Total Sugars: 17g
Added Sugars: 17g / 35% DV
Protein: 1g
Calcium: 10mg / 0% DV
Pantothenic Acid: 0 / 15% DV
Vitamin D: 0mcg / 0% DV
Thiamin: 0 / 90% DV
Folic Acid: 25mcg
Niacin: 0 / 15% DV
Folate DFE: 40mcg / 10% DV
Kosher: 0
Phosphorus 0 / 2% DV
Vitamin B6: 0 / 15% DV
Zinc: 0 / 15% DV
Iron 7.2mg / 40% DV
Ingredients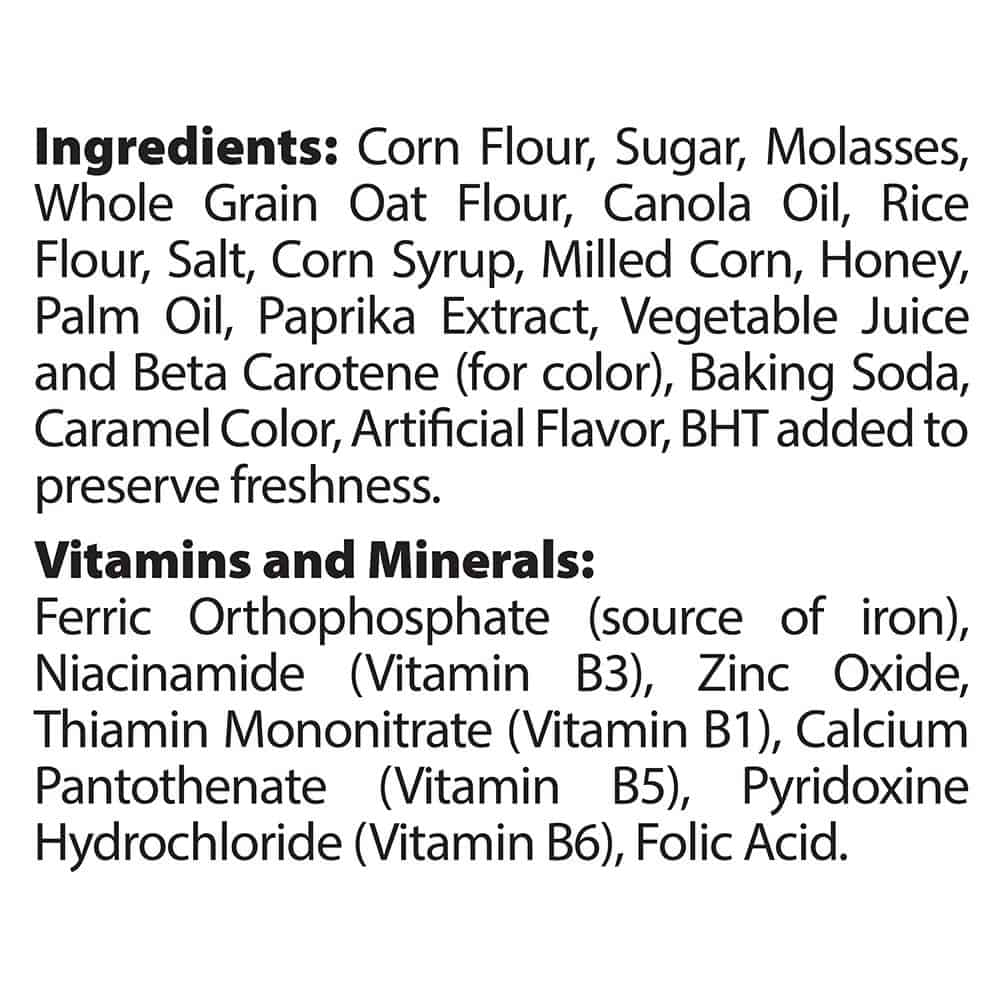 The ingredients contained in Honey Oh's comprise:
Corn Flour
Sugar
Whole Grain Oat Flour
Molasses
Canola Oil
Rice Flour
Salt
Corn Syrup
Milled Corn
Honey
Palm Oil
Baking Soda
Paprika Extract (for Color)
Caramel Color
Artificial Flavor
Yellow 5
Yellow 6
BHT Added to Preserve FreshnessVitamins and Minerals in Honey Oh's comprise:
Ferric Orthophosphate (Source of Iron)
Niacinamide (Vitamin B3)
Zinc Oxide
Thiamin Mononitrate (Vitamin B1)
Calcium Pantothenate (Vitamin B5)
Pyridoxine Hydrochloride (Vitamin B6)
Folic Acid
Is Honey Ohs! Cereal Healthy?
Although they may have a great taste, Honey Oh's are not the healthiest cereal on the market. If you're looking to lose weight, it's better to opt for a high-protein product without artificial colors – even if this is your favorite cereal.
Behind the pulverized corn flour in this product, you'll mostly find molasses and sugar. To top this off, there are zero redeeming nutritional qualities in this food item.
Is Ohs! Cereal Gluten-Free?
By taking away the very small amounts of rye, wheat, and barley in this product, General Mills has successfully made all of their products gluten-free, including the most prevalent products, such as Original Cheerios, Honey Oh's, and Honey Nut Cheerios.
Is Ohs! Cereal Vegan?
As this product contains real honey, it isn't vegan and therefore isn't an option for those looking to stick to a strict vegan diet. Its predecessors (Honey Graham Oh's or Golden Honey o's) equally weren't suited to a vegan diet.
Is Honey Ohs! Cereal Keto?
If you wish to embark on a keto (or ketogenic) diet, it is important to limit your daily intake of carbohydrates so that your body is able to enter ketosis. For many on this diet plan, this means limiting yourself to fewer than 50 net carbs each day.
To calculate net carbs (these are per serving), simply subtract the fiber from the total amount of carbs.
Is Ohs! Cereal High in Protein?
The Ohs brand only contains 1gram of protein per serving; this amounts to just 2% of your daily allowance.
Is Ohs! Cereal High in Fiber?
There isn't much fiber in this product at all, which is bad news for those looking for a high-fiber breakfast option! For best results choose a cereal that boasts a minimum of 3 grams of naturally occurring fiber.
Alternatively, add some additional natural fiber to your breakfast, such as wheat bran, flax seeds or fresh berries, or other fiber-rich fruits.
Honey Ohs! Cereal Varieties
In 1989, Quaker released a handful of other cereals boasting new flavors. In addition to Crunchy and Honey Graham Oh's, these included:
Apple Cinnamon Oh's
Fruitangy Oh's
Apple Oh's
While none of these variants are available today, many remember and reminisce about them as they were a popular option for the whole family back in the day.
Honey Ohs! Cereal Store-Brand Alternatives
Cheerios' rings are one of the most prevalent alternatives to Ohs, although they're slightly less dense and a little larger. They're also enveloped in a glossy glaze, which ensures they stay crunchy long after milk has been added to the bowl.
All in all, they taste very similar to the original Honey Graham Oh; however, they aren't the best cereal for those wishing to stick to a gluten-free diet.
Where You Can Buy Honey Ohs! Cereal
You can buy this item both online and at your local grocery store, such as Walmart. Simply look for the cereal aisle.
Famous Honey Ohs! Cereal Commercials
In the late 1980s, this cereal brand released a TV commercial complete with a catchy theme tune, which enticed listeners to indulge in Ohs due to them being filled in.
It doesn't taste the same with nothing in the middle
Nothing in the middle
Nothing in the middle
So why eat a cereal with nothing in the middle
When there's oh oh oh so much in the middle of Oh's
You can view the original Oh's advert here.
Another popular commercial featured the below theme tune, which can be viewed here:
There's something in the middle of Oh's Cereal that makes people say oh!
User Reviews
Review Summary
0 out of 5 stars (based on 0 reviews)
Recent Reviews
There are no reviews yet. Be the first one to write one.
Submit a Review