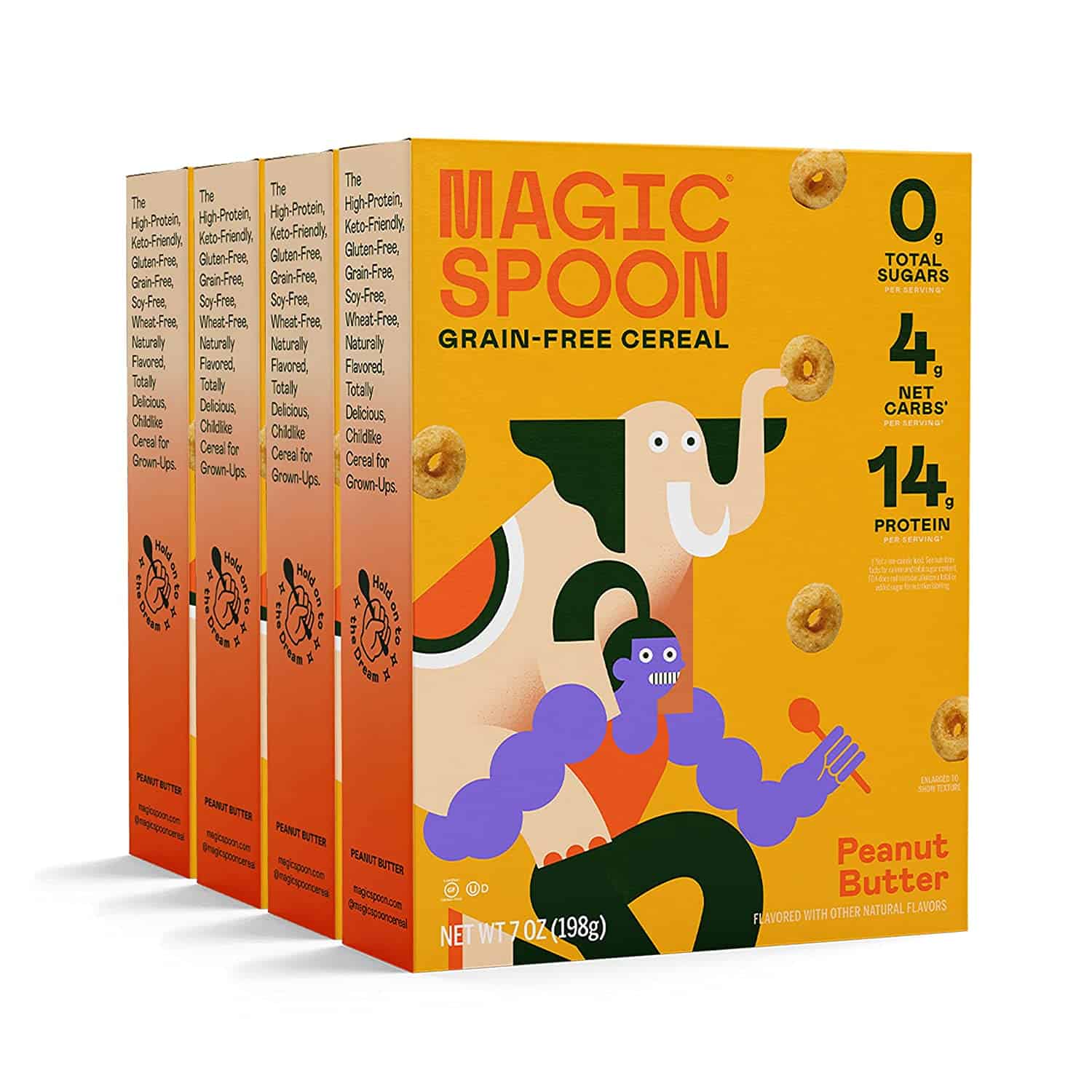 Magic Spoon peanut butter cereal is perfectly sweet whilst providing a perfect combination of crunchy and nuttiness! With no artificial flavors or any additives, magic spoon cereal is the best way to start your day.
Is Magic Spoon cereal even worth giving up your regular cereal for? The answer to that is YES!
Nutrition Facts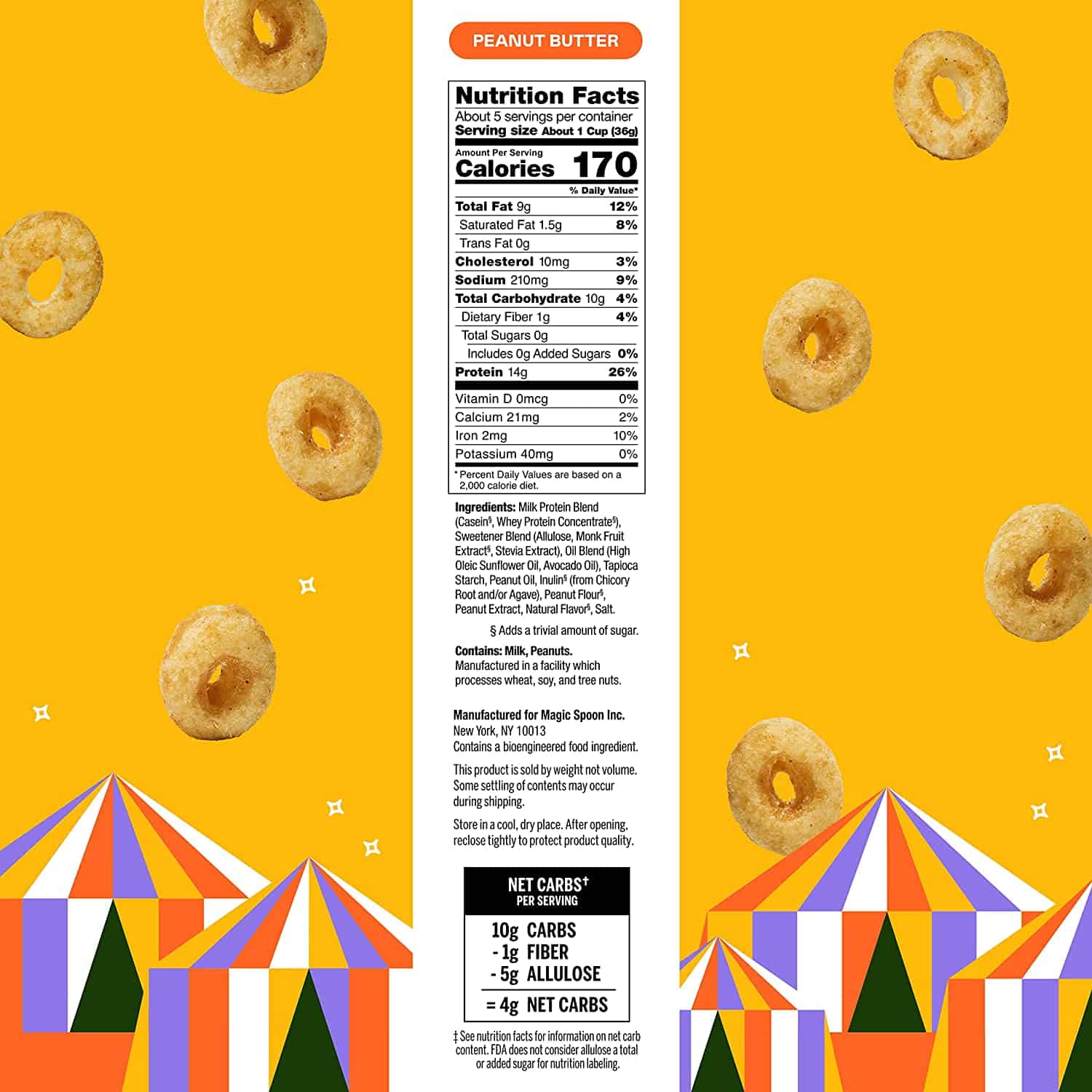 One portion (37g) of Magic Spoon Peanut Butter Cereal contains:
Calories – 173
Total fat – 11 grams/14% DV
Trans fat – 0 grams/0% DV
Saturated fat – 1.3 grams/7% DV
Cholesterol – 7mg/2% DV
Total carbohydrates – 11 grams/4% DV
Total sugars – 0 grams/0% DV
Dietary fiber – 1 grams/5% DV
Protein – 15 grams/29%DV
Vitamin D – 0mcg/0% DV
Calcium – 333mg/26% DV
Iron – 0mg/0% DV
Potassium – 0% DV
Sodium 200mg/9% DV
Vitamin A – 0% DV
Vitamin C – 0% DV
A 198g box of Magic Spoon Peanut Butter Cereal contains 5 servings.
Ingredients
The ingredients list of Magic Spoon Peanut Butter Cereal contains:
the protein blend of milk made from whey protein concentrates and milk protein isolates
sweetener blend made from monk fruit extracts, allulose, and steviol glycosides
oil blend made with high oleic sunflower oil, vitamin E, and avocado oil
Tapioca Starch
Chicory Root fiber – inulin
Peanut Extract
Peanut Flour
Peanut Oil
Salt
Natural Flavors
Is Magic Spoon Peanut Butter Cereal Healthy?
There is absolutely no sugar; that's right, you heard us! No cane sugar, sugar alcohols, or corn syrup. A bowl of this, unlike other cereals, won't fill you up with any junk. With low net carbs and high protein content, you will be able to keep track of what you are consuming each day.
Their sweetener alternatives taste just like regular sugar – you'll still be able to enjoy a super satisfying bowl without worrying about the calories. This absence of sugar will help you keep your blood sugar levels low, which has multiple health benefits such as a reduced risk of obesity.
You also won't have to worry about any flavors or colors that are artificial. Magic Spoon uses vegetable juice for coloring. With 14g of protein per serving, this is a delightfully healthy cereal!
Is Magic Spoon Peanut Butter Cereal Gluten-Free?
Other cereal brands such as frosted flakes, lucky charms, and fruit loops are iconic flavors, but they are not risk-free for those who may be sensitive to gluten. With Magic Spoon cereal, you won't be compromising flavor. There are no ingredients that contain gluten in this cereal, so it's completely gluten-free!
Is Magic Spoon Peanut Butter Cereal Vegan?
As this cereal has a milk protein blend, it is not suitable for vegans. This is the case for all of Magic Spoon's cereal products. If you are following a vegan diet, then you will have to opt for an alternative brand.
Magic Spoon has not yet announced looking into creating a vegan-friendly option for their products, but they have said that they are always open to new ideas and flavors. They have made it clear that they aren't ruling out anything for the future.
Is Magic Spoon Peanut Butter Cereal Keto?
On the search for a keto-friendly breakfast? Other keto cereals might not be quite cutting it. This grain-free cereal only contains 4g net carbs per serving – this makes it perfect for those on a low-carb diet, such as the keto diet. Don't worry; this cereal still tastes great, and you might even be left pleasantly surprised, craving bowl after bowl.
Is Magic Spoon Peanut Butter Cereal High in Protein?
This Magic Spoon cereal flavor contains 14 grams of complete protein per bowl, a bowl of this high protein cereal for breakfast is a great way to kick off your day. This equates to around 29% of your daily intake of protein which is a huge portion of protein to get just from one bowl of cereal.
Is Magic Spoon Peanut Butter Cereal High in Fiber?
Magic spoon cereal has around 1-2g of fiber per bowl – this makes up around 4 – 8% of your recommended family intake. This is similar to other cereals such as cinnamon toast crunch, but with lower net carbs and sugar, Magic Spoon cereal is clearly a better alternative.
If you want to increase the amount of fiber you are getting in your diet, then try supplementing your breakfast with high-fiber foods. These include things like fruit and whole-grain bread with your breakfast and more vegetables throughout the day with your other meals.
Magic Spoon Peanut Butter Cereal Store Brand Alternatives
You might remember the limited edition chocolate Peanut Butter Cheerios – they were made with real cocoa powder. If you are still on the lookout for something to scratch your peanut butter itch, whether it's a one-time purchase or something you just need to eat ASAP, we've got you covered.
There are tons and tons of peanut butter flavors in cereals. If you're a peanut butter flavor lover, you have absolutely got to try Reese's Puffs – they also have super yummy Reese's cereal bars for on the go.
Where You Can Buy Magic Spoon Peanut Butter Cereal
You can buy Magic Spoon cereal directly from their website, where you can buy four boxes for around $40. You can purchase a variety pack that is customizable with different flavors such as frosted, maple syrup, cookies and cream, and the cocoa flavor, as well as many more.
These are also available for purchase on Amazon, where you can often pick up deals if you buy in bulk. Alternatively, you can pick up a box at your local Walmart.
Famous Magic Spoon Peanut Butter Cereal Commercials
Because Magic Spoon was founded in 2018, they haven't been around for a long time. This means they haven't had time to produce a lot of commercials but the ones they have certainly are memorable.
The commercial titled "Unbelievable" gave a Magic Spoon cereal review of the new flavors on offer and described the delicious taste they offered whilst remaining healthy. In another commercial titled "Healthy & Happy," two individuals named healthy and happy were able to agree that the cereal satisfied both of them thanks to the obvious health benefits and satisfying taste.
User Reviews
Review Summary
0.0 out of 5 stars (based on 0 reviews)
Recent Reviews
There are no reviews yet. Be the first one to write one.
Submit a Review