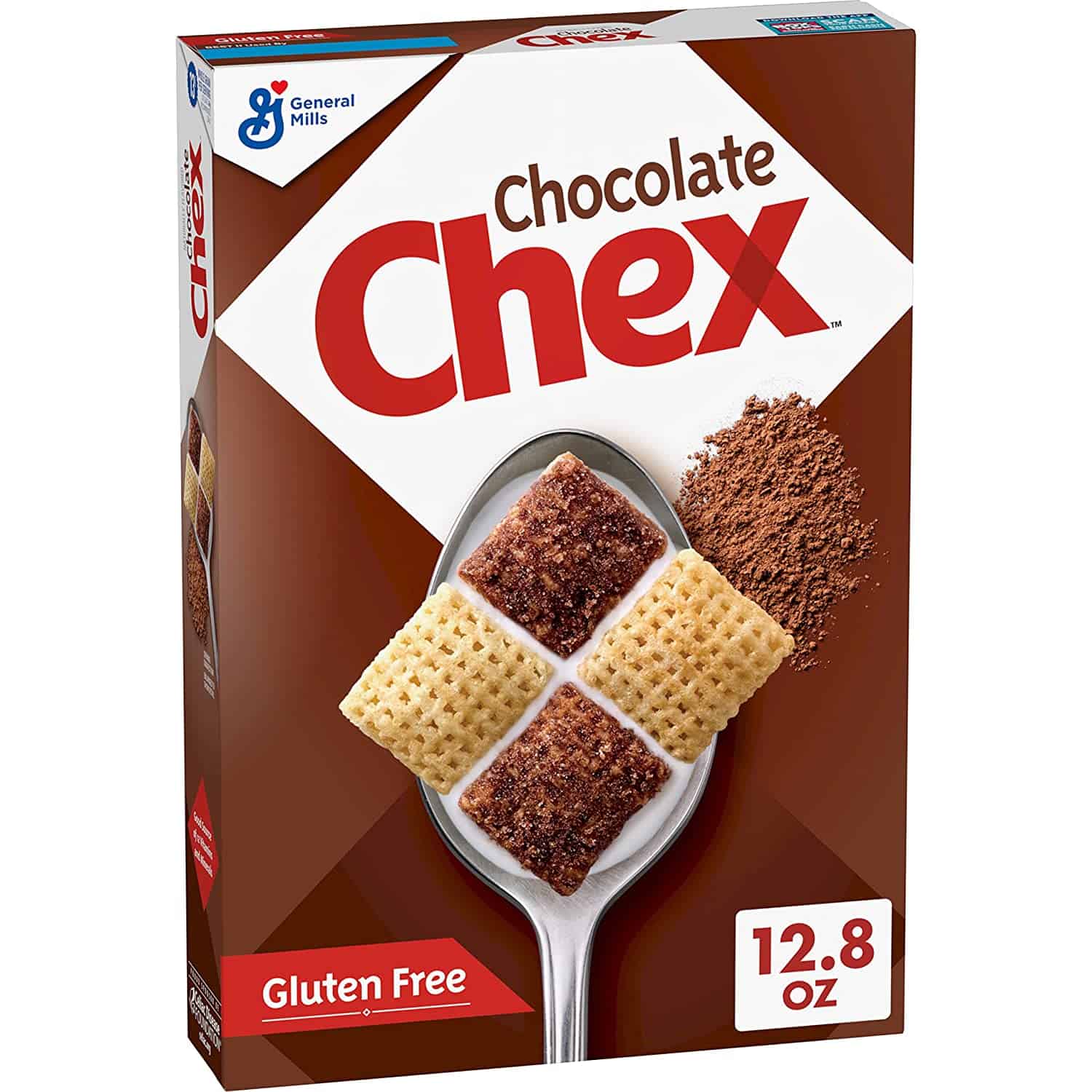 One of the most popular offerings from General Mills, Chocolate Chex cereal is made with 100% real cocoa and has delicious chocolate whole grain squares. It is not only good for morning time, as there are also a number of dessert recipes using the cereal, including a yummy caramel crunch.
You can find out below how healthy the cereal is, what it's made from, and finally, where you can purchase the boxes themselves.
Nutrition Facts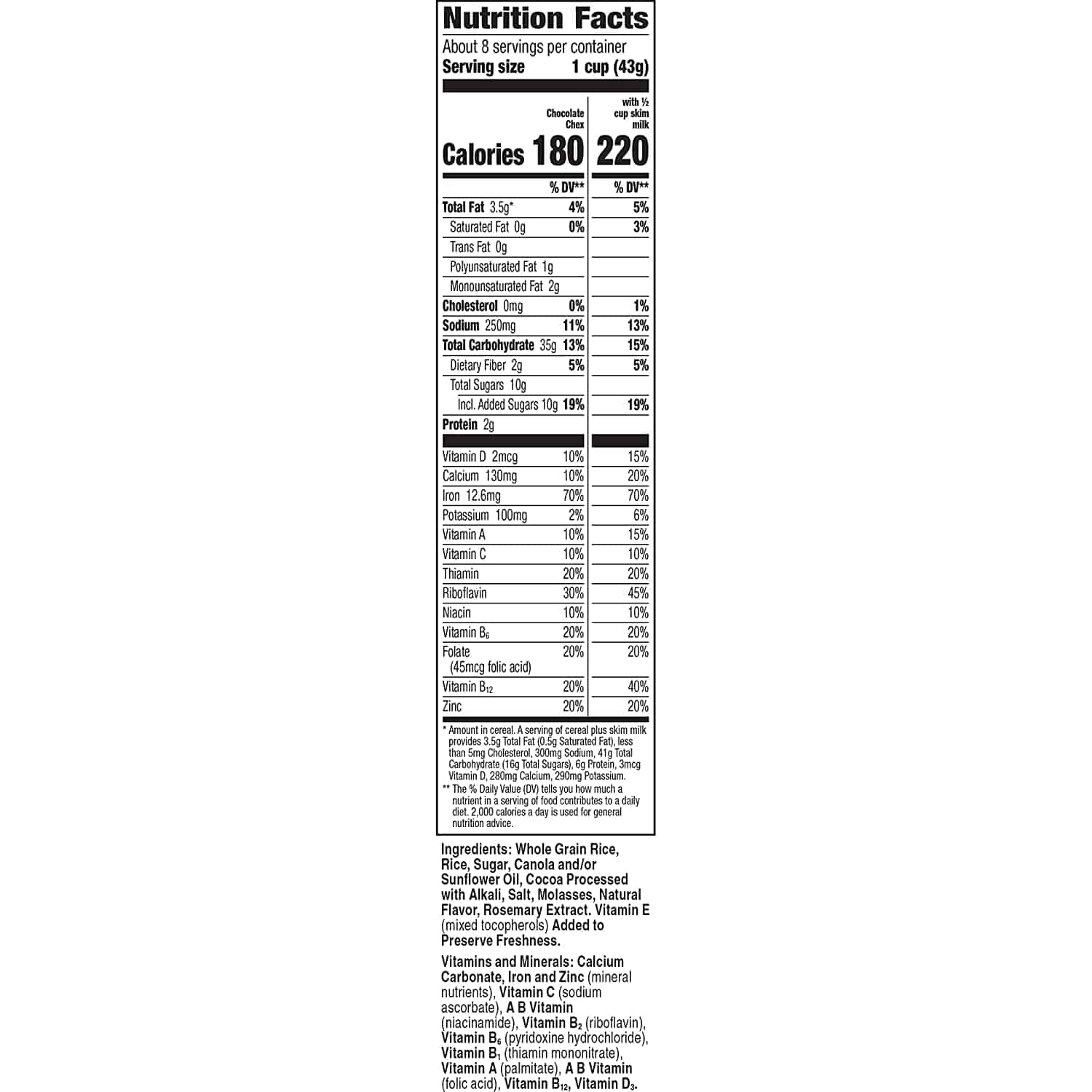 The gluten-free cereal contains only 180 calories per serving without milk. The detailed list of nutritional values is as follows:
Total Fat 3.5g
Saturated Fat 0.5g
Trans Fat 0g
Polyunsaturated Fat 0.5g
Monounsaturated Fat 2g
Sodium 270mg
Total Carbohydrate 36g
Dietary Fiber 2g
Total Sugars 11g
Protein 2g
Ingredients
Whole Grain Rice
Rice
Sugar
Canola Oil
Cocoa Processed With Alkali
Salt, Molasses
Natural Flavor
Vitamin E (mixed tocopherols)
The vitamins and minerals included in the breakfast cereal are:
Calcium Carbonate
Iron and Zinc (mineral nutrients)
Vitamin C (sodium ascorbate)
A B Vitamin (niacinamide)
Vitamin B6 (pyridoxine hydrochloride)
Vitamin B1 (thiamin mononitrate)
Vitamin A (palmitate)
A B Vitamin (folic acid)
Vitamin B12
Vitamin D3
Is the cereal Healthy?
Chocolate Chex Breakfast cereal can not really be considered healthy, as there are a low number of nutrients to be gained. For instance, there is only 2g of fiber per serving, which is not a lot compared to other similar cereals on the market.
The breakfast cereal can only offer 2g of protein per bowl, which is not great if you have a particularly busy day ahead of you. In terms of sodium, each serving with milk contains 14% of the guideline daily amount, which is pretty high.
Nonetheless, this gluten-free cereal does contain a fairly high number of vitamins and minerals. It has a low sugar content per serving, which is remarkable considering the key ingredient is chocolate. Furthermore, it doesn't contain high fructose corn syrup, and it offers up to 13g of whole grain rice per serving.
Is the cereal Gluten-Free?
Yes, Chocolate Chex breakfast is gluten-fre, and is labeled as such very clearly on the packaging. As a brand, they are very accessible to those who follow a gluten-free diet as all of their products except one (Wheat Chex) are gluten-free.
Is the cereal Vegan?
Unfortunately, the breakfast cereal is not considered to be vegan because it contains vitamin D3, which is sourced from sheep's wool; however, there is no mention of whether the cereal is vegan friendly on the packaging.
Is the cereal Keto?
Similar to the apple cinnamon offering from Chex, the chocolate variety is not suitable for those who live a keto lifestyle. This is because it is high in carbs and contains refined oils and high-glycemic sweeteners such as molasses.
Is the cereal High in Protein?
Chocolate Chex breakfast cereal is not high in protein, as it only offers 2g of protein per serving. If you want to make your Chex contain a higher percentage of protein, you could always add nuts and seeds, such as chia seeds, which will not affect the taste but will boost the nutritional value of the bowl.
Is the cereal High in Fiber?
The crunchy squares do not deliver in terms of fiber, with only 2g per bowl. You are likely to find other chocolate cereals out there that with a higher fiber content if this is something you are focusing on adding to your diet.
Chex Cereal Brand Alternatives
Kellogg's Frosted Mini-Wheats
This breakfast cereal from Kellogg's is comprised of bite-sized chocolate squares with the additional taste of frosting. Although small in size, the cereal promises big flavor and big health benefits, with 41g of whole grain per serving.
Suitable for a wholesome breakfast or in a trail mix as the perfect snack ingredient, the cereal is low in fat while still providing 5g of protein per bowl, which is not bad for something that is advertised as being so sweet!
Mornflake's Chocolatey Squares
If a bowl of Chex (chocolate) is simply not chocolatey enough, then this cereal from Mornflake may just be the breakfast cereal for you. Not only is it filled with real chocolate, but it also has flavors of hazelnut making breakfast time or snack time even more interesting.
Suitable both for vegetarians and vegans, the Mornflake's chocolate breakfast cereal contains a decent amount of protein – 5.5g in fact per serving with skim milk. It does, however, have a high sugar content and is unfortunately not suitable for those who are gluten-free.
Where You Can Buy the Cereal
It is not too hard to indulge yourself in your chocolate Chex fix, as the breakfast cereal is available at most leading supermarkets and also online.
Famous Chex Cereal Commercials
By far, one of the more well-known television commercials for Chex cereal was their 2004 advert where government officials from around the world come together to discuss important world issues.
While this discussion is going on, a small child interrupts to say that the world needs to be "given a better shape" and puts a big box of Chex cereal on the table. Following that, a group of other children start to read off a list of the benefits of the breakfast cereal.
The main focus of the commercial is to show that this gluten-free cereal comes in 3D shapes with holes to allow the milk to flow through. This results in cereal that stays crunchy and notes Chex as the place "where great taste takes shape."
As of late, Chex does not really choose to advertise its products through commercials. Instead, they regularly post short videos to their social media. This can range from telling customers about a new flavor launch to showing their followers how they can make peanut butter muddy buddies at home and other easy recipes.
The link above shows a short video clip encouraging individuals to make a game-day Chex mix that can be personalized based on teams supported. Who would not want tailored snack mix recipes provided in this way?!
User Reviews
Review Summary
5.0 out of 5 stars (based on 1 review)
Recent Reviews
Great article and insight
Submit a Review