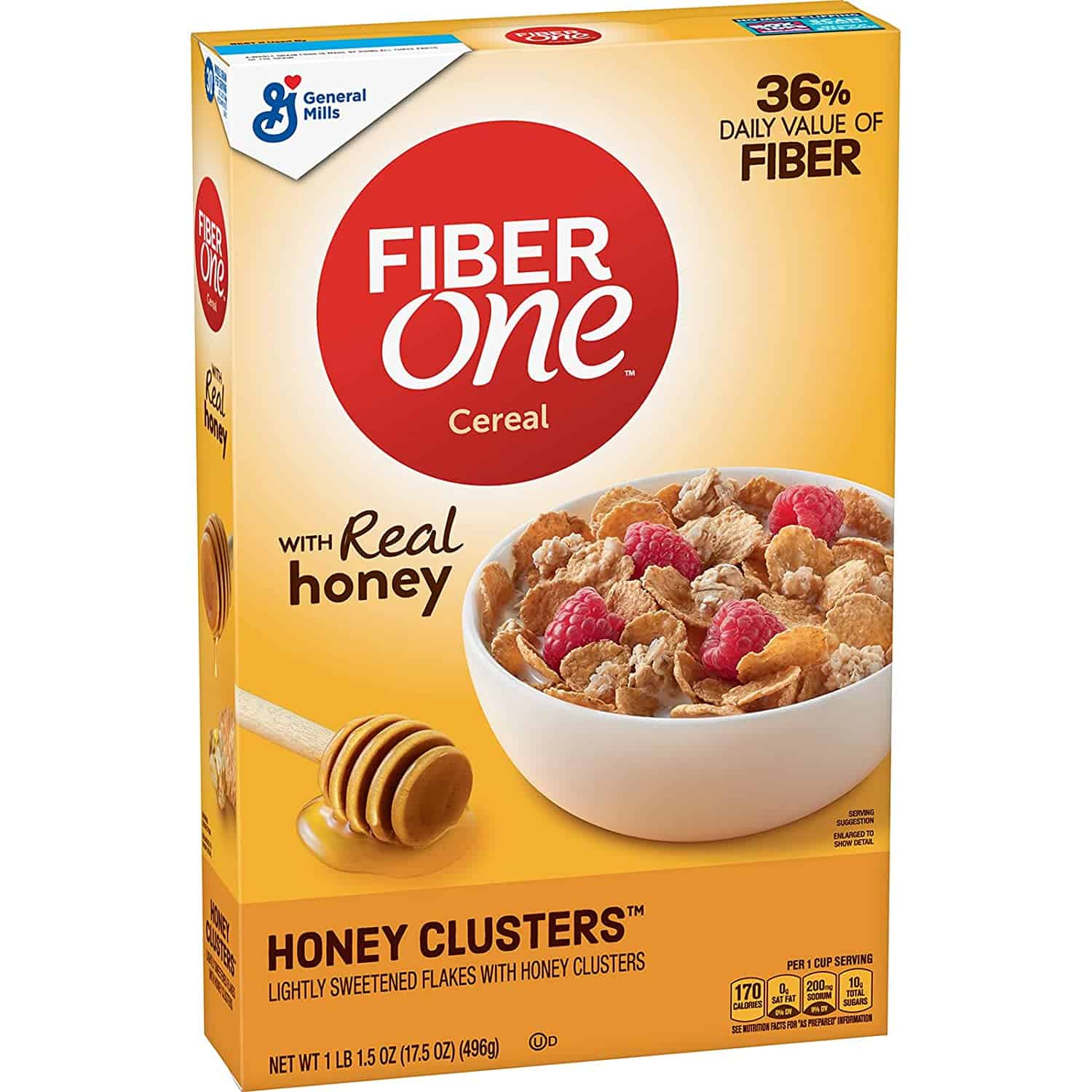 Fiber One Original Bran Breakfast Cereal makes adding fiber intake to your diet extremely easy by providing an original bran cereal that is delicious and high in fiber.
Fiber is extremely important in promoting good gut health, helping you digest food throughout the day. Fiber One cereal has 18 grams of fiber per serving, which is more than 3 times greater than the leading fiber supplement, making it a high fiber cereal.
Nutrition Facts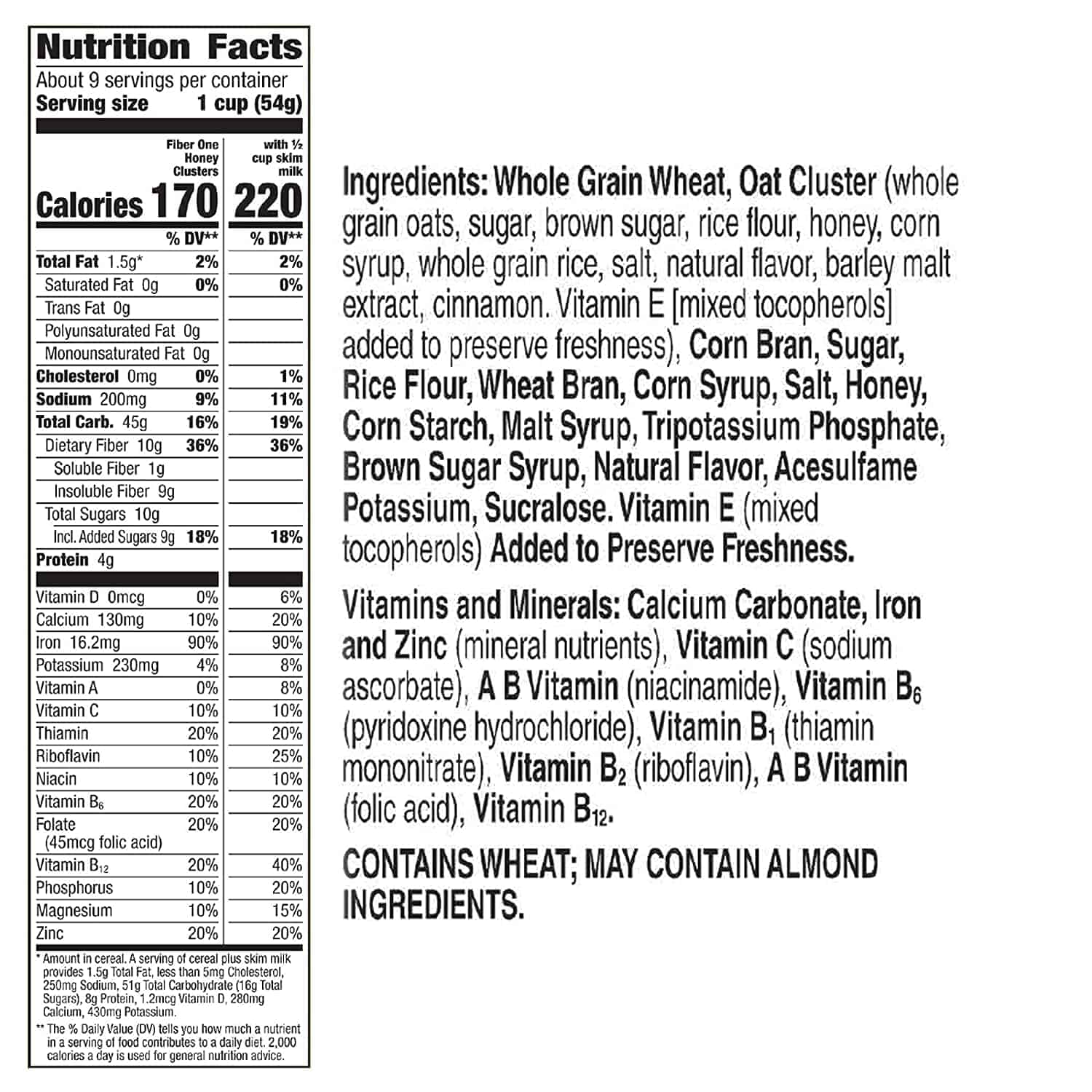 One portion (41g) of Fiber One Original Bran Breakfast Cereal contains:
Calories – 90
Total fat – 1 grams/1% DV
Trans fat – 0%
Saturated fat – 0%
Monosaturated fat – 0 grams
Polyunsaturated fat – 0.5 grams
Sodium – 140mg/6% DV
Cholesterol – 0mg/0% DV
Total carbohydrates – 34 grams/12% DV
Total sugars – 0 grams
Dietary fiber – 18 grams/65% DV
Protein – 3 grams
Vitamin D – 0mcg
Calcium – 0mg/0% DV
Iron – 3.6mg/20% DV
Vitamin A – 0%
Thiamine – 20% DV
Riboflavin – 10% DV
Niacin – 10% DV
Phosphorus – 6%
Folate – 20% DV
Folic acid – 45mcg
Vitamin B12 – 20% DV
Vitamin B6 – 20%
Potassium – 0%
Magnesium – 8%
A 560g box of Fiber One Original Bran Breakfast Cereal contains 14 servings.
Ingredients
The ingredients list of Fiber One Bran Breakfast Cereal contains:
Whole grain wheat
Corn bran
Modified wheat starch
Color (caramel color and annatto extract)
Guar gum
Cellulose gum
Salt
Baking soda
Sucralose
Natural flavor
Calcium carbonate
Vitamin C
Iron and Zinc
Vitamin A & B (folic acid)
Vitamin B6
Vitamin B1
Vitamin B2
Vitamin B12
Is Fiber One Cereal Healthy?
Yes! Fiber One cereal is a super-healthy option as a breakfast cereal with 0 grams of added sugar and 65% of your daily intake of fiber. It is packed with loads of different vitamins and minerals, which all contribute to making you feel your best.
To make this breakfast even more healthy, many fans of the breakfast cereal like to add toppings such as fruits for additional nutritional value. Not only are they starting their day off with plenty of fiber, but they are also getting a couple of the recommended five a day.
Is Fiber One Cereal Gluten-Free?
No, unfortunately, Fiber One cereal is not gluten-free due to wheat being the main ingredient in the breakfast cereal. If you have a hard time digesting foods that contain gluten, such as wheat, then you should avoid eating Fiber One cereal and opt for another healthy alternative.
Is Fiber One Cereal Vegan?
Fiber One Bran Breakfast Cereal is considered vegan-friendly, with many of the ingredients included being vegan alternatives such as guar gum instead of gelatin and no artificial colors.
Fiber One Honey Clusters are a slightly different story as there are a few ingredients that raise some concerns for vegans. The first is sugar, which is often processed using bone char, and honey, which is widely regarded as not being vegan-friendly.
Is Fiber One Cereal Keto?
Due to the high contents of carbohydrates in a single serving of Fiber One cereal, it is not considered a keto-friendly breakfast cereal. In just one serving of Fiber One cereal, there are around 34 grams of carbohydrates which is way too high for those trying to stick to a strict intake of net carbs.
Is Fiber One Cereal High In Protein?
Fiber One cereal contains around 3 grams of protein per serving which is a decent amount but is not as much as some other brands. For example, Magic Spoon cereal contains around 12 grams of protein per serving. It is, however, higher than the average protein content of cereals which is just 1 gram.
Is Fiber One Cereal High In Fiber?
Yes! Fiber One cereal is extremely high in fiber content, with an impressive 18 grams of fiber per serving. This equates to around 65% of your daily intake of fiber, which sets you up for the day with a healthy gut.
This certainly qualifies it as a high-fiber cereal full of whole-grain bran. Some like to pair Fiber one with Raisin Bran for extra flavor and fiber in their diet. Raisin Bran adds a twist to the original cereal with the sweetness from the raisins.
Fiber One Cereal Varieties
Fiber One has a range of products that focus on providing a tasty treat or breakfast option while still being a low-calorie food. Some of the varieties of options offered are listed below.
Fiber One Original Bran
The Fiber One Original Bran breakfast cereal is one of the most popular options for those looking to add more fiber to their diet. You can personalize this cereal by adding your own topping for additional flavors such as berries or other fruits.
Honey Clusters
Fiber One Honey Clusters are also high in fiber but are made with tasty flakes and sweet honey clusters as well as toasted oats. This is perfect for those with a sweet tooth but who also are looking to add more fiber to their diet.
70 Calorie Brownies
Fiber one also has a large selection of low-calorie brownies that are perfect snacks that are full of flavor without an excessive sugar content. Some of the flavors offered include chocolate fudge, birthday cake, and mint fudge.
Chewy Bars
Chewy bars are another snack made by Fiber One that is also low in calorie content while keeping the delicious flavor. You can choose between chocolate peanut butter, chocolate, chocolate caramel & pretzel, and oats & chocolate. Fiber One uses real peanuts with chocolate chips for flavor instead of peanut butter powder.
Protein Bars
Fiber One protein bars are perfect for those looking for a tasty snack full of protein. They give a lot of energy to those looking for a boost before they work out and are relatively low in calories.
Where You Can Buy Fiber One Cereal
Fiber One Cereal can be found in your local supermarket, including Walmart, Target, and Kroger. You will also be able to find some of the other products offered by Fiber One in these supermarkets.
Famous Fiber One Cereal Commercials
The famous 1988 Fiber One commercial focused on letting everyone know that there was 4 times as much fiber in their cereal than the rival shredded wheat.
Another memorable Fiber One commercial starred the actress Desiree Cooper confronting a store employee that suggested that Fiber One was high in fiber, to which she disagreed until proved wrong.
User Reviews
Review Summary
5 out of 5 stars (based on 1 review)
Recent Reviews
Reasons why I eat The General Mills Fiber One Cereal
I'm still eating Fiber One Cereal at the age of 73. We were raised eating a lot of different beans of General Mills cereals as it became a habit. As a child I thought as children do(if it taste good I'll eat it. Now that I'm growing older I'm learning more and I have included healthier foods to my way of thinking. Now I just read and noticed that this particular brand also contains bioengineered food ingredients and now I am very concerned as to what this means when it comes to my health.
Submit a Review