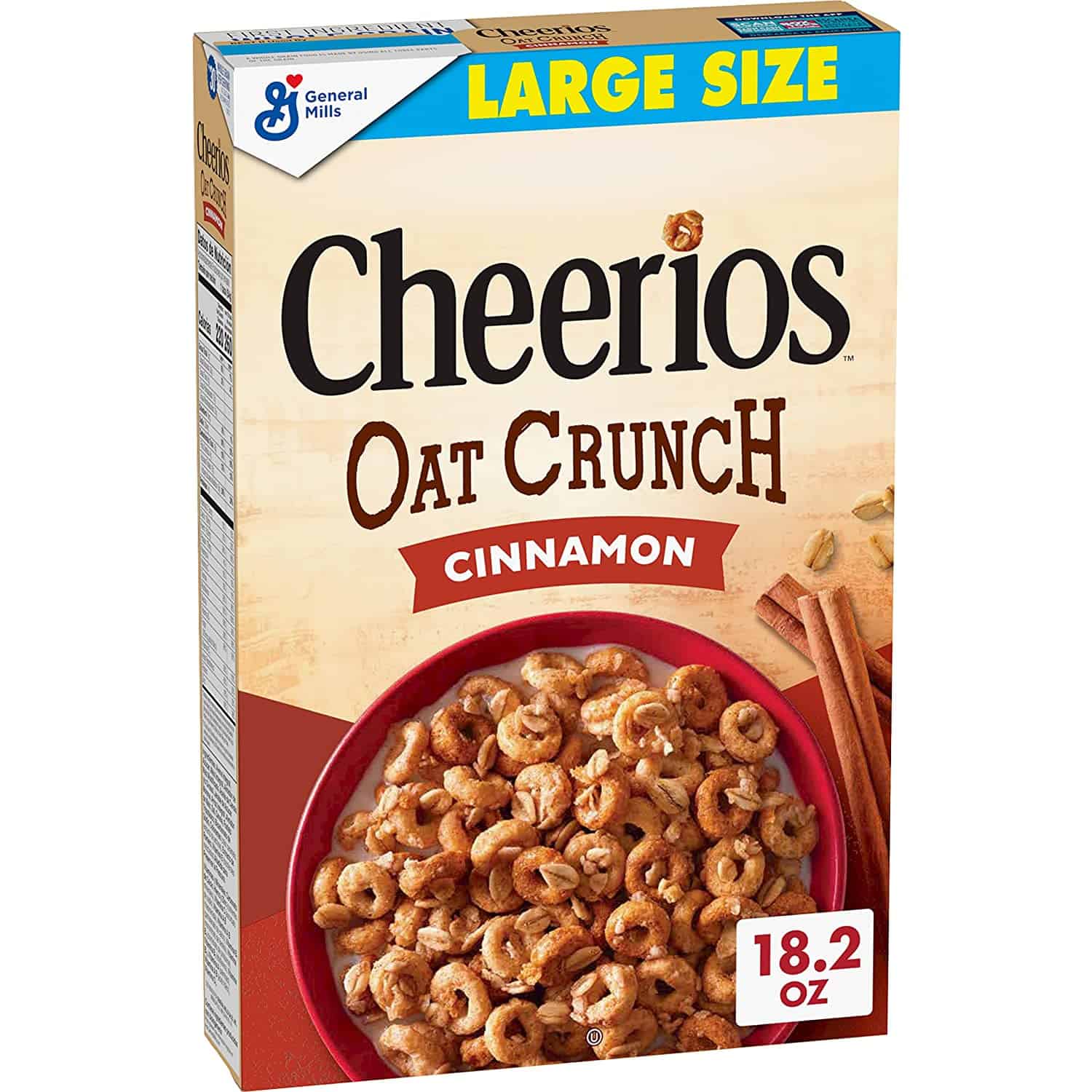 Have you been wondering if Cheerios Oat Crunch cereal is healthy or not? If so, you're in luck! We'll explore the ingredients and nutritional facts of this cereal to see if it's a good breakfast cereal to add to your diet.
This crunchy oat cereal is a fairly new addition to the Cheerios family, but it quickly becomes popular. If you'd like to know more about this Cheerios variety, such as whether it's suitable for vegans or if it's gluten-free, read along for more information.
Nutrition Facts

As you can probably guess, this breakfast cereal from Cheerios is made from oats, including whole oats, for a delicious texture and a crunchier taste. It also claims to contain nine important vitamins and minerals and has no artificial colors or flavors.
Here are the nutrition facts for this oat-filled cereal:
Calories: 230
Fat: 5g 6% DV
Sodium: 230mg 10%
Carbohydrates: 42g 15% DV
Fiber: 4g 14% DV
Sugar: 15g
Protein: 4g
Vitamin D3: 1.2mcg 6% DV
Calcium: 70mg 6% DV
Iron: 10.8mg 60% DV
Ingredients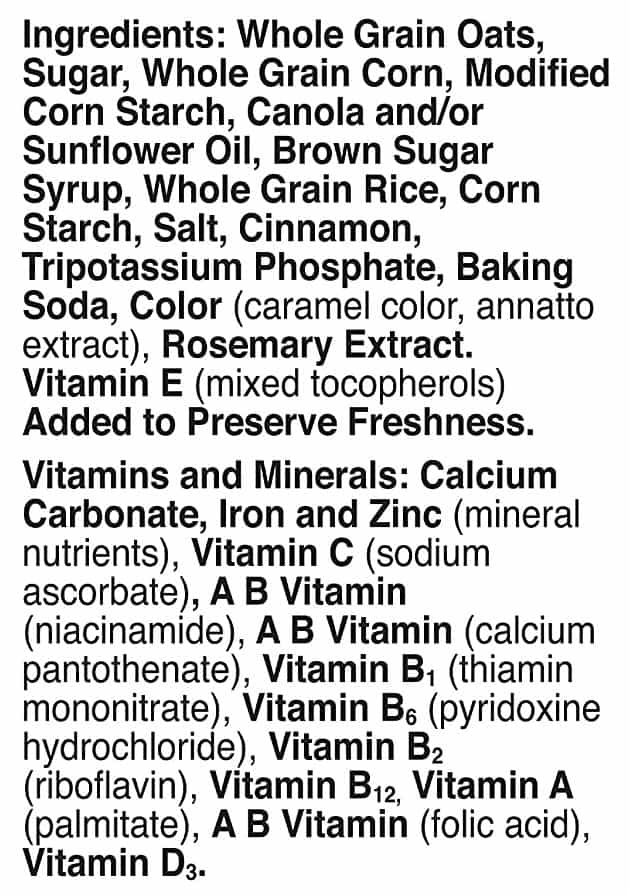 The ingredients in this Cheerios cereal include:
Whole grain oats
Sugar
Whole grain corn
Canola oil
Modified corn starch
Whole grain millet
Whole grain rice
Whole grain sorghum
Corn bran
Honey
Are Cheerios Oat Crunch Healthy?
One look at the ingredients label of Cheerios Oat Crunch Cinnamon breakfast cereal, and you'll see that the first ingredient is whole grain oats. Although this does make it a better option than other cereals, this good news is quickly canceled out by the second ingredient – sugar.
Each serving packs 15 grams of added sugar, which is more than half of the recommended sugar intake for women. This is disappointing, considering the claim on the box that it can help lower your cholesterol levels.
Despite not containing any artificial flavors or colors, Cheerios Cinnamon Oat Crunch breakfast cereal isn't a very healthy and hearty breakfast cereal. There are healthier options, and this cereal should ideally be viewed as an occasional treat.
Are Cheerios Oat Crunch Gluten-Free?
This particular cereal from Cheerios doesn't feature a gluten-free label. It may or may not contain gluten-rich ingredients, but without a label confirming it, the product has not been tested for gluten.
It may also contain 20ppm or more gluten and can't be classed as free from gluten by the Food and Drug Administration (FDA). If you have Coeliac disease or have intolerances, always check the label to ensure you're not accidentally consuming gluten.
Are Cheerios Oat Crunch Vegan?
Sadly, most varieties of Cheerios are not suitable for a vegan diet, and this oat version is no exception. The first reason for this is that it contains refined sugar produced by using animal bone char to whiten it and remove any impurities.
Although this isn't a direct animal product, it is produced using an animal product, leaving a slight grey area depending on your preferences. Another thing that may not be vegan friendly is that Cheerios contain vitamin D, which is sourced from the wool of sheep.
This cereal also contains honey, so if this is something that you tend to avoid, this is one cereal that you'll probably want to leave on the store shelf.
Are Cheerios Oat Crunch Keto?
Because it's a highly processed and high-carb product, Cheerios Oat Crunch is not suitable for a keto diet. It also contains undesirable ingredients such as sugar and corn starch, all of which are usually avoided in a keto diet.
This oat variety of Cheerios should also be avoided by those on a keto diet because of its high net carb amounts. With a huge 42 grams of carbohydrates in each serving, this is not a food that's suitable for low-carb diets.
If you are trying to stay in ketosis, you'll know the importance of keeping your carb intake under 30 grams, so Cheerios is something you'll want to avoid.
Are Cheerios Oat Crunch High In Protein?
Cheerios Oat Crunch contains 4 grams of protein in each serving, which is 1 gram more than most other Cheerios varieties. Although this is a good thing, 4 grams still isn't a great source of protein.
Because of its low protein and high sugar content, Cheerios isn't a product that can offer you a balanced breakfast.
If you're looking for a breakfast cereal that can offer a better source of protein, Magic Spoon cereal is a great option, with each flavor providing 13-14 grams of protein in each serving.
Are Cheerios Oat Crunch High In Fiber?
With 4 grams of fiber in each serving, this Cheerios variety is a fairly good source of fiber. This is thanks to the whole grains that it contains. Whole grains are great for keeping you fuller for longer and for reducing constipation.
Cheerios Oat Crunch Varieties
This oat-packed Cheerios cereal comes in two varieties – Cheerios Oat Crunch Cinnamon and Oats 'n' Honey. Let's take a look at both flavors.
Cheerios Oat Crunch Oats 'n' Honey
Oats 'n' Honey Cheerios contains clusters of multigrain O's, sweetened with honey and oats for a crunchy cereal.
Cinnamon
Cheerios Oat Crunch Cinnamon has a sweet cinnamon bun taste along with a crunchy texture thanks to its base of oats.
Almond
If you love almonds, you'll love this Cheerios variety, featuring the sweet taste of cinnamon, almonds, and crunchy oats.
Cheerios Oat Crunch Store Brand Alternatives
If you're looking for a store brand alternative, you might like this Morning Oat Crunch cereal from Barbara's. They also sell this oat and honey granola to provide a tasty snack. Or, if you're looking for a similar Cheerios flavor, you might like Honey Nut Cheerios, available from Amazon and all retail stores.
Where You Can Buy Cheerios Oat Crunch?
Cheerios Oat Crunch cereal can be bought in all major grocery stores, including Target, Walmart, and Kroger. This cereal can also be bought online if you prefer to shop that way.
Famous Multi-grain Cheerios Oat Crunch Commercials
Since this variety of Cheerios is still quite new, there aren't any famous TV commercials as of yet. The commercial, Set the Rhythm for a Great Day, was launched in 2021, explaining how this cereal is perfect for the whole family.
User Reviews
Review Summary
5.0 out of 5 stars (based on 2 reviews)
Recent Reviews
Love Them
The problem is that I want to eat the entire box of them at one time.
Delicious 😋
I like to eat Cheerios when I get a sweet tooth instead of ice cream or an apple pie 🤣 This cereal is filling and delicious. Will definitely purchase again.
Submit a Review