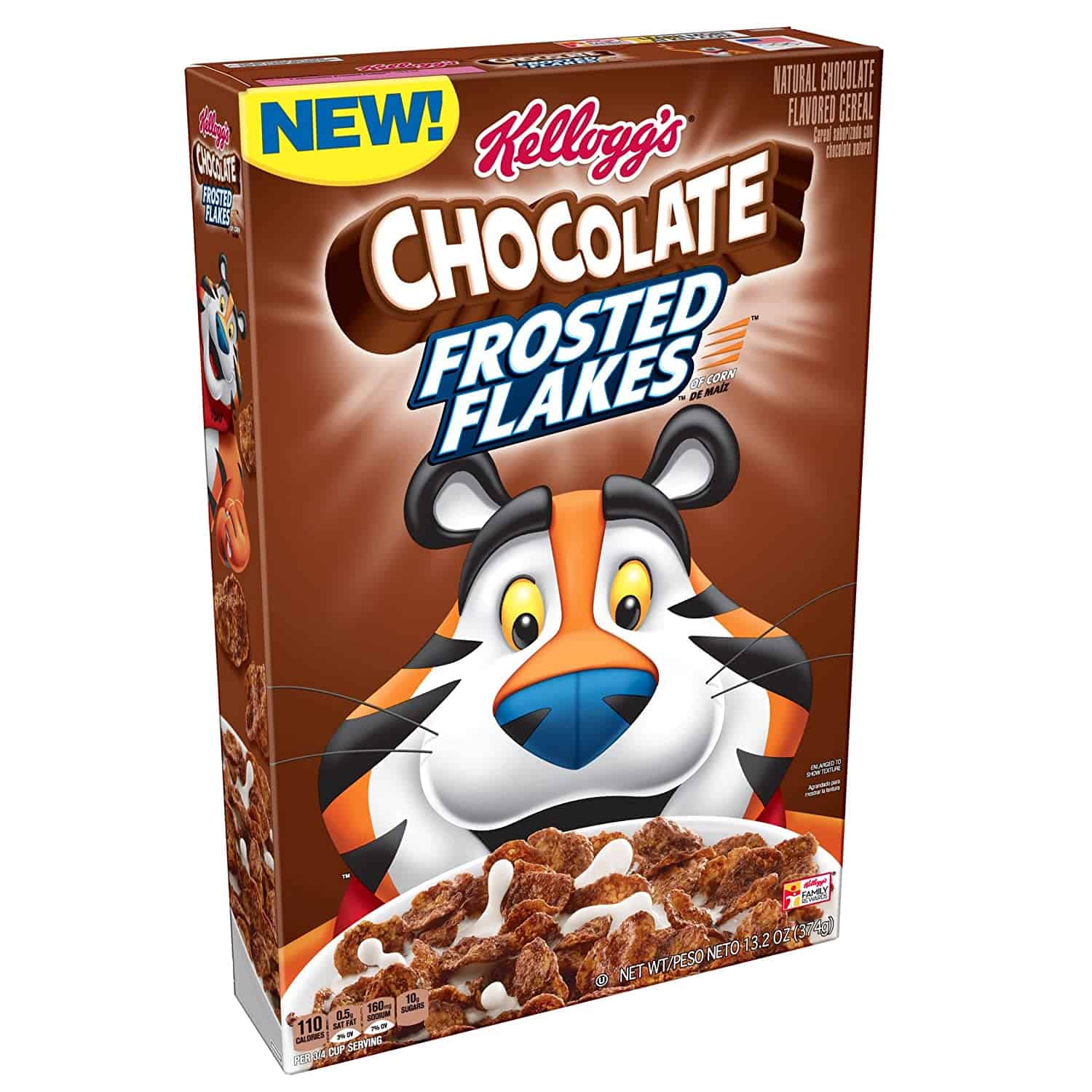 It's hard to think of anything that can't be improved by adding chocolate to it; this is especially true with chocolate cereal.
With this Kellogg's Chocolate Frosted Flakes, we get all the sweetness of frosted corn flakes with a beautiful chocolate coating, and not to forget the bonus treat at the end: a bowl of chocolate-flavored milk.
You'll get a sweet Cocoa Pebbles aroma from this blend, which is actually Kellogg's second attempt at making a chocolate-infused corn flake cereal, and trust us, they've nailed it this time.
It's not often we get to enjoy a flakey cereal with a chocolate flavor. Usually, chocolate is reserved for puffed rice or corn, so trying it with corn flakes is a fun, novel cereal experience.
The sweet cocoa flavor isn't too overpowering, so every bite is a blend of chocolatey goodness with vanilla flavor notes. Not to mention the bowl of chocolate milk you get to enjoy once you're finished!
Let's take a closer look at Kellogg's Chocolate Frosted Flakes.
Nutrition Facts

One 39g serving of this cereal contains:
Calories 150
Total Fat 1 g/1% DV
Saturated Fat 1 g/5% DV
Trans Fat 0 g
Polyunsaturated Fat 0g
Monounsaturated Fat 0g
Cholesterol 0mg/0% DV
Sodium 210mg/9% DV
Total Carbohydrate 33 g/12% DV
Dietary Fiber 1g/5% DV
Total Sugars 13g
Includes 12g Added Sugars 12g/24% DV
Protein 2g
Vitamin D 2mcg/10% DV
Calcium 0mg/0% DV
Iron 7.2mg/40% DV
Potassium 70mg/ 0% DV
Thiamin 20% DV
Riboflavin 20% DV
Niacin 20% DV
Vitamin B6 20% DV
Folate (70 mcg Folic Acid) 120 mcg/30% DV
Vitamin B12 20% DV
Ingredients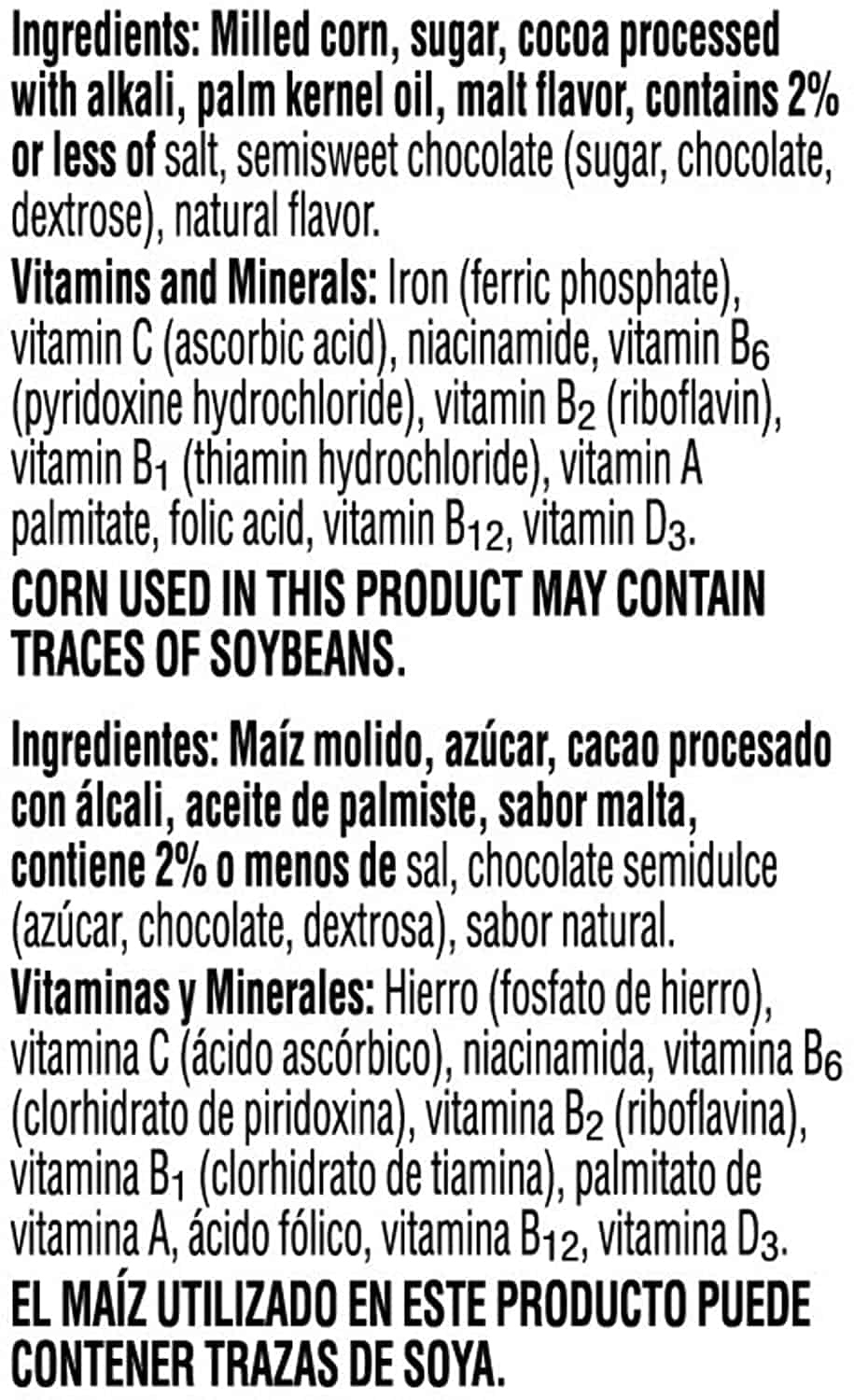 Milled corn
Sugar
Cocoa processed with alkali
Palm kernel oil
Contains 2% or less of malt flavor
Salt
Semisweet chocolate (sugar, chocolate, dextrose)
Natural flavor
Vitamins and Minerals:
Iron (ferric phosphate)
niacinamide
Vitamin B6 (pyridoxine hydrochloride)
Vitamin B2 (riboflavin)
Vitamin B1 (thiamin hydrochloride)
Folic acid
Vitamin D3
Vitamin B12
Are Chocolate Frosted Flakes Healthy?
This cereal contains no artificial colors or flavors, nor does it use high fructose corn syrup to achieve its yummy taste.
It also contains zero fat and cholesterol, though this is common in cereals, which get all of their flavors from carbohydrates and not fats. So if you're trying to stick to a low-fat diet or lower your cholesterol, these are safe options.
That being said, 33g of a 39g serving of this cereal is carbohydrates; 13 g of that is all sugar. So if one-third of a bowl is pure sugar, that tells us that this cereal is not going to fill us with lasting energy.
It's more likely you will find yourself craving another bowl soon after you finish this one, and hey, there's nothing wrong with having another bowl if you feel like one, but this isn't a good cereal to provide a wholesome, nourishing breakfast to provide lasting energy until lunchtime.
Are Chocolate Frosted Flakes Gluten-Free?
Sadly this cereal isn't suitable for a Celiac or gluten-restrictive diet due to the malt flavor that sweetens the frosted flakes. This flavor is acquired from barley, a gluten-containing grain, and could aggravate any allergies.
Are Chocolate Frosted Flakes Vegan?
At face value, this cereal is suitable for a vegan diet, but you may want to express a little caution whenever you're considering a cereal with sugar in its ingredients.
Often, during the sugar whitening process, sugar is whitened with bone char, a product of roasting animal bones. So while this method isn't explicitly used, it is a common practice, and it's hard to find out whether a particular cereal has used it.
Are Chocolate Frosted Flakes Keto?
A ketogenic or keto diet is designed to create a state called ketosis, where your body begins to manufacture ketones, an alternative, and long-lasting energy source.
To enter ketosis, you must cut carbohydrates down to a minimal level, no more than 20g a day, and simultaneously increase fat intake, as your body requires fat to produce ketones.
This cereal contains no fat, so it will provide the body with zero fuel to create ketones, but more importantly, the 33g dose of carbohydrates in each serving is more than enough to knock your body out of ketosis for 24 hours.
Are Chocolate Frosted Flakes High In Protein?
Cereals are often ineffective sources of protein, and that's true here, too, with only 2g per 39g serving.
Are Chocolate Frosted Flakes High In Fiber?
The FDA guidelines suggest that foods must contain 5g of fiber per serving to be considered high fiber. This cereal contains just 1g of fiber, which is relatively low as cereals go. Corn as a grain contains less fiber than other grains such as oats or sorghum.
Chocolate Frosted Flakes Varieties
Chocolate Frosted Flakes is still available for purchase, but it's not on general release and can be tricky to find unless bought online. There are no different varieties of this particular cereal, but here are a few alternatives if you're having no luck finding the original –
Cocoa Krispies – The same variation but this time on another classic cereal. Here you get the same chocolate taste but with smaller, softer cereal pieces drink up the milk and turn all soft and gooey, leaving behind the same sort of dark chocolate shake to drink straight from the bowl when you're done; we won't tell!
Coco Pebbles cereal – Another chocolate classic, this gluten-free, sweetened rice cereal is low in fat and cholesterol and stacked with ten essential minerals and vitamins, not to mention that yummy chocolate taste.
Chocolate Frosted Flakes Store Brand Alternatives
Every grocery store will have its chocolate-flavored cereal, rice, or corn puffs versions of this chocolatey cereal. A kid and possibly a koala-approved alternative would be Nature Path's Organic Chocolate Koala Crisp Cereal or Nestle's Koko Crunch Cereal which comes in fun little wheat curl shapes.
Where You Can Buy Chocolate Frosted Flakes?
You may struggle to find this cereal in stores, but you may have better luck checking out online retailers like Amazon and Instacart.
Famous Chocolate Frosted Flakes Commercials
This Kellogg's Chocolate Frosted Flakes commercial from 2017 shows cereal fans enjoying the crunchy taste of this cereal alongside Tony The Tiger while giving us a closer look at how good a bowl looks.
User Reviews
Review Summary
0 out of 5 stars (based on 0 reviews)
Recent Reviews
There are no reviews yet. Be the first one to write one.
Submit a Review