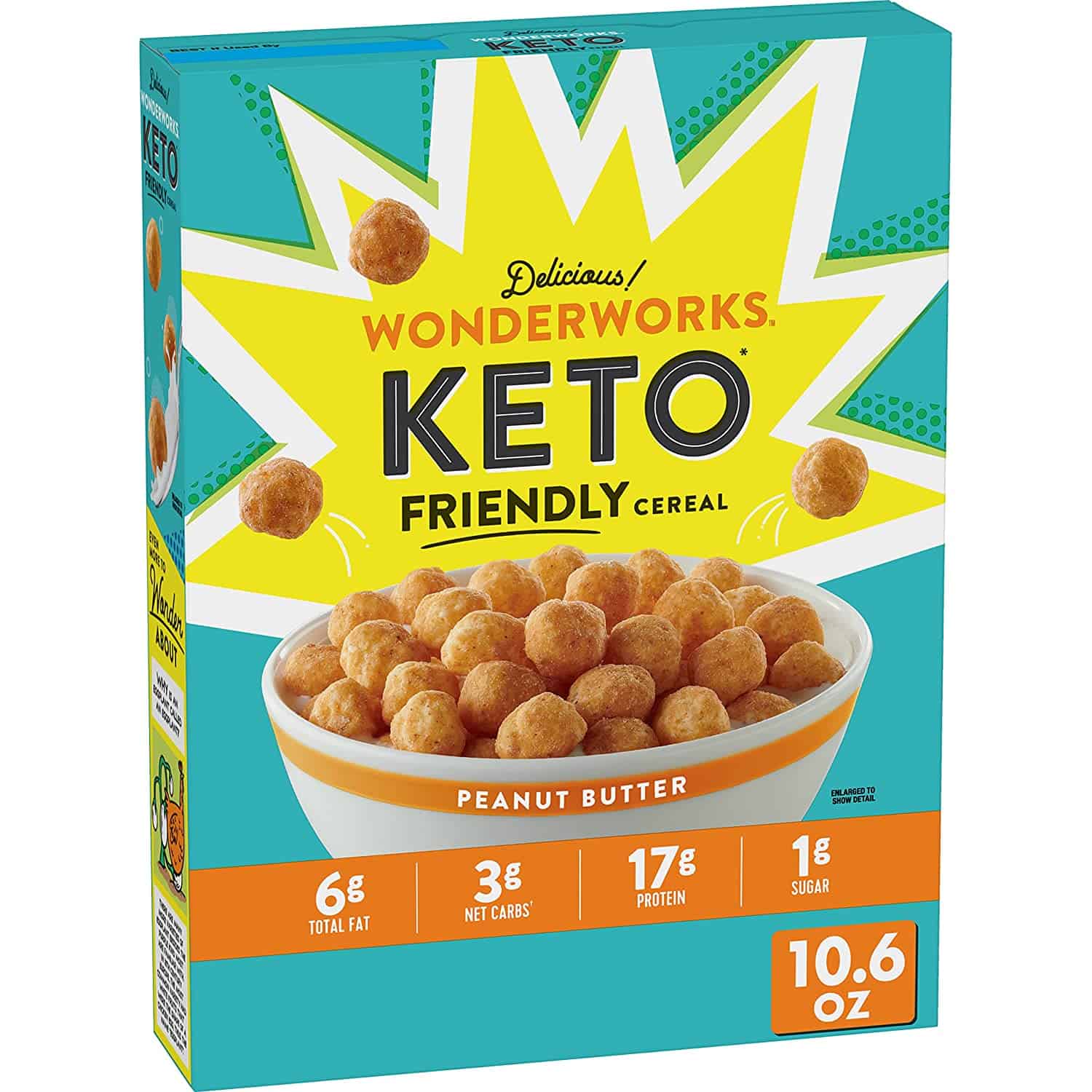 Keto dieters will be overjoyed to know that there's another brand of cereal that has created a line of flavor combinations made solely for those on a keto diet.
Keto dieters can find it difficult to find the right cereal for their needs, especially as a lot of them can often be high-carb processed foods or contain heaps of sugar per serving.
If you're looking for a keto-friendly and great-tasting cereal, then it's certainly worth trying the Wonderworks cereal. Here's everything you need to know about this breakfast cereal.
Nutrition Facts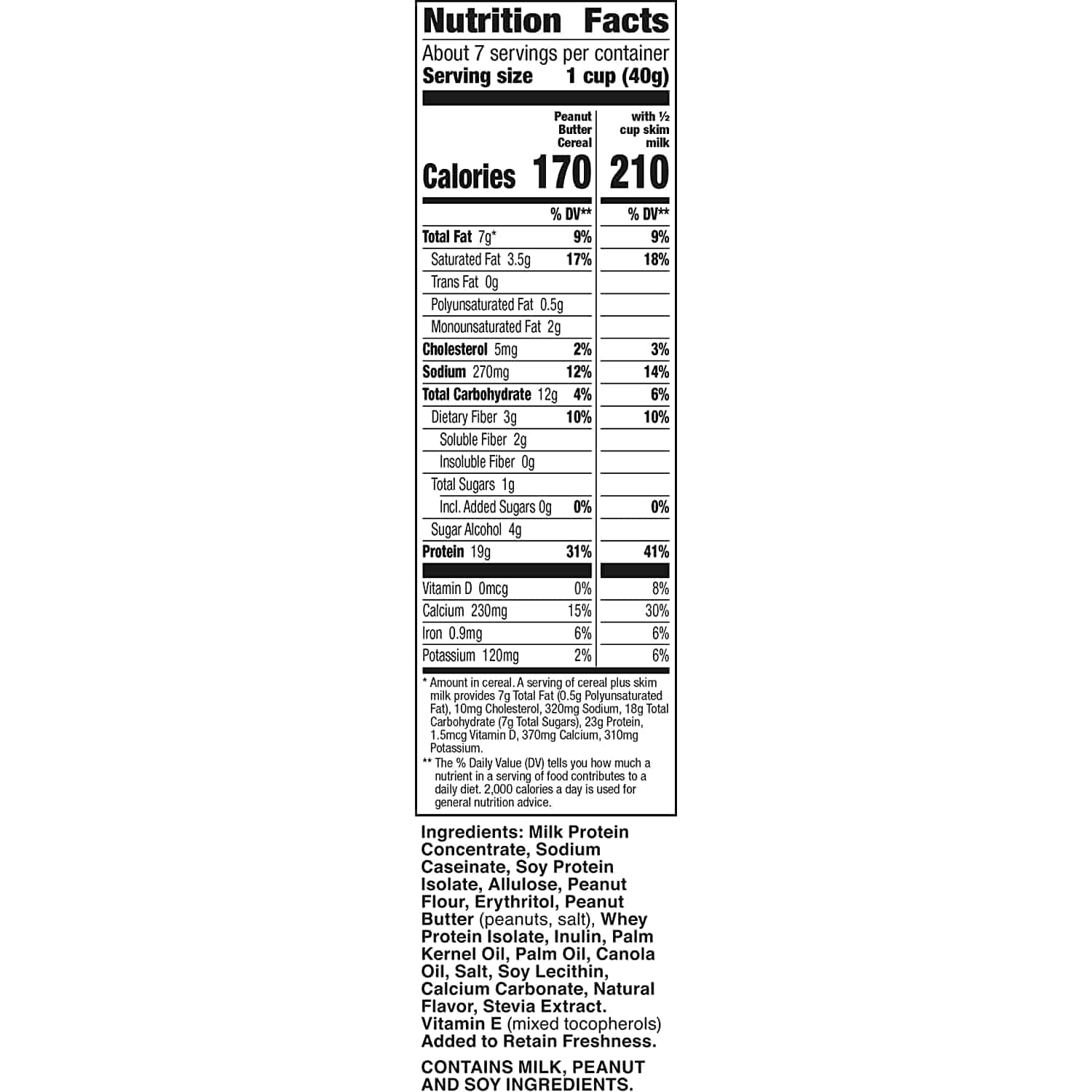 Depending on which cereal variety you go for, there are likely to be slight changes in their nutritional value. With that being said, the below information pertains to the cinnamon cereal variety.
Calories – 150
Total Fat – 6g
Cholesterol – 15mg
Sodium – 75mg
Total Carbs – 17g
Dietary Fiber – 5g
Total Sugars – 1g
Sugar Alcohol – 5g
Protein – 15g
Vitamin D – omcg
Calcium – 230mg
Iron – 0mg
Potassium – 0mg
Ingredients
As a keto-friendly cereal, there are a lot of restrictions in place to help adhere to the diet itself. That means the ingredients are going to be a lot healthier as the cereal needs to be both low in sugars and carbohydrates. However, there are a few additions as a result of this that are worth being aware of:
Allulose
Peanut Flour
Erythritol
Peanut Butter (Peanuts, Salt)
Whey Protein Isolate
Inulin
Palm Kernel Oil
Palm Oil
Canola Oil
Rice Starch
Soy Lecithin
Natural Flavor
Stevia Extract
Vitamin E (Mixed Tocopherols)
Milk Protein Concentrate
Erythritol
Is Wonderworks Cereal Healthy?
Wonderworks cereal is a keto-friendly option for those on a keto diet. When it comes to the subject of it being healthy, it does have its health benefits, despite being a little high in cholesterol.
Unlike other processed cereals, it's a lot lower in sugars, and the carbohydrate content is a lot lower than most. The makers behind the cereal wanted to recreate a breakfast dish that was just like what many had as children but provided the nutritional benefits that adults need.
With just 3g net carbs, it makes for a delicious breakfast treat without overindulging on the carb allowance that a keto diet suggests.
Is Wonderworks Cereal Gluten-Free?
This cereal isn't gluten-free, but there are a lot of General Mills cereals that are gluten-free and appropriate for those who have intolerances or have an allergy to gluten.
There are various ingredients found in this cereal that contain gluten and so it's important to opt for something other than this crunchy cereal. As tasty as it may be, it's not worth risking for those who have a reaction to gluten. General Mills has over 1,000 gluten-free products to choose from, so you're spoilt for choice!
Is Wonderworks Cereal Vegan?
Wonderworks cereal is sadly not vegan, which can be the same for those who are looking for a vegan-friendly cereal. There is progress being made with many food brands to make more vegan-friendly products, especially with many turning to this food preference nowadays.
If you're not vegan, then you'll likely find a favorite cereal in the Wonderworks range.
Is Wonderworks Cereal Keto?
Yes! Created for those who need keto cereals, the Wonderworks keto-friendly cereal is perfect for all adults who are on this type of diet.
Low in sugar, it uses sugar alcohol instead to add to the sweetness of the cereal. All varieties of the Wonderworks cereal are great for those on a keto diet. From the peanut butter flavor to the frosted and chocolate options.
Is Wonderworks Cereal High in Protein?
Wonderworks keto-friendly cereal is significantly higher in protein than most cereal brands can offer. This is due to its ingredients that make up the whopping 15g of protein per serving. This crunchy cereal can be a great option for providing a more protein-rich diet.
This cereal is said to be good with unsweetened almond milk for those who would like to try it with a milk substitute.
Is Wonderworks Cereal High in Fiber?
Yes, the Wonderworks cereal, whether it's peanut butter flavor or cinnamon, is high in fiber. As part of a high fiber diet, it's one that can be great for the digestive system. Despite it being part of the high-fat foods, there are a lot of good fats in this cereal as well as fiber that can really help with bodily functions.
Wonderworks Cereal Varieties
There are a number of cereal varieties to choose from when shopping for this keto-friendly cereal.
Frosted
This is a frosted version that's sweeter than most but still has that satisfying crunch. Frosted cereal as a kid was something that was a staple for many, so it's only right that it's available in this cereal brand.
Peanut Butter
For a sweet and savory kick, the peanut butter is a keto-friendly cereal that you'll love with every mouthful. The peanut butter flavor might not be for everyone, but it's certainly a memorable one. If you love peanut butter in general, you'll love this peanut butter variety.
Chocolate
Chocolate is an addictive flavor for many. One of Wonderworks' flavors when it comes to keto cereal is a chocolate flavor that packs a sweet punch with every bowl.
Cinnamon
For those who like cinnamon spice and everything nice, this keto cereal is one you should treat when you want a sweet treat for breakfast. It's the perfect seasonal cereal that is worth stocking for the holidays!
Where You Can Buy Wonderworks Cereal
Be sure to consult your physician before taking on a keto diet or having a diet that's rich in high-fat foods. This cereal brand can be found in many places online and offline. Here are a few places to start shopping:
Amazon
Target
Walmart
Instacart
Famous Wonderworks Cereal Commercials
As a breakfast cereal that doesn't particularly have a huge following or a famous individual or name to it, there are no existing Wonderworks cereal commercials available at present.
User Reviews
Review Summary
0.0 out of 5 stars (based on 0 reviews)
Recent Reviews
There are no reviews yet. Be the first one to write one.
Submit a Review