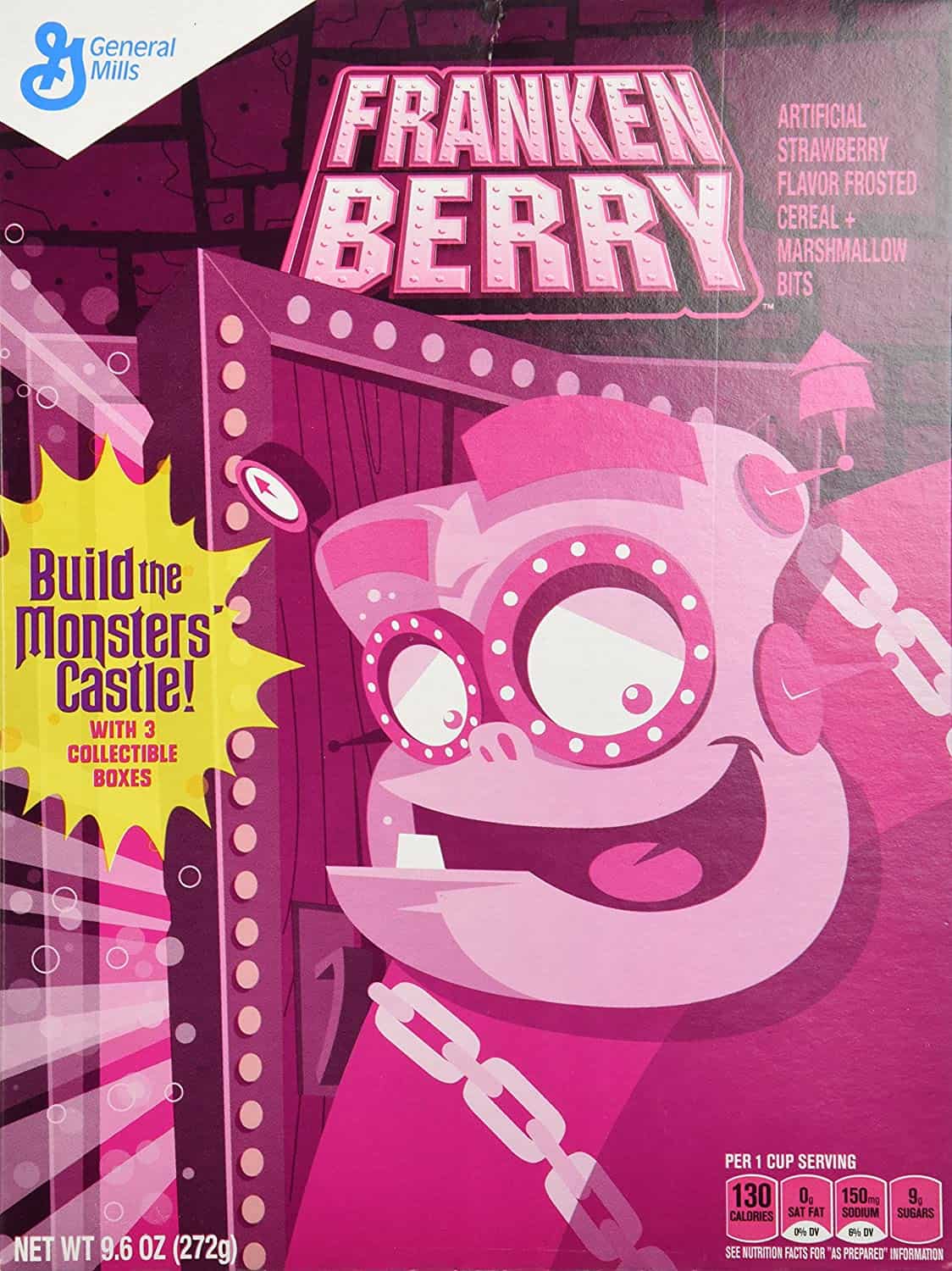 In 1971 General Mills introduced two revolutionary monster-themed kinds of cereal: Count Chocula and Franken Berry. They were initially intended to be seasonal cereals, but they were so popular they stayed on shelves year-round.
These combinations of sweet whole grain corn cereal pieces and spooky marshmallows were unique as they were the first chocolate and strawberry on grocery store shelves.
Flavored milk was also a new and exciting thing, and these cereals were even more exciting because they were the first to change the flavor of the milk to chocolate or strawberry.
Even though it's now usually a seasonal treat only available around Halloween season, Franken Berry cereal has been a family favorite for 50 years, making it one of America's longest-running cereals.
Let's take a look inside the box of this classic strawberry-flavored treat.
Nutrition Facts

A 1 cup serving of Franken Berry cereal contains:
Calories – 127
Calories from fat – 13
Total fat – 1.4g/2% RDA
Saturated fat – 0.2g/1%
Trans fat – 0g
Polyunsaturated fat – 0.5g
Monounsaturated fat – 0.7g
Cholesterol – 0mg/0% RDA
Sodium – 151mg/ 6% RDA
Potassium – 54mg/2% RDA
Total carbohydrates – 28g/9% RDA
Dietary fiber – 1.4g/6% RDA
Sugars – 9g
Protein – 1.8g
Vitamin A – 10% RDA
Vitamin C – 10% RDA
Calcium – 7.7% RDA
Iron – 25%
Ingredients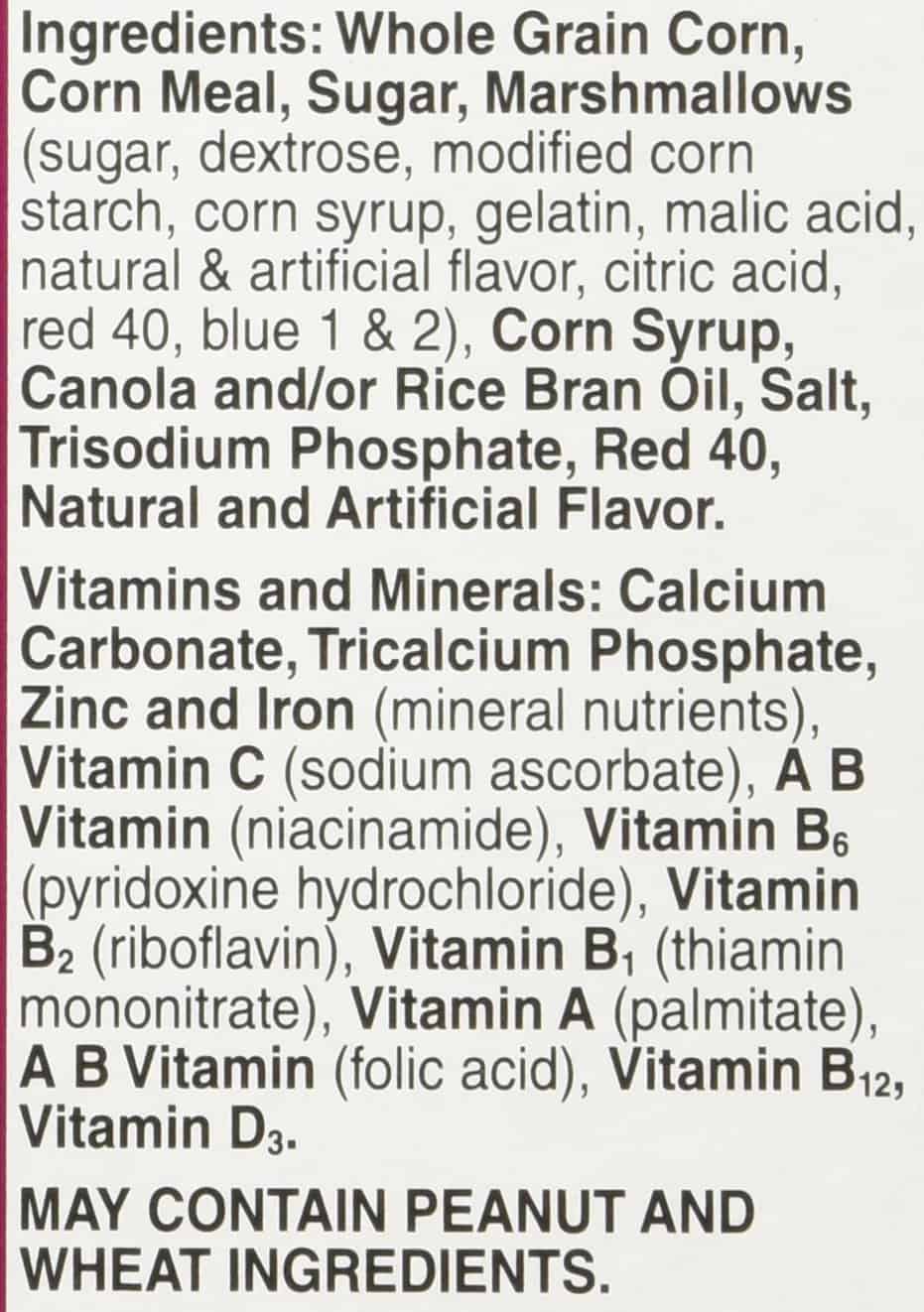 Whole grain corn
Corn meal
Sugar
Marshmallows (sugar, dextrose, modified corn starch, corn syrup, gelatin, malic acid, natural & artificial flavor, citric acid, red 40, blue 1&2)
Corn syrup
Canola oil
Salt
Trisodium phosphate
Red 40
Natural and artificial flavors
Is Frankenberry Cereal Healthy?
Franken Berry cereal has medium to high sugar content at 9g per serving and contains only 13 calories from fat with only 1.4g of fat per serving. It also contains small amounts of your RDA of a selection of minerals and vitamins, such as 25% of your daily iron intake.
While it is free of fat and relatively low on sugar, it is also free of most of the valuable elements we would want from a nutritious breakfast. This means a bowl of this strawberry-flavored cereal might be delicious. It won't deliver long-lasting energy and may leave you craving a second bowl of Franken Berry once the quick burst of energy has worn off.
When Franken Berry was first introduced, it was colored with the insoluble red clothing dye Amaranth. Clothing dye was often used for food, but this additive caused controversy as a wave of parents reported their children having red stools. This phenomenon became known as Franken Berry stool, causing them to replace their coloring with Red 40.
Though a much more acceptable coloring, Red 40 and other modern colorings are known to be a source of hyperactivity in children.
Is Frankenberry Cereal Gluten-Free?
Franken Berry is made with Cornmeal, which is 100% gluten-free and suitable for those who observe a gluten-free diet or have Celiac disease.
Is Frankenberry Cereal Vegan?
While the cereal pieces are vegan friendly, the marshmallows in Franken Berry are made using gelatin. This binding agent is made from rendered animal fat and is not permitted under a vegan diet.
Is Frankenberry Cereal Keto?
Carbohydrate intake is strictly limited in a ketogenic diet and replaced with a high fat intake. This encourages your body to ketosis, where it begins to produce ketones from fat as an alternative energy source.
You must consume less than 20g of carbs a day to enter ketosis, and unfortunately, Franken Berry contains 28g of carbohydrates. This amount would cancel any chances your body has of entering ketosis for the next 24 hours.
Taking on decent levels of high-quality fat is crucial to producing ketones, and with less than 1.4g of fat per serving, Franken Berry doesn't contain enough fat as an alternative energy source.
Franken Berry is not suitable for a ketogenic diet with high carb levels and low fat.
Is Frankenberry Cereal High in Protein?
Franken Berry contains only 1.8g of fat and therefore is a poor source of protein.
Is Frankenberry Cereal High in Fiber?
The FDA recommends that foods with 5g of fiber be considered 'high fiber.' Franken Berry cereal only contains 1.4g of dietary fiber (6% of your RDA), so it is not a high fiber food source.
Frankenberry Store Brand Alternatives
General Mills introduced a third berry-flavored monster-themed cereal two years after introducing Count Chocula and Franken Berry cereal with Boo Berry. This cereal has the same format as Franken Berry, with blueberry-flavored frosted cereal pieces.
After 2010 however, both Franken Berry and Boo Berry became sporadically available and can generally only be seen on shelves around Halloween. Count Chocula is still available year-round and uses the same combination of sweet cereal and marshmallow pieces, so it could be a great alternative if you're not set on a strawberry-flavored cereal.
And there's Lucky Charms, which also isn't berry-flavored but is beloved for its classic cereal and marshmallow combo.
Where You Can Buy Frankenberry Cereal
If you hunt online, you may find boxes of Franken Berry cereal at specialist retailers, but these can often be expensive. Sometimes, if in stock, you can see this cereal on online retailer websites like Amazon. Otherwise, you'll only find it in grocery stores, such as Walmart, around the Halloween season.
Famous Frankenberry Cereal Commercials
The advertising campaign for Franken Berry and Count Chocula was massive in the 70s, with a range of vouchers and in-pack toys included in cereal boxes. General Mills even had Bella Lugosi voice Chocula in one of their monster cereals commercial.
Despite having a few facelifts on the way, these two characters are the longest-running cereal mascots and were shown in commercials like this, bickering over whose cereal was the tastiest.
This older Franken Berry comercial from 1986 cereals, and shows kids cheering up Frankenstein. It also advertises the other cereal varieties that are part of this Monster collection from General Mills, Boo Berry and Count Chocula.
User Reviews
Review Summary
0 out of 5 stars (based on 0 reviews)
Recent Reviews
There are no reviews yet. Be the first one to write one.
Submit a Review