The cerealverse is for everyone. All are welcomed, and it has something for everyone to enjoy. That is why sugar-free breakfast cereals are so important to the cerealverse.
Could you imagine a childhood without the ability to eat cereal?
Being sugar-free is a real necessity for some people. Food technology has created many sugar alternatives, such as sugar alcohols, Stevia, and various fruit options, which are all good for taste and blood sugar.
Today, more than ever, sugar-free cereal lovers are welcomed to enjoy all the fun of cerealverse without having added sugar get in the way.
These are our favorite sugar-free breakfast cereals, but we're very interested in knowing which is your favorite.
Arrowhead Mills Natural Puffed Corn Cereal
Arrowhead Mills is making galactic waves in the cerealverse. This is a breakfast cereal brand that genuinely wants cereal to be a work of gastronomic art that everyone can enjoy.
Corn is as American as you can get when it comes to staple foods. And, what popcorn did for the snack world, puffed corn did for the cerealverse.
This cereal is completely sugar-free and contains a single ingredient, puffed whole grain yellow corn. So, absolutely no artificial ingredients. This also means it's gluten-free and could even be enjoyed on a Keto diet having only 10 net carbs.
Barbara's Shredded Wheat
The American sister of Weetabix, Barbara's cereal, is another brand creating a stir.
Kellogg's made shredded wheat a superhero in the cerealverse, but they are not the only player in the game. Barbara's version is 100% whole grain wheat with no added sugars and 34 net carbs. It's kosher, vegan, and non-GMO certified.
Barbara's is high in dietary fiber with 7 grams of fiber per serving, though not Keto-friendly as wheat and Keto are not exactly having a love affair.
Three Wishes Unsweetened Grain-Free Cereal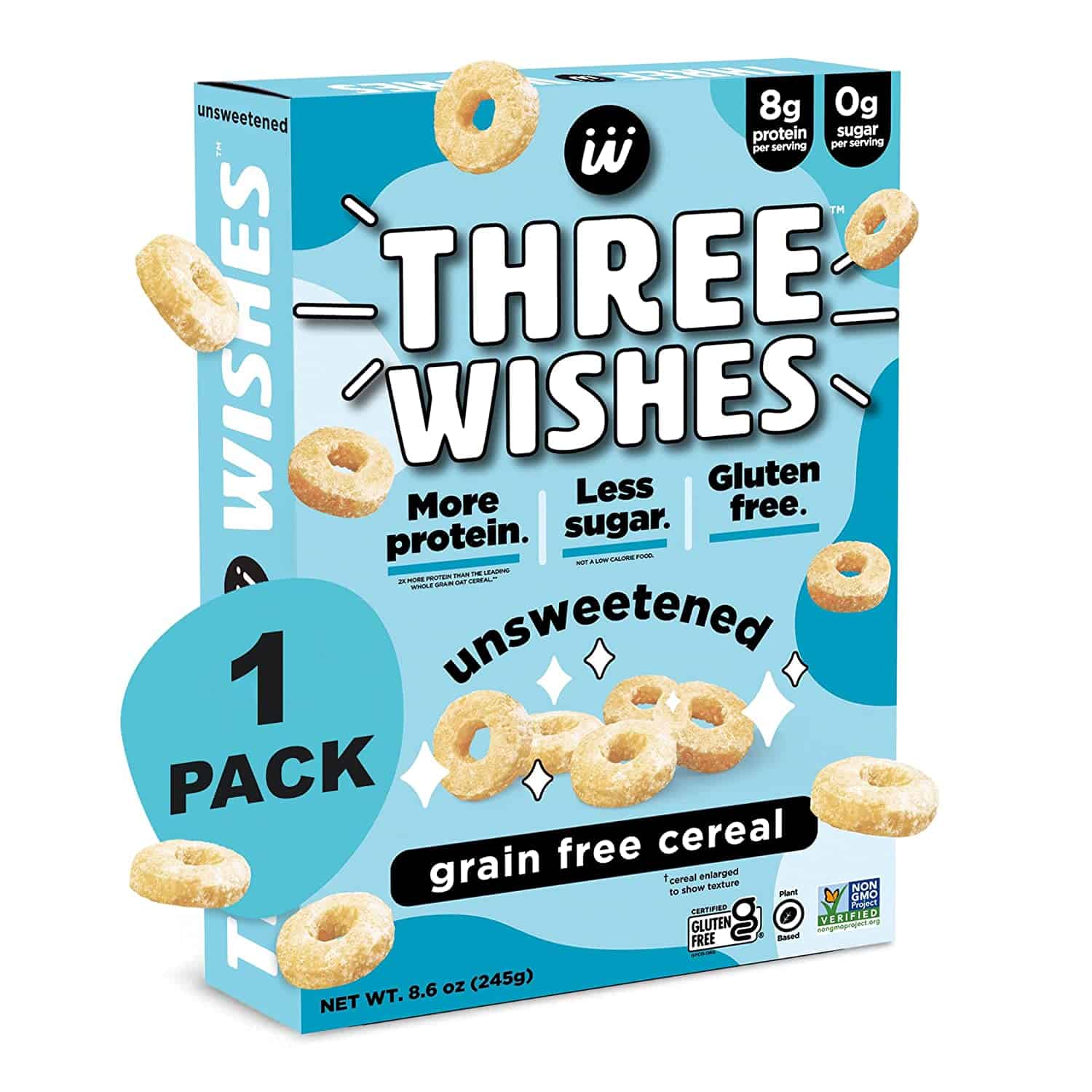 If you could have three wishes in the cerealverse, what would they be? (comment down below)
Well, Three Wishes Cereal thinks:
More protein
Sugar-free
Gluten-free Grain-free unsweetened cereal
Well, if those were your three wishes as well, then you're in luck! This breakfast cereal is all of that plus some.
Made from Chick Pea protein (you read that right, this is the hummus of the cerealverse), a single serving equals:
0 grams of sugar (no sugar alcohols)
8 grams of protein
12 net carbs (making it Keto-friendly)
Vegan
Kosher
Non-GMO Verified
Dairy-Free
Soy-Free
Know what will blow your mind? Get your credit card ready; it's $10 for an 8.6 ounce/245 grams box! I think I know what one of my three wishes will be.
Nature's Path Rice Puffs
While this breakfast cereal is made from brown rice, it's not the rice cakes of the cerealverse.
This is certified gluten-free and organic brown rice with 16 grams of whole grains and 12 net carbs in each serving. Oh, and it's also a sugar-free crunchy cereal that will invoke memories of the puffed rice giants.
Kashi 7 Whole Grain Puffs
Kashi is known to be on the edgy side. This is definitely in that genre. It's a mix of 7 whole grains and no sugar alcohols, but it's the mix that's interesting:
Whole Hard Red Winter Wheat
Whole Rye
Whole Long Grain Brown Rice
Whole Oats
Whole Triticale
Whole Buckwheat
Whole Barley
Sesame Seeds
Just curious, which of those were you least expecting?
Magic Spoon Fruity Grain-Free Cereal
Finally, a fruity cereal. Remember those three wishes? How about a fruity cereal for a:
Low carb diet
High protein diet
Sugar-free diet
If those were your three wishes, you can thank us now. Magic Spoon did all the work, but we told you about it. And the name says it all; each scoop is a Magic Spoon. A 1-cup serving provides:
13 grams of protein
4 grams of net carbs
0 grams of sugar
People say it tastes much like the sugary cereals that loopers enjoy. The secret is monk fruit as a sweetener. Monk fruit is sort of a new sweetener in the cerealverse, but Magic Spoons is claiming rave reviews for it.
And it still makes a cereal that is gluten-free, grain-free, and Keto-friendly, with no added sugar, and you can buy it by the bowl or the case.
Purely Elizabeth Original Ancient Grain Oatmeal & Hot Cereal
Purely Elizabeth is organic whole food to the max. When they say ancient grains, they mean the origin story of cereal. Many cereals claim to be nature in a bowl, but this could be it.
Hot cereal is sort of the black sheep in the cerealverse. Don't know why, but cereal takes on a different dimension when you heat the cow's milk. On offer are cold breakfast cereals, hot cereal such as oatmeal, and granola. Made from dried fruit, sunflower seeds, quinoa, flaxseed, rolled oats, and amaranth. It's a superfood experience calling itself breakfast cereal.
Nature's Path Organic Cinnamon Toast Keto Cold Cereal
You have to have a set of big spoons to take on Cinnamon Toast in the cerealverse. But Nature's Path did it.
And they did it with certified everything! Certified organic, gluten-free, non-GMO, vegan, and Keto-friendly with high fiber (10 grams), low sugar, low carb (4 grams of net carbs), and 7 grams of protein.
Wheatena Toasted Wheat Cereal
Wheatena must be doing something right, as it's one of the oldest members of the cerealverse. We're talking 1800s here, guys.
Its claim to fame has always been high in fiber, salt-free, and low in fat. As far as sweeteners like sugar alcohols go, it has zero added sugar or sweeteners but is still not Keto-friendly, with 27 net carbs.
Post Shredded Original Wheat
Finally, a titan of the cerealverse. While others on this list may only be known in certain corners of the cerealverse, every cereal lover knows Post Shredded Wheat. Post is an OG (Original Giant) cereal maker.
This is "The Orginal shredded wheat," and each spoonful is a trip through the essence of what makes the cerealverse great. It's also non-GMO certified, 100% whole grain wheat, and a great source of fiber.
As there are no added sugars, in fact, no sugar at all, it's a classic choice for people who have to watch their blood sugar and must avoid a high added sugar intake. Not a source of healthy fats, as it is virtually fat-free.
Catalina Crunch Cinnamon Toast Keto Cereal
Catalina is a newer kid on the block and coming in hot with cereals, cookies, and granola. Low carb is their middle name. The brand's signature is:
Low-Carb Keto-Friendly
Zero Sugar
High-Protein
High-Fiber
Having sold more than 11 million units in 2021, they must be doing something right.
Cascadian Farm Blueberry Vanilla Granola No Sugar Added
Cascadian claims to know the secret to sweetness without added sugar. Spoiler alert, it's fruit, and more specifically, powdered dates.
With 27 grams of whole grains in every sugar-free serving, the dates steal the day.
Nature's Path Gluten-Free Homestyle Instant Oatmeal
Does this make number 3 for Nature's Path! Instant oatmeal works equally well as overnight oats.
When it comes to oatmeal, let's be honest. Don't bother us unless you make a genuine maple syrup and brown sugar alternative.
Well, they're bothering us. There is 0 total sugar here, but we have to admit, once you taste their brown sugar maple syrup oatmeal, you'll call them liars as you start eating your third bowl.
FAQs
What cereal has the most fiber and least sugar?
As any cereal lover knows, sugar-free and high in fiber are among the smallest regions of the cerealverse. Nevertheless, they are still important regions. So, who is the overlord of that bowl? That would be General Mills Fiber 1. It has 15 grams of fiber and 0 sugar per serving.
Is Corn flakes without sugar healthy?
Generally speaking, sugar-free anything is a healthier option than the alternatives with sugar. Corn Flakes is advertised as a healthy cereal. But, the biggest negative against that claim is its sugar content. By eliminating the sugar content, you end up with a healthier version.
How much fat is in unsweetened cereal?
Sugar is fat-free. As most breakfast cereals are sugary, they tend to be low in fat. A cereal's fat content comes from other ingredients. These other ingredients, such as palm oil, can still be present in unsweetened cereals. The most popular unsweetened cereals range between 0 to 10 grams of fat per serving.
What is the purpose of sugar in cereal?
What is the purpose of oxygen? What is the purpose of water? It's all about life. OK, that may be an overstatement. But, it is simply to create the sweet taste that people, read children, love. It also helps the cereal stay crunchier longer in milk and acts as a preservative extending the food's shelf life.
Final Thoughts
The days when cereal automatically meant added sugar are over. Today, sugar-free sweet cereal is a very real thing, thanks to sugar alcohols and other sweetening options.
There are many great options from many great brands. But, how do you feel about this wave of sugar-free options? Which is your favorite and why? Tell us, did we get it right?