Grape-Nuts cereal has been a healthy and tasty breakfast staple in the United States since 1897, and it is also a popular ingredient in many recipes. Grape-Nuts were formerly promoted as a nutritious cereal that may help you live longer.
To be clear, Grape-Nuts Cereal does not include grapes or nuts, as the company's website states. The name may have come from the glucose made during the baking process, which Post called "grape sugar."
In this article, we discuss the nutritional content of Grape-Nuts and determine if they are one of the healthiest cereals available.
Nutrition Facts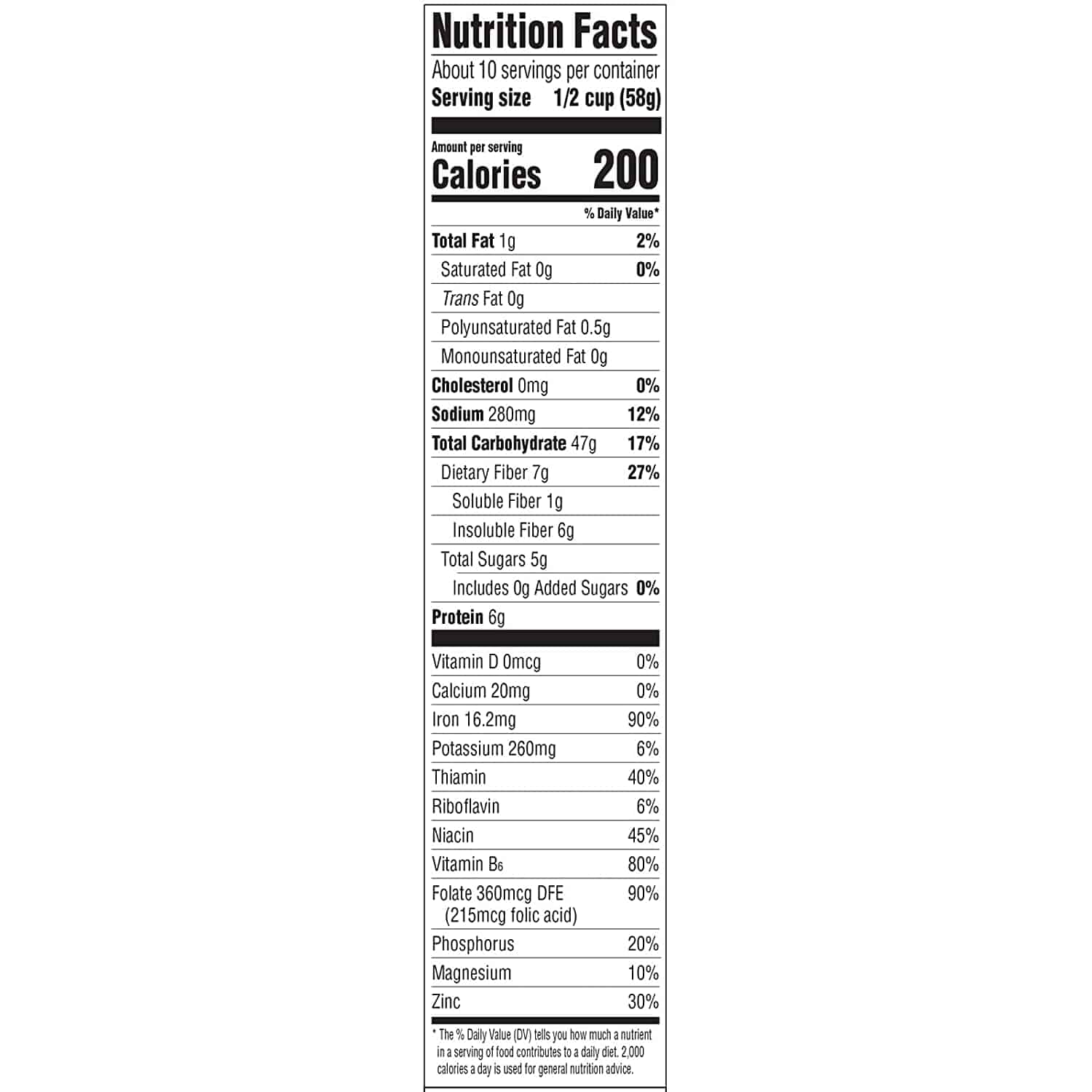 Grape-Nuts Cereal comes in a 20.0 oz package and has around ten servings.
100 grams of the cereal has the following nutritional breakdown:
Calories – 359
Calories from Fat – 16
Total Fat – 1.9g / 3%
Saturated Fat – 0.4g / 2%
Trans Fat – 0g
Cholesterol – 0mg / 0%
Sodium – 610mg /25%
Potassium – 307mg / 9%
Total Carbohydrate – 81.3g / 27%
Dietary Fiber – 8.7g /35%
Sugars – 12g
Protein – 10.8g / 22%
Vitamin A – 26%
Vitamin C – 0%
Calcium – 3%
Iron – 155%
Thiamin – 43%
Riboflavin – 43%
Vitamin B6 – 43%
Vitamin B12 – 43%
Folic Acid – 38%
Niacin – 43%
Magnesium – 25%
Phosphorus – 24%
Zinc – 14%
Copper – 18%
Vitamin D – 17%
Ingredients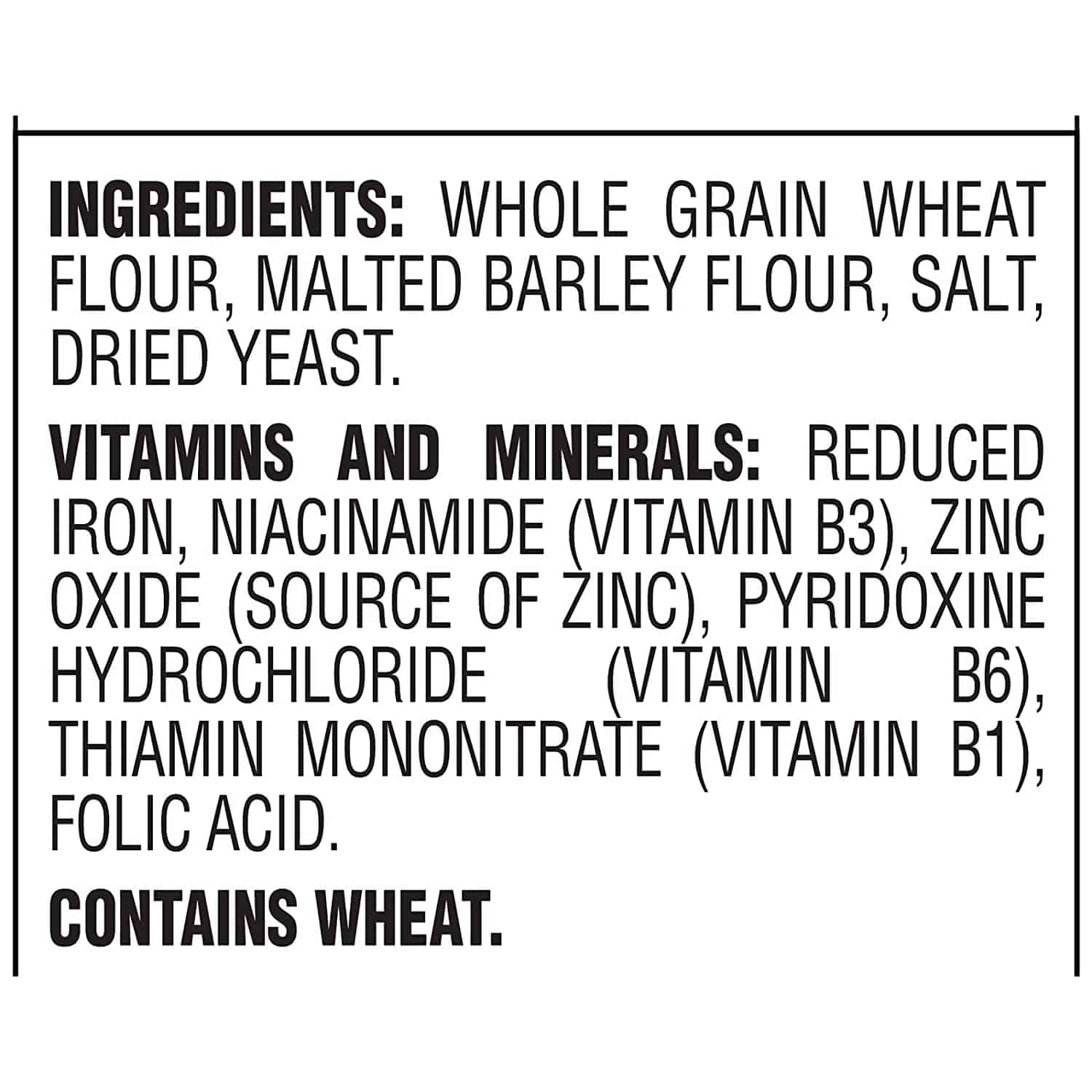 Post's Grape-Nuts Cereal ingredients comprise:
Whole-grain wheat flour
Malted barley flour
Salt
Dried yeast
Vitamins and minerals include:
Iron
Vitamin B3
Zinc oxide
Vitamin B6
Vitamin B1
Folic acid
Is Grape-Nuts Cereal Healthy?
Post Grape-Nuts cereal is one of the healthiest known cereals. It is sugar-free and comprises just four basic ingredients: whole-grain flour, malted barley, salt, and dry yeast.
It also includes 7 grams of fiber in every 1/2-cup serving. Grape-Nuts are a powerhouse of whole grains, fiber, protein, and beneficial vitamins and iron, B vitamins, zinc, magnesium, and copper, among other minerals.
If you limit yourself to 1 cup or less, Grape-Nuts are a perfect nutritious snack. The cereal is uncomplicated and straightforward; add some sliced fruit to your cereal to increase the nutritional value even further.
As nutritious as a bowl of Grape-Nuts cereal is, bear in mind that it has a high sodium level, 280 mg per serving, and the recommended daily intake of salt for an adult should not exceed 2300mg.
Is Grape-Nuts Cereal Gluten-Free?
Grape-Nuts are not gluten-free. They are made using whole grain flour, which has an abnormally high level of gluten. If you are gluten intolerant or have celiac disease, you should avoid this breakfast cereal.
Is Grape-Nuts Cereal Vegan?
Grape-Nuts are suitable for vegans. This wholesome cereal, made with whole-grain wheat and barley, is a wonderful source of plant protein for vegans. This delicious cereal is soy- and GMO-free.
Combine scrumptious fresh fruit or almond milk with Grape-Nuts cereal to begin your day.
Is Grape-Nuts Cereal Keto?
Grape-Nuts is not keto-friendly due to its high carbohydrate content of 47g of net carbs per 100g. Even a tiny portion size may cause you to exit ketosis. Keeping your net carbohydrate intake up to 50g per day is critical to maintaining ketosis.
Grape-Nuts also has a low-fat content, which is the polar opposite of the macronutrient requirements for a keto diet, implying that the bulk of your meals should be carbohydrate- and fat-free.
While Grape-Nuts cereal is entirely free of non-keto ingredients such as sugar, artificial sweeteners, and processed oils, its high carbohydrate level makes it a no-go for anybody following a ketogenic diet.
Is Grape-Nuts Cereal High In Protein?
Grape-Nuts is a traditional breakfast cereal high in the beneficial carbohydrates and protein required for weight loss without being high in sugar. The cereal has 6 grams of protein and is sugar-free. This classic cereal can help people lose weight by making them feel fuller, which helps them fight off hunger pangs and cravings.
Is Grape-Nuts Cereal High In Fiber?
One of the essential elements we need in our diet is fiber. Fiber comes in two forms, soluble and insoluble, both of which are necessary for digestion. Grape-Nuts include 7 grams of fiber per serving and both insoluble and soluble fiber, which is essential for our gut health.
When soluble fiber is digested, it absorbs water, helping prevent constipation. Additionally, soluble fiber found in whole-grain foods like Grape-Nuts can help lessen your risk of getting heart disease. Insoluble fiber assists in the movement of food through the stomach and intestines.
Grape-Nuts Cereal Varieties
This popular cereal comes in two different varieties; you can compare them below.
The Original
Grape-Nuts The Original is often described as crunchy little nuggets that do not include grapes or nuts. The cereal's similarity to grape seeds and its nutty flavor may have inspired the name. There are 200 calories in a single serving of Post Grape-Nuts.
Flakes
Grape-Nuts Flakes cereal comes in a regular 18-ounce box, which amounts to around eighteen serves with 110 calories per serving. It seems to be a classic collection of thin and grainy flakes, with the majority of the tiny Grape-Nut flakes being slightly curled and having a satisfying crunch.
Grape-Nuts Flakes cereal has a little sweeter flavor than Grape-Nuts The Original.
Where You Can Buy Grape-Nuts Cereal
Post Grape-Nut cereal is available in all major supermarkets as well as online retailers like Amazon, Target, and Walmart. You're sure to find Grape-Nuts boxes on a supermarket shelf near you!
Famous Grape-Nuts Cereal Commercials
Eugene Gibbons, a natural foods author and forager, was featured in the most well-known commercial for Grape-Nuts in the 1970s. The commercial gained popularity due to the slogan "Back to nature cereal."
User Reviews
Review Summary
5 out of 5 stars (based on 4 reviews)
Recent Reviews
Great with banana slices!
I love Grape Nuts topped with banana slices and a touch of sugar. And I prefer to let them soak in the milk just a bit to soften them up a little before eating. Delicious.
Mix with yogurt
I have been a Geape Nuts enthusiast for years. I just recently found a new way to enjoy them. I add them to my Greek yogurt to provide a satisfying crunch.
No Title
Grape-nuts cereal is the best! Delicious and nutritious!
Put fresh strawberries and blueberries on top, pour on cold milk and enjoy!! Or make a "Power Parfait" with grape-nuts, Greek yogurt and fruit layers in a glass.
Energy for your morning!
Submit a Review