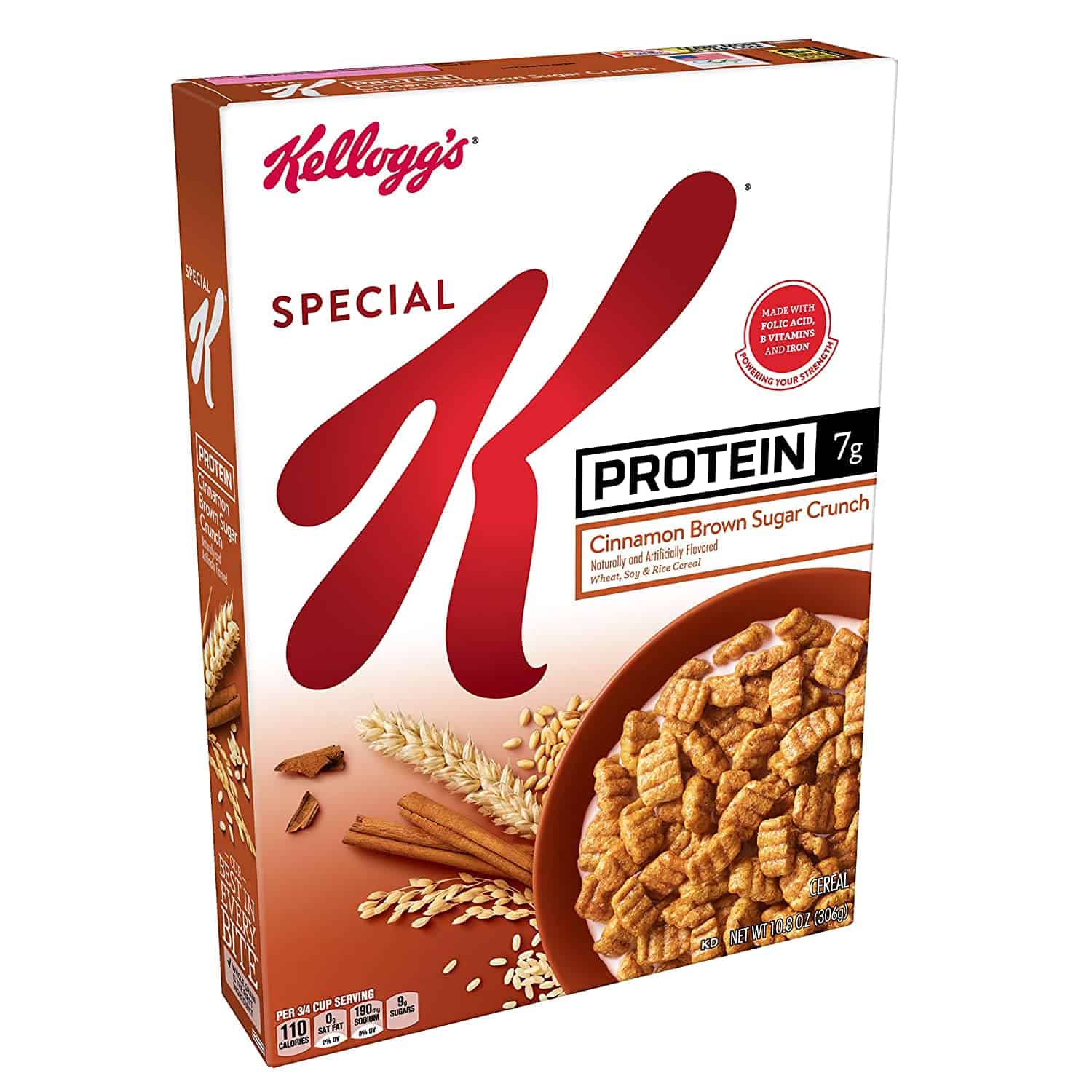 Special K Cinnamon Brown Sugar Crunch Protein cereal knocks breakfast for a punch. This is not for those who typically purchase cereals to get the rush that sugary sweet cereals (such as the sugar crunch of Lucky Charms) are famous for. Nor is it for someone who is not a cinnamon fan.
This is a brown sugar cinnamon combo in a waffle crisp cereal. Or for those who love warm cinnamon bursting through their senses after their morning workout; hearty cereal heaven.
No doubt here, Kellog's Special K protein is a cinnamon and sweet brown sugar medley crunch oats wholesome blend that provides a similar nutritional value as some fitness supplement bars. And a possible substitute, providing you don't dislike cinnamon.
Even though it has as much sugar as other cereals, Special K Protein breakfast is a different animal. For fitness junkies, this is a delicious protein breakfast cereal.
Nutrition Facts

42 grams of Special K Protein breakfast cereal contain:
Calories – 160
Calories from fat – 9
Fat – 1 grams / 1% DV

Saturated fat – 0 mg
Trans fat – 0 mg
Polyunsaturated fat – 0 mg
Monounsaturated fat – 0 mg

Cholesterol – 0 mg
Sodium – 230 mg / 10% DV
Total carbohydrates – 29 grams / 11% DV

Total sugars – 12 grams / 24% DV
Other carbohydrates – 17 grams
Dietary fiber – 4 grams / 15% DV

Protein – 9 grams / 16% DV
Vitamin B1 (Thiamin) – 20% DV
Vitamin B2 (riboflavin) – 20% DV
Vitamin B3 (Niacin) – 20% DV
Vitamin B6 (Pyridoxin) – 20% DV
Vitamin D – 2.1 mcg / 10% DV
Folate – 210 mcg DFE / 50% DV
Vitamin B9 (Folic acid) – 125 mcg
Potassium – 120 mg / 2% DV
Calcium – 130 mg / 10% DV
Iron – 11.3 mg / 60% DV
Magnesium – 10% DV
Daily Value is based on a diet of 2,000 calories per day.
An 11-ounce box of Kellogg's Special K Protein breakfast cereal is about 7 servings.
Without compromising taste, Kellogg's Special K cereals have over 10 grams of whole grain goodness derived from ancient grains.
Ingredients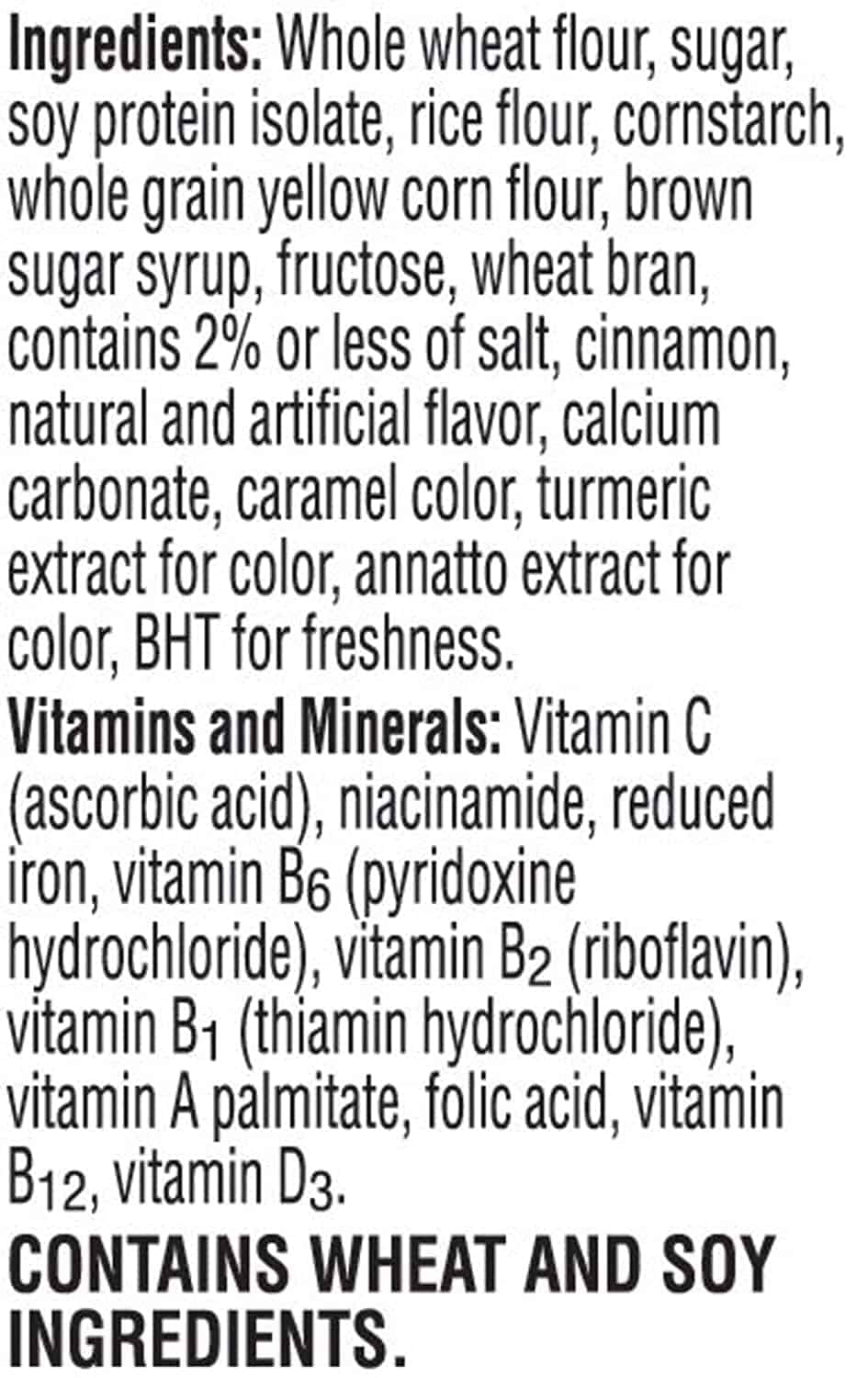 Kellogg's Special K Protein cereal is made from:
Whole Grain Whole Wheat flour
Sugar
Soy Protein Isolate
Rice flour
Cornstarch
Whole Grain Yellow Corn Flour
Brown Sugar Syrup
Wheat Bran
Fructose
Salt
Cinnamon
Natural flavors
Turmeric Extract Color
Annatto Extract Color
BHT Added to Preserve Freshness
Calcium Carbonate
Magnesium Oxide
Reduced Iron
Vitamin B3 (Niacinamide)
Vitamin B6 (Pyridoxine Hydrochloride)
Vitamin B2 (Riboflavin)
Vitamin B1 (Thiamin Hydrochloride)Vitamin B12
Vitamin C (Ascorbic Acid)
Folic Acid
Vitamin D3
Vitamin B12
Is Special K Cinnamon Brown Sugar Crunch Cereal Healthy?
Kellogg's advertises all Special K cereals as being healthy cereal. And there is some actual nutritional value that supports that.
As with all Special K varieties, this cereal provides 11 vitamins and minerals. It is much lower in carbohydrates than other Special K flavors and has higher nutritional values than others as well. For example, this cereal provides more protein and fiber, as well as has no fat.
Is Special K Cinnamon Brown Sugar Crunch Cereal Gluten-Free?
This is a wheat-based cereal and thus would not be a gluten-free food product. Many sites label this Kosher dairy, enjoy it as a trail mix recipe, between-meal treat, when you want a great cereal, or simply keep it in the food pantry to satisfy your sweet tooth.
Is Special K Cinnamon Brown Sugar Crunch Cereal Vegan?
The number of breakfast cereal options considered acceptable to a strict definition of the vegan diet is minimal. Most breakfast cereal is fortified with vitamins and minerals and full of sugars.
In this case, sugar and the presence of Vitamin D are averse to strict adherence to the vegan lifestyle. Sugar is typically processed alongside animal products, and all Vitamin D originates in some animal-based source.
Is Special K Cinnamon Brown Sugar Crunch Cereal Keto?
You can't assume a healthier cereal option is automatically a Keto-friendly cereal. Though the carbohydrate value of this cereal is less than the other Special K options, one serving pushes the Keto diet's daily maximum range of 20 -30 grams of carbohydrates a day to the very edge.
Though technically it would satisfy the Keto range, one bowl would be the only carbs you could have the entire day.
Is Special K Cinnamon Brown Sugar Crunch Cereal High in Protein?
Unlike most other breakfast cereal options, there is a significant protein content here. This cereal can be considered a high in protein breakfast cereal. This cereal exceeded any other breakfast cereal in protein, by threefold, which is very impressive. It is the only cereal fortified with protein.
To be considered high in protein, a breakfast cereal should provide at least 5 to 10 grams of protein per bowl. This cereal's 9 grams of protein per serving get the tag of being high in protein.
Is Special K Cinnamon Brown Sugar Crunch Cereal High in Fiber?
With a higher per serving fiber content than most other cereals, this cereal is a very good option for dietary fiber, but not quite a high in fiber food.
Generally speaking, an individual should average around 25 grams of daily dietary fiber, per the FDA. This cereal provides 4 grams of dietary fiber per bowl. This is very good and much higher than most other breakfast cereal options. But, to be high in fiber, you would prefer to see at least 5 grams per serving.
Special K Cinnamon Brown Sugar Crunch Cereal Store Brand Alternatives
As a protein breakfast cereal, there is no real store-brand substitute.
Where You Can Buy Special K Cinnamon Brown Sugar Crunch Cereal
Special K protein has proven to be a very favorite cereal and very difficult for any grocery store to keep in stock, so you may need to shop around or even online.
Famous Special K Cinnamon Brown Sugar Crunch Cereal Commercials
Those who started eating medley crunch oats learned a year ago, that great crunchy cereal is what made Kellogg's medley crunch the best. Then the imagination started as well. How about coconut almond cereal, honey almond, or just the right amount of Original Special K cereal with that something extra special.
Kelloggs has always marketed Special K as a force of change, such as in this 1997 ad.
User Reviews
Review Summary
0 out of 5 stars (based on 0 reviews)
Recent Reviews
There are no reviews yet. Be the first one to write one.
Submit a Review